Find Out How To Set Up a Nebraska Power of Attorney With DoNotPay
A power of attorney (POA) needs to be as clear and concise as possible.
Nebraska has taken this message to heart, which is why it provides forms that cover every type of POA. In doing this, the state aims to minimize confusion and avoid costly and time-consuming litigation when powers of attorney are contested.
DoNotPay is your one-stop resource for POA documents—we have all the info you need to set up a Nebraska power of attorney!
What Kinds of Power of Attorney Does Nebraska Offer?
Nebraska has separate laws for medical and financial powers of attorney.
Financial POAs are regulated by the Nebraska Uniform Power of Attorney Act of 2013, which states that all POAs granted in Nebraska should adhere to the same format.
The Act covers the following POA variations:
Type of POA
Explanation
General POA
A general POA in Nebraska assigns financial responsibility to a principal's agent from the moment of signing until the principal becomes incapacitated
Durable POA
Powers of attorney that are designated durable extend the same powers to the agent as a general POA but continue to be valid after the principal becomes incapacitated. They can be terminated only by:

The passing of the principal
Written revocation by the principal
The agent's inability or unwillingness to continue with the responsibility

Limited POA
A limited POA confers either restricted powers to the agent or limits the length of time the agent is appointed for
Springing POA
A principal can designate an entire POA or individual responsibilities within a general or durable POA as "springing." This means they only come into effect when certain criteria—such as the incapacity of the principal—are met
Nebraska also offers specific forms for the following POA requirements:
POA for guardianship of a child
Real property transfer POA
POA for transfer of vehicle ownership
Nebraska residents need to use the statutory POA forms the state provides.
What Are Nebraska's Laws on Signing and Witnessing?
If you are signing a power of attorney in Nebraska, you must follow the state's rules of signing and witnessing for your POA to be valid. State legislation insists that you sign in the presence of:
Witnesses
A notary
Witnesses
Nebraska requires powers of attorney to be witnessed by two people who are:
Aged 18 or over
Of sound mind
Not related to either the principal or the agent
A Notary
You must have your power of attorney notarized in Nebraska. The notary is responsible for:
Verifying you are who you claim to be
Checking that you are of sound mind and able to understand the contents of your POA at the time of signing
Ensuring you are not signing the POA under duress
Once you have completed these formalities, your Nebraska power of attorney is in force.
What Are the Steps to Granting Power of Attorney in Nebraska?
As in other states, the process of setting up a power of attorney in Nebraska involves these steps:
Steps To Set Up a POA
Explanation
Choosing an agent
The principal should choose an agent who:

Can be trusted to act in the principal's best interests
Will be able to perform their duties for as long as the POA is in force
Will not be a divisive or contentious choice

Drafting the POA letter
The contents of your POA need careful preparation to make sure you:

Include everything you need
Avoid ambiguity and confusion

Signing the document
Once you have prepared the scope of the POA, you can sign the document and have it witnessed and notarized
The Nebraska Uniform Power of Attorney Act states that all powers of attorney in the state are by default durable ones unless the document expressly states otherwise.
This means that you must be careful to define the type of power of attorney you want clearly.
Setting up your power of attorney in Nebraska is a relatively straightforward process using the forms the state legislature provides.
DoNotPay has an even easier option, though—we can generate a customized power of attorney for you online in a few minutes!
Use DoNotPay To Get Your Power of Attorney in a Flash!

Nebraska law states that a power of attorney signed in a different state is valid in Nebraska if it was signed legally in its state of origin.
This means that you can simplify the process of setting up your POA by letting DoNotPay do the work for you!
Getting your customized POA from DoNotPay is quick and easy—here's what you need to do:
Sign up with DoNotPay in your web browser
Go to our Create a Power of Attorney feature
Fill in the details you need to be included in your POA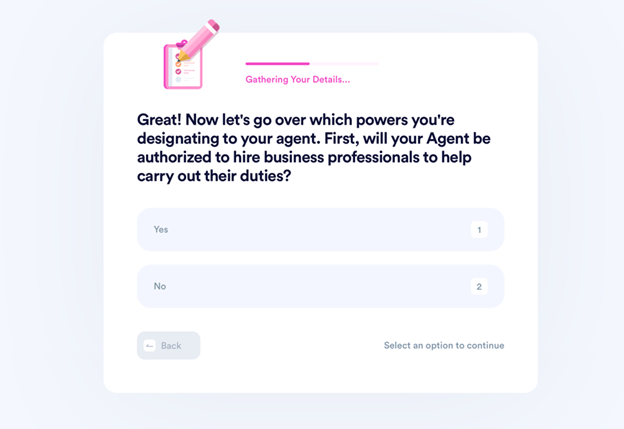 Once you have your customized power of attorney, you can go ahead and sign it in the presence of a notary and witnesses. You can even choose to have DoNotPay connect you with an online notary—just specify it while filling out the short questionnaire from above.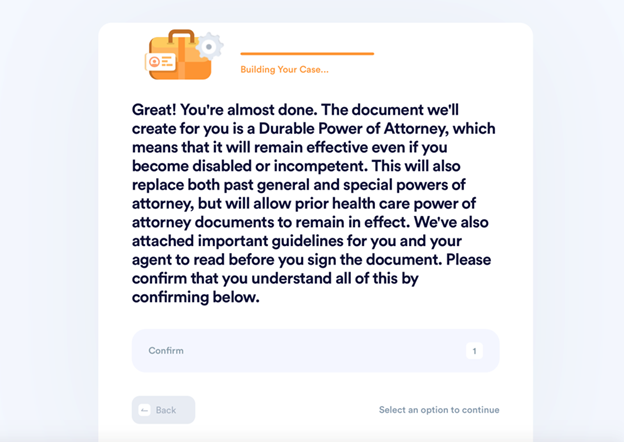 Not Sure if You'll Have Enough Money at the End of the Month? We Can Help
Most Americans go through financial hurdles daily. You don't need to put up with it all—as soon as you sign up for our app and voice your struggles, we will provide our assistance! DoNotPay is capable of:
Dealing With a Greedy Company? No Need To Worry
Are you dealing with a company that doesn't want to cooperate and keeps ignoring your consumer rights? No problem—DoNotPay can help you sue the company in small claims court and win your case.
If you need us to draw up a legal document, get it notarized, and fax it to the court, we can do that as well.
Have you been trying to reach the company's customer support reps with no success? Don't get stressed—our app will gladly wait in the phone queue in your stead and notify you as soon as someone picks up.