Securing Time Off for Your Nebraska Jury Duty
You received your Nebraska jury duty summons in the mail—but are you unsure what to do next? As an essential civic duty for every American citizen, jury duty isn't something you should (or can) skip.
Managing jury duty against your work schedule can be difficult but not impossible. Learning how jury duty works, how to request time off from your job, and how to prepare for it will minimize your stress in the process.
If you're worried about asking your employer for time off, let DoNotPay help—we can assist in generating a detailed time off request letter.
You Received Your Nebraska Jury Duty Summons—What Next?
You have to do jury duty in Nebraska because you have been selected by a random draw of citizens. The draw includes people that meet the following requirements:
As a prospective juror, you must appear in court at the location and time detailed in the summons. Even if you believe you are exempt from jury duty, you must attend the selection in which jurors are asked questions to determine their potential bias against the case.
Are You Exempt From Nebraska Jury Duty?
Check whether Nebraska courts allow the following exemptions from jury duty:
| Reason/Occupation | Exemption |
| --- | --- |
| Breastfeeding mother | Yes |
| Disability | No |
| Student | No |
| Law enforcement | No |
| Military | No |
| Holds elected office | No |
| Firefighter | No |
| Medical professional | No |
You're also not obligated to be a juror if you served:
As a petit (trial) jury for over four weeks in the past five years
On more than one grand jury
On both a petit and grand jury
What You Need To Know About Jury Duty in Nebraska
The laws concerning jury duty eligibility, requirements, compensation, and other details are unique to each state. You need to ensure you understand how Nebraska's specific legislation affects you and your employment.
There are two types of juries in Nebraska:
Trial jury—Six or twelve jury members determine whether a defendant is guilty of a crime
Grand jury—16 jury members investigate the charge of a crime to determine whether an indictment is necessary
The primary difference between the two types of trials is that a grand jury does not allow the accused to present their side of the case.
Jury duty generally lasts one week, with jurors held on call for up to a month. Nebraska state laws guarantee a daily pay of $35.
Nebraska jury duty is different from federal jury duty, which is subject to national laws and pays $50 per day.
Work vs. Nebraska Jury Duty
You should not worry about balancing your day job against your jury duty. Nebraska maintains largely favorable laws for jurors.
You can verify your jury duty with your employer by providing a copy of the summons. Employers are required to:
Provide leave for jury duty
Compensate employees during jury duty according to their regular daily wages
Your employer can decide to provide your usual wages minus the Nebraska jury daily pay. If you are fired for missing work due to jury duty, you can sue your boss in the state of Nebraska.
Automate Your Jury Duty Leave Request With DoNotPay
Are you stressed out at the idea of asking your employer for time off for jury duty? DoNotPay makes the process easier by generating a professional leave request letter.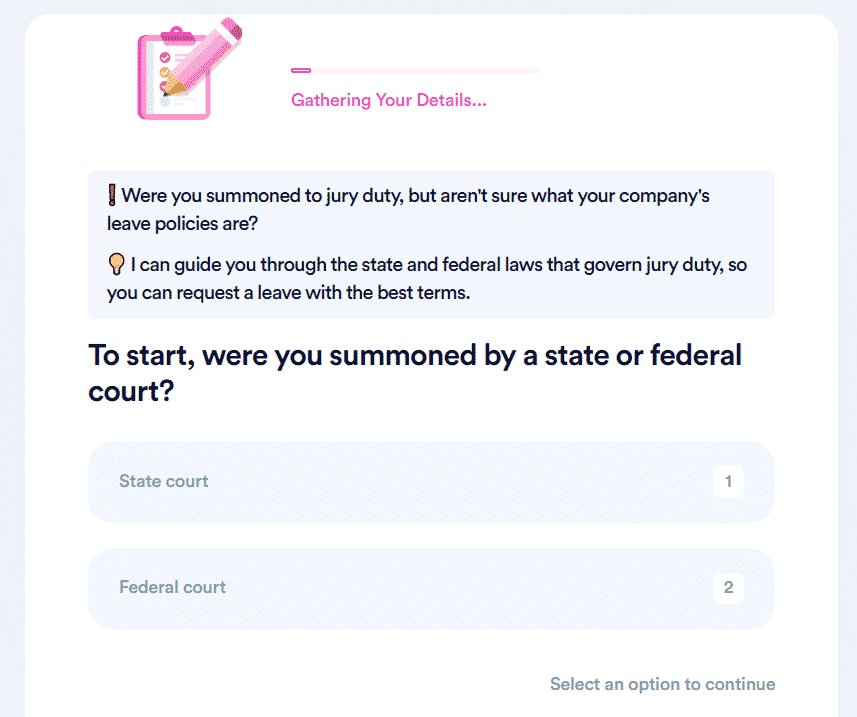 Here is how it works:
Sign in to your DoNotPay account and pick our Request Jury Duty Leave tool
Confirm that you have been summoned for Nebraska jury duty
Provide requisite details about the court
Indicate which days you need leave
Upload a photo of your jury summons
Once you have provided the necessary information, we will arrange it in a professional letter. You can download the letter to submit personally or have us send it to your manager for you.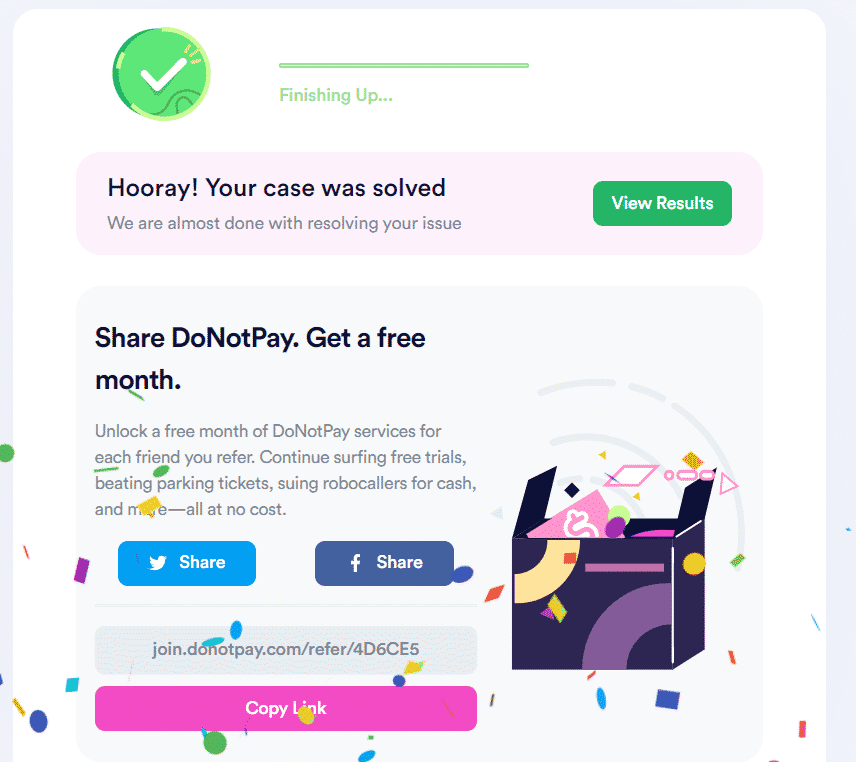 Save Time and Money Using DoNotPay
Being on hold while trying to reach customer service is no picnic. With DoNotPay, you can jump the phone queue and reach a rep with ease. Are you contacting a company to request a refund or cancellation? No need for that! Our app can get it done in a few clicks. We can also help you return an item or handle a late delivery.
Dispute parking tickets, claim your warranty or insurance, set up a DMV appointment, contact an embassy, and deal with any other task with our assistance.
You can also request access to public records, apply for tourist visas, or file complaints with the help of our AI-powered app.
We're Not Done Helping You!
Our multifaceted app keeps getting new features that can streamline numerous tasks and solve all kinds of problems.
Would you like to join sweepstakes or giveaways? Are you up for participating in clinical trials and earning some money? Are you interested in sending mail without visiting the post office? We've got it covered!
We will help you protect your privacy by putting an end to spam emails, incessant text messages, and robocalls. If you think you're being stalked, you can count on our assistance. You can also use our app to perform a sex offender search, fight workplace discrimination, and handle annoying neighbors.