The Finer Details of a Nebraska Health Care Directive
Establishing which medical treatments you would or wouldn't want to receive if you were incapacitated can take the burden off your family members. You can accomplish that by completing a health care advance directive. This guide will give you essential information on creating a Nebraska health care directive. You will also discover how to draft this document in less than five minutes !
What Is a Nebraska Advance Directive?
An advance health care directive is a legal document in which you state your medical care preferences if you become incapacitated. Nebraska recognizes two major types of advance directives:
Nebraska living will
Power of attorney for health care
Living will
A living will allows you to define the kind of medical treatment you want or don't want to receive if you are permanently unconscious and can't communicate your wishes. Such types of medical treatment include:
Tube feeding
Organ transplants
Pain-relief treatments
The cost of drafting a living will varies depending on the method you choose. An attorney is the most expensive option, while online templates are typically free. If you opt for online forms, you will have to alter them according to your preferences and state laws.
Power of Attorney for Health Care
A power of attorney for health care is also known as a:
A health care proxy should not be confused with a general power of attorney—the latter serves for managing estate and financial affairs.
Nebraska power of attorney for health care is a legal document in which you can designate someone to make medical decisions for you if you are unable to make them yourself. The person you appoint is called an agent (also known as an attorney-in-fact, surrogate, or proxy). In Nebraska, you can choose anyone over the age of 18 and of sound mind to be your agent, except:
Owner or employee of a healthcare facility you are in—unless the individual is your relative
Person serving as a proxy for ten or more people
You can appoint one person as a primary agent and also name an alternate agent. The latter will take over if the primary agent is unable or unwilling to assume their duties. You can indicate the decisions you would like the agent to make on your behalf in the document.
What Are the Requirements for a Valid Nebraska Health Care Directive?
Here are the requirements for executing a lawful health care directive in Nebraska:
Living Will
Health Care Power of Attorney
A Nebraska living will form must be signed in the presence of a notary or two witnesses who cannot be your:

Healthcare provider
Insurance provider

The document can be witnessed by a notary public or two adults, neither of whom can be your:

Relative
Heir
Physician
Health care agent or alternate agent
Types of Decisions the Health Care POA Agent Can Make for You
Nebraska law doesn't specify the decisions your agents can make on your behalf. The agent can decide on various health care aspects depending on the authority you grant them, for instance:
Consenting to hospital admission
Initiating a Do Not Resuscitate (DNR) order
Authorizing the use of a breathing machine or artificial feeding
Consenting to life-sustaining treatments
Consenting to organ donation upon your death
How To Get a Health Care POA Hassle-Free Using DoNotPay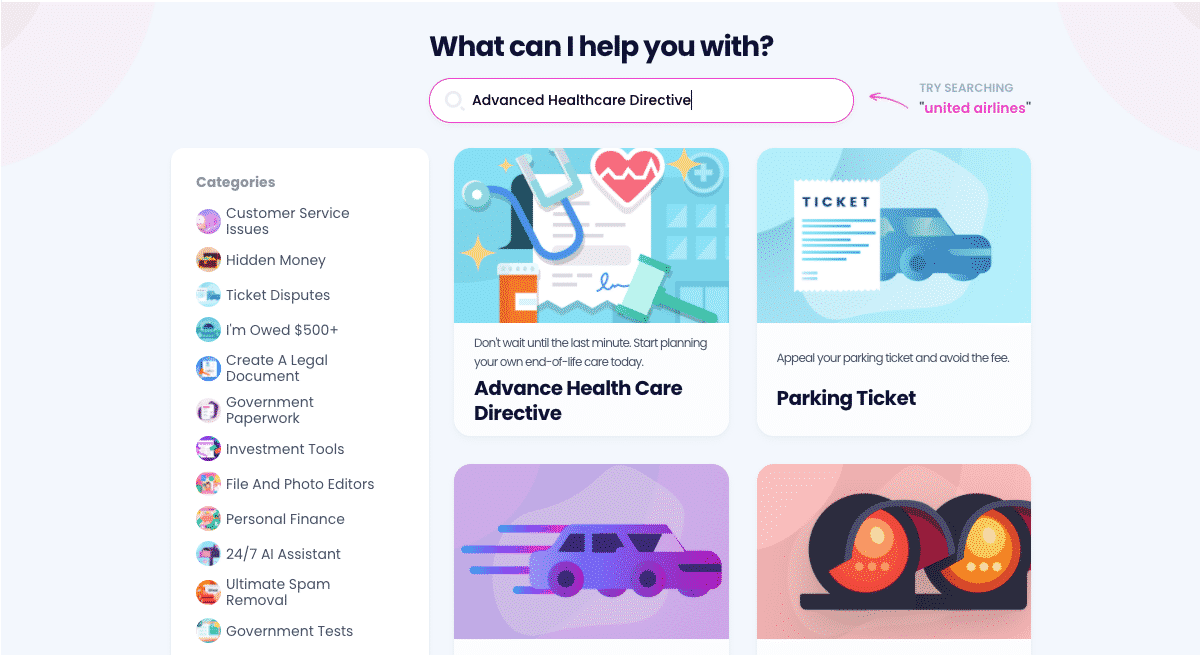 Getting a healthcare advance directive with DoNotPay is simple and affordable. You only need to answer a brief questionnaire related to your healthcare wishes, and our app will generate the document in less than five minutes. Get your personalized living will or health care proxy in a few steps:
Find the Advance Health Care Directive
Answer our chatbot's question
We can also help you get the document notarized by connecting you with an online notary on the same platform!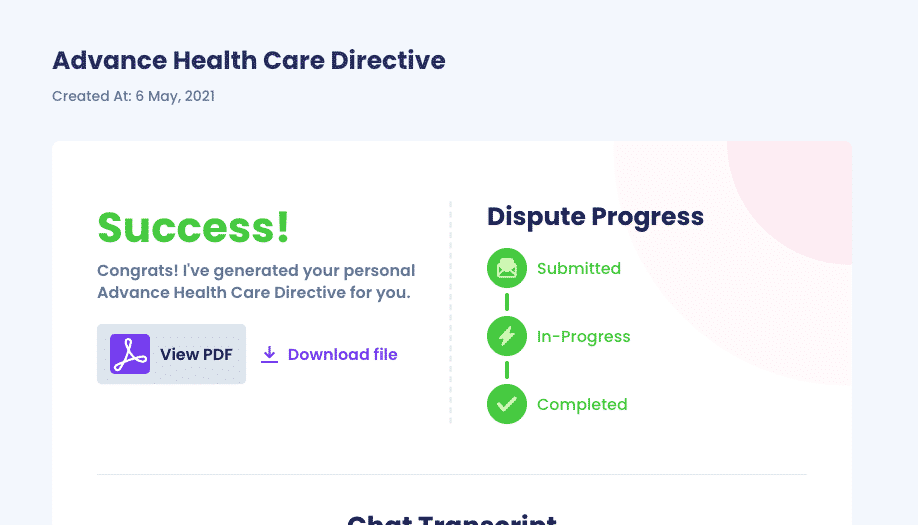 How Can DoNotPay Tackle Tricky Tasks for You?
Using DoNotPay is like having a magic wand that helps you with the assignments you are too busy or bored to do. Here are some procedures we can simplify for you:
Submitting error-free tourist visa applications
Keeping in Touch Is Simple With Our App
Are you having trouble communicating with your loved ones in jail? Our app features a tool that enables you to send letters to inmates from any device! We can help you get in touch with a notary public who can notarize your legal documents virtually or reach out to embassies and consulates or government reps. Reaching customer care centers also gets much simpler with DoNotPay by your side as you can skip phone queues the easy way.
We can help you avoid unwanted communication by stopping persistent robocalls and text or email spam. All you need to do is sign up for our services!