The Quickest Way To Apply for the NC Victims Compensation Services
Are you a victim or a relative of the victim of a violent crime that took place in North Carolina? If you're struggling to pay for a funeral, counseling, or medical care, you'll find this article helpful.
DoNotPay will help you as effortlessly as possible. Follow our guide to find out more about crime victims compensation in North Carolina, Tennessee, New Jersey, or any other state.
Learn About the North Carolina Victims Compensation Services
Victims Compensation Services in North Carolina is a financial assistance program that helps victims of violent crimes or their family members pay for the crime-related expenses. The program receives funds for victims of violent crimes from:
Victims of Crime Act (VOCA)

grant—the Act established the Crime Victims Fund that collects money from criminal fines and penalties. Each year, states apply for the grant and use the funds to help victims

Annual appropriation

Prison enterprises

Prison canteens
You should apply for the Victim Compensation Services only if your costs aren't covered by other sources of reimbursement, including:
Medicaid

and other public funds

Health insurance

Workers compensation

Auto or disability insurance

Restitution fines by an offender
North Carolina offers another victim compensation program—Rape Victim Assistance. Victims of rape or sex offenses can apply for both programs if Rape Victim Assistance isn't enough to cover all costs.
Who Qualifies for Victims Compensation in NC?
The program covers the costs of:
Victims of:

Assault

Rape

Child sexual abuse

Drunk driving

Families of homicide victims
To qualify for the compensation, you have to:
Have filed a police report within 72 hours of the crime

Apply for the program within two years of the crime
A victim can get compensation for medical therapy for crime-related injuries during the first year after the date of the crime.
DoNotPay Helps You Apply for the NC Victims Compensation Services in No Time
People affected by a violent crime need time to heal after the traumatic event. Crime-caused financial issues most victims and their family members have to deal with can make the healing process more difficult. That's why every American state has a Crime Victims Compensation Program dedicated to helping victims of violent crimes, terrorist attacks, and similar.
Not many people apply for these programs even if they're eligible. A College of Criminal Justice report states that the compensation programs fund around $200,000 every year. Since there were almost seven million victims only in 2012, this represents a small number of victims. People either don't know about the programs or choose not to apply because the process can be complicated and lengthy.
DoNotPay strives to make your life easier and help you deal with financial struggles caused by a violent crime. We have developed an easy-to-use product that will help you apply for a Crime Victims Compensation Program in your state.
To apply for victim compensation in North Carolina, Massachusetts, Illinois, Alabama, West Virginia, or any other state in a few clicks, follow these steps:
Choose our

Compensation for Crime Victims

product

Tell us whether you're:

The victim

A family member of the victim

Answer our questions

Verify your signature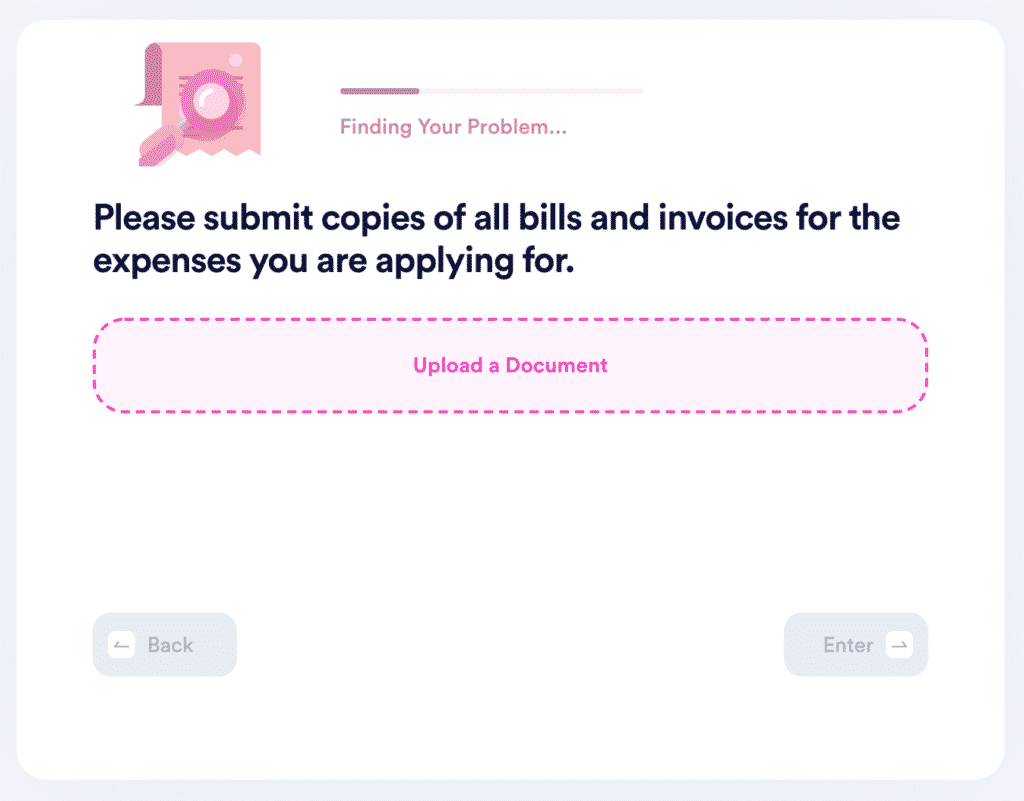 As soon as you click on the Submit button, we will fill in your application and send it to the appropriate office.
Which Costs Can Be Covered by the NC Victims Compensation Services?
The following table shows which expenses the Victims Compensation Services covers:
Compensable Costs
Maximum Compensable Amount

Medical examination and treatments

$30,000

$300 per week for 26 weeks

$50 per child for 26 weeks in a domestic violence case

$5,000

Not specified—Decided on a case-by-case basis

Mental health counseling:

One year for adults

Two years for children younger than ten

Travel to get medical assistance
Victims Compensation Services doesn't compensate the victims or the family members of the victims for pain, suffering, or damaged or stolen property.
Rape Victim Assistance covers the complete costs of the forensic medical examination for rape victims.
What Happens After You File an Application?
If you apply for the amount of $12,500 and below, the program director will review your request. Should your amount exceed $12,500, the Crime Victims Compensation Board is authorized to make the decision.
While every case and request is different, the approximate processing time is between three and six months. If you send a copy of the police report and one medical bill with your application, the processing time will be shorter.
Should your claim be approved, Victims Compensation Services will send the payment to the service providers directly. Additional payments for out-of-pocket payments you've had will be sent to you. In case your application gets rejected, you can file an appeal with the Office of Administrative Hearings by:
Calling

919-431-3000

Sending an appeal letter to the following address:

Office of Administrative Hearings, 1711 New Hope Church Road, Raleigh, NC 27609
DoNotPay Can Do Your Paperwork for You!
Feeling like you're in bureaucratic hell? Our app will draft the paperwork you need and get you out of any hurdle before you know it!
We can compose most of the documents that you require for any administrative purpose in your jurisdiction, most notably:
More of What We Can Do for You
Our multifaceted app can call and record the conversation with the customer service of the company that just won't let you go! If you are having trouble canceling an unwanted service via the traditional channels, use DoNotPay to get it over and done with!
We can help you stop the persistent robocalls and robo texts from the nagging company and request a refund for unused services in a matter of minutes.
We'll also lend a helping hand in stopping spam mail—whether it's electronic or paper. Our Spam Collector product unsubscribes you from unwanted emails and cleans up your physical mailbox too!