Create a Top-Notch
NC Residential Lease Agreement
With DoNotPay
Creating an NC residential lease agreement is not to be taken lightly. Incomplete contracts can cause misunderstandings and even legal problems. 
You can skip pricey expert services and unreliable contract templates because there are better ways to create legal documents.
We will show you how to generate an NC residential lease agreement without losing time, money, and nerves! 
What is an NC Residential Lease Agreement?
An NC residential lease agreement is a contract between a landlord and a tenant for renting a property. Residential leases in North Carolina typically last one year. This document stipulates the terms and conditions both parties must respect.
Before authorizing the agreement, the landlord should check the tenant's financial status through a rental application. Once the landlord approves of the tenant, they both must sign the agreement. A tenant has to provide a security deposit and first month's rent before moving in.
What Constitutes an
NC Lease Agreement
?
While all U.S. states follow some uniform lease agreement requirements, most of them also introduce specific rental rules. North Carolina imposes additional conditions for landlords and tenants entering a lease agreement. You can find a detailed description of the criteria in the table below:
NC Landlord-Tenant Rules
Description

Security deposit

As a security deposit, a landlord can request:

Two weeks rent for a week-to-week tenancy

One and a half month's rent for a month-to-month tenancy

Two month's rent for long-term tenancy

The landlord must return the security deposit to the tenant within 30 days of the lease termination

Landlord right of entry

A landlord doesn't have to give the tenant notice before entering the rented property

Additional rules

The NC lease agreements should include specific disclosures, such as:

Lead-based paint disclosure

—

Landlords of units

constructed before 1978 must inform tenants of potential lead-based paint hazards 

Abandoned personal property disclosure

—

Property is considered abandoned after 5-7 days of issuing a written notice to the tenant, to which they fail to respond

Security deposit receipt

—

Landlord must give the tenant the name and location of the institution that holds the security deposit within 30 days of signing the agreement
What Are the Key Sections of Standard
NC Lease Agreements
?
North Carolina lease agreements should have a specific structure. Take a look at the most important sections of a standard NC lease agreement:
Introduction

—

This section should include the landlord and tenant's full names and the date of creating the agreement

Property information

—

The landlord should state the address, purpose, and condition of the property

Term

—

This paragraph determines the type of lease (fixed, month-to-month) and the lease start date

Rent

—

The landlord should define the amount and terms of payment

Tenant improvements

—This section outlines the changes to the property that requires the landlord's permission 

Insurance

—The landlord must indicate they are not responsible for the tenant's personal property

Governing law

—This paragraph states that the lease is created under the North Carolina state law

Property care and use

—The tenant must agree to conditions regarding the property maintenance

Address for notice

—The landlord and tenant must provide contact information 

Provisions

—This section outlines additional requirements of the landlord

Signatures and dates

—Both parties must provide their signatures and the effective date of the agreement
What Other Lease Agreements North Carolina Offers?
There are several other lease agreements you can use in North Carolina, such as:
Create a Rock-Solid NC Residential Lease Agreement With DoNotPay
You don't have to learn how to write a contract because DoNotPay can create a residential lease agreement for you!
Our Standardized Legal Documents service generates professional contracts meeting all legal standards. All you have to do is answer a few questions, and we will deliver a tailor-made residential lease agreement in mere minutes!
Follow these instructions:
in a web browser

Type in

Lease Agreement

in the search bar

Provide essential info to help us make the contract as comprehensive as possible

Wait for your customized residential lease agreement to arrive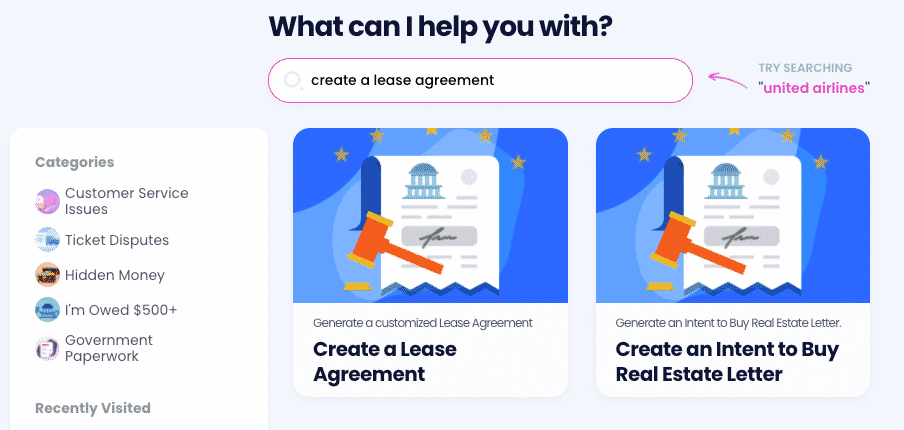 What Legal Documents Can DoNotPay Create?
Residential lease agreements are not the only contracts we can write on your behalf. Take a look at various legal documents offers:
Type of Documents
Document Names

Real estate

Quitclaim Deed

Estoppel Certificate

Residential Lease Agreement

Intent To Purchase Real Estate

Business

General Business Contract

Others

General Affidavit

Promissory Note

What About Lease Agreements in Other States?
Since lease agreements vary depending on the state law, you should be informed of other states' regulations. Where better to look than our knowledge base! DoNotPay can teach you all about lease agreements in:
DoNotPay Keeps Your Privacy Intact
DoNotPay can help you surf the web safely and securely. No need to provide your personal information to every company whose service you'd like to take for a test drive. Our Virtual Credit Card and Burner Phone products shield your data from prying eyes and dishonest merchants.
Feel like subscribing for a free trial? Make it truly free and avoid automatic membership renewals with our card. It can also help identify spammers and potential scammers who send bothersome robocalls and robo texts your way. As soon as they act on the virtual card number, DoNotPay will unmask them and demand compensation!
DoNotPay Can Help You Bring Any Business to Justice
Should a company refuse to grant you a refund or compensation, our app will help you take them to small claims court! 
We'll help you cancel the service in question to avoid any future charges, and we'll call their customer service so you can get info on your denied request. We'll draft the relevant court documents for your jurisdiction and give you instructions on filing them.
More Nifty Features That'll Make Your Day
You may not have breach of privacy issues or reasons to bring someone to court, but you surely have ample motivation to save or earn a few dollars here and there—especially if we catch you unawares!
DoNotPay can show you how to reclaim funds that you didn't know were under your name or make a denied warranty appeal to any company. We streamlined the processes of requesting refunds, college fee waivers, airline flight compensation, parking infraction dismissals, as well as applying to clinical trials that pay!