What You Need to Know About NC Eviction Laws Before Evicting Someone
It can be hard to live with your roommate if they fall behind with the rent payment or cause other difficulties in the home. The legal alternatives for eviction of a roommate depend on whether a housemate is a legal tenant of the rental house, an unlawful occupant, or a short-term rental party. Following North Carolina's property regulations, the landlord, original renter, or any party may be allowed to seek eviction.
Evicting your roommate can, however, be time-consuming and challenging. That's why DoNotPay is here to help you through the process and ensure you comply with .
Eviction Laws in North Carolina
A formal tenancy agreement establishes legal responsibility between you and the landlord. North Carolina leases require the names of all individuals who will dwell in the rental house and any children or other adults who may spend time on the premises. Whether or not a roommate is a legal inhabitant of a home is determined by whether or not their name is on file. If your roommate is also paying the rent, the owner might file eviction papers against both of you.
 give different rights and responsibilities to different parties. Here's a quick breakdown.
 Landlord Eviction Rights
Eviction procedures in North Carolina are required when a landlord wishes to remove one or several housemates from a residence. Eviction is permitted in North Carolina for one of three motives: violation of the lease, unpaid rent, or property occupancy after the lease's expiration date. Though you may default on your rent payments, the landlord has the authority to evict you and your roommate, even if only one of you is accountable for the previous unpaid rent.

Furthermore, suppose the lease expressly bans extra tenants or subletting partners. In that case, the owner can seek a summary eviction from a North Carolina court after you allowed a housemate to come in.

Illegal Roommate's Legal Significance
Additional roommates may be allowed to dwell in a rental house without signing a new lease or seeking approval from the owner. A housemate who does not exist on the lease typically has no legal obligations to the landlord of the rental residence; as a result, the landlord in North Carolina cannot pursue late payments or take any legal action against the illegal housemate. However, the housemate may have a sublet deal with the initial renter and be legally obligated to you if listed on the lease agreement.
Eviction Rights of Tenants
If you permitted a housemate to settle in with you without revising the lease agreement with the owner, you might still be entitled to remove the illegal roommate legally. There may be an informal or written sublet agreement between you and the new housemate. You may be entitled to commence legal procedures for foreclosure based on the lease conditions if the roommate does not pay rent or causes difficulties in the house.

A court order compelling all individuals to vacate the premises and return ownership to the landlord may come from a legal foreclosure filed by the landlord. As a result, if you wish to remain on the premises, you may need to take action on your own. To eject a housemate, you must pursue North Carolina's tenant's eviction filing processes.
How to Evict a Roommate by Yourself
You do not choose roommates with the intention of them facing eviction in the future, but it does happen frequently. In most cases, a landlord is responsible for dealing with tenant evictions. However, there are specific circumstances in which you may be able to evict your roommate lawfully.
The legal definition of a good cause varies depending on your municipality's landlord and tenant rules. Still, the most frequent legally permitted justifications are similar to what would be necessary for an owner to evict you. They are as follows:
Not paying rent
Not paying utility bills
Destruction of property
Taking part in an unlawful activity on the premises
Endangering your health or safety
Recurrent lease violations, such as excessive noise, despite receiving notice to stop
You'll require a legally sound course, and you'll have to go through the judicial system. Your roommate or tenant must have broken one of the terms of your lease contract or the additional roommate pact you signed.
How to Evict Your Roommate in North Carolina with DoNotPay
DoNotPay is here to guide you through it and file your disputes on your behalf. Our Landlord Protection product can help you:
Get back your security deposits.
Learn about your state's eviction laws and what protections apply in your case.
Resolve disputes regarding repairs with your landlord.
Resolve conflicts with roommates by filing demand letters or going through small claims court.
Break your lease early.
How to Break a Lease in North Carolina Using DoNotPay
If you want to break a lease in North Carolina but don't know where to start, DoNotPay has you covered in 4 easy steps:
1. Search for and open the Landlord Protection product on DoNotPay.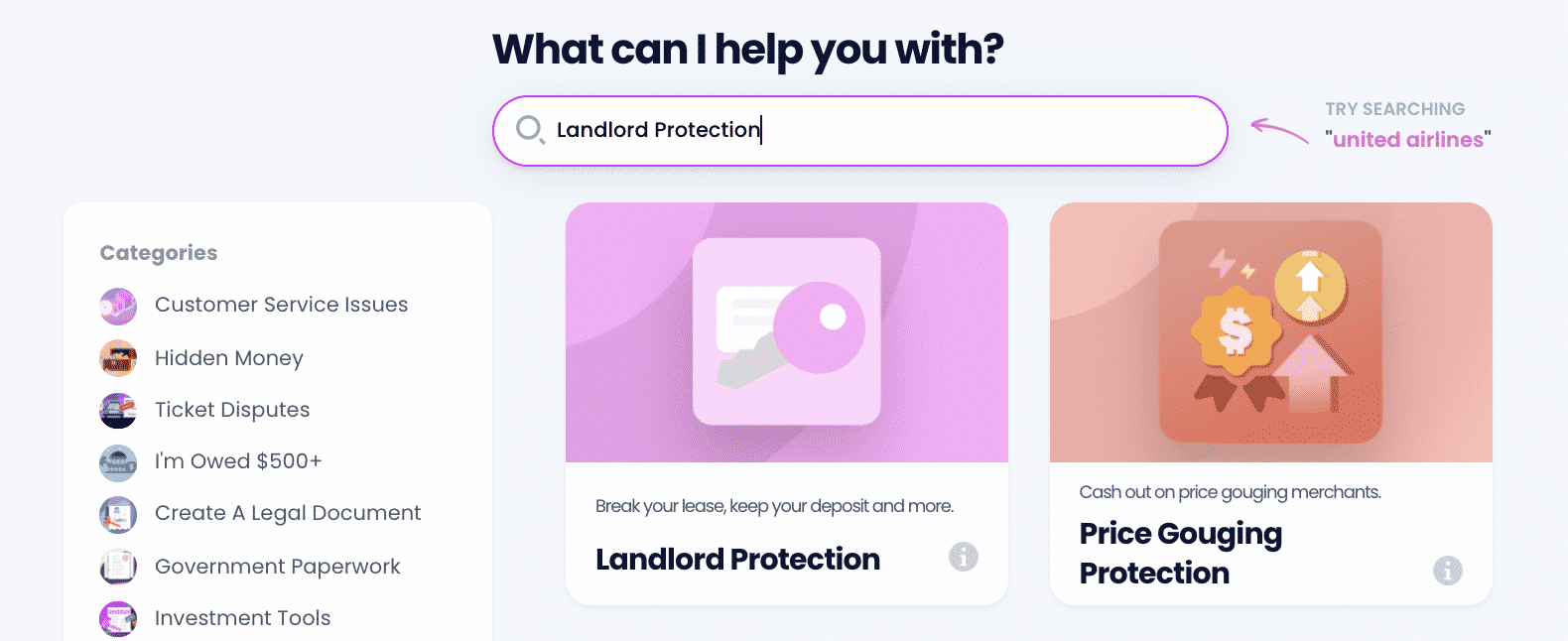 2. Select which issue applies to you.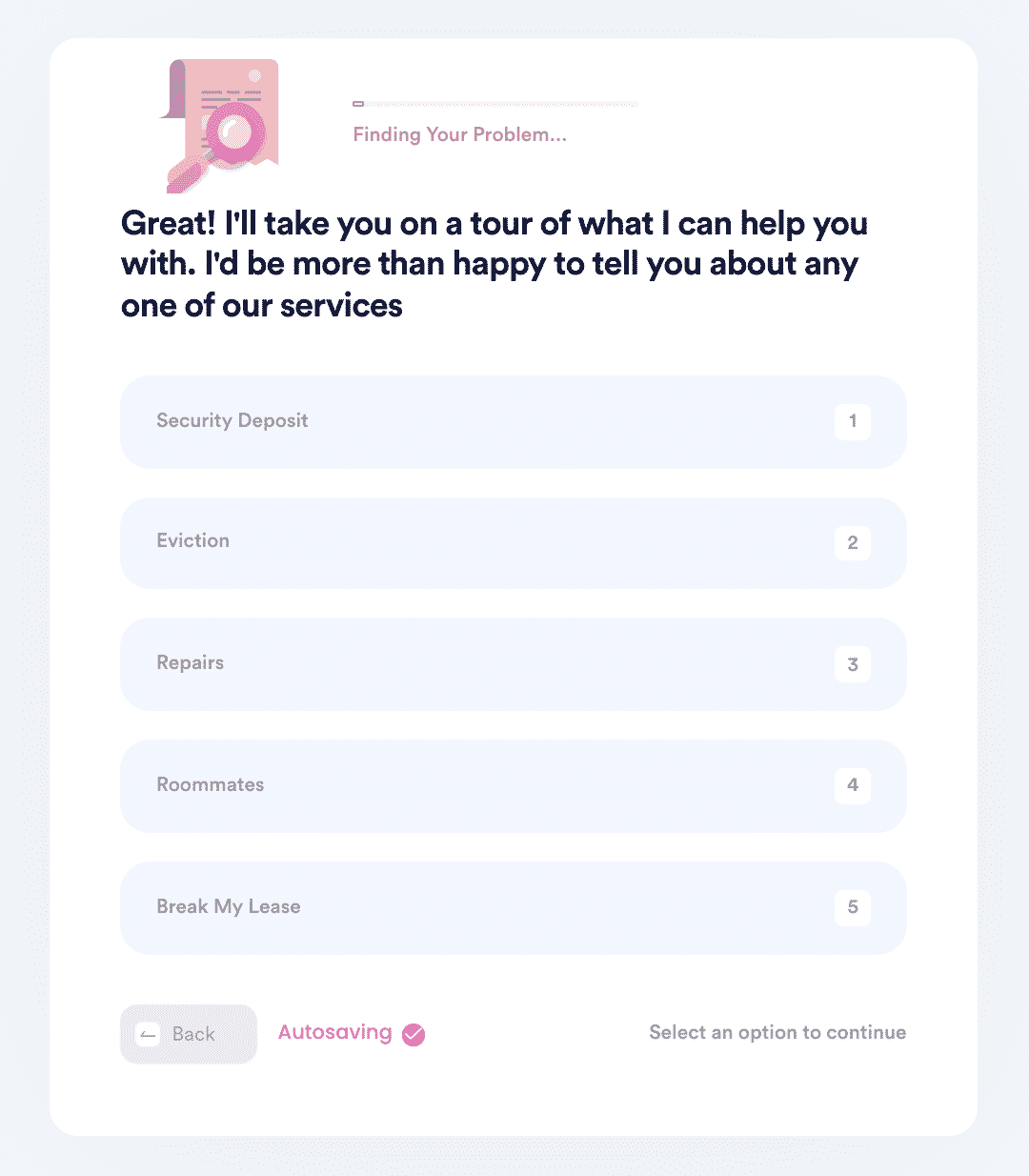 3. Answer a simple set of questions so our chatbot can collect the necessary information to create your demand letter.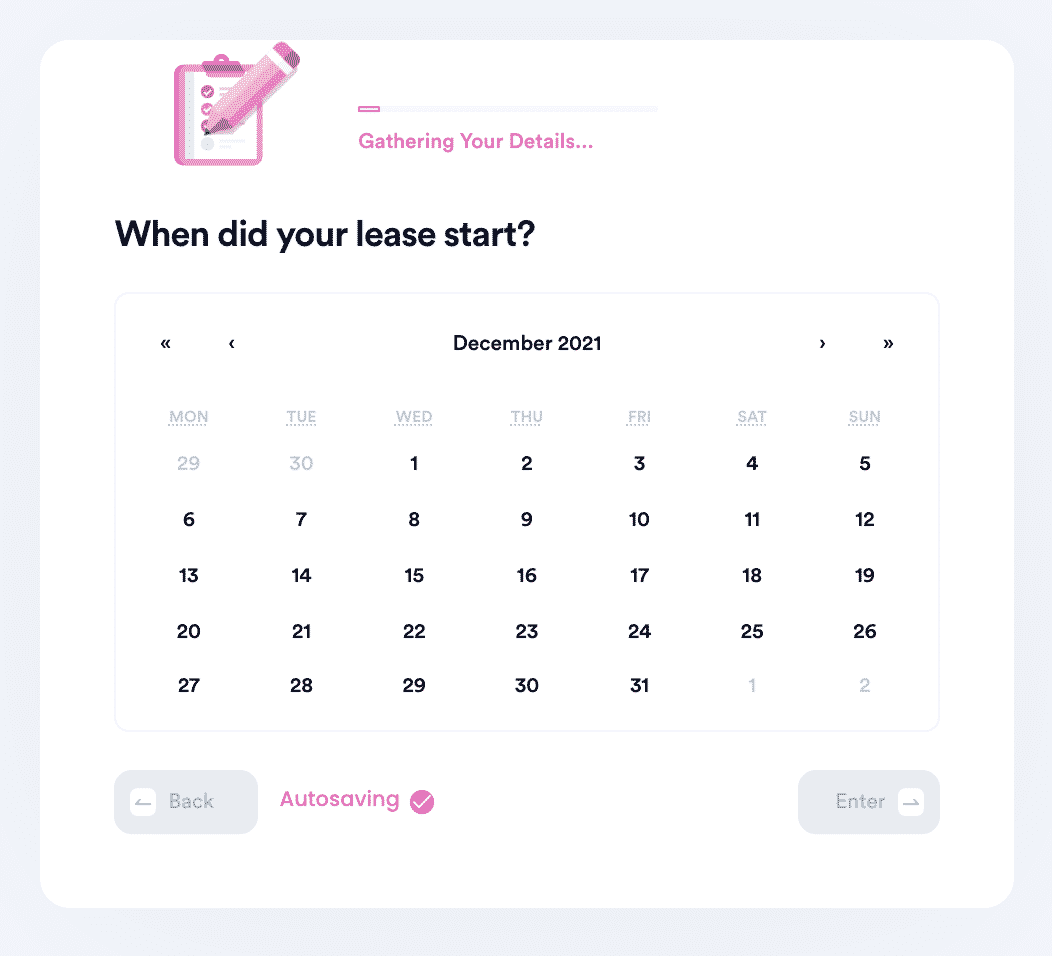 4. Choose whether you want DoNotPay to send the demand letter to your landlord or roommate on your behalf. If you already tried sending a demand letter and it didn't work, we can help you start the small claims court process.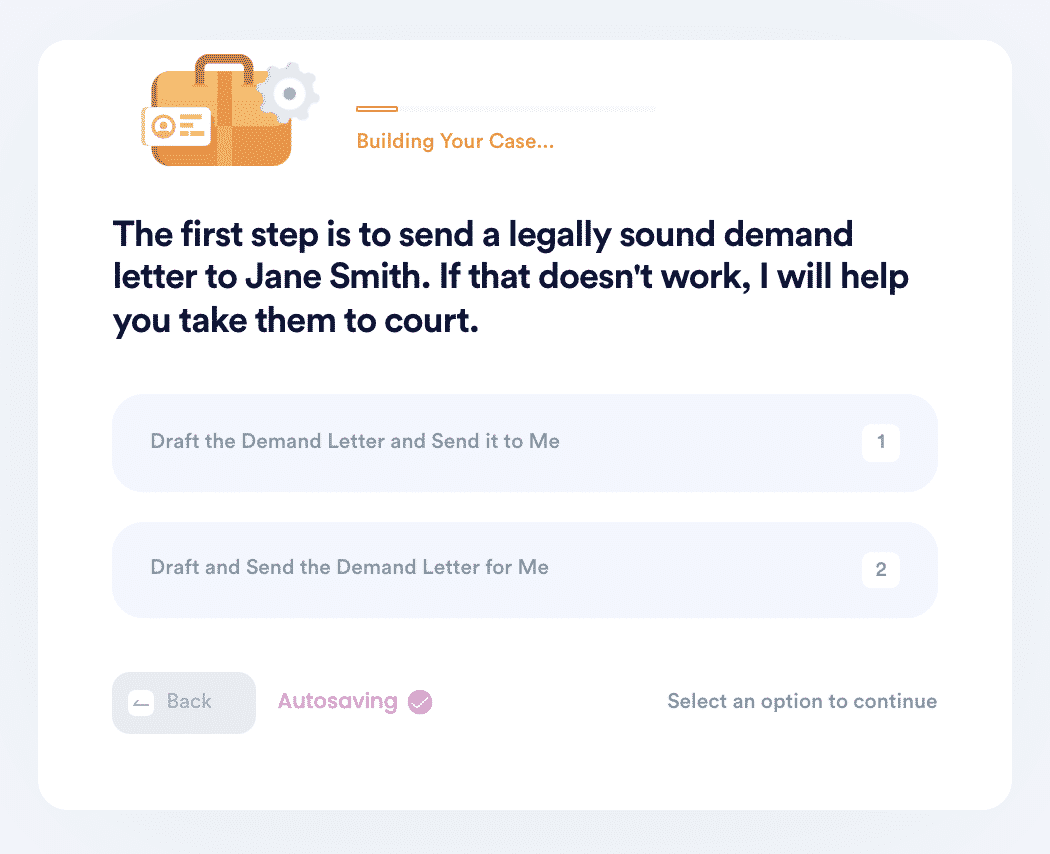 You should hear back from your landlord directly once your demands are sent.
What Else Can DoNotPay Do?
DoNotPay offers a variety of services apart from helping you evict your roommate to help protect your renter's rights. We can help you with:
Contact us at DoNotPay today. We've got you covered.