A Guide to Your Navy Federal Small Business Loan Application
Loans and credit lines designed for small businesses are valuable tools for startup developers. If you learn how to get a loan, what the terms are, and which banks are best to deal with, you are that much more likely to get the resources you need to grow your business.
Are you looking into a Navy Federal small business loan? We will show you how to get a loan with Navy Federal Credit Union—but if you would rather skip the research, you can have .
Navy Federal Credit Union—A Primer
Navy Federal Credit Union has been in business since 1933 and was founded by seven Navy department employees who wanted to overcome the challenges of the Great Depression. Today, the credit union serves over 10 million members of the armed forces.
They offer a range of financial support and management services—key among them are their lending options designed for small businesses. Upon concluding tours of service and re-entering civilian life, many military members attempt to start their businesses. Rather than apply for an SBA small business loan, veterans often prefer to work with others who have had similar experiences in the military.
Given the excessive startup costs associated with a new enterprise, it is not always easy to get started without a bit of help. That is why Navy Federal Credit Union offers several types of small business loans. While they may not rank among the best developing business loans available, their military-specific services support over 19 million veterans in the country today.
Navy Federal Credit Union Lending Options
From asset-specific loans to lines of credit supporting cash flow, Navy Federal Credit Union offers a suite of lending options for men and women who have served in any branch of the military. Here's what you can expect:
Real estate loans
Business term and vehicle loans
Business lines of credit
Real Estate Loans
Navy Federal Credit Union small business loans help with the acquisition of new assets, expansion of portfolios, and development of a business. This type of support is ideal for projects such as:
Commercial real estate purchase and development
Acquisition of residential investment property
Mixed-use property financing
Renovation of currently owned properties
This lending option offers fixed and variable interest rate options, standard 5-year term, 20-year amortization, and no prepayment penalties. It is important to note that you must occupy the property for a business purpose to qualify for a small business loan for real estate.
You may have to pay the following fees in addition to service charges and repayments:
Appraisal
Environmental study
Origination fee
Document preparation
Title
Pest inspection
Attorney fees
Business Term and Vehicle Loans
Navy Federal Credit Union also offers startup business loans specifically designed to help you purchase necessary equipment, including:
Computers
IT infrastructure
Business vehicles
Heavy-duty trucks
The terms of these types of loans are:
Prepayment Penalties
Loan to Value
Fees
Term Loans
N/A
Up to 75%
$150 origination, lien search, and recording fees
Business Vehicle Loans
N/A

New, up to 100%
Used, up to 90%

N/A
Commercial Vehicle Loans
N/A
N/A
Business Lines of Credit
Whereas loans are ideal for capital expenditures and projects, lines of credit can help mitigate gaps in cash flow and address unexpected business expenses. They are financial insurance to ensure your business can cover costs whenever necessary.
Navy Federal Credit Union offers lines of credit starting as low as $35,000 with terms customized to your specific needs. As a borrower, you must pay the following fees:
Annual fee of $325 for equity up to $100,000
0.5% origination fee for limits greater than $100,000
An initial $50 annual fee
Lien search and recording fees may apply
Requirements for Navy Federal Credit Union Lending Options
Navy Federal Credit Union requires applicants to submit extensive documentation to qualify for their lending options:
| | Business loan application | Certificate of insurance | Purchase invoice | Business tax returns | Personal tax returns | Business plan | Personal guarantee | Personal credit check |
| --- | --- | --- | --- | --- | --- | --- | --- | --- |
| Real estate loans | ✔ | x | x | ✔ | ✔ | ✔ | ✔ | ✔ |
| Term loans | ✔ | ✔ | ✔ | x | x | ✔ | ✔ | ✔ |
| Business vehicle loans | ✔ | ✔ | ✔ | x | x | ✔ | ✔ | ✔ |
| Commercial vehicle loans | ✔ | ✔ | ✔ | x | x | ✔ | ✔ | ✔ |
| Business lines of credit | ✔ | x | x | ✔ | ✔ | ✔ | ✔ | ✔ |
Are Navy Federal Credit Union Small Business Loans Limited?
Using the standard process, you can only apply for a Navy Federal Credit Union small business loan for an aggregate maximum of $50,000. If your borrowing requirements exceed that amount, you must book a meeting directly with a Business Lending Officer.
How To Apply for a Navy Federal Credit Union Small Business Loan
While each lending option has specific requirements, all include a Navy Federal Credit Union Business Loan Application. Start your application by following these steps:
Visit the Navy Federal Credit Union Business Loans page
Select the lending option that best meets your needs
Download the Small Business Loan application
Fill out the necessary details about your business
Attach the other required documents
Contact a Business Lending Officer to submit your application
DoNotPay Will Do the Work for You
Does the Navy Federal Credit Union small business loan application seem like a lot of work? Let DoNotPay assist in the process.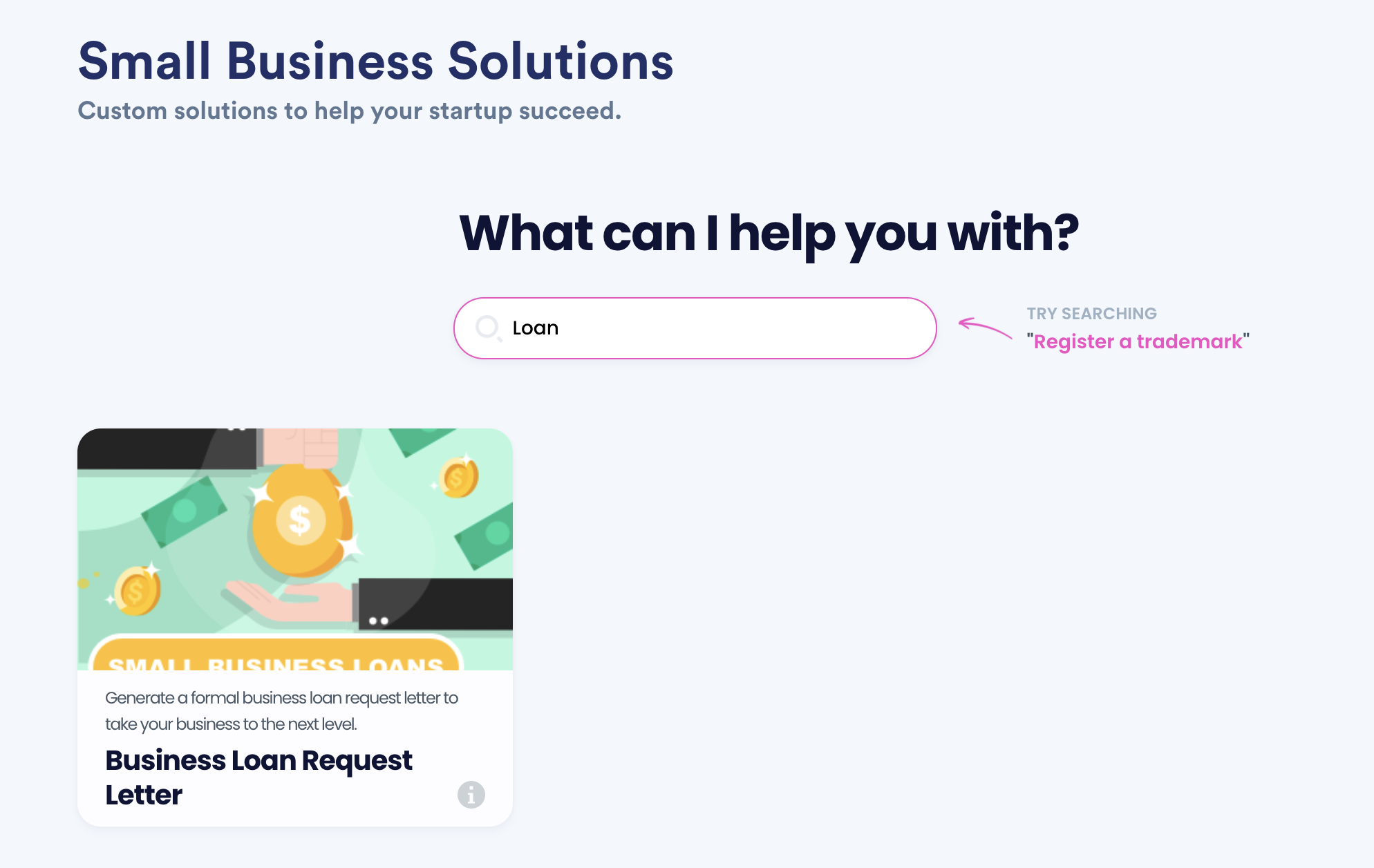 Here is how to get started with our Business Loan Request Letter generator once you :
Put together the required financial and business documents (credit score, cash flow statements, etc.)
Select the Business Loan Request Letter product
Upload your business and financial documentation
Tell us about your business, how much you would like to borrow, and what the loan is for
We will create a top-notch loan request letter and send it on your behalf, thus improving the chances of securing the funds. You can simultaneously use our Find Online Lenders tool if you need help choosing the best financial institution.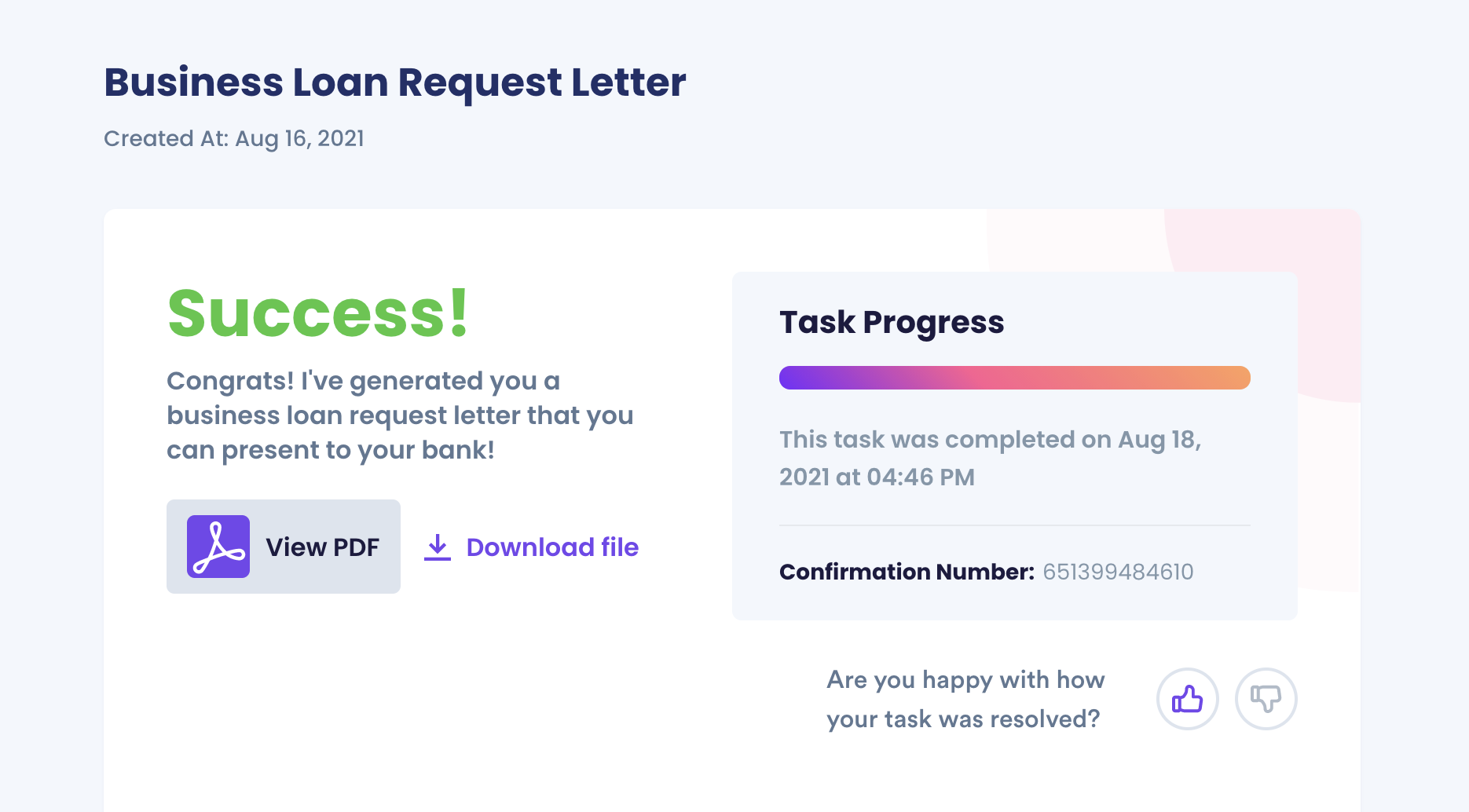 Let DoNotPay Help You With Boring Administrative Tasks While You Focus on Becoming a Business Mogul!
DoNotPay can assist you in dealing with a number of business-related tasks. We have developed a plethora of simple-to-use products that make running a business much easier and less stressful.
Do you need help registering your business name as a trademark? We have got you covered! Not sure how to write a convincing letter to request a small business loan? DoNotPay helps with that, too!
Use our app to get a perfectly generated chargeback rebuttal document, formally request payment from clients who breach the contract, and find out how your employees can file 83(b) election forms in a matter of clicks!
Check Out Our Other Nifty Products!
That is not all DoNotPay has to offer. Our awesome tools will make tedious administrative tasks easier to manage so you can concentrate on your business instead of wasting time waiting in lines and filling out forms. Rely on DoNotPay to:
Take care of DMCA agent registration and Privacy Shield program self-certification
Make sure no one else is using your trademark
Get rid of fake online reviews that harm your business reputation
Manage Employer Number Identification (EIN) registration
Enjoy the convenience of faxing and mailing from the comfort of your home or office