Native American Small Business Loans in a Nutshell
As a small business owner, you need funds to cover your business expenses and keep your business thriving. Are you a Native American entrepreneur searching for a small business loan to finance your business? DoNotPay can provide you with the right resources.
This article explains what you need to know about Native American small business loans. If you want to make the loan request process effortless, you can and get a formal loan request letter in no time.
Small Business Loans in a Nutshell
Small business loans are financing solutions provided to small businesses and startups to cover their costs. You can use them to pay the following:
Day-to-day expenses
Working capital investment
Real estate acquisition
Machinery and equipment purchase
Various minorities are setting up businesses in the United States. Currently, there are approximately 11 million minority-owned businesses, 300,000 of which belong to Native Americans. With access to good funding, Native American business owners can work on increasing their profits and creating job positions without making a significant dent in their budget. For this purpose, many small business loans are available to them specifically.
What Types of Small Business Loans Can You Get as a Native American?
The first step in applying for a small business loan is deciding which one is the most suitable for your business. While there are many options available, you must establish why you need to use the loan, what the loan terms are, and how you intend to pay it back.
The following types of small business loans are available for Native Americans:
Community Development Financial Institution Loans
U.S. Department of the Interior Indian Loan Guarantee Program
U.S. Department of Agriculture Business & Industry Loan Guarantee Program
U.S. Department of Energy Loan Guarantee Program
SBA Loans
Microloans
Short-Term Loans
Community Development Financial Institution Loans
Community Development Financial Institutions (CDFIs) are nonprofit institutions providing loans specifically to minorities. Some CDFIs are certified as Native CDFIs, and most of their funding is targeted towards Native Americans, Alaska Natives, and Native Hawaiians. Other than loans, the institution also provides training and mentorship to entrepreneurs.
CDFIs usually provide short and medium-term loans with an interest rate ranging between 6% and 36%.
U.S. Department of the Interior Indian Loan Guarantee Program
The U.S Department of the Interior (DOI) has an Indian Loan Guarantee Program for Native American and Alaska Native entrepreneurs. The loans are long-term and have a low interest rate compared to traditional loans. To apply for one, you must meet the following criteria:
Your business needs to be owned primarily by Native Americans
You (the owner) have to provide a 20% down payment
The business should benefit the tribal areas in some way
You can get this loan not only from commercial banks like Wells Fargo but also from smaller community banks.
U.S Department of Agriculture Business & Industry Loan Guarantee
You can apply for a USDA loan if you operate in a rural community and fulfill the following requirements:
Your business should operate in an area with less than 50,000 citizens
You have to provide an asset as collateral for the loan
The USDA offers a loan of up to $25 million with a 30-year repayment term and market-competitive interest rates.
U.S. Department of Energy Loan Guarantee
It is specifically offered to organizations focused on providing sustainable energy to tribal areas.
SBA Loans
You can apply for a Small Business Administration (SBA) loan if you meet the following criteria:
Have a credit score of at least 650
Provide 10–20% down payment
Have a functional business of over two years
These funds are popular because they have a low interest rate and a long repayment term. You can choose between different SBA loan programs, such as the SBA 7(a) or the SBA 504 loan.
Microloans
Microloans are the perfect choice for your businesses if you need a small amount to cover your costs. Several microloan lenders are nonprofit institutions that help local and minority-owned businesses. The interest rate can range between 10% to 16%, provided you have a credit score of at least 600.
Short-Term Loans
If you do not have a good credit history, short-term loans are probably your best bet. You can apply for this loan even if you have been rejected by traditional lenders. It has a three to 18 months repayment term with a weekly or monthly repayment schedule.
How To Get a Native American Small Business Loan
To apply for a loan, you need to follow the lender's specific eligibility criteria. Here are specific instructions you can follow to strengthen your application:
Ways To Increase Your Chances of Loan Approval
Details
Solid business plan
Most business owners require a solid business plan with the following information:

Purpose of your business
Forecasted sales
Revenue and expense projections

Good credit history
The better your credit score, the more chances you will have of securing a small business loan
Business revenue
If you increase your business revenue and profits, you improve your chances of getting a loan
Formal loan request letter
You should create a comprehensive loan request letter explaining why you want to borrow the money and how you intend to repay it
DoNotPay Can Help You Get a Native American Small Business Loan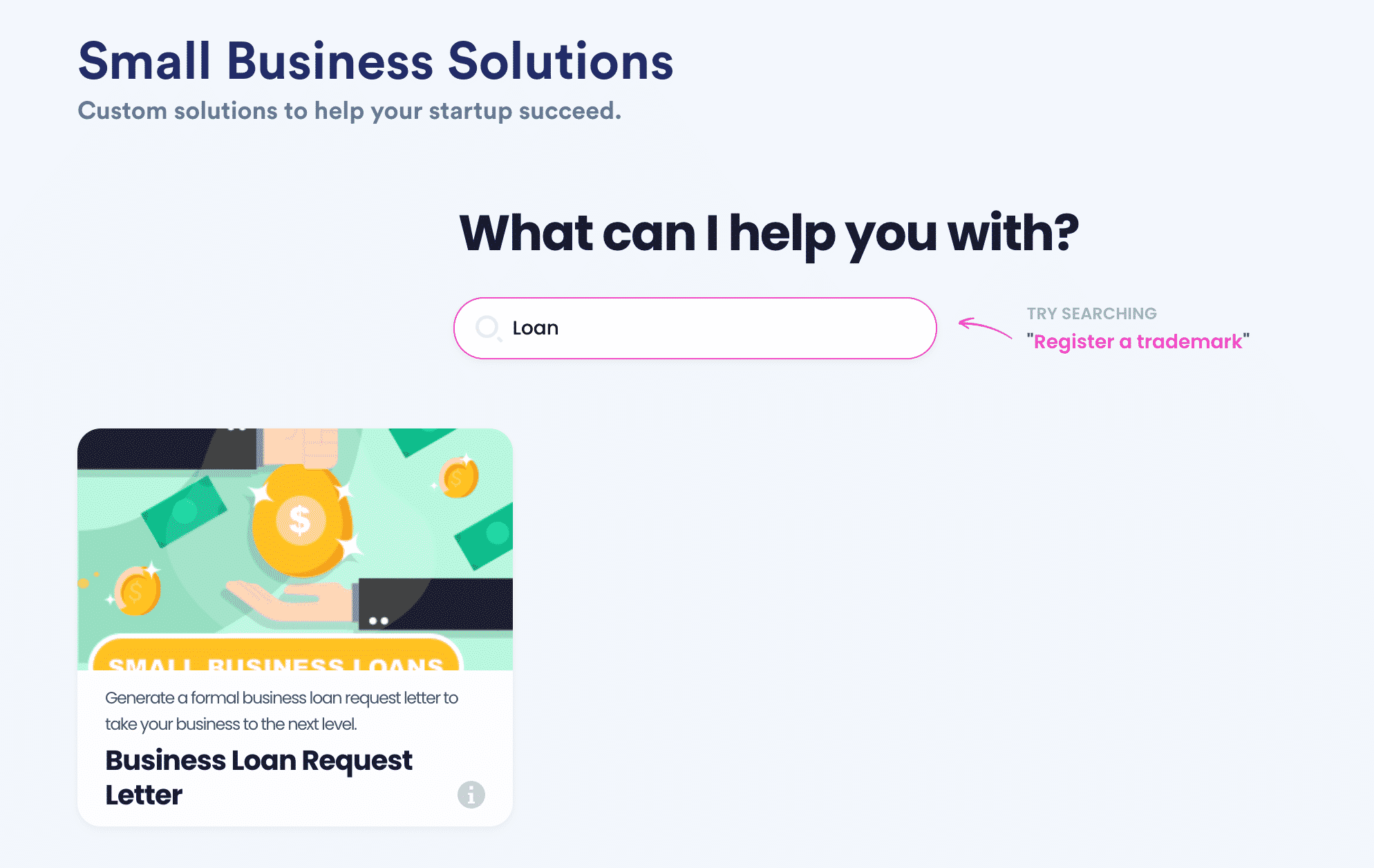 Applying for a loan can be burdensome, especially if you do not know how to go about it. DoNotPay can facilitate the application process by doing the following:
Gathering the information about your personal and business score
Drafting a reliable loan request letter in a matter of minutes
Forwarding it to the lender on your behalf
Here is what you need to do:
in your web browser
Select the Business Loan Request Letter tool
Enter information about the loan and your business
Upload the necessary paperwork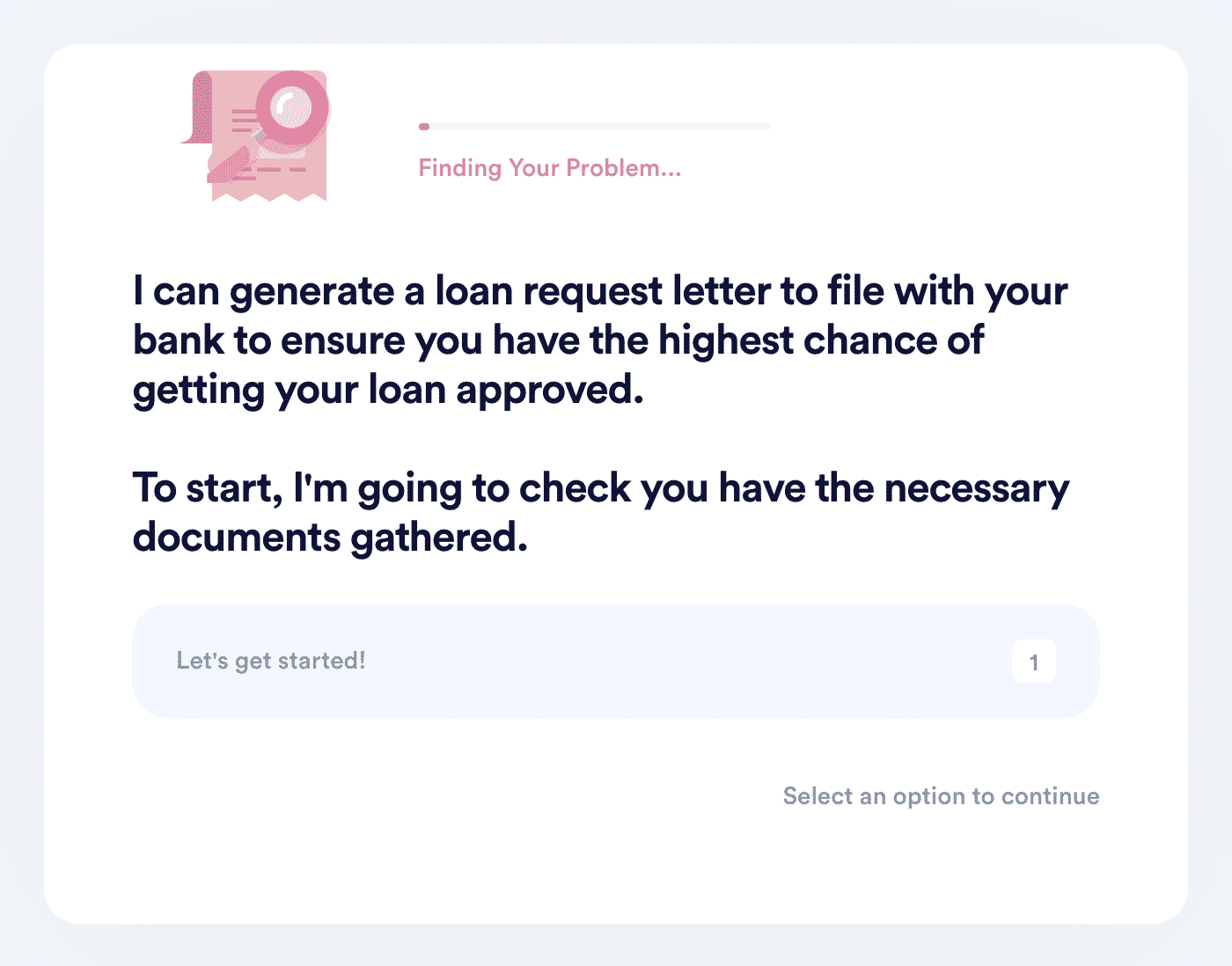 If you need help finding a suitable lender, our Find Online Business Loan Lender product provides the best suggestions!
Build Your Business From the Ground up With Your Reliable Pocket Assistant!
To make the running of your business less stressful, DoNotPay has created numerous handy products that can help you deal with any issue right from the start. With our assistance, you can:
Get the perfect letter requesting a loan for your business
Handle the Employer Identification Number and DMCA agent registration procedures in a few clicks
Manage Privacy Shield program self-certification to make sure your clients' privacy is protected while on your website
If you are considering completing trademark registration, DoNotPay will be your trusty companion and help you finish the whole process in no time! We can even make sure no one uses your trademark as their own by performing routine checks and sending cease and desist letters to the offenders instead of you.
Resolve Pesky Business Issues With DoNotPay
Our app boasts many other useful and easy-to-use products that will help you resolve an array of business-related problems. Whether you need help filing 83(b) election forms as effortlessly as possible or wish to communicate with your clients and business partners without heading over to the post office, we have got you covered!
DoNotPay can also help you remove bad, fake online reviews that could harm your business reputation, deal with clients who avoid paying for your services, and contest unjustified chargeback requests.
Rely on our app and stay on top of your work while we deal with business issues on your behalf!