Lifting the Lid on Native American Discrimination
When we talk about employment discrimination based on race, the conversation usually refers to racial discrimination against the Black or Hispanic community.
Few discussions revolve around discrimination against the original inhabitants of our country. DoNotPay is here to help you understand the extent of Native American discrimination in the workplace and what you can do to combat it if you're a victim.
The History of Native American Discrimination
Discrimination against Native Americans has been in evidence since the 1800s, with forced relocation and eradication of Native American culture being systemic until reforms were passed in the 1920s. The marginalization of the First Peoples continues to the present day.
In the employment world, the Equal Employment Opportunities Commission (EEOC) produced a report in 2014 highlighting the progress made by Native Americans and Alaskan Natives in the workplace since civil rights were reformed in the 1960s. The report was compiled using data submitted annually by roughly 70,000 employers.
What Is the Current Status of Discrimination Against Native American Employees?
The EEOC report highlights several important points concerning Native American participation in the employment market:
| | |
| --- | --- |
| Relevant Point | Explanation |
| Overall participation in the employment market | Native Americans and Alaskan Natives made up less than one percent of the total workforce until 2013 |
| Management and supervisory jobs | Larger numbers of Native Americans have risen to higher levels in companies across the U.S., but the percentage compared to the total workforce has remained constant since 1984 |
| Workers in professional fields | Native American and Alaskan Native professions have grown steadily in numbers since 1966 but still make up only 0.38% of all professionals in the U.S. |
| Salary levels compared to the median | Even though Native Americans and Alaskan Natives are participating more in the workforce, their salaries remain on average well below the national median. National median earnings in 2013 were $52,176, whereas these two minority groups earned a median of $36,252 |
A further study commissioned by the Robert Wood Johnson Foundation in 2017 polled 342 Native American workers and revealed the following about the state of Native American discrimination today:
What Protection Do Native Americans Have Under the Law?
Native Americans and other racial groups are protected by the same anti-discrimination laws—the most significant being Title VII of the Civil Rights Act of 1964.
Under Title VII, employees are protected against discrimination based on:
Race
Nation of origin
Color
Discrimination in whatever form—de jure or de facto discrimination, wage discrimination, harassment, or retaliation—is illegal. If an employer is found guilty, they can be liable for significant damages.
What Can You Do if You Are a Native American Victim of Discrimination?
If you are experiencing discrimination at work due to your race, you need to raise the issue internally to get it resolved.
Following these steps means you are doing everything possible to address the problem internally:
Keep records
Involve HR and your supervisor
Check your company's policies
Keep Records
You should keep a detailed diary of every incident of discrimination against you. Your notes need to include:
Times and dates of occurrences
Employees involved
Exact details of the incidents
Details of any witnesses
Involve HR and Your Supervisor
Your HR department and your supervisor may want to play down any grievances you raise, so you should insist on them being logged formally and acknowledged.
Check Your Company's Policies
Your company should have a freely accessible anti-discrimination policy document—check it to make sure it expressly refers to racial discrimination.
If you cannot resolve the issue internally, your next step is to escalate the matter and involve the EEOC.
How Can the EEOC Help?
The EEOC is responsible for enforcing federal anti-discrimination laws and is your first port of call to launch an anti-discrimination case against your employer.
You will need to file a written complaint—called a charge of discrimination—with your nearest EEOC office. The EEOC will then:
Inform your employer of the charge
Investigate your allegations
Resolve the case by:

Closing it due to lack of evidence
Suggesting mediation with your employer to reach a settlement
Launching a federal lawsuit
Issuing you with permission to sue privately
If you receive a right to sue letter, you can contact a discrimination lawyer and start legal action on your own.
DoNotPay is your go-to resource to make the first step—filing your charge—quick and easy!
Use DoNotPay To File Your Charge With the EEOC
DoNotPay makes it easy to lodge a complaint of discrimination with the EEOC—here's what you have to do:
Navigate to DoNotPay and sign up using your web browser
Look for our Fight Workplace Discrimination feature
Give us the details of your complaint as prompted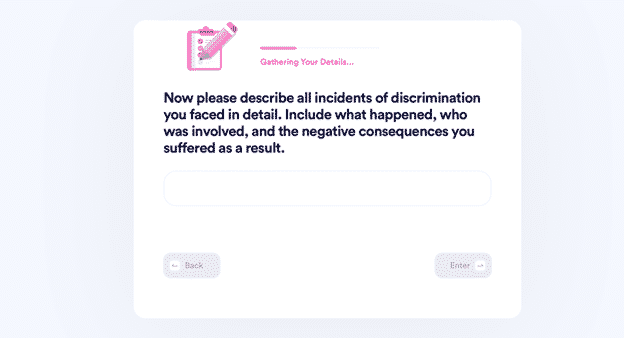 That's all she wrote—DoNotPay will file the charge for you, and the EEOC will get in touch to discuss your next course of action.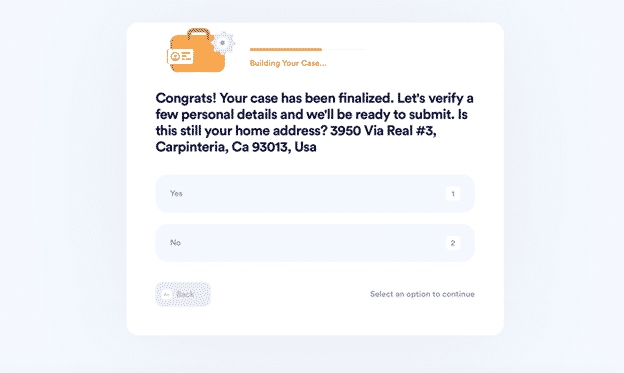 DoNotPay Is on Your Side
Is the discrimination you're facing at work turning into proper harassment or even stalking? Are you considering suing your manager or colleague in small claims court? These unpleasant situations usually require lawyers, but they come with hefty fees.
DoNotPay is a powerful AI-powered app that can lead you through a small claims court case against anyone or serve them with a cease-and-desist letter. If discrimination turns into a hate crime, we can help you file for crime victims compensation or make a claim on your insurance.
Whenever you need to draft, fax, or mail legal paperwork, you can open our platform and use our fast and reliable tools for that. With our help, you can even have your documents notarized by an online notary!
The Multi-Purpose Platform That Makes Your Life Easier
If you've had enough of that toxic atmosphere at work and want to escape somewhere for a week or two, DoNotPay might turn out to be the perfect travel buddy. Our app won't do much when you're drinking cocktails at a beach, but it will do wonders if you run into problems.
We can help you generate a child travel consent form, get airline compensation for canceled or delayed flights, jump the queue when you must contact customer service as soon as possible, or get a refund for all kinds of unsatisfactory purchases.
Do you prefer road trips? No problem! DoNotPay can help you prepare for your driving test or schedule a DMV appointment without sweat!
From fighting discrimination to solving travel woes—that's how diverse DoNotPay's portfolio is!