A Guide To Filing a Nationwide Pet Insurance Claim Form
Nationwide Mutual Insurance Company is a group of substantial U.S. insurance and financial services companies based in Columbus, Ohio.
The company offers numerous types of insurance, including home, vehicle, life, health, travel, and wedding insurance plans. 
One of their main subsidiaries is Nationwide Pet Insurance.
If your furry little friend is not satisfied with Nationwide Pet Insurance, DoNotPay will help you cancel it. In case an accident happens, and you need to file a claim, we will help you fill out a Nationwide Pet Insurance claim form in a flash!
What Does the Nationwide Pet Insurance Cover?
Pets provide company, give unconditional love, help with illnesses, and even have the ability to ease depression. It does not come as a surprise that so many people nowadays want to provide insurance for these little bundles of joy.
Whether you have a dog, cat, rat, turtle, parrot, or snake, you can protect them with Nationwide pet insurance. Check the table below to see what types of coverages Nationwide offers:
Type of Coverage
What Does It Cover?
How Much Does It Cost?

Complete coverage

Vaccinations

Prescriptions

Hereditary conditions

Chronic conditions

Wellness exams and tests

Flea and heartworm prevention

Accidents and illnesses

Surgeries and hospitalization

Plans start at $64 a month

Medical coverage

Prescriptions

Chronic conditions

Accidents and illnesses

Surgeries and hospitalization

Some hereditary conditions (after a one-year waiting period)

Plans start at $34 a month
What Do You Need for Submitting a Nationwide Pet Insurance Claim?
Before you start the claim filing process, you need to prepare a couple of items:
Proof of diagnosis or name of the condition the pet is experiencing and getting treatment for

Invoices showing carried-out payments for the diagnosis and treatment of the condition
How To File a Nationwide Pet Insurance Claim on Your Own
Standard claiming options that Nationwide offers for pet insurance are:
Submitting a claim online

Filling out a form and submitting it via fax, email, or regular mail
How To File a Nationwide Pet Insurance Claim Online
To submit your Nationwide pet insurance claim online, you have to do the following:
Go to the Nationwide Pet Insurance website

Click

Submit a Claim

Hit the

Start button

Log in to your

Nationwide Pet Account Access Page

or create a new one

Choose

Select a New Claim

Select the type of pet you're filing an insurance claim for

Provide details about the accident and reasons for filing a claim

Upload a photo of your invoice

Submit the claim
How To File a Nationwide Pet Insurance Claim Form
If you want to submit the veterinary pet insurance claim form, you have to download it first. Take a look at the whole process:
Go to the official website

Choose the

Submit a Claim

option

Select your state

Click the

Download Form

button

Fill out the form entering the required information, such as your contact information, policy number, and claim details

Send the form along with the paid invoices
You can find the necessary information for sending a claim form in the following table:
Filing Nationwide Pet Insurance Claims Is Easy With DoNotPay
It is a known fact that insurance companies go out of their way to find any reason for denying claims. It doesn't surprise that so many people would rather lose their money than go through the tiring process of submitting insurance claims, only to have them rejected.
DoNotPay developed a pragmatic Claims Insurance feature to combat this problem. With our fantastic service, you can file claims for any type of coverage, including home, auto, and medical insurance. You can rely on us when it comes to claiming your unemployment benefits.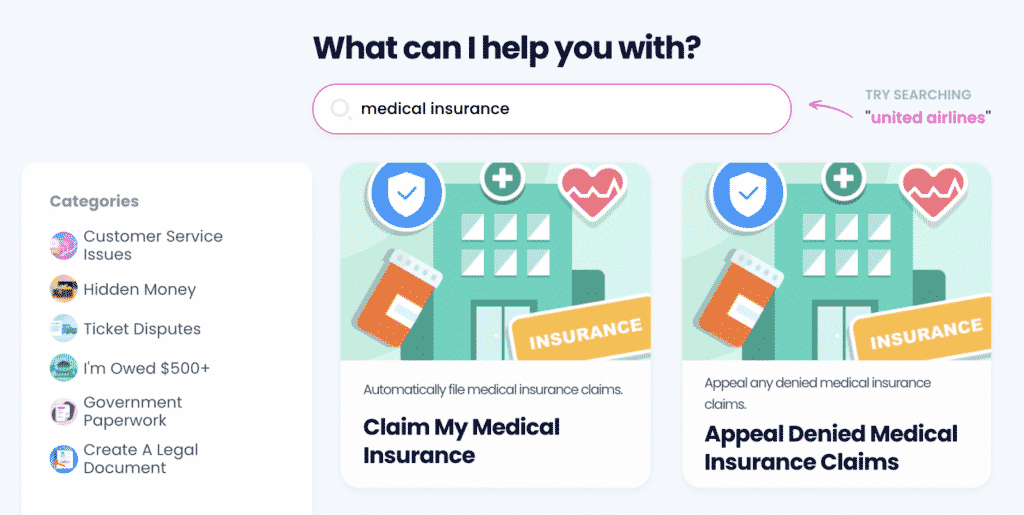 How Does the Claim Insurance Feature Work?
After accessing DoNotPay from a web browser, do the following:
Search for the insurance type

Enter the name of your insurance company

Add your contact and policy information

Provide a reason for your claim and details about the incident
After you click the Submit button, we will compose a claim letter and send it to the Nationwide Pet Insurance company.
What To Expect After Submitting Nationwide Pet Insurance Claim Forms
Representatives at Nationwide Pet Insurance take approximately 30 days to process insurance claims. Once they review your request, you can expect one of these responses:
Payment

Request for more information

Denial
If you think there's something fishy, the company will allow you to review your claim.
Your Veterinary Pet Insurance Claim Got Denied? DoNotPay Will Help You Appeal It
Waiting 30 days for the response about your claim only to learn it was denied can make you blow a fuse! Fortunately, DoNotPay created a product to help you manage that kind of situation.
The process is quite undemanding:
Visit DoNotPay in a

web browser

Select the

Appeal Denied Insurance Claim

option

Answer several questions about your claim

Hit

Submit
We will create an appeal letter and send it to the insurance company. They will notify you about the next steps once they process the request.
DoNotPay Is an Ultimate Money-Saving Assistant
Our app can help you manage bills that are too high to pay, but there are plenty of other money-saving possibilities out there we can help you with.
Want to challenge a parking ticket? DoNotPay can dispute parking citations in any city! Is someone getting revenue from your creative work? Cut the thieves off with DoNotPay!
 We can also help you get your college application fees waived, file any insurance or warranty claims, locate unclaimed funds in your name, or earn some extra cash from paid clinical trials in your area.
No More Risky Free Trials With DoNotPay
Do you love free trials but tend to forget to cancel your subscription before the trial ends? If this is the case, check out DoNotPay's virtual credit card for a risk-free experience.
With our virtual credit card, you can sign up for any service without worrying about unwanted charges. DoNotPay will even provide you with a random email address, which will help keep your inbox clean from spammy emails from the company.
Our app can also get in touch with the company's customer service, request a refund from them, or even escalate your issue to small claims court if the company is challenging to communicate with.