The Role of the NACVCB—National Association of Crime Victim Compensation Boards—Explained
If you are the victim of a violent crime, it's good to know that you can get compensation for your injuries. It's even better to know that the authorities that decide on your compensation are being overseen by a national organization that helps them stay efficient and accountable.
We know how important it is to compensate the victims of violent crime in the U.S. DoNotPay helps you with all you need to know about the National Association of Crime Victim Compensation Boards.
What Is the National Association of Crime Victim Compensation Boards?
The National Association of Crime Victim Compensation Boards (NACVCB) was founded in 1977 to encourage communication between victim compensation programs throughout the U.S.
As the process of crime victim compensation became more widespread following the passing of the Victims of Crime Act (VOCA) in 1984, the NACVCB started to focus on improving the services and efficiency of state compensation boards and other compensation organizations, all of which are members of the association.
The NACVCB is based near Washington, D.C., and states that its mission is "to provide leadership, professional development, and collaborative opportunities to [its] members to strengthen their capacity to improve services to crime victims and survivors."
What Is the NACVCB's Role?
The NACVCB performs many tasks aimed at improving the way its members—the compensation boards in each state—perform.
Its main focus areas are:
Focus
Explanation

Administration

The association runs training courses and offers guidance on administrative best practices for state compensation boards

Fiscal stability

State compensation boards receive advice on how to become financially stable by managing the federal

funding

they receive and supplementing it with local revenue

Effective outreach

The association trains its members on how to run effective victim outreach programs, how to communicate effectively with victims, and how to advocate for victims' rights and interest at a local level
The NACVCB helps to ensure that the terms of the VOCA are adhered to across the nation and that crime victims are looked after in every state.
What Does the VOCA Deal With?
The Victims of Crime Act of 1984 sets out guidelines for the treatment of crime victims and makes federal funds available to state compensation boards everywhere in the U.S.
To receive funding through the VOCA, each state compensation board must comply with the following:
Guideline

Explanation

Crimes and victims

Each compensation board must offer compensation for all victims of violent crime. DUI and abuse victims are specifically mentioned in the act to ensure they are given special attention

Compensable expenses

Boards should compensate victims for:

Medical expenses

Counseling

Lost wages as a result of injury

Funeral expenses

No compensation is payable for property damage, though. Each state board should be verifiably fair and equitable in the amounts of compensation it disburses

Victim cooperation

State compensation boards should encourage victims to cooperate with police investigations as much as possible. This is not a specific directive that victims can only be compensated if the police are involved, but it acts as a guideline to promote good citizenship

Nonresident victims

Any U.S. citizen in the state of each board should be offered compensation, whether or not they are a state resident

Federal versus state crimes

Victims of federal crimes must be offered compensation to the same degree as state crime victims

Unjust enrichment

Each state board must have rules and procedures in place to make sure that compensation money cannot be appropriated by the perpetrator of a crime of abuse

Federal benefit programs

If a victim receives compensation from a state board, they can still apply for and receive federal support through any programs available

"Last payer"

Crime victim compensation payments should be the last payments received by the victim. Other compensation bodies—such as Medicaid or Veterans' Administration—should reimburse the victim before the board agrees to do it. In this way, the board's funds can be used for those who most need them
Complying with these guidelines means that state boards receive federal funding and can offer compensation for a wide range of situations, including:
How Can I Benefit From the NACVCB?
As a crime victim, you will have no direct contact with the NACVCB, but you will see the effect of its work in the way your state compensation board deals with your case.
The NACVCB can direct you to your state victims' compensation board and will see the effects of its work in the annual reports it receives from each state board.
If you are the victim of violent crime, DoNotPay is the best place to come to launch your claim for victim compensation.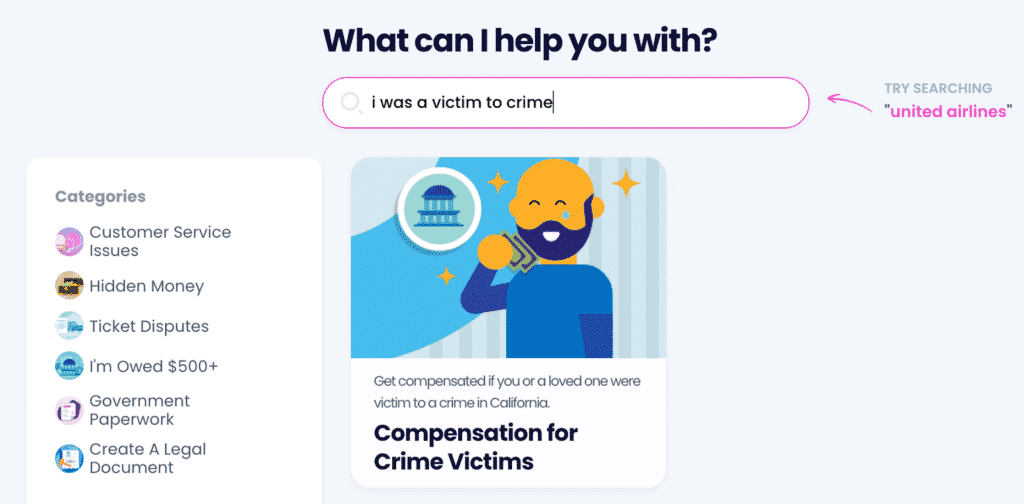 How Can DoNotPay Help Me Claim Compensation?
DoNotPay understands the trauma you suffer as a victim of violent crime. We are here to make claiming compensation as easy for you as possible.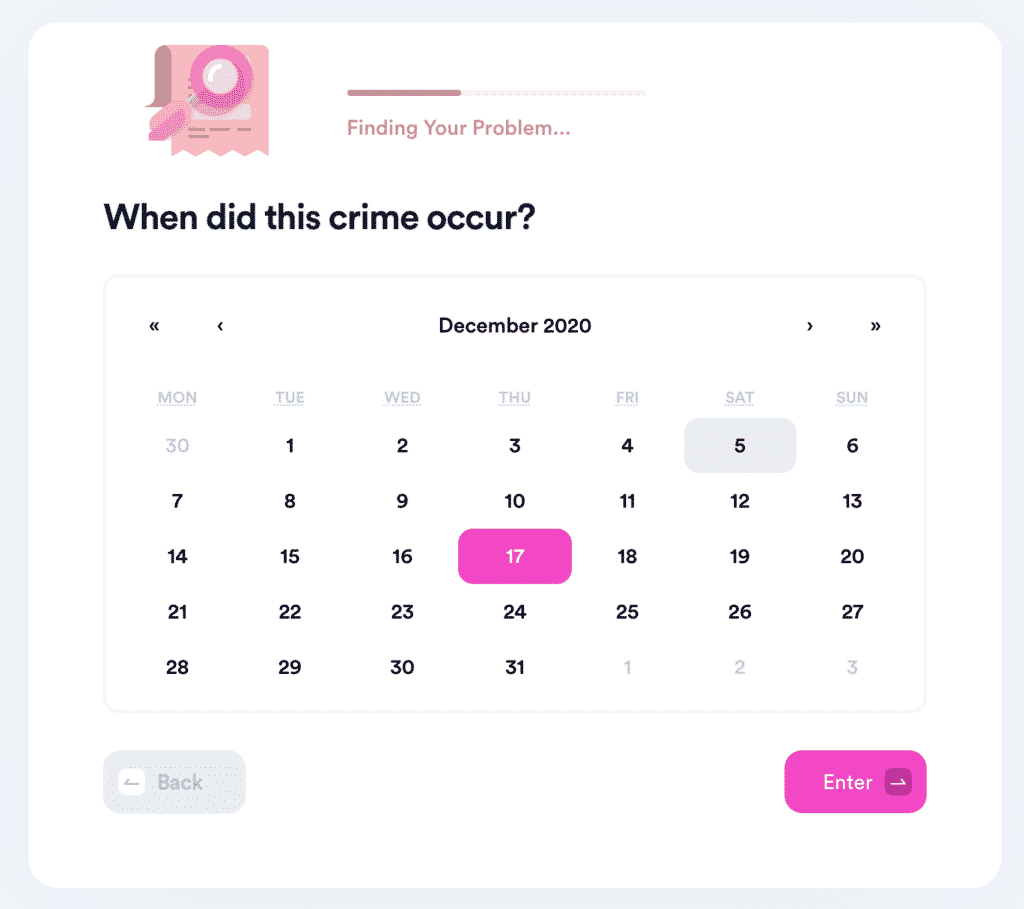 Our app features a service that helps you with a few clicks.
DoNotPay can help you whether you are a:
The spouse of a homicide victim

A dependent in an abuse case
To start your claims process, all you have to do is:
Go to DoNotPay in your browser and

Look for the

Compensation for Crime Victims

feature

Tell us whether you are a victim or another claimant

Give us the information we need about the crime and verify your signature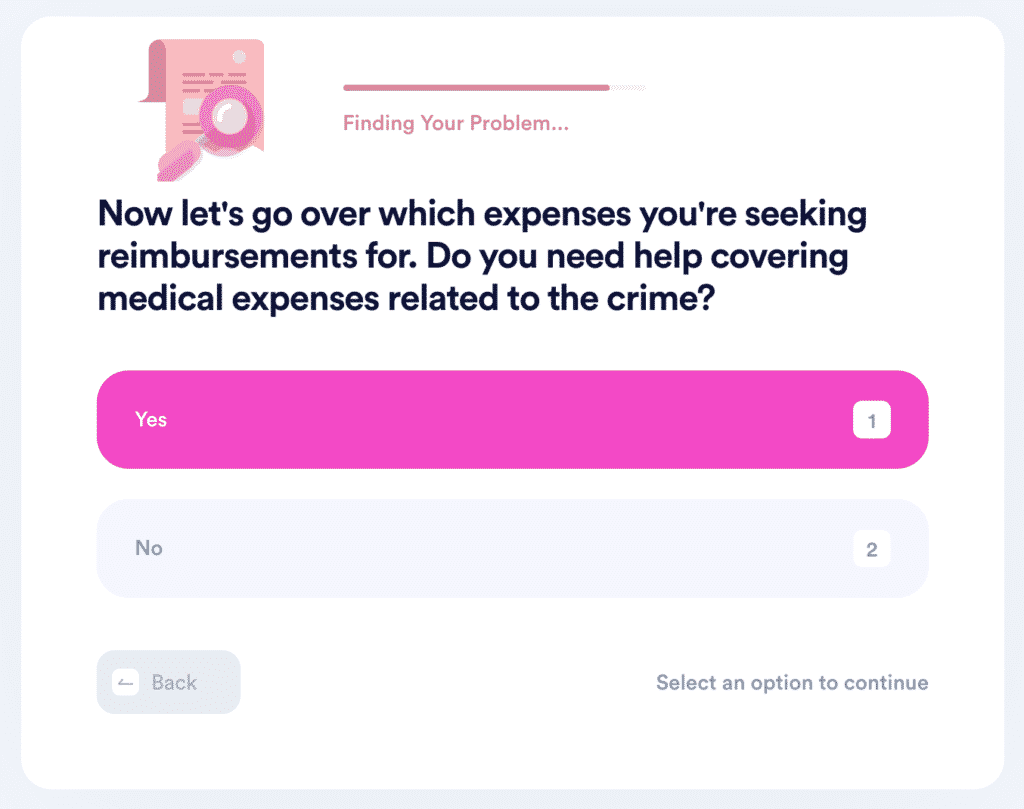 Does DoNotPay Have any State-Specific Advice?
We have information that can help you in any state. Here are some examples of our crime victim compensation (CVC) claim information for specific states:
Falling for Scams Is Less Likely With DoNotPay
Thanks to AI technology, DoNotPay is a great resource for protecting your privacy and finances from potential scammers. Our bots can help you report robocalls, keep your inbox clean from spam email and shady text messages, or even deal with stalking and harassment, if it comes to that.
In case the issues escalate, skip the expensive lawyers and sue the offenders in small claims court with ease.
Another great way to increase your online security is to use our virtual credit cards and sign up for any free trial without risking unwanted charges. You can even avoid sharing your contact info with our Burner Phone feature.
The Solution to Your Driving Woes
DoNotPay provides invaluable help to future and current drivers. By helping you ace that driver's license test, scheduling a DMV appointment the easy way, or contesting parking tickets, our app saves you money and time.
If you need to file a car warranty or an insurance claim, we will help you deal with the necessary paperwork within minutes. Trying to get out of a car wash membership? DoNotPay can cancel it in an instant.
Our platform works above ground as well. You can use DoNotPay to secure refunds from airline companies or compensation for delayed and canceled flights.