Nassau County Senior Citizen Property Exemption—A Complete Guide
Nassau County property tax rate is one of the highest in New York state, but if you are 65 or older, you may be eligible for a Nassau County senior citizen property exemption.
This guide will help you understand the purpose of property tax exemptions and show you how to lower property taxes with the help of DoNotPay.
Everything You Should Know About Property Taxes
Owning a property obligates you to pay property taxes. In the U.S., property taxes are collected by the local governments.
Tax regulations differ from one jurisdiction to another, but the amount is usually calculated by the local government, based on the value of the property and land it's on. Aside from that, some jurisdictions tax tangible property, like boats and vehicles.
Take a look at the following table to see what states have the highest and lowest property tax rates:
| | |
| --- | --- |
| States With Highest Property Taxes | States With Lowest Property Taxes |
| New Jersey | Louisiana |
| New Hampshire | Hawai |
| Texas | Alabama |
| Nebraska | Delaware |
| Wisconsin | District of Columbia |
Where Does the Property Tax Money Go?
The revenue from property taxes in the U.S. is huge, even in the states with lower rates, which leaves people wondering where all that money goes.
Property tax income is supposed to be a major source of funds for local and federal governments. The money is used to fund services, such as:
Education

Libraries

Emergency

Transportation

Parks and recreation
How To Lower Your Property Taxes on Your Own
If you need help with paying property taxes, you could benefit from some of these tips:
Don't do renovations or anything else that can increase your property's value before the assessment

Accompany the tax assessor during the evaluation process to make sure they don't make any mistake

Look for mistakes in your tax bills

File a

property tax appeal

—DoNotPay provides the best tips for appealing property tax assessments

Hire a professional to go through the property tax grievance process for you

Find out if you qualify to be partially exempt from paying taxes
What Are Nassau County Property Tax Exemptions?
While property tax assessment is obligatory for every property in the States, paying property taxes is not. Governments and religious organizations are completely exempt from paying taxes for owning any type of property. Other subjects can be partially exempt.
These are the most common property tax exemptions in Nassau County:
Senior citizens exemption

Exemptions for agricultural properties
If you believe you are eligible for a property tax exemption, DoNotPay will help you take advantage of it.
Who Qualifies for a Senior Property Tax Exemption in Nassau County?
If you meet the criteria for the senior property tax exemption, the local government will grant you reduced property taxes by 50%. To become partially exempt from paying property taxes in Nassau County, you have to meet four types of criteria:
Ownership eligibility

—owning a property for at least 12 consecutive months before filing for the exemption

Income eligibility

—having a household income that does not exceed Nassau County's maximum income limit of $37,399

Age eligibility

—being 65 years old or older at the time of filing for the senior property tax exemption

Residency eligibility

—having a property with a legal residence
Nassau County Property Tax Reduction for Seniors —Reduce Your Taxes With DoNotPay
The average American resident pays approximately $2,279 in property taxes—the amount that is not easy on the wallet. There is a way to reduce these taxes, and each local and federal government has its regulations. Besides setting regulations, there is not much your government can do to help you reduce your property taxes—you have to do it on your own.
To help you with lowering property taxes, DoNotPay created a practical Reduce Property Tax feature! DoNotPay automatically identifies which property tax exemption you qualify for and then helps you lower your taxes. We manage this by generating a personalized guide based on the information you provide.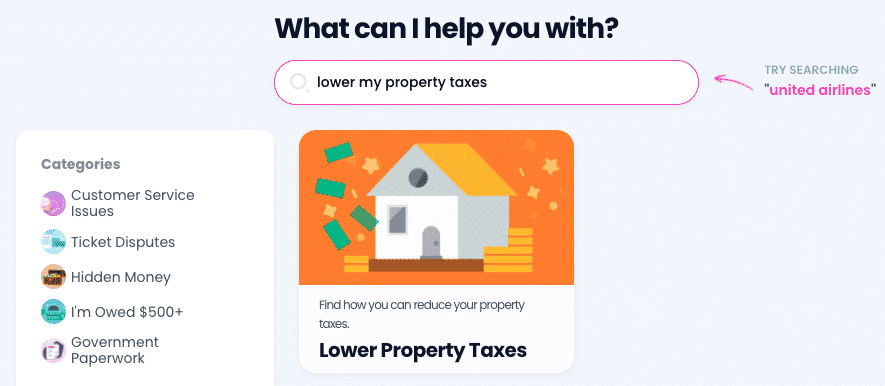 After accessing DoNotPay from your , follow these steps:
Open the

Reduce Property Tax

feature

Provide necessary information about you and your property

Get a detailed and personalized guide to reducing property taxes
Your customized guide will contain specific instructions on obtaining the right forms and submitting applications for exemptions you qualify for.
DoNotPay Can Help You File Property Tax Appeals
Meeting the requirements for a property tax exemption does not automatically grant you reduced taxes. The process is much more complicated. Once you apply for the reduction, the government will go through your request and make a decision based on the given information.
Don't get discouraged if your request gets denied—DoNotPay will assist you in filing your property tax appeal. Our guide will explain how to negotiate with assessors and what evidence to prepare.
Here's how to acquire a guide:
Open DoNotPay in a

Follow instructions in the

Reduce Property Tax

feature to get a custom-made guide

Consult the guide for precise steps to appeal previous assessments
DoNotPay Helps You Fight for Your Consumer Rights
Did you know that companies often reject first-time warranty claims?
You're probably familiar with how complicated the process of appealing parking tickets is. Trying to get a refund for an unsatisfactory purchase or a delayed flight has likely made you mad at least once.
Not anymore! DoNotPay makes all these issues go away in less than five minutes, and that is not all we can do for you!
You don't have to deal with customer service reps of any company on your own anymore—we do it all for you!
DoNotPay bypasses any bureaucratic obstacle for you—scheduling DMV appointments, delaying bill payments, getting in touch with your incarcerated loved ones, filing lawsuits in small claims courts, and claiming insurance policies.
Keep Your Data Safe With DoNotPay
Do you love free trials but are reluctant to disclose your credit card details, phone number, or email address?
Our app lets you try out different subscriptions in a risk-free way!
Use DoNotPay's Burner Phone feature to sign up for services without providing your phone number! We'll make sure robocall scammers and text spammers cannot harass you!
With our virtual credit card, you can sign up for any free trial and not worry about canceling it! Since the card is not linked to your bank account, no one will be able to charge you once the trial expires. An additional perk is that the card comes with a free email address, which means no spam emails from the company.