Everything About the
Nassau County Property Tax Assessment
If you live in New York, you'll need to know how property tax works in the county your property is located in. One of the highest tax rates in the country is in Nassau County—2.11%, which is more than double the national average. 
Learning about Nassau County property tax assessment is an important part of understanding why property tax is so high here. DoNotPay has the answers you need and will tell you about great ways to lower your property tax.
What You Should Know About the
Nassau County Property Tax Assessment
The Department of Assessment determines your property tax assessment in Nassau County each year. Your property's age, size, location, and condition will be taken into account. The tax assessor multiplies the tax rates set for the district where your property is located by the assessed value of your home to get the amount of your tax bill. 
School districts in your area have specific budgets. The tax rate is calculated by dividing the needed tax revenue by the assessed value of all property located in the district.
The property tax assessed value changes every year, and you can check yours on the Department of Assessments website. If you think that your property's assessed value is higher than other properties' in the same tax class, you can appeal it. DoNotPay can help you with that step!
Appeal Your Property Tax Assessment in Nassau County With DoNotPay's Help
You can consider appealing your property tax assessment when the value is much higher than it was in the previous years. If you are not sure how the procedure for property tax appeals works, you can use DoNotPay to find out. You only need to follow these instructions:
Sign up for DoNotPay

in a web browser of your choice

Find the

Property Tax

product

Provide some answers about your property
You will get a personalized PDF guide on property tax appeals. Your virtual assistant has the necessary information to properly prepare you for the property tax appeal hearing. We also know how you should handle negotiations with the assessor and what evidence will prove useful for lowering the assessed value. 
DoNotPay is a great platform where you can find out whether you are eligible for property tax exemptions in Nassau County.
DoNotPay's Neat Guide on Property Tax Exemptions in Nassau County
Nassau County is famous as one of the counties with the highest property taxes. This is why you should always look for possible ways of reducing these expenses. Property tax exemptions usually offer help paying property taxes for:
Veterans

Disabled individuals
DoNotPay can tell you if you can apply for one of the available exemption programs in Nassau County. You should only open our app in a web browser of your choice and use the Lower Property Taxes feature. We will generate a great guide on the exemptions, which you may consult anytime to get the information you need.
If you are eligible for a property tax exemption in Nassau County, you can count on our app for help with application forms and procedures.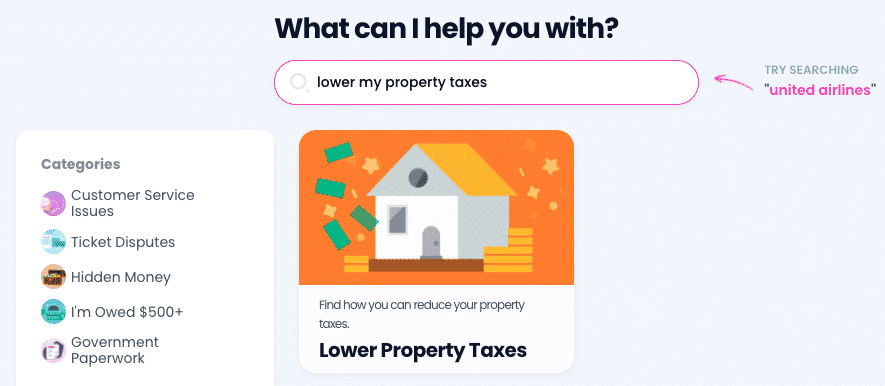 Property Tax Exemptions in Nassau County You Can Apply For
Property tax reduction in Nassau County is an option available for certain individuals. Check out the list of exemptions and eligibility criteria in the table below:
Why Is Property Tax Important, and Can You Do Anything Else To Lower It?
Paying property taxes is necessary because that money funds institutions, such as schools, libraries, and law enforcement. Even with the purpose as important as this, the property tax may be too much for homeowners' budget.
Property tax appeals and exemptions are the most efficient methods of lowering property taxes, but you can also try to:
Stay with the property tax assessor while they are evaluating your property to prevent any errors

Look for inaccuracies on your tax bill and, if you find any, report them

Wait for the tax assessment to pass to renovate your property

Move to a

state with lower property taxes
If you decide to buy property in another state, you should inform yourself about the property tax rates there. The good news is that there are many places where property tax rates are lower than in Nassau County. The states worth considering include Utah (0.56%), Alabama (0.48%), Arizona (0.63%), Colorado (0.52%), and Tennessee (0.61%).
DoNotPay Is Your Pocket-Sized Treasurer 
To pay or to DoNotPay—that is the question! Our nifty app finds money where you didn't even know you had it.
With our app, you can avoid college application fees, cancel unused subscriptions, explore free trials, and get out of paying for unfair parking tickets. 
We can also help you with high bills by composing due date extension letters or reducing property taxes, just as we can locate missing money that you can reclaim in any state you've ever lived. 
To top it all, we'll even assist you in requesting compensation from any airline—whether it is for poor in-flight Wi-Fi, a delayed, or a canceled flight.
Can't Find Your Head in All the Paperwork? DoNotPay Sorts It Out for You!
You no longer have to cash out on pricy legal advisors to do simple paperwork for you—our app can draft legal documents for you in a matter of minutes! 
We can write small claims court scripts, dispute letters for chargebacks and refunds, personalized letters to connect with inmates, DMCA takedown notices for copyright protection, and cease and desist letters for stalking and harassment protection. 
If you need to get a DMV appointment before taking a driving exam or any other government test, we're there to schedule it in your stead!