Get a Certified Copy of Your Divorce Certificate in Nassau County
When a married couple decides to separate, it must be recorded legally. One of the many reasons why you should get a divorce certificate after a legal separation is to be able to remarry officially and get a new marriage certificate.
The process of obtaining a divorce certificate in Nassau County is often long, with a lot of paperwork and no guarantee of a refund if the County Clerk does not retrieve your certificate. After completing your process, there is an extended waiting time to allow the County Clerk to go through your application.
DoNotPay helps you save time and resources by developing a fantastic tool that simplifies the whole process into five easy steps. Signup and utilize the Certificates of Divorce product to your advantage now.
Can I Get My Nassau County Divorce Certificate on My Own?
Divorce records in Nassau County are filed at the County Clerk's Office, and you can only get a copy by submitting a request in person or by mail.
In-Person
Visit the head county clerk's office in Nassau County or any other nearest county clerk's office that you can look up online then file your request for a copy of your divorce certificate.

Nassau County Clerk's head office is located at:

County Clerk of New York County

Hon. Milton Tingling

New York County Courthouse

60 Center Street, Room 161

New York, NY 10007

The office is open Monday through Friday, 9:00 AM-1:00 PM and 2:00 PM-5:00 PM, and the last transactions are processed at 12:30 PM and 4:15 PM.

TIP: Thursdays have the longest wait line and time. It will take a 10 to 12 week turnaround time to receive your divorce certificate through mail.

By Mail
If you cannot request your divorce certificate in person, mail your request to:

Office of the Nassau County Clerk

240 Old Country Road

Mineola, NY 11501

You should complete, notarize and mail it to the County Clerk's Office with proper payment and a Self-Addressed Stamped Envelope.
What Do I Need to Get a Copy of a Divorce Certificate in Nassau County?
A divorce certificate copy request can only be submitted by the following:
The husband
The wife
The attorney of record
You must also present the following when requesting matrimonial or divorce:
Your official identification document, including a driver's license, ID, or passport
The Index Number for the action
Cash, no bill larger than a $20.00 bill
Visa/MasterCard– NOTE: There are fees associated with using Credit Card
NOTE: If you do not know the Index Number, you can retrieve it for free using public computer terminals in the Clerk's office or let the County Clerk staff search for you for a $5.00 fee.
Provide proof of payment for the order fees. A walk-in order will cost you $45, while a mail-order costs you $30.
Use DoNotPay to Get Your Nassau County Divorce Certificate
Worry not if you cannot get your Nassau County divorce certificate on your own. The process can be challenging as it involves a lot of steps and requirements, some of which are hard to fulfill.
DoNotPay is here to help you save your time and resources as you request for a copy of your divorce certificate.
How to get a copy of a divorce certificate using DoNotPay:
1. Go to the Certificates of Divorce product on DoNotPay.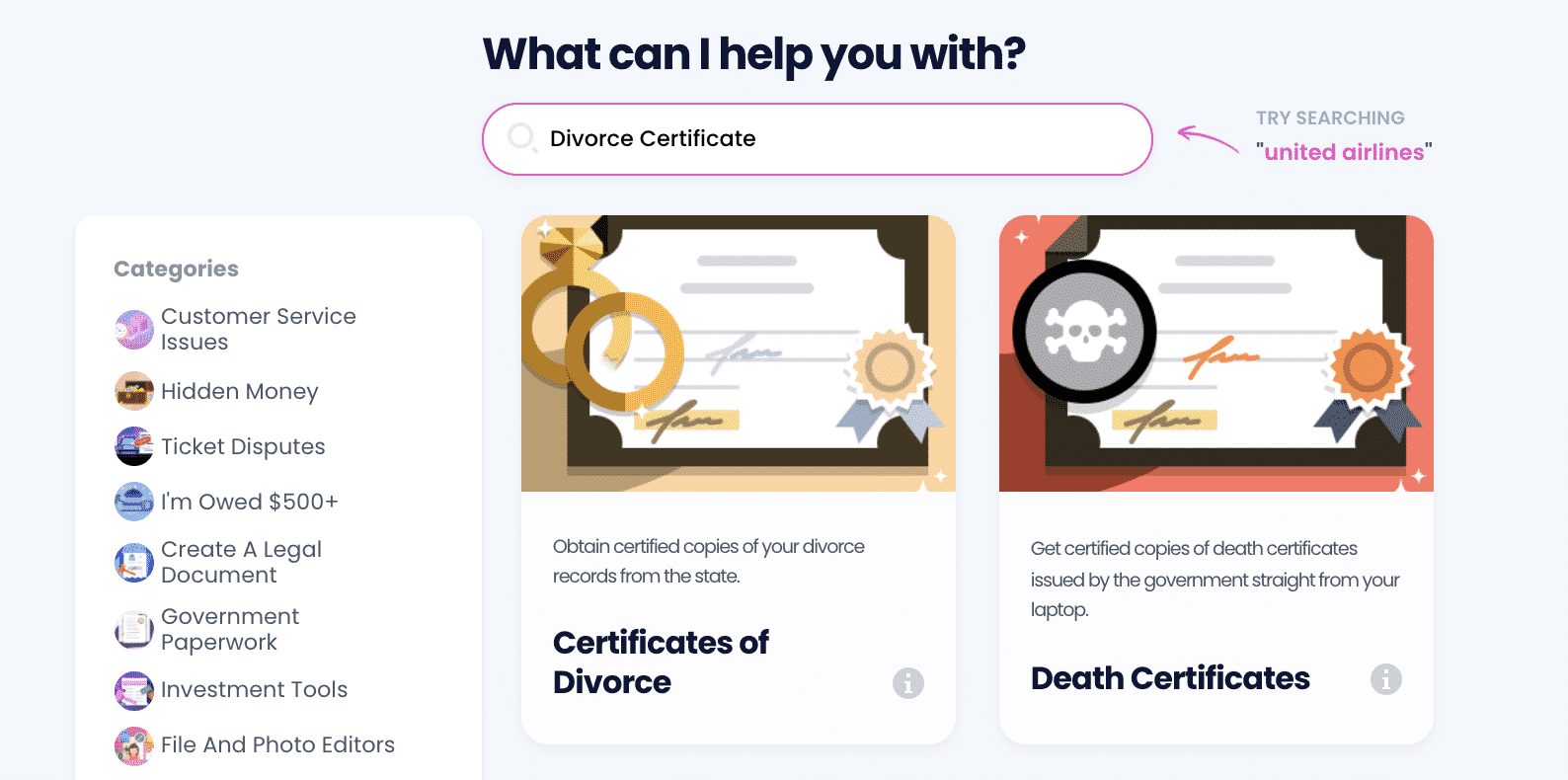 2. Select whether the certificate belongs to you or a relative/loved one. If it belongs to someone else, enter the details of both people on the certificate and select/upload evidence that proves your relationship with them. If the certificate is yours, enter the details of your spouse.*Please note: some states only allow people named on the certificate to apply.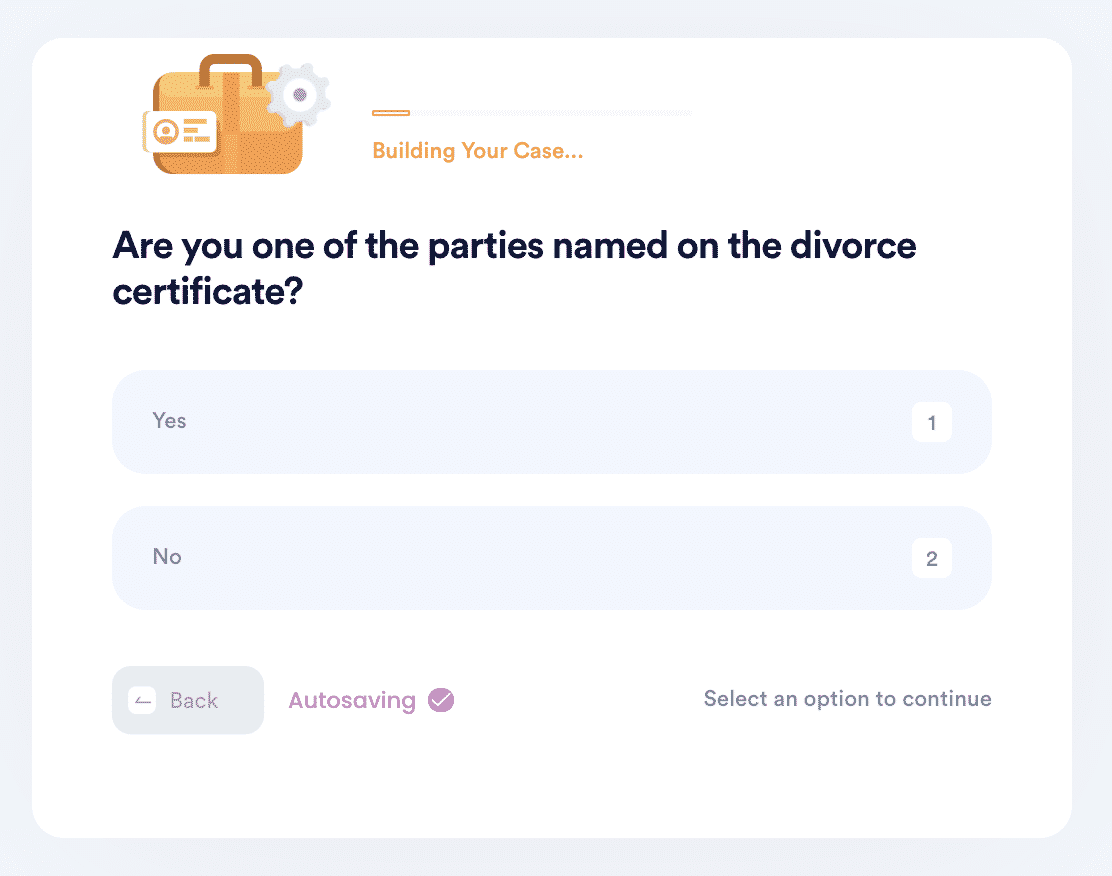 3. Enter the city, state, and county where the divorce certificate and original divorce certificate were issued as well as the dates they were issued.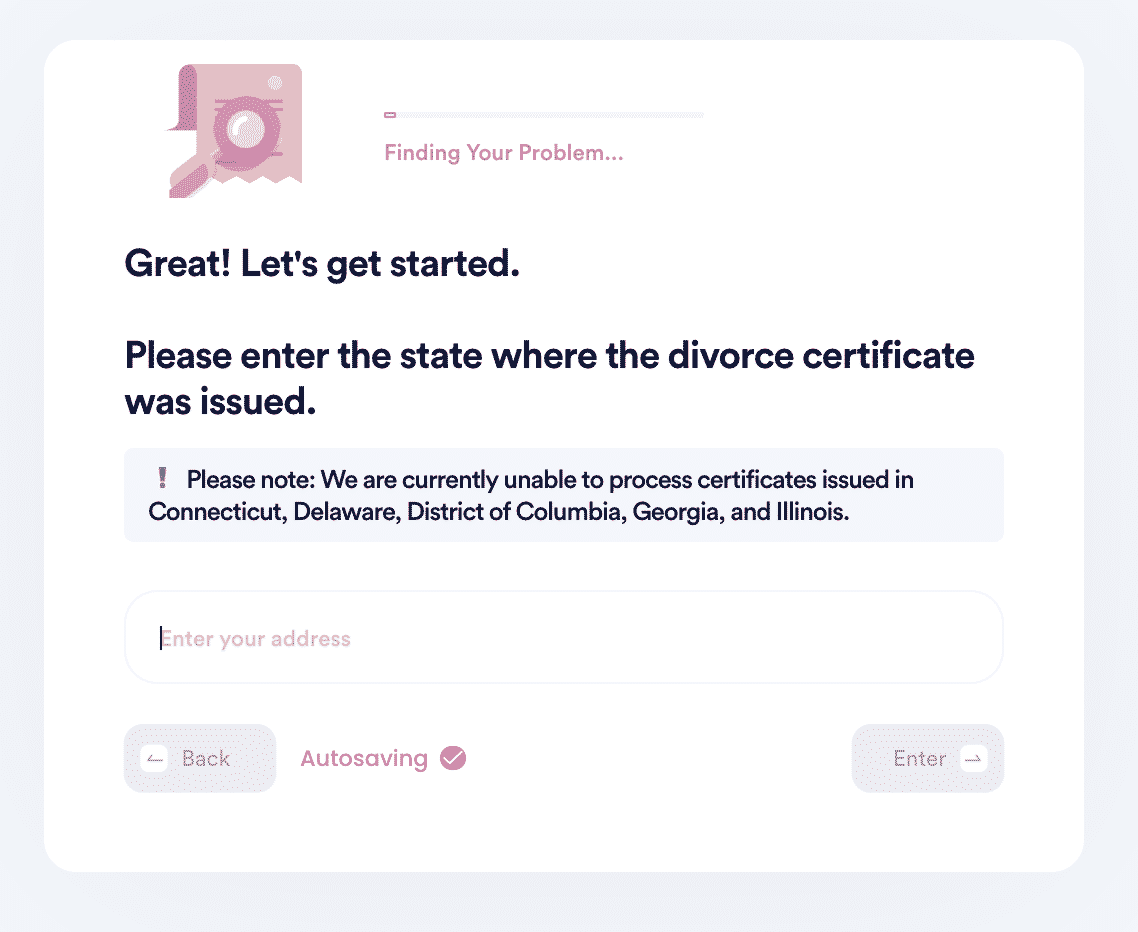 4. Indicate what you will be using this certificate for, and choose whether you need an authorized or certified copy.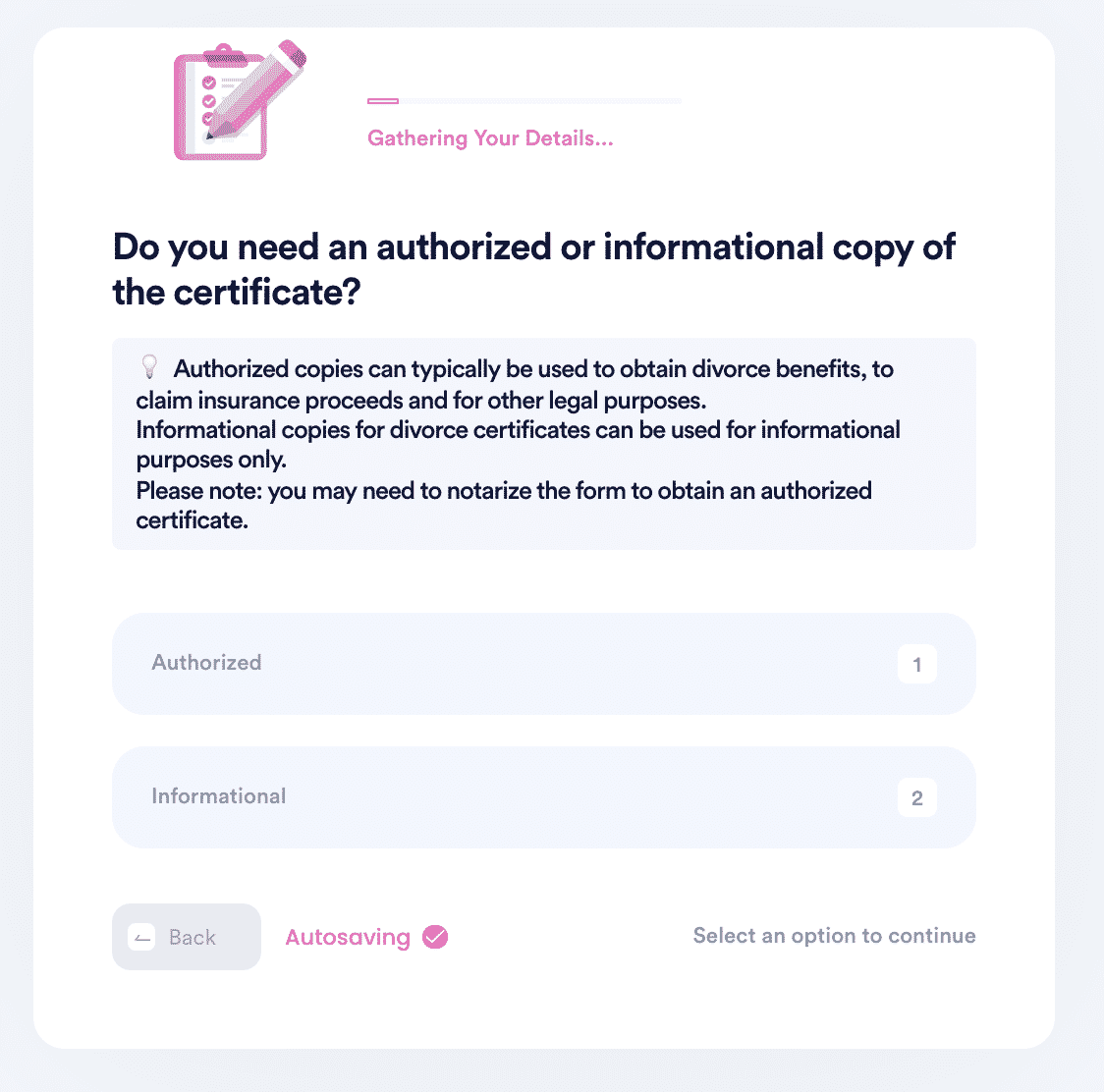 5. Enter your contact information and shipping address. Upload copies of your government-issued identification, such as a driver's license.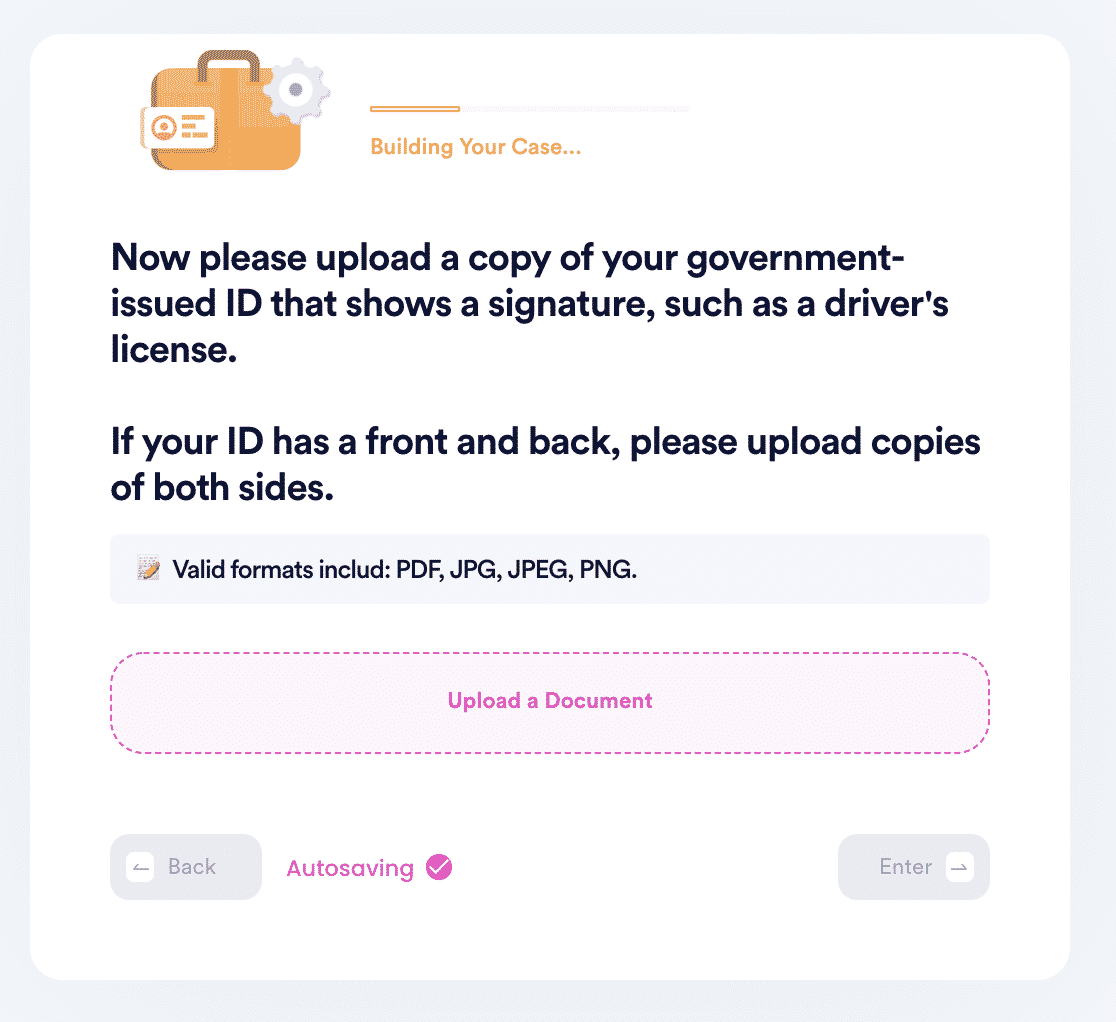 6. Choose whether you would like to electronically sign this form or not. Once we generate the form, verify that all of the information is correct.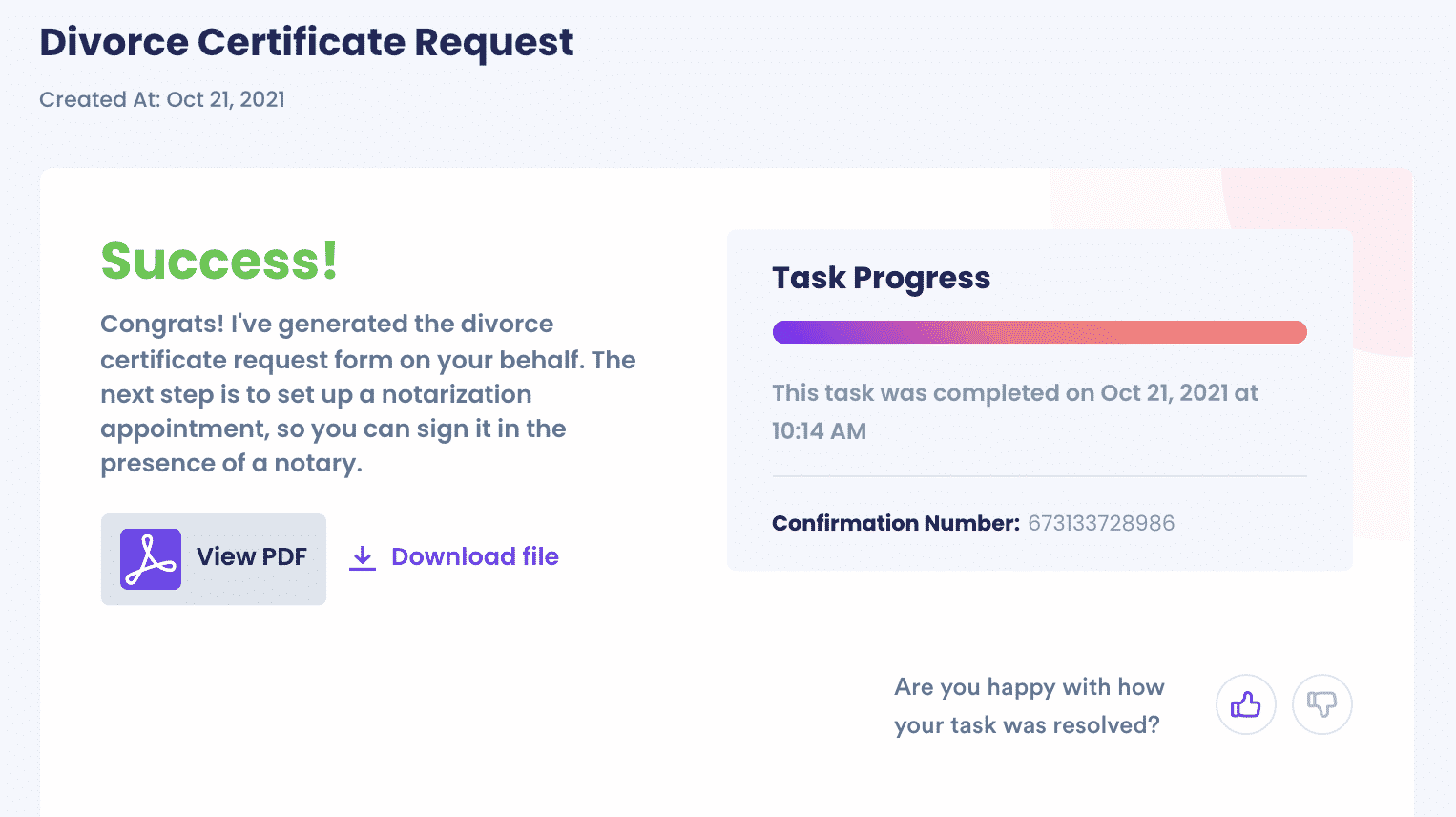 7. If you need the document to be notarized, schedule a notarization appointment using our Notary product. Otherwise, proceed to our Mail Checks product and let DoNotPay mail in your request form with a check on your behalf.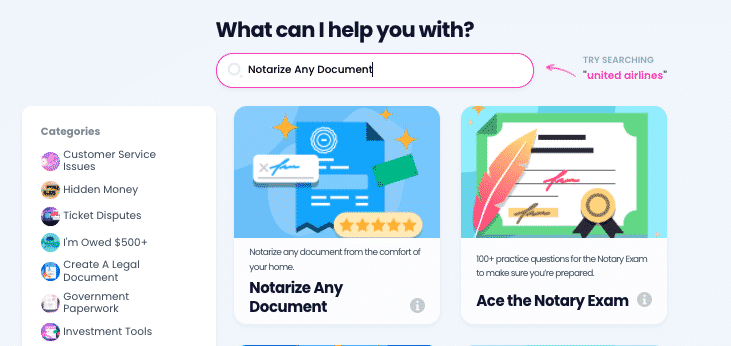 Why Use DoNotPay To Get Your Nassau County Divorce Certificate?
The process of getting your divorce certificate is long and requires you to write to the Vital Statistics office. The formal request has several steps, including filling out the request form, notarizing it, signing, printing, and mailing it along with proof of payment.
DoNotPay understands your need to save on time and the frustration that might come with the mailing process. We can simplify the process of getting a copy of your divorce certificate to just a few steps, executable in one sitting through your phone or personal computer.
The Certificates of Divorce product is not restricted to Nassau County only– here are other locations you can get a  divorce certificate from with the help of DoNotPay:
Other Services From DoNotPay 
DoNotPay is the fastest, easiest, and most convenient to get your divorce certificate in Nassau County. Our services are not restricted to helping you get your divorce certificates– we work across all platforms to bring you solutions to your issues.
DoNotPay works with government entities and private companies to offer solutions to all your legal and administrative issues. Here are some of the services we offer:
Sign up today to get started.