The Nail Salon Startup Cost Unraveled: What You Should Know
While running a nail salon can help you make a substantial profit, you must invest a significant amount of money, too, especially in the beginning.
Before opening a nail salon, you should think about all the expenses you will have and make a detailed financial plan. If you are unsure of where to start, this guide will help you.
We will cover the one-time and recurring startup costs of running a nail salon. Don't have enough money to cover all the expenses? Rely on DoNotPay to find out:
All about small business loans for your startup costs
DoNotPay can also help you find reputable lenders and write a professional loan request letter in minutes.
One-Time Nail Salon Startup Costs
The amount you need to open a nail salon will depend on how big your operation is. Here is a rundown of the costs involved:
Expense
Cost Estimation
Salon equipment

Styling station: $200–$1,000
Cars and trolleys: $40–$300

Certification

Tuition fee: $4,324 (national average)
Beauty kit: $700

Initial inventory and supplies

Inventory: $4,000
Supplies: up to $20,000

Remodeling/Renovation (if applicable)
$32,000
Initial cash reserve
At least $500
Salon license
Varies depending on the state
Renting a booth
$250–$1200
Buying an existing salon
$40,000–$250,000
Building the salon from scratch
$100,000–$500,000
Ongoing Nail Salon Startup Costs
You will have to deal with a myriad of recurring costs as your business grows. These expenses might be on a daily, monthly, or yearly basis, so you need to plan your budget carefully.
Some of the expenses you will need to cover are:
Business insurance—$300–$700 annually
Cleaning and upkeep—$50–$200 monthly
Repairs and maintenance—$500 monthly
Emergency cash reserve—$500 monthly
Utilities—$640–$4,000 monthly
Marketing—$20–$4,100 when needed
You may also need to hire staff, which creates additional annual expenses, as follows:
Nail care technicians—$22,000–$43,000
Salon manager—$21,000–$47,000
Manicurist—$20,000–$50,000
Receptionist—$17,000–$29,000
Aesthetician—$23,000–$56,000
How To Finance Nail Salon Startup Costs
Running a successful nail salon business can be costly. If you cannot meet the expenses, consider applying for startup business loans.
Banks and other lenders offer many types of loans for small businesses and startups, such as:
The United States Small Business Administration (SBA) loans
Venture capital
Business credit cards
Real estate loans
Equipment loans
Business lines of credit
Take your time learning more about each loan option to make an informed decision. When evaluating what the best loan option for your business is, consider the interest rates, loan terms, and qualification requirements.
Most lenders offer loans only to borrowers who are creditworthy. To qualify for a loan, you must have:
Excellent personal and business credit scores
Upstanding financial history and cashflow
Clear business plans
Collateral (if you wish to borrow a large sum of money)
Relevant experience in the industry
Reasons a Business Loan Request Can Be Denied
Before you apply for a loan, you may want to watch out for these common factors that can get your loan request rejected:
Your business is considered risky—Businesses in certain industries may have a hard time securing a loan from traditional banks because they are perceived as unpredictable or risky
Inconsistent cash flow—Lack of cash flow is a red flag for many lenders because it means that the business may not have enough money to cover expenses and repay outstanding debt at the same time
Incomplete paperwork—While it may seem trivial, incomplete documentation is one of the most common reasons why lenders reject loan applications. This is why it's important for you to get your paperwork in order before applying
Get Your Loan Request Approved Faster With DoNotPay!
A loan request letter is one of the most important documents you need to submit when applying for a loan. Writing an error-free letter is crucial as it supports your application by providing essential information about your business's financial status and history and your creditworthiness.
You might think you need to spend a small fortune hiring a professional to help you draft a compelling loan request letter. Save your hard-earned money by letting DoNotPay handle the task. Here is how we can help you get a professional loan request letter effortlessly:
Find the Business Loan Request Letter feature
Prepare all the necessary paperwork
Answer some questions and upload the supporting documents
Sit back and let our app do the rest. Within minutes, you will have an error-free loan request letter that can make the best case for your loan approval.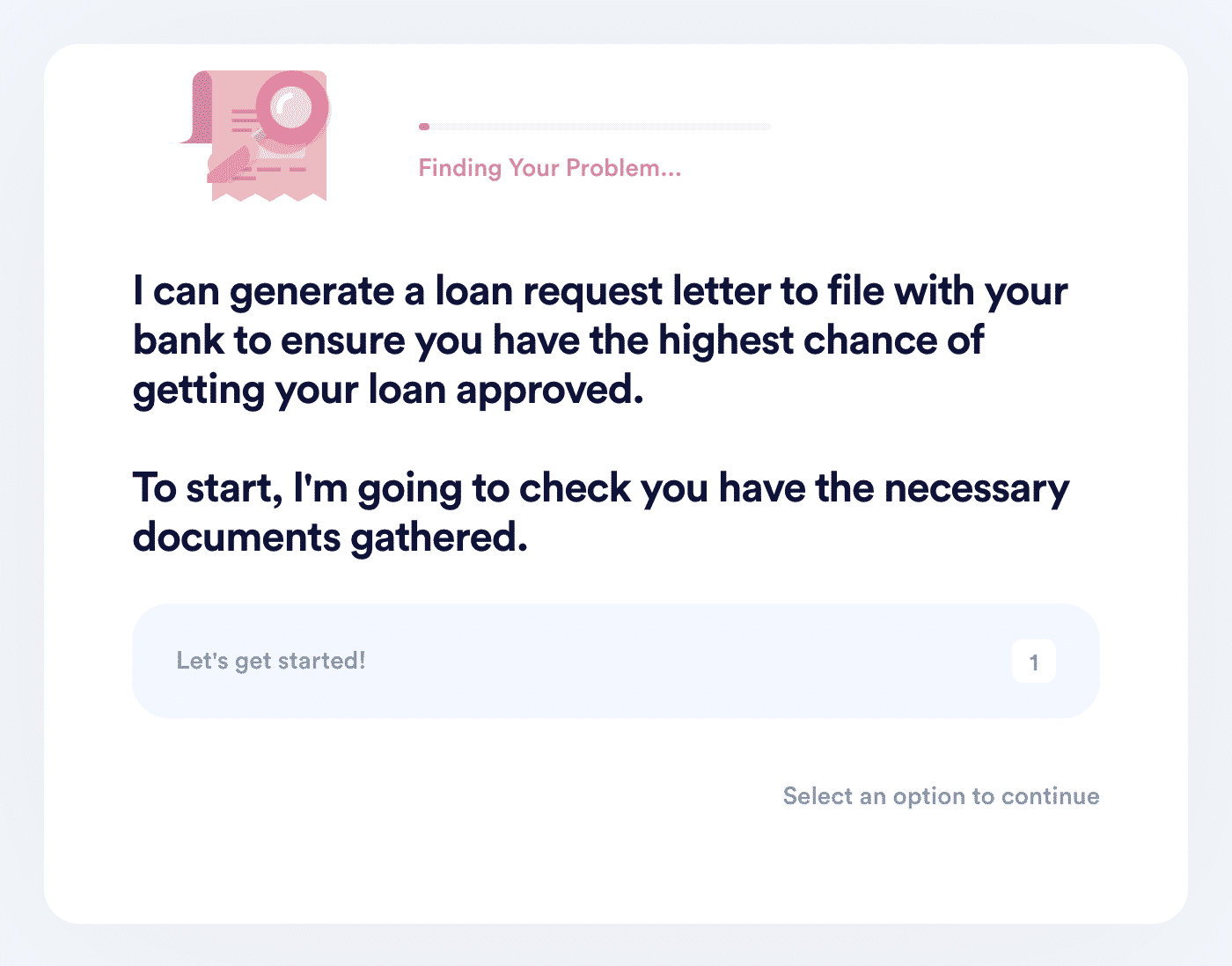 Not sure how to find suitable small business loan lenders? Let our app do the heavy work. All you need to do is:
Answer a few questions about your business priorities and loan requirements
Specify your industry and business type
We will compare various online lenders and pick the best three options for you based on rates, terms, speed, and potential loan amount.
DoNotPay Offers More Help for Your Business
Running a small business is no small feat. When you're drowning in red tape, DoNotPay is here to lend a helping hand. Whether you need to register your trademark or protect it later on, we have got it covered. With our help, you will keep your logo, slogan, and business name safe.
Are you also yet to register for an Employer Identification Number (EIN)? Not to worry—our app can file the IRS SS-4 form in a few clicks. With the world's first robot lawyer at your fingertips, you will also be able to create your 83(b) election forms with ease—ready for your employees to sign them right away.
In case you are struggling financially, we can assist you with a business loan application.
Communication Has Never Been Easier With Our App
Keeping up with clients can be challenging, especially if each has a preferred method of communication. Luckily, our multifunctional app makes it easy to both fax and mail contracts, letters, and documents.
You can also count on our assistance when you need to:
Fight fake negative reviews online
Deal with a client regarding a breach of contract
Dispute fraudulent chargebacks
Thanks to DoNotPay, there is no need for back-and-forth communication. We will handle the necessary demand letters and forward them on your behalf.
We can also help you manage your DMCA agent registration and Privacy Shield program self-certification.