My Wife Says She Doesn't Love Me Anymore and Wants a Divorce—What Can I Do?
"My wife says she doesn't love me anymore and wants a divorce—what are my options?" You can either fight for your marriage or file for divorce. If you decide to do the latter, you should make sure your divorce goes as smoothly as possible. DoNotPay will help you get a friendly, uncontested, and low-cost divorce in a few clicks!
What To Do When Your Wife Says She Doesn't Love You Anymore and Wants a Divorce
Every marriage has its challenges and bumps in the road. Your wife could tell you that she doesn't love you anymore because she wants to nudge you out of the routine that both of you have gotten into. If you believe that this is your case, you can try saving your marriage.
In case your wife truly doesn't love you anymore, all you can do is opt for an amicable divorce without involving courts and lawyers.
Some of the signs that your wife has stopped loving you can be the following:
You no longer talk
Your wife is silent in your presence while she is talkative with everyone else
She's irritated by everything you do
You are no longer intimate
She cheated on you
She has no time for you anymore
How Can You Save Your Marriage?
If you want to save your marriage, you'll need to get creative. Here are a few ideas on what you can do:
Suggest counseling
Go on a romantic date
Remind her why she fell in love with you
Start holding hands again
Show your wife that you appreciate her
Take a break to allow your spouse the space to start missing you
Be patient
If all your efforts fail, it's time to start thinking about divorce.
What Types of Divorce Are There?
Divorce can be based on fault and no-fault grounds. Not all states recognize fault-based divorce—only the District of Columbia and the following 13 states have fault-based divorce processes:
At-fault divorces can be based on adultery, cruelty, addiction, incarceration, and similar. In this type of marriage dissolution, the spouse who files for it needs to prove that their partner is at fault.
With no-fault divorces, couples can get divorced based on irreconcilable differences without having to prove whose fault it is that the marriage is ending.
Depending on the state you wish to get a divorce in, several separation methods are available to you, as follows:
Summary or simplified
Default
Mediated
Collaborative
Contested
Uncontested
What Is a Simplified Dissolution of Marriage?
This type of divorce is the simplest one because it requires minimal paperwork. Note that it isn't available in all states.
You can't opt for this type of divorce if you and your spouse:
Haven't been married for long
Don't own much property together
Don't have children
Have no significant joint debts
Simplified dissolution of marriage is possible if both spouses agree to it and file the court papers jointly.
What Is a Default Divorce?
This type of divorce happens when you file for your marriage dissolution and your spouse doesn't respond. It may occur when a spouse disappears and their location is unknown.
Mediated Divorce
Before you file for a divorce, you can hire a mediator to help you and your spouse reach a mutually acceptable solution. Mediation is a viable option if you can't find a happy medium on your own but would still like to file for an uncontested divorce or reach an out-of-court settlement.
Collaborative Divorce
A collaborative divorce includes letting your lawyers take care of the divorce with your interests in mind.
Contested Divorce—The Basics
A contested divorce is a process that couples opt for if they can't agree on divorce-related matters. These divorces get settled in court.
If the divorce becomes contested, couples have to attend court hearings, present evidence, and hire attorneys to represent them. The judge determines how the property gets divided, who gets the custody (if there are children involved), who pays alimony, and similar.
A contested divorce can drag on for months or even years.
What Is an Uncontested Divorce?
In this type of divorce, you and your spouse need to agree on each divorce-related issue and create a divorce settlement agreement that states all the terms of your divorce, such as:
Once you settle your case, you can file for divorce with the court and get divorced without attending court hearings or wasting thousands of dollars on lawyers. An uncontested divorce is the fastest, easiest, and most affordable way to get divorced if you can't get a simplified dissolution of marriage.
How To File for an Uncontested Divorce
Find the steps to filing for an uncontested divorce in the table below:
| Steps | Details |
| --- | --- |
| Obtain all the necessary forms | You can find all the forms you need online or at your local county clerk's office |
| Make copies | Courts require you to make copies of your divorce papers |
| Get documents notarized | You must get your paperwork notarized (including the copies) if you want it to be valid |
| Pay any incurring fees | If you don't have enough money to pay the court fees, you can request a fee waiver |
| File the paperwork | Depending on your county, you'll need to file your paperwork either with the office of the clerk or with the court |
| Serve your spouse | In most states, you won't be allowed to serve the papers yourself—you'll need to hire a professional to do it for you |
| Create a divorce settlement agreement | A divorce settlement agreement is a document that's important in an uncontested divorce. You can create this document effortlessly by |
DoNotPay Can Create a Divorce Settlement Agreement in Under Five Minutes
Ending a marriage is difficult and stressful. That's why we'll make this experience as painless as possible for you. DoNotPay will assist you in drafting a professional divorce settlement agreement in less than five minutes.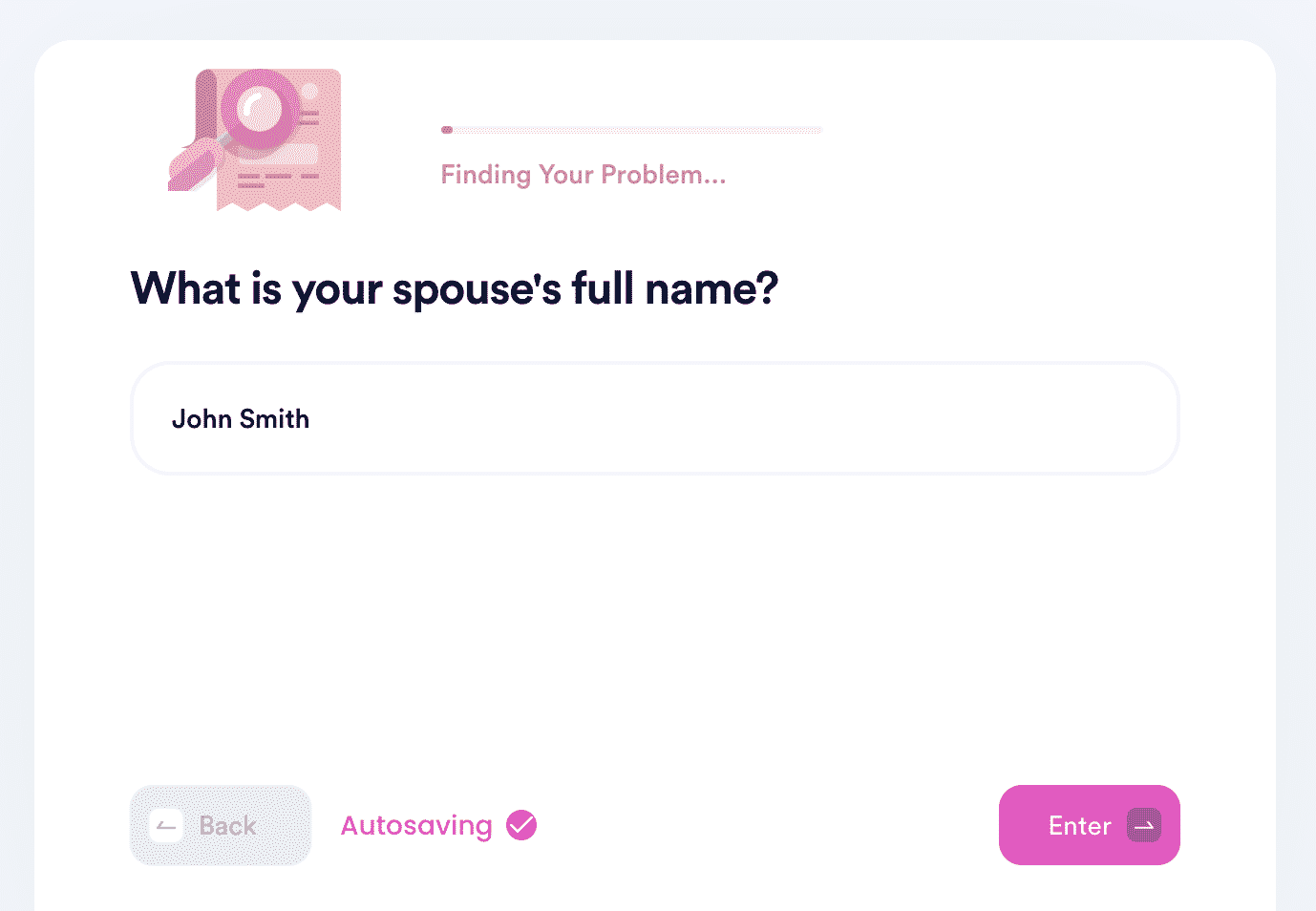 and follow the instructions below to start drafting your document:
Open the Divorce Settlement Agreement product
Provide all the information regarding your spouse, children, the date of your wedding, and similar
Tell us how you want to allocate your property
As soon as you complete the steps, DoNotPay will draft your divorce settlement agreement. You and your spouse should sign it and get it notarized. We can help you with notarization as well. DoNotPay will connect you with an online notary who will witness your signing and add legal weight to the document.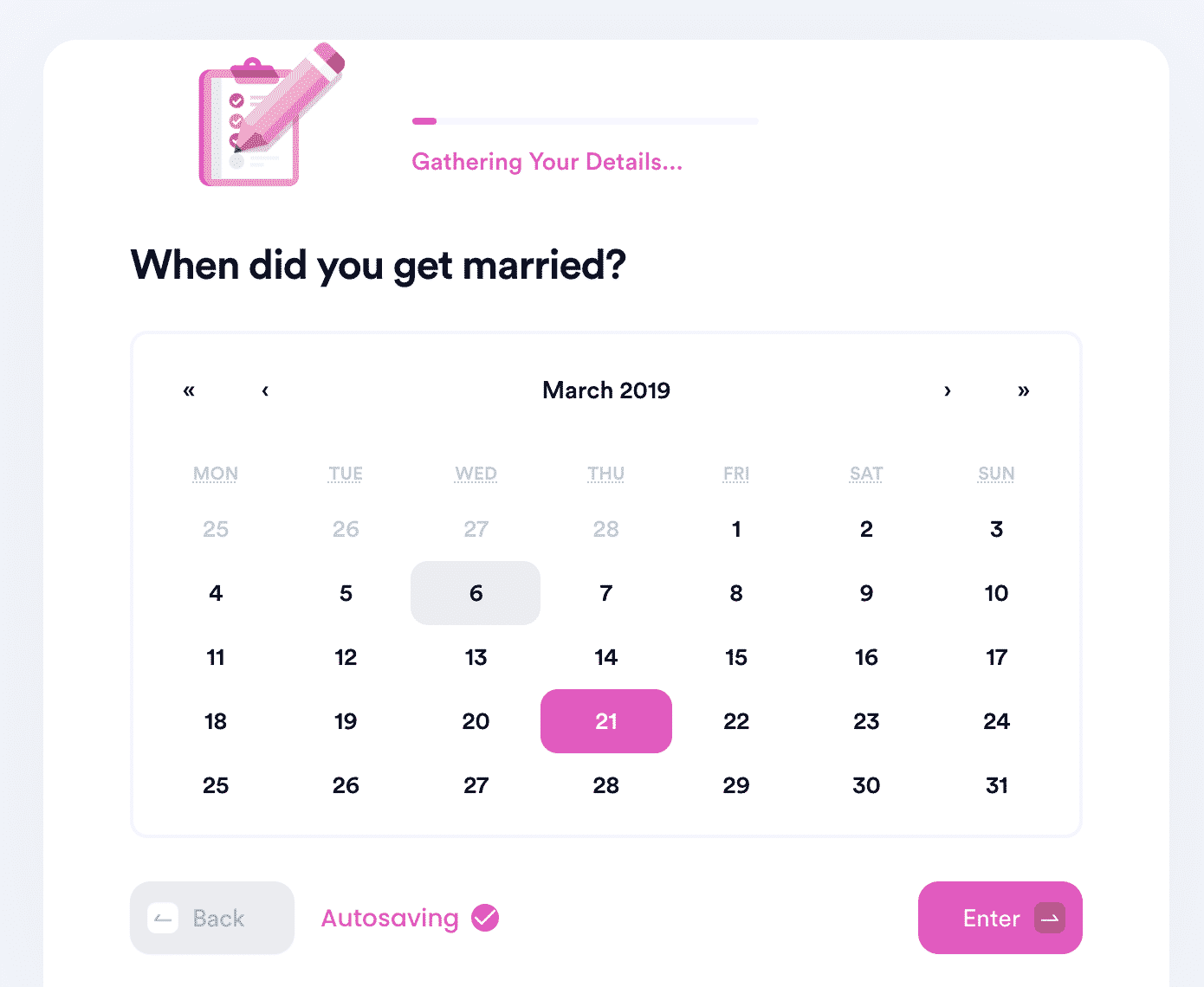 DoNotPay Can Help You With Almost Anything
DoNotPay's goal is to have a multitude of features that can be useful to you with handling various issues. Whether you want to apply for clinical trials, prepare for government tests, or even get in touch with your locked-up friends or family—DoNotPay has got you covered!
For a small yearly fee, our AI-based app will help you:
Want To Save and Earn Money at Once? Subscribe to DoNotPay
DoNotPay can help you earn and save a buck or two. We'll assist you in reducing your property taxes, canceling any unused subscriptions, and signing up for free trials with our virtual credit card.
As if that wasn't enough, we'll save you money and spare you from a headache if you receive any faulty deliveries by filing a refund or an item return request in your stead! This is just the tip of the iceberg of features that DoNotPay has in store for you.