What Should I Do if I Suspect My Neighbor Watches My Every Move?
If you live in a communal area, you will have to deal with all sorts of neighbors. They may be noisy, keep loud pets, or have other nasty habits. The worst are probably the ones that make you feel unsafe.
"My neighbor watches my every move" is something a lot of Americans uttered at least once. In case you have a similar problem, has got your back! We offer useful tips and tricks to prevent your neighbor from prying into your business and help you handle the situation if things get out of hand.
How Do I Know if My Neighbor Is Spying on Me?
Neighbor stalking is frightening and unsettling. Some states even define it as neighbor harassment. It doesn't matter if the stalker is a bored elderly lady or a sleazy neighbor attracted to you—it is considered an invasion of privacy.
There are several ways to figure out if your neighbor is spying on you. Check out the details in the table below:
| | |
| --- | --- |
| How Do I Know My Neighbor Is Spying on Me? | Brief Explanation |
| Confidential information | They ask about your personal information to try to dig up sensitive details |
| Tampered mail | If you often find opened letters in your mailbox, there's a real chance someone is messing with your mail to extract info |
| Hidden devices | You spotted hidden cameras and listening devices in or around your apartment |
| Social media | They keep liking and commenting on your social media posts even though you ignore them |
| Breaking and entering | You suspect that someone has been in your house. A different smell lingers inside your home, and some of your items have been moved |
| Direct stalking | You pull your curtain back only to see them looking directly at your window |
What Should I Do if My Neighbor Watches My Every Move?
Take some preventative measures to avoid your neighbor's spying eyes by following these steps:
Install a spy camera outside your house to document the stalking
Invest in heavy curtains or blinds to prevent them from looking into your home
Avoid them as much as you can. Wear earphones when you go out, and pretend you don't hear them if they call you
Pretend to be as busy as possible if you cross their path
Get a taller fence or a privacy window film around your property
Should I Report My Neighbor to the Authorities?
If you feel the spying is "harmless," you should exhaust all other options before reporting your neighbor to the authorities.
The problem is that stalking can become dangerous, so if you feel an imminent threat to your safety, call 911 to report your neighbor immediately. Even when you don't perceive their behavior as harassment, you should gather evidence of their suspicious behavior. In case the situation escalates and you need to call the police, the authorities will take you seriously.
Should I Confront My Neighbor and Let Them Know They're Making Me Uncomfortable?
Although communication is usually the best solution to handle neighbor-related issues, it might not be the best approach in this particular situation. If your neighbor is a sleazy stalker, they might mistake your complaints for a step towards friendship and get even more intrusive. In case your stalker is a lonely lady, you might feel bad if they start crying during the conversation.
Should you decide to confront your neighbor, here's what you need to do:
Explain how their prying behavior makes you uncomfortable
Show them photographic evidence if they deny the stalking
Let them know they need to stop immediately or will face legal consequences
You should be polite but assertive—there's no need to be friendly, but make sure you're not rude either.
Can I Send a Warning Letter if My Neighbor Doesn't Stop?
If the issue persists, it's time to take some serious action. Send a warning letter informing your neighbor that you will press legal charges if the stalking doesn't stop immediately.
Your demand letter should include the following information:
Arbitration notice
Evidence of your neighbor's activities
Warning of potential legal consequences
Financial compensation for causing emotional distress (optional but effective)
Use DoNotPay To Draft Demand Letters in an Instant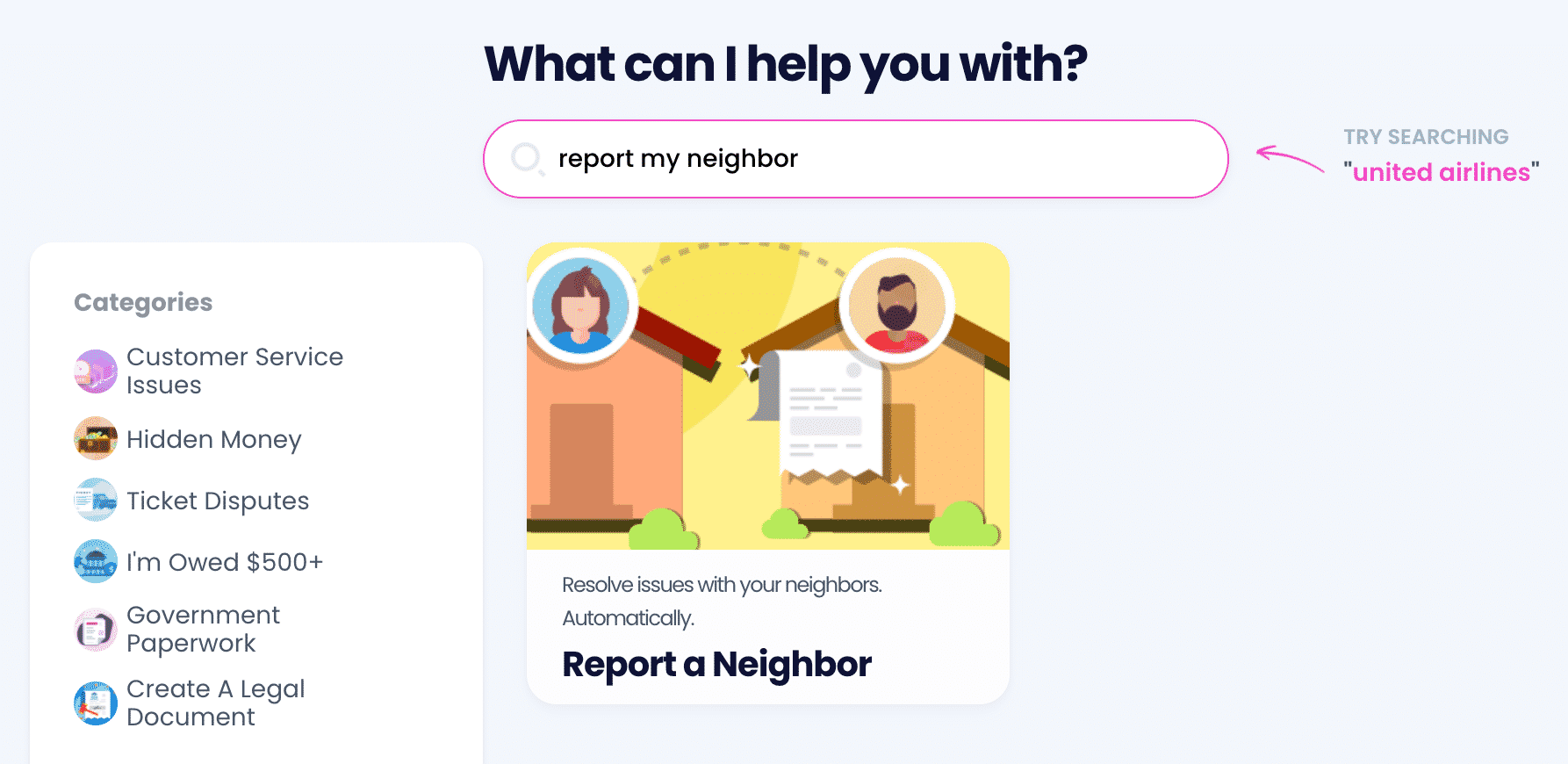 DoNotPay knows how to handle inconsiderate neighbors. Whatever problems they are causing you, turn to us to help you resolve the issue.
All you have to do is follow these instructions:
in your web browser
Choose the Neighbor Complaint feature
Select the specific type of neighbor complaint you want to make
Provide more details about the situation
We will create a demand letter and mail it to your neighbor, which is usually enough to make them back off. If you need to escalate further, the letter will serve as evidence that you addressed the issue adequately.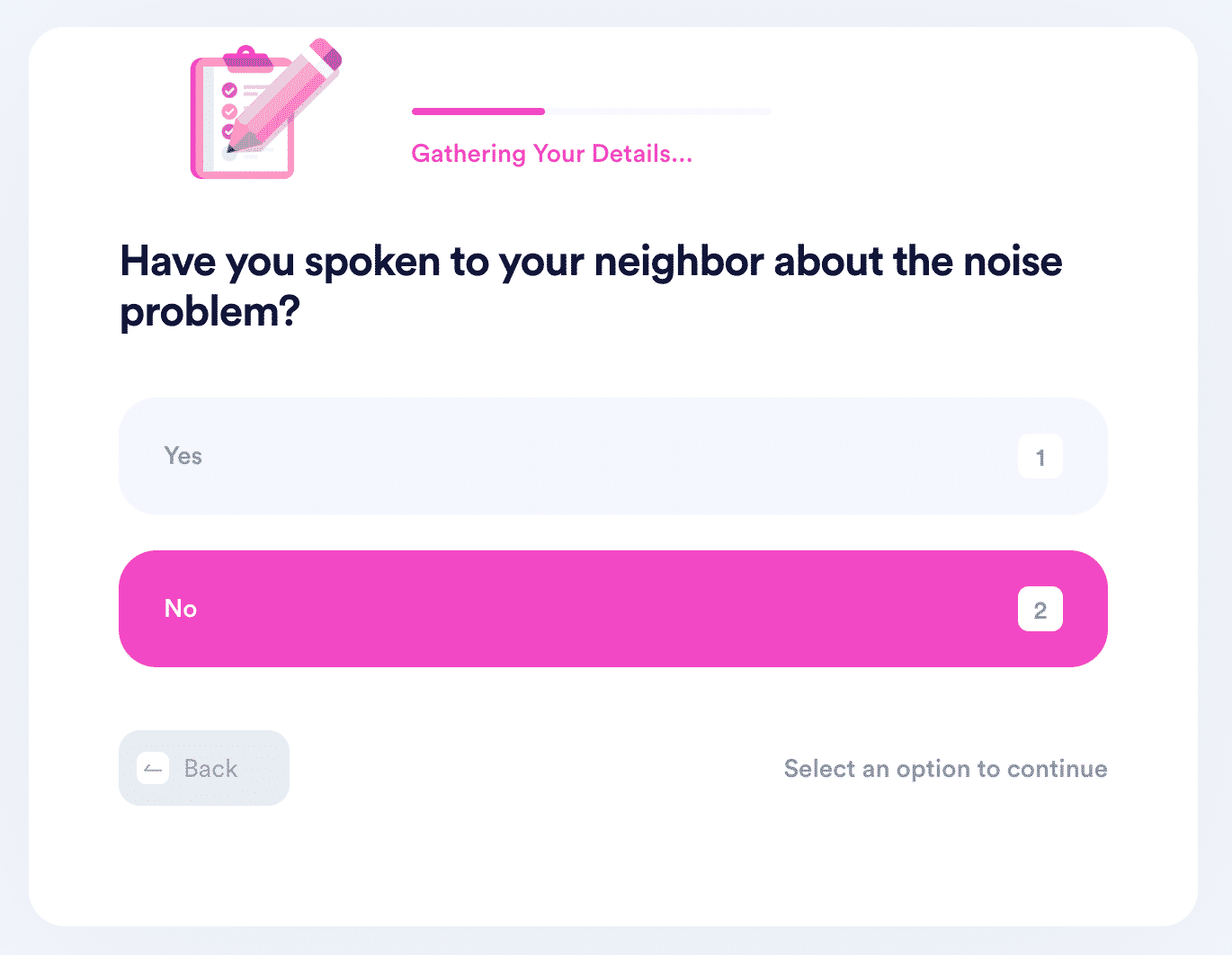 Do you have more neighbor-related problems? We can help you out with:
More Nifty Solutions to Annoying Problems
If you're dealing with problematic neighbors or coworkers, you're not alone—our app can help you handle these issues with our Neighbor Complaints and Fight Workplace Discrimination products.
No problem is too big or too small for DoNotPay! Check out the best time- and money-saving solutions to different nuisances:
| | |
| --- | --- |
| Issues | Solutions |
| Email spam | Using DoNotPay's spam collector |
| High college fees | Applying for college fee waivers |
| Bothersome robocalls | Getting back at robocalls |
| Late delivery | Requesting a late delivery refund |
| No fax machine | Sending faxes online |
| High property taxes | Applying for property tax exemptions and appealing your property assessment |
An Array of Hacks To Help You Deal With Greedy Companies
Nobody likes to spend more money than they have to. DoNotPay is here to offer many penny-pinching hacks and also stop companies from taking advantage of you.
Almost every free trial nowadays isn't really free. Companies request your credit card info and auto-renew subscriptions. Fight this sneaky practice by using DoNotPay's virtual credit card next time you want to snatch a free trial. We'll also uncover any unwanted memberships you have mooching off of you and help you cancel them in a few clicks.
If you need to contact a company's customer service, avoid wasting your time and money on hold and count on our app to wait in your stead.
Do you need to get your money back, but you don't know how? Use DoNotPay to: