My Neighbor Smokes Weed, and It Comes Into My Apartment—What Can I Do?
Annoying neighbors can disrupt your peace of mind in many ways, from being extremely noisy to damaging your property. One of the common problems people have is living close to regular pot smokers.
"My neighbor smokes weed, and it comes into my apartment" is an issue that many Americans have trouble solving.
If you need some tips for stopping your neighbor's pot fumes from coming into your apartment, you have come to the right place. DoNotPay will provide helpful advice and offer a bullet-proof solution to your problem!
Do I Have Legal Grounds To Complain About My Neighbor Smoking Weed in the Apartment?
While some may argue that smoking weed produces the same smell as smoking cigarettes, that's not entirely true. If your neighbors' weed fumes keep drifting into your apartment, you may suffer in more ways than having your curtains and clothes smell of pot all the time.
The weed smoke may affect those who are not partaking, which means you can get high on your neighbor's pot fumes. That is especially problematic if you have a child.
You can try resolving the issue in a friendly manner or resort to sterner measures. Either way, if you feel like your neighbor's pot-smoking habits are polluting your living space, you have the right to complain about it.
How To Deal With Pot-Smoking Neighbors
Resolving the issue on a high note (pun intended) doesn't involve getting aggressive or filing a complaint straight away. A confrontational approach can easily provoke your neighbors and have a countereffect. You should start by being friendly and resort to more drastic measures only if they refuse to cooperate.
The available methods for handling your Mary-Jane-loving neighbors include:
Talking to them
Consulting your landlord or building manager
Using a mediator
Sending a demand letter
Calling the cops
Talk to Your Neighbors and Come to a (Joint) Solution
Being straightforward with your neighbors about the problem usually has a surprisingly positive effect. When talking to them, you should:
Introduce yourself and explain where you live
Approach them with consideration, not accusations, since they may be unaware of how much their pot-smoking habits affect you
Offer constructive suggestions, such as to:

Place a wet towel between the door and the floor to stop the fumes from coming out
Choose a different room in the apartment to smoke (preferably one with a ventilated fan on)
Open the windows and blow the smoke out
Consume edibles or vaporize
If you are not a fan of confrontation, you can write a whimsical note and leave it in front of your neighbor's apartment with scented candles and some snacks (for the munchies).
Talk to Your Landlord or Building Manager
If you fail to see any changes in your neighbor's behavior, you should complain to your landlord or building manager. You can check the rules of the lease or building policies beforehand to see if there is a clause that can help your case. The landlord or building manager should talk to your neighbor on your behalf.
Use a Mediator
A mediator serves as an objective third party hired to handle neighbor disputes in a constructive manner.
In mediation, a designated person meets with one or more confronted parties to discuss the problem and help them find an acceptable solution.
Send a Demand Letter
If the friendly approach doesn't work, it's time to send your neighbor a demand letter. It gives them one last shot to change and informs them of the potential legal consequences of their behavior. A well-written demand letter should show your neighbor you mean business and stop the disturbance once and for all. That's why you should and let us draw up a demand letter for you.
Inform the Authorities
When nothing seems to be working, you have no choice but to contact the authorities. Since smoking pot is legal in some states, you have to research your state's laws thoroughly to see where you stand.
If you can prove that the pot odor is a nuisance (it is irritating, obstructive, or dangerous), you may have a case for a civil lawsuit.
If the Stakes Are Too High, Use DoNotPay To Create a Demand Letter
DoNotPay can help out with all kinds of inconsiderate neighbor behavior. Regardless of the issue, we will draw up a demand letter that will show your neighbors you're not joking!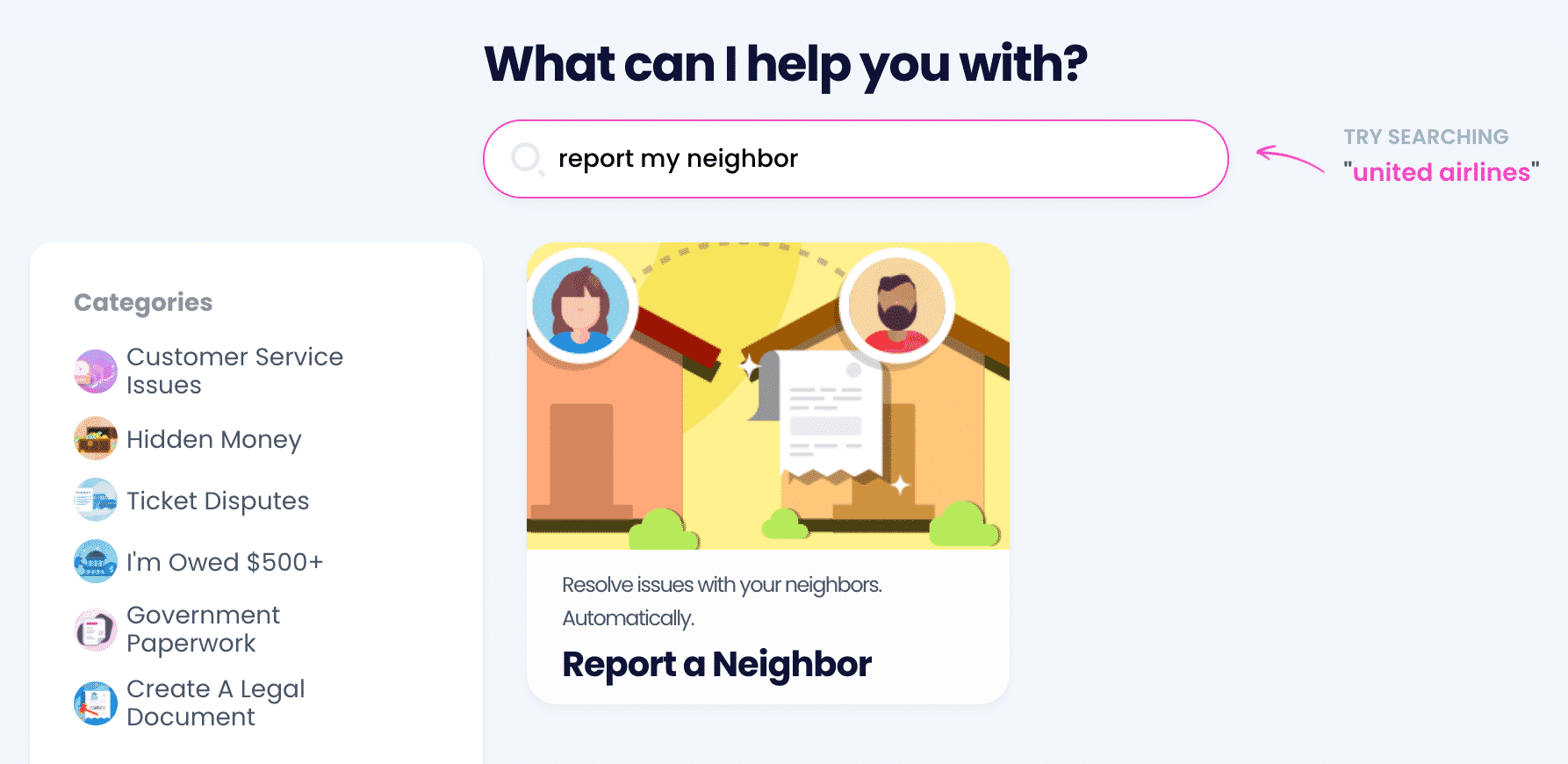 The process works like this:
in a web browser
Choose our Neighbor Complaint tool
Select the type of problem you are experiencing
Answer a few questions
We will not only create but also send the letter to their royal highness. You can expect an appropriate response shortly after.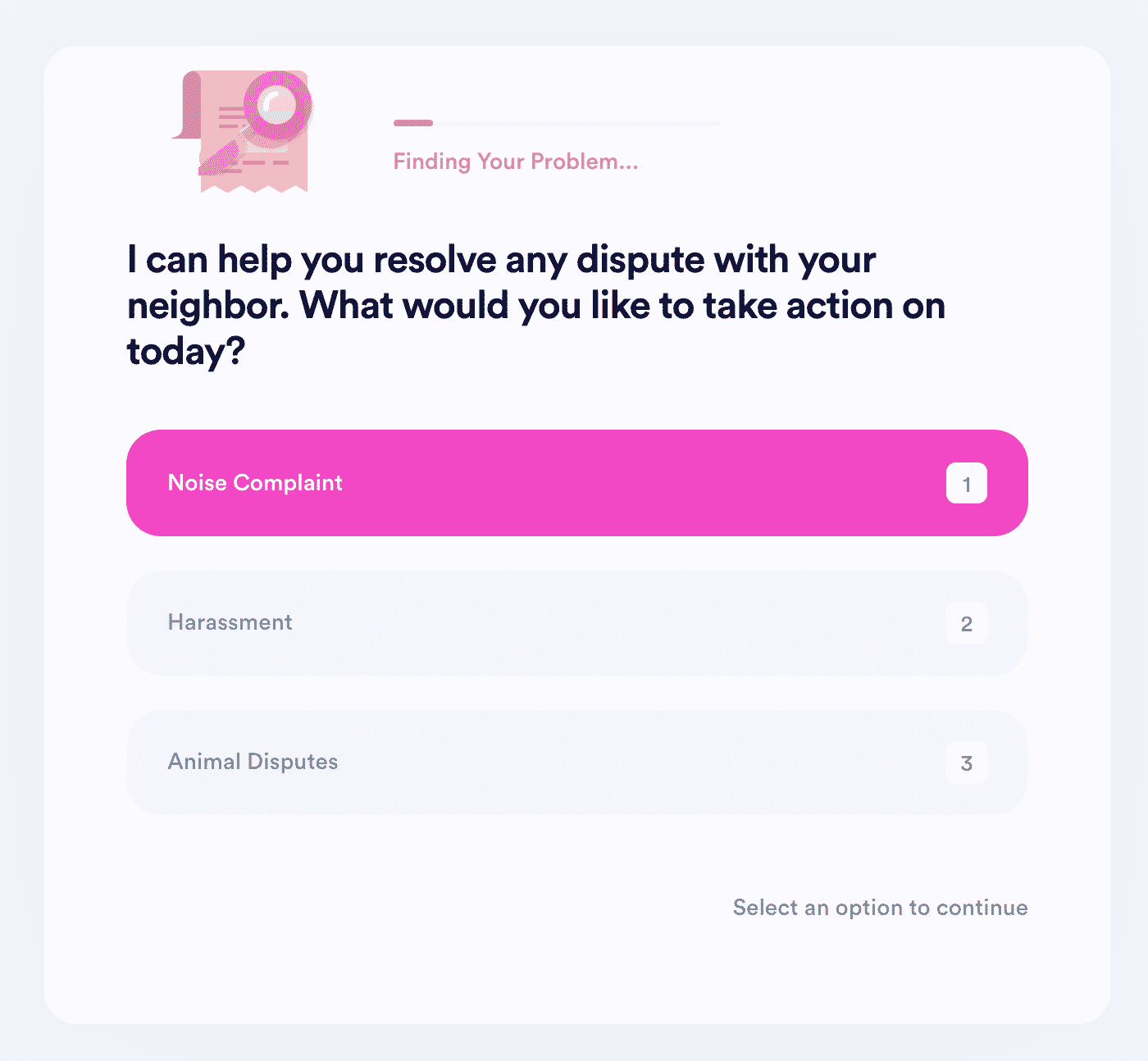 What Else Can DoNotPay Help Me With?
DoNotPay provides practical advice on numerous neighbor-related issues, including how to document neighbor's harassment, what to do about horrible neighbors legally, and how to write them a letter complaining about the noise. Check out annoying neighbor problems we can help you with in the table below:
| | | |
| --- | --- | --- |
| Noisy Neighbors | Criminal Neighbor Behavior | Neighbor's Pets |
| | | |
Learn About DoNotPay's Awesome Products!
DoNotPay is a multifunctional app that can solve numerous everyday challenges swiftly.
You can use our app to protect your work from copyright violations, schedule your driving exam or any other appointment with the DMV, reduce your property taxes in a few steps, and similar.
We have created many useful products to help our users take care of their issues through the same app. With us, you can:
DoNotPay Connects You With Your Loved Ones
Sending letters to inmates can be difficult since you have to follow certain rules to a T to avoid having your letter rejected. The situation is even more complicated if you don't know where your incarcerated loved one serves time. DoNotPay's app can help you locate prisoners and correspond with them without worrying whether you're breaking any rules.
Do you want to send a letter, but you don't feel like heading over to a post office? By using our mailing service, you can mail as many letters as you want from the comfort of your home. With DoNotPay, you can also send online faxes in under five minutes!
Email and text spam is something that everyone experiences at least once in their lives. DoNotPay has a solution for that too. Access your DoNotPay account and count on us to help you block spam and get compensation by reporting pesky robocalls.