My Employer Refuses To Pay Me My Last Check—Possible Solutions
While the "my employer refuses to pay me my last check" situation is not uncommon, it causes stress and anxiety. "Can they do that?" "What can I do to get my hard-earned money?" These are some of the questions that come to your mind when experiencing this type of breach of contract.
If you have entered into an agreement with your employer, you can take legal action to seek damages or other remedies. This article presents other options you could consider before going to court.
Employer Refuses To Pay—Can They Do That?
Based on the Fair Labor Standards Act (FLSA), an employer:
Has to settle wages for all hours you have worked for them
May not refuse to pay your wages under any circumstances
When an employer refuses to pay an employee, they risk sanctions by a federal agency that enforces the FLSA—the U.S. Department of Labor's Wage and Hour Division.
When Does an Employer Need To Issue the Final Paycheck?
While the FLSA requires your employer to pay your wages, the act:
Does not mandate the employer to pay you as soon as you stop working
Recommends that employers issue the final check by the next regular payday
To understand how long your employer has to pay you, you should check the state laws since some require companies to provide the last check immediately upon resignation.
Keep in mind that your company's policies might specify whether you:
Can get unused vacation pay
Are eligible for rehire
What To Do if an Employer Refuses To Pay You
Here is what you can do if an employer refuses to pay you:
Start a lawsuit
Contact a local office of the federal agency
Employer Refusing To Pay an Employee—Should You Sue?
If your employer refuses to pay you, you have every right to take legal action against them. Before initiating a lawsuit, you should know that:
To avoid delays and further expenses, you should try to negotiate an out-of-court settlement by sending a demand letter.
Is Your Employer Refusing To Pay You? Write a Demand Letter
When an employer breaches a contract you have both agreed to, you should try to discuss the problem before starting a lawsuit.
The following table outlines why you should consider sending your employer a demand letter:
Create a Demand Letter To
Explanations
Formally inform them of the breach
While it might seem obvious that your employer knows they have not fulfilled the terms of the contract, you should notify them in writing to:

Remind them of their contractual obligations
Get evidence that you have tried to resolve the problem before taking legal action

Avoid lengthy and expensive litigation
A well-written demand letter can show your employer that you:

Are not willing to give up on your last paycheck
Will initiate a lawsuit if they do not pay your wages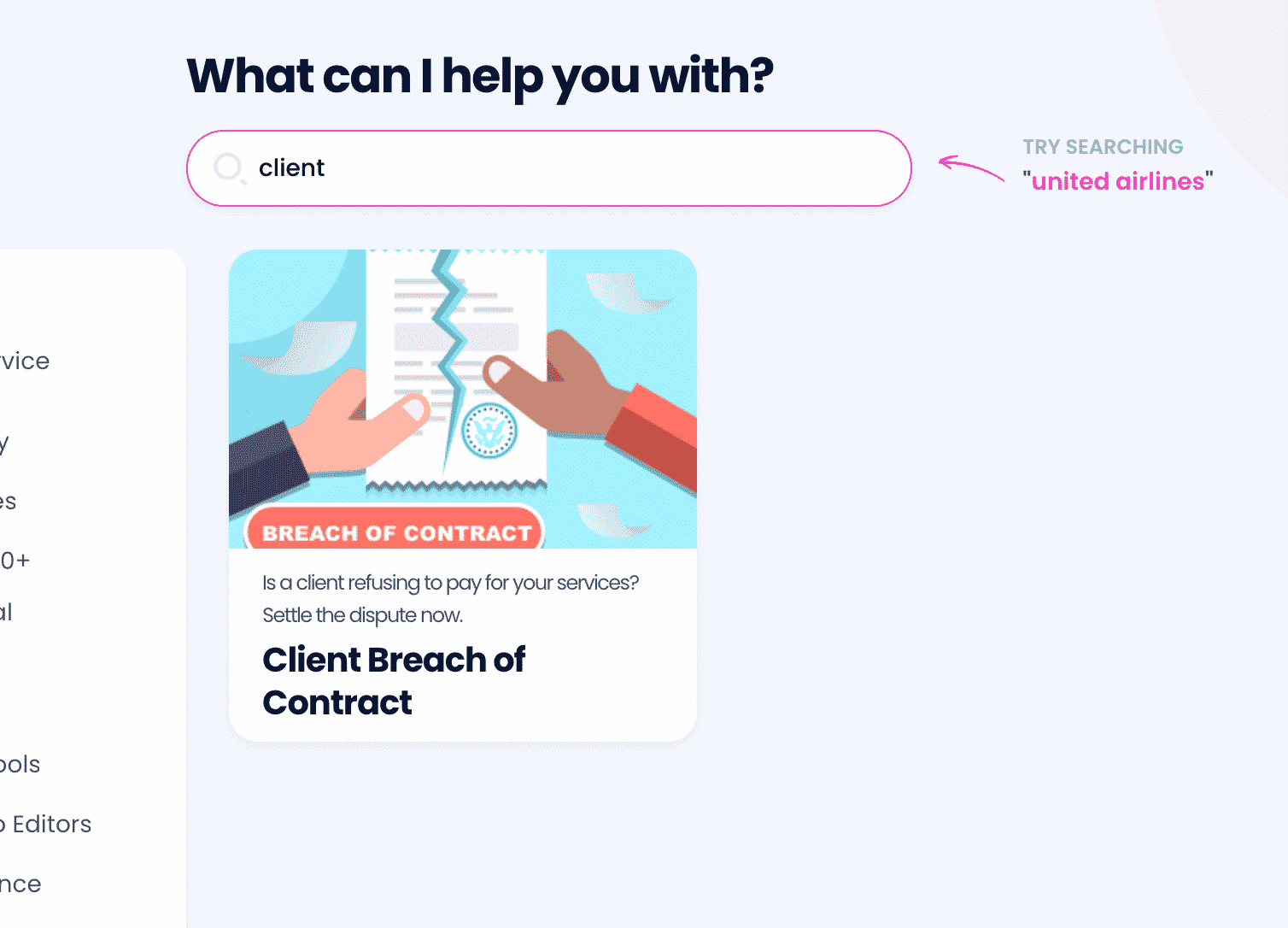 Register for DoNotPay to prepare an airtight demand letter in a matter of minutes.
DoNotPay Is the Most Efficient Way To Generate a Demand Letter
As reaching an agreement outside of court is beneficial for both you and your employer, your demand letter is a good way to prove that you know your rights and intend to exercise them.
To create a demand letter, you do not have to waste energy, money, and time on expensive lawyers, unreliable online templates, or complicated collection agencies. DoNotPay has a vast knowledge of state laws, and we use it to prepare watertight demand letters regardless of the type of breach (e.g., material, anticipatory, or any other).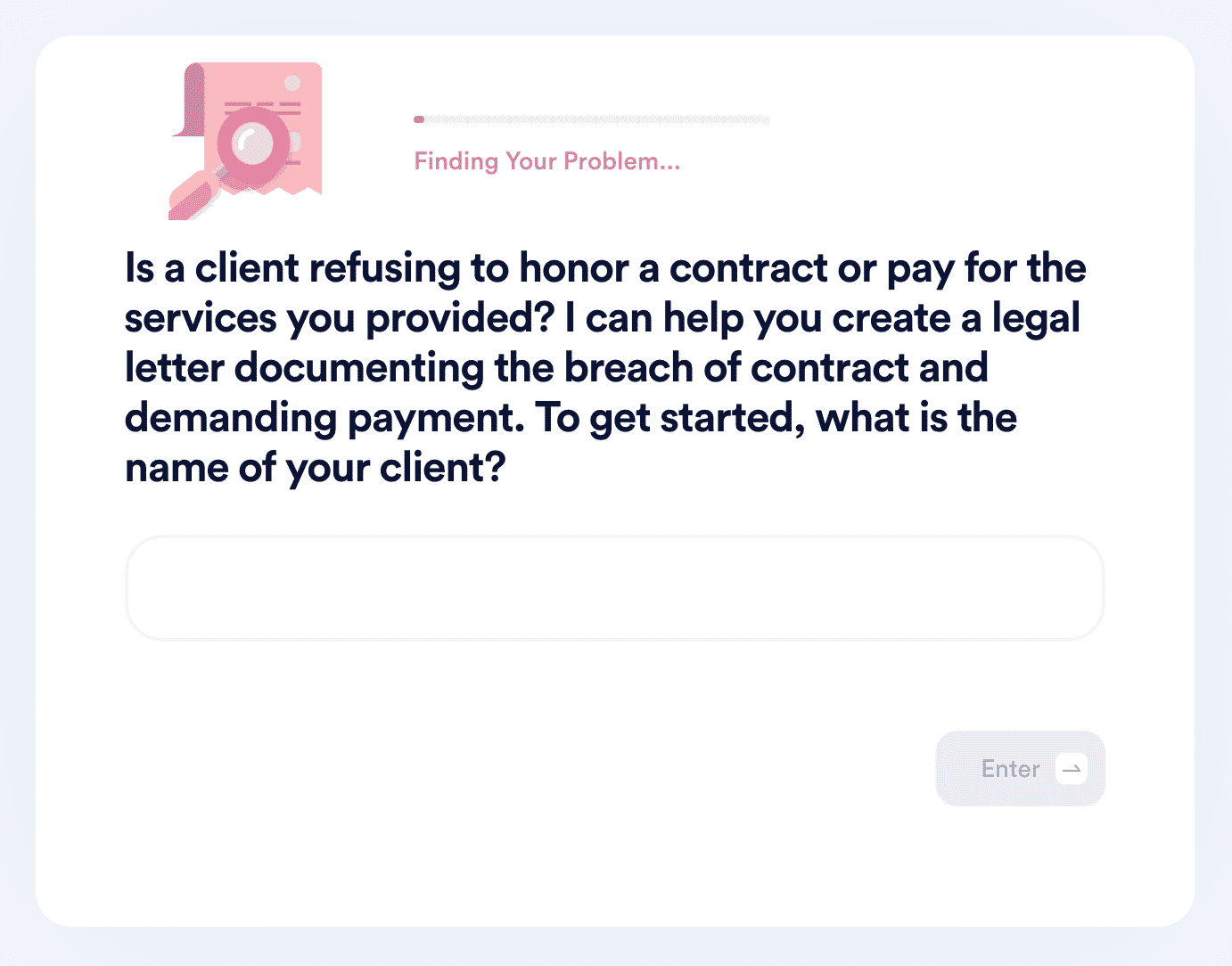 Sign up for DoNotPay and follow these steps:
Open the Client Breach of Contract product
Answer a few questions about the contract and the other contractual party, e.g.:

Name of the breaching party
Terms of the agreement
Payment deadline
Amount the other party owes you

Provide the final payment or delivery date
Upload photo proof to support your claim, if possible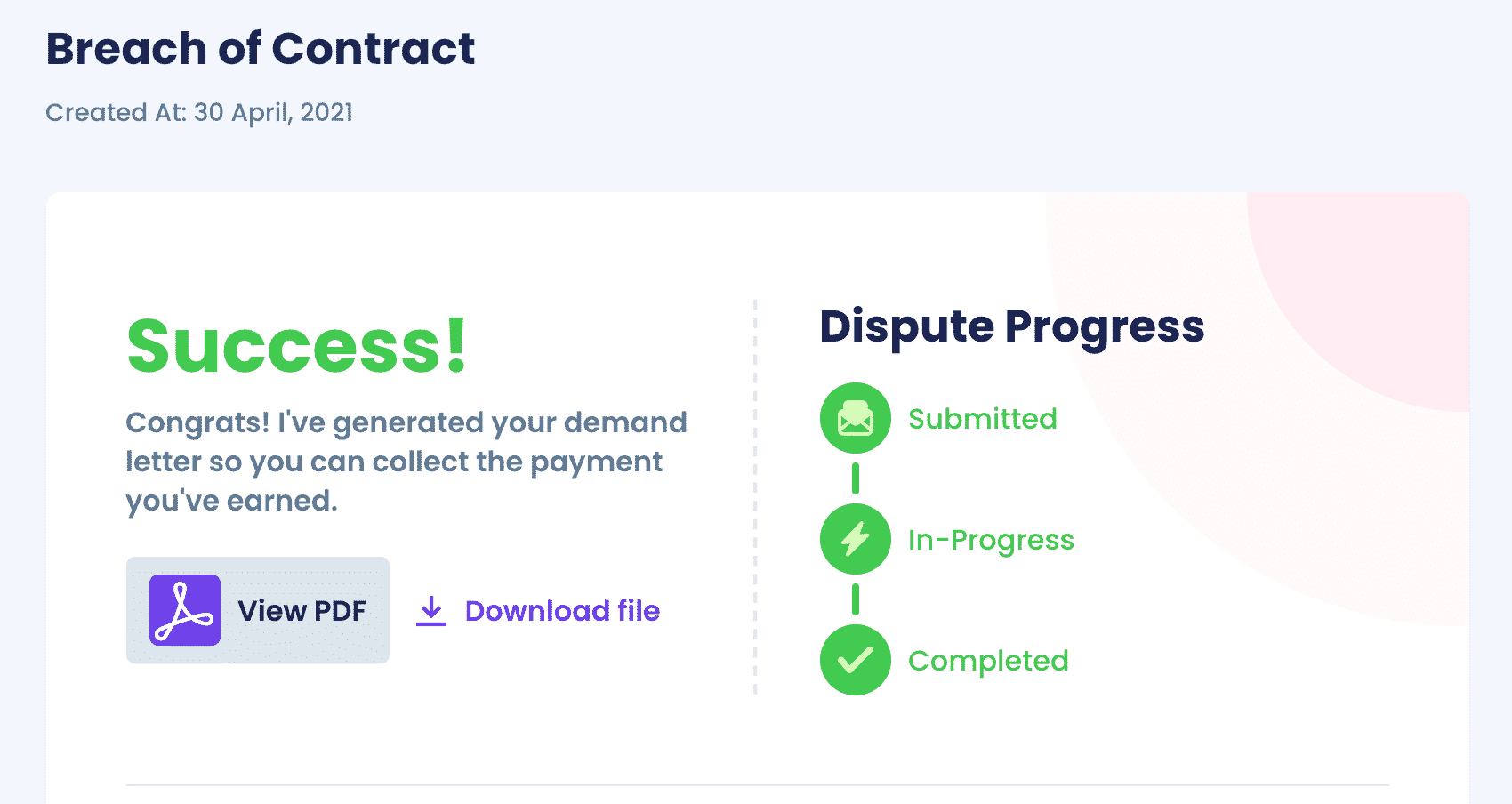 Preparing demand letters is not all we can do. DoNotPay can also help you sue in small claims court if the breaching party refuses to resolve the issue directly with you or ignores your demands.
How To Contact the Federal Agency
If you do not receive your last check on the next regular payday, you could contact a local office of the U.S. Department of Labor's Wage and Hour Division (WHD) to seek help.
Here is how you can get in touch with a local WHD office:
Find the Local Offices page on the WHD website
Choose your state in the drop-down menu
Visit or call a listed office in your state
Keep in mind that the WHD will ask you for the following details:
First and last name
Physical and email address
Phone number
You will also have to provide the information about your (former) workplace:
Name of the company
Location
Phone number
The manager's or owner's name
The type of work you did
Frequency and method of payment, e.g., cash or paycheck, every Monday, etc.
DoNotPay Offers More Help for Your Business
Running a small business is no small feat. When you're drowning in red tape, DoNotPay is here to lend a helping hand. Whether you need to register your trademark or protect it later on, we have got it covered. With our help, you will keep your logo, slogan, and business name safe.
Are you also yet to register for an Employer Identification Number (EIN)? Not to worry—our app can file the IRS SS-4 form in a few clicks. With the world's first robot lawyer at your fingertips, you will also be able to create your 83(b) election forms with ease—ready for your employees to sign them right away.
In case you are struggling financially, we can assist you with a business loan application.
Communication Has Never Been Easier With Our App
Keeping up with clients can be challenging, especially if each has a preferred method of communication. Luckily, our multifunctional app makes it easy to both fax and mail contracts, letters, and documents.
You can also count on our assistance when you need to:
Fight fake negative reviews online
Deal with a client regarding a breach of contract
Dispute fraudulent chargebacks
Thanks to DoNotPay, there is no need for back-and-forth communication. We will handle the necessary demand letters and forward them on your behalf.
We can also help you manage your DMCA agent registration and Privacy Shield program self-certification.