My Employer Did Not Report My Injury - What Next?
When employees sustain injuries on the job, they rely on their employers to do the right thing and report it.
But what happens if my employer does not report my injury? If your employer is not reporting an , what are the next steps to take?
In this post, we will shed light on workplace injuries, offer the next steps if your employer does not report your injuries, and provide quick solutions that allow you to file employee complaints. Better yet, offers an easy method to get your complaints and reports sent anonymously to your employer's HR department!
Reasons That Your Employer Is Not Reporting an Injury at Work
There may be several reasons that your employer did not report an injury at work. Here are a few of them:
Reason
Clarity

To prematurely force you back to work with promises of light workload, a full paycheck, etc.

Your employer is aware that the more work days you miss due to an injury sustained, the higher the workers' compensation costs.

To convince you to use your medical insurance to treat the injuries sustained at work with promises of reimbursements after filing is completed.

This can easily be used to assert that your injuries were sustained out of work since you used your insurance for treatment, and you may lose all compensation and benefits.

To escape the responsibility for your work-related injury.

An employer could threaten punishments, forceful resignations, or relieve you of your duties even though some states do not permit your employer to sack you for a workers' compensation claim. You could

file a complaint about a manager's behavior

with this sample letter with DoNotPay.
Proper Reporting Procedure for an Injury at Work
Although the legal handling of an injury at work may slightly differ by state, the procedures for reporting are generally the same. The steps are listed below:
Report the injury to your employer. This is the first step to take after an injury occurs. Your employer is expected to fill out an injury report with you and file it with the company's workers' insurance claim. It is crucial to be observant of your employer's response to your injury report.

If your employer doesn't fill out an injury report, it may be a sign that he/she will not file the case with the insurance company.

The

work injury report

should be well detailed and key details such as name, date and time of the injury, location of the injury, etc. should not be omitted.

After your injury claim has been successfully filed, the insurance partner of your employer will contact you about your injuries.

The insurance company will refer you to a doctor for an initial examination. This first examination will play a key role in the insurance company's decision to accept or deny your workers' injury claim.

Refusing to see the doctor you were referred to or going to see another doctor without prior approval can seriously jeopardize your chances of compensation for an injury sustained at work.
Steps to Take if Your Employer Does Not Report Your Injury
If you have ever been injured at work and it was not reported, keep in mind that you cannot file a workers' injury claim by yourself. You need to remain diligent to ensure that your employer reports your injury and files a workers' compensation claim to the insurance company.
If your employer does not report your injury, you need to reach out to the labor department in the state where the injury occurred. They will inform and assist you with filing all necessary forms. Hiring an attorney can help you navigate the situation towards a satisfactory resolution. You can also file an HR complaint anonymously with DoNotPay and get the process started. This way, you stay protected and safe throughout the ordeal. Through DoNotPay, you can file employee complaints and learn how to write a formal complaint letter about an issue at work.
What to Avoid When Reporting an Injury at Work
Employers and insurance companies may eyeball every detail to find a loophole and make your workers' compensation claim fall through. If the details on your injury report are incorrect or inaccurate, it can hurt your chances of getting compensation for your work injuries.
When writing an injury report, be conscious of the following:
If you're unsure about the specific details on how the injury occurred, avoid making definitive claims.

It is important to avoid providing details of any injury symptoms except when an authorized medical doctor backs it up.

Stating symptoms or injuries that did not occur will hurt your claim and undermine the entire case.
Types of Compensation for a Work Injury
Compensation for an injury sustained at work is subject to the statute of limitation of a workers' compensation claim in the state that the injury occurred. Some states place the statute of limitation on a workers' compensation claim at two years, and others may be more.
The compensation you are awarded by the insurance company at the end of the claim is dependent on the type of injury sustained. Different types of injuries can be sustained at work. Injuries can be as minor as a paper cut or a head bump but can also be on a much larger scale like amputation, hearing loss, eye damage, and others.
The most common types of compensation are:
Medical treatments financed by the employer or insurance company.

Disability benefits; mostly temporary.

Monetary awards for permanent injuries. The amount of the money awarded is dependent on the degree of the injury.
How DoNotPay Can Help
Although your employer is responsible for , it is in your best interest to be on the lookout for employers that may try to defer that responsibility and therefore cheat you of the compensation you rightly deserve. Learn how to complain about your boss without getting fired.
DoNotPay will help you report an injury anonymously and help eliminate all discomfort from the process. You can easily do this through a few steps:
1. Open in your web browser and select the Anonymous HR Complaint service.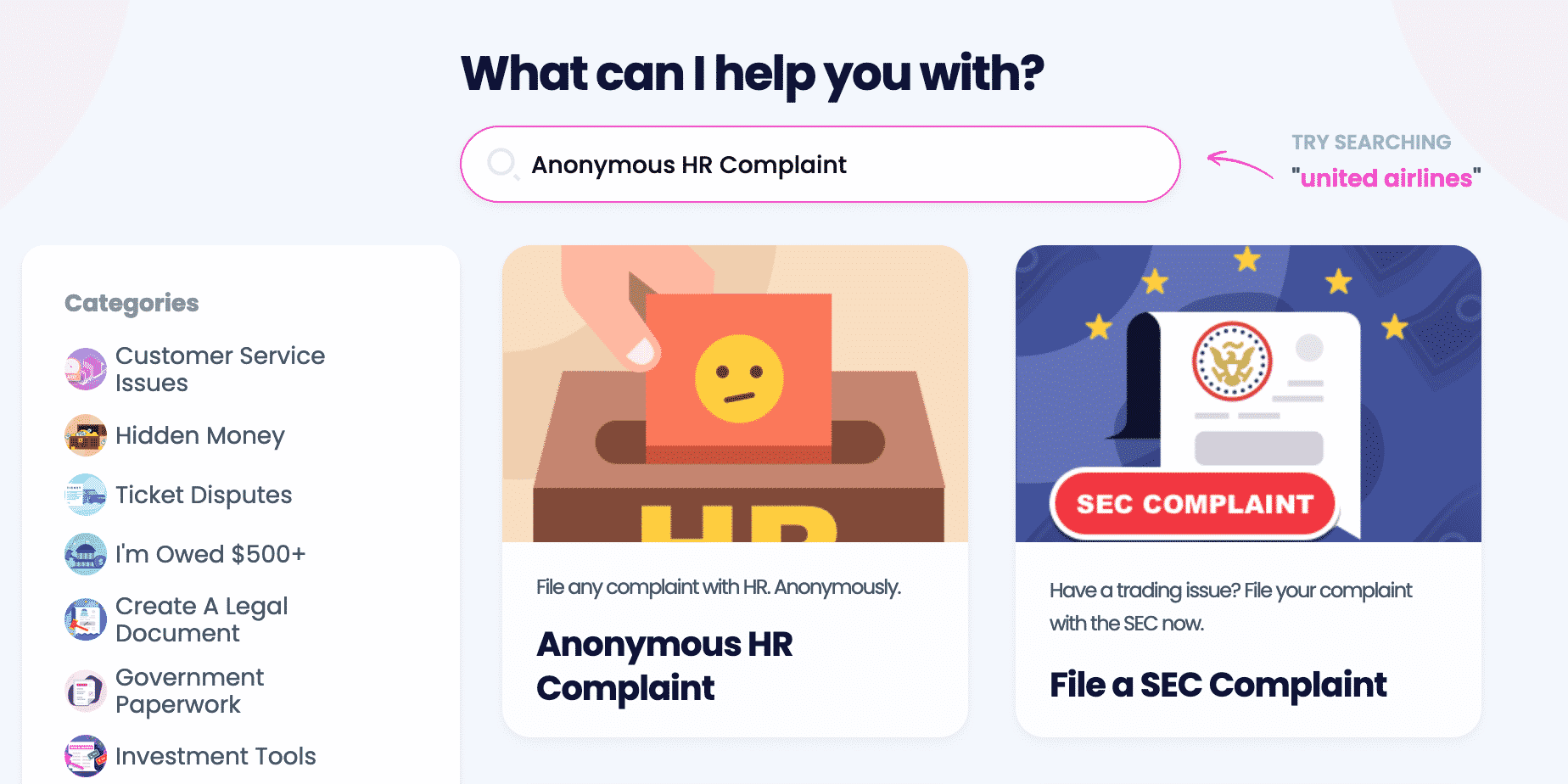 2. Enter your employer's name and the HR's mailing address.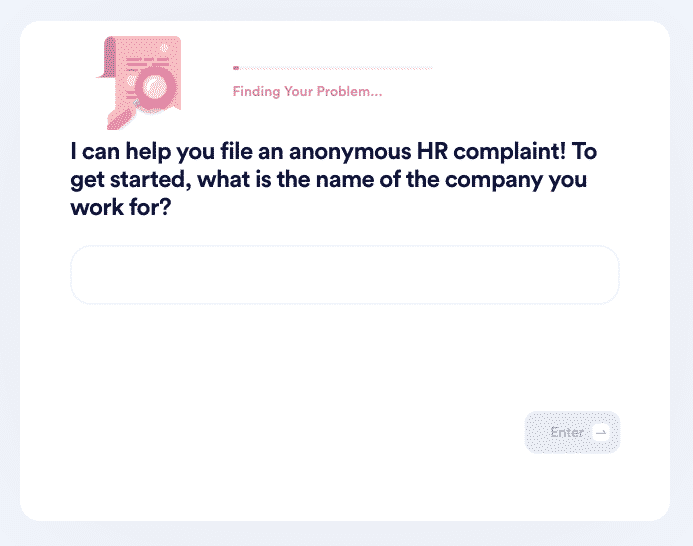 3. Describe your experience and the resolution you are seeking.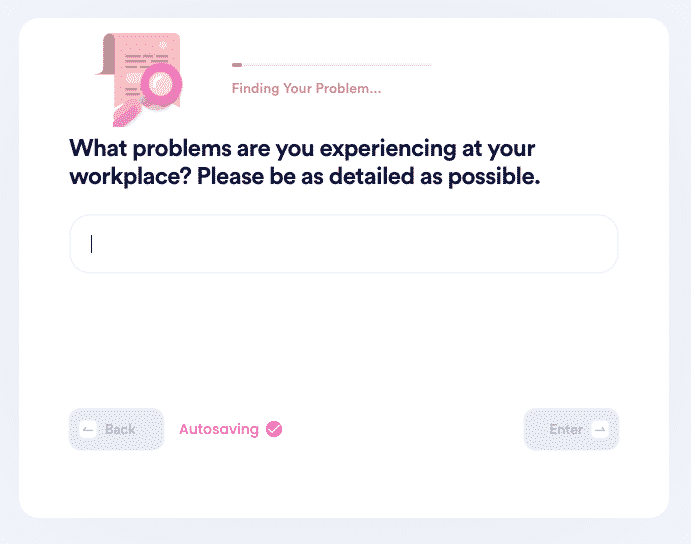 That's it! DoNotPay will automatically forward your complaints to your employer's HR department - anonymously! This way, you're certain your case is being heard while you stay protected. Click here to learn more about other HR Complaints (e.g. discrimination, harassment) and other issues in the workplace.
Other Services DoNotPay Offers
DoNotPay doesn't just stop at anonymous HR reports. Here are some other services that you may be interested in:
Lower your property taxes