The Importance of a Mutual Non-Disclosure Agreement
Entering a partnership can save a company, but without confidentiality, a business can experience serious problems. The best way to avoid the latter scenario is to draft a contract or legal document to protect both parties. If you are not sure which document you need, we suggest a mutual non-disclosure agreement. We'll present the ins and outs of this contract and teach you how to make it. 
What Is a Mutual Non-Disclosure Agreement?
A mutual non-disclosure agreement is a contract between two parties that forbids disclosing any information protected by the agreement. The information is usually a trade secret or proprietary information. Other names for this agreement are:
Mutual confidentiality agreement

Mutual non-disclosure agreement form

Mutual NDA
A mutual confidentiality agreement is not reserved exclusively for businesses. Individuals can also sign it if they want to protect an idea or business plan before it has been fully developed.
The agreement can contain the clauses that define: 
Consequences of an information leak by either party

The party responsible for the expenses of any legal proceeding

Penalties
Mutual confidentiality agreements are beneficial for mergers, investor relationships, and partnerships.
What Is the Difference Between a Mutual and Unilateral Non-Disclosure Agreement?
Employment contracts usually contain a unilateral non-disclosure agreement, which is also called a one-way NDA. It protects the company's information, and the party signing it agrees not to disclose confidential information. The company does not promise to do the same since the party has no sensitive business information.
A mutual NDA or a bilateral NDA binds both parties not to reveal proprietary information about each other. The sensitive data is defined in the contract.
What Should a Mutual Confidentiality Agreement Contain?
Regardless of the circumstances, a mutual non-disclosure agreement should always include the following:
The effective date

Protected information 

The duration of the agreement period

Breaching policy

Confidentiality policy

Persons with access to the protected info

The way to use the data

Statement about what happens to the information once the partnership ends
The Effective Date
Set a specific date when the agreement goes into effect. The date is important to avoid any misinterpretation.
What Is Protected?
Always outline what information the agreement protects. You can also specify who the owner of that information is. The more specific the agreement is, the fewer chances any party will have to make a mistake. General phrases are harder to define and difficult to prove in court if there is a breach of contract.
The Agreement Period
A mutual non-disclosure agreement should have a duration period defined in it. You may select a specific end date to define how long the agreement lasts.
Breaching Policy
If you fear the other party may disclose the information, include a clause in the agreement that will allow any party to sue for damages if the other party reveals the information.
Confidentiality Policy
Make sure you outline the confidential info. You can also put a clause stating whether a party can reveal the information to its employees if they signed a separate confidentiality agreement.
Who Has Access to the Information?
The agreement can include a clause allowing a business or individual to access the information on a need-to-know basis. This can be useful if your company needs additional services from third parties, like packaging manufacturers.
How Should Both Parties Use the Information?
You may want to clarify how both parties can use the information for their businesses. This is a complicated process, but it will prevent any breach if the clarification is detailed enough.
Will the Information Be Destroyed or Returned?
When the agreement ends, you may want to destroy the information or return it to the other party. Destroying it can protect your company in the long run, so the agreement should have instructions on how to do it, as well as the process of returning it if a party no longer needs to have access to confidential information.
Is There Something I Cannot Protect With a Mutual Non-Disclosure Agreement?
A mutual confidentiality agreement cannot protect particular pieces of information. Do not include in your agreement:
Public information

—Information that is easily accessible

Non-proprietary information

—Information not considered confidential

Information the other party knew about

—Any info available from other sources

Common knowledge

—Data widely used in the industry

Information that may be subject to a subpoena

—If the information is a part of the court order and may be used for case evidence, do not put it in the agreement
How Can DoNotPay Help Me?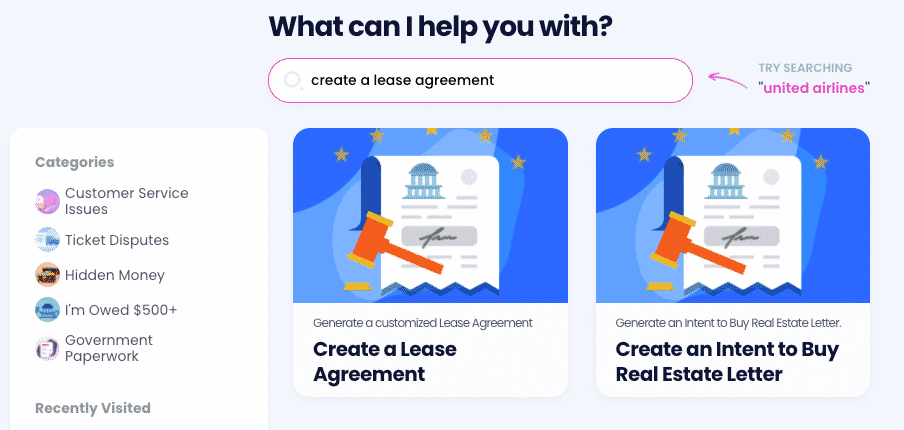 If the idea of drafting a legal document is making you nervous, we'll help out! Use DoNotPay and make a personalized template without hiring a lawyer. These are the steps to take:
Open DoNotPay in your web

browser

 

Type in the name of the contract you want to create

Give the information to our chatbot

DoNotPay will generate a contract for you in no time
We use AI to make tailored documents with the information you give us. Your contract will be ready quickly, but without signing or notarizing it, it won't be official.
At the moment, we offer the following templates, and more are on their way:
Business and Real Estate Documents
Other Documents

Quitclaim Deed

Intent To Purchase Real Estate

General Business Contract

Estoppel Certificate

Promissory Note

General Affidavit
Falling for Scams Is Less Likely With DoNotPay
Thanks to AI technology, DoNotPay is a great resource for protecting your privacy and finances from potential scammers. Our bots can help you report robocalls, keep your inbox clean from spam email and shady text messages, or even deal with stalking and harassment, if it comes to that. 
In case the issues escalate, skip the expensive lawyers and sue the offenders in small claims court with ease. 
Another great way to increase your online security is to use our virtual credit cards and sign up for any free trial without risking unwanted charges. You can even avoid sharing your contact info with our Burner Phone feature. 
The Solution To Your Driving Woes
DoNotPay provides invaluable help to future and current drivers. By helping you ace that driver's license test, scheduling a DMV appointment the easy way, or contesting parking tickets, our app saves you money and time. 
If you need to file a car warranty or an insurance claim, we will help you deal with the necessary paperwork within minutes. Trying to get out of a car wash membership? DoNotPay can cancel it in an instant. 
Our platform works above ground as well. You can use DoNotPay to secure refunds from airline companies or compensation for delayed and canceled flights.