Mutual Lease Termination Agreement in a Nutshell
Lease agreements are binding legal documents that both landlord and tenant need to respect. But what happens if the involved parties want to terminate the lease consensually? This delicate situation calls for a mutual lease termination agreement.
If you want to learn more about this contract, DoNotPay is at your disposal! We will also show you how to create a top-notch mutual lease termination agreement without hassle!
What Is a Mutual Lease Termination Agreement?
A landlord and tenant can decide to terminate a lease agreement at any point. One way to do it is to sign a mutual lease termination agreement. This contract is the result of negotiations between both parties and should protect their respective interests. Before creating and signing a mutual lease termination contract, the concerned parties must agree on the terms of ending the lease.
What Are the Most Common Reasons for an Early Termination?
People often have to terminate a lease early because their circumstances change. Here are the most common reasons landlords and tenants decide to take separate ways before the lease expiration date:
Reasons for Terminating a Lease Early
Landlords
Tenants

Selling the property

Foreclosing the unit

Renovating the premises

Falling under eminent domain for public use

Suspecting tenants for illegal behavior

Evicting the tenant for not paying rent or breaking the lease

Having the property destroyed by a natural disaster

Looking for a space that allows pets or is more convenient for children

Leaving for a new job or marriage

Being subjected to unsafe living conditions

Living in partially unusable premises

Leaving for military services

Having health problems or a sick family member
The Benefits of Creating a Mutual Lease Termination Agreement
A mutual lease termination agreement can be beneficial for the landlord and tenant, as described in the table below:
Creating a Mutual Lease Agreement

Cause
Benefits for the Landlord
Benefits for the Tenant

Tenant facing eviction

Sets a quicker date for repossessing property than the eviction process would

Saves the landlord from expenses of filing for eviction and hiring a lawyer

Determines a convenient move-out day

Avoids an eviction in their rental history

Maintains eligibility for rental subsidies

Tenant moving out before the end date

Allows a smooth return of the property

Determines if the tenant owes any money

Sets a precise move-out date

Establishes a payment schedule for returning the money owed
Key Elements of a Mutual Lease Termination Agreement
While every contract is unique, they must all have a specific structure. After including the required sections, you have to adjust the contract to both parties' requirements and particular state laws. Here is what a standard lease termination agreement should include:
Personal information

—

The contract should contain full names of involved parties

Property details

—

The agreement must include the full address (including city, state, and ZIP code) of the rented property

Original rental agreement info

—

The landlord should provide the names and start and end date of the original agreement

Departure date

—

The contract must include the tenant's exact move-out date

Contact address

—

Both parties have to provide addresses for receiving the security deposit or future notices

Termination reasons

—

The agreement must outline the reasons for terminating the lease
How Can I Create a Mutual Lease Termination Agreement?
You can create a mutual lease termination agreement by:
Hire a Lawyer To Draft a Contract
This is one of the most reliable ways to create a mutual lease termination agreement. Lawyers are familiar with the terminology, state laws, and potential legal problems.
Mutual lease termination agreements are sensitive and need to be as precise as possible.
Attorneys ensure the elements in your contract not only correctly describe your intention but are also legally enforceable. The trouble is that not many people can afford a lawyer since their services are pricey.
Download an Online Contract Template
Online contract templates are free and easy to access. They mostly contain all crucial sections of a mutual lease termination agreement. The downside is that they offer general terms and can't be used in specific situations. If you decide to go for a contract template, make sure to find a professional website and pick the template closest to your requirements.
Create an Agreement Yourself
The cheapest option is to write the contract yourself. You don't have to use complicated legal terms. Contracts written in simple English are acceptable in court. Before you start writing the agreement, you should establish your conditions and adjust them to your state's laws.
You may want to consider asking for advice after you finish. It will not cost you as much, and you will have confirmation that you created an enforceable document.
Need Help Writing Other Legal Documents? DoNotPay Can Assist!
While you can draw up some legal documents, most require a little more expertise. If paying for expensive services doesn't appeal to you, we offer another way!
has developed a Standard Legal Documents service to help you create numerous contracts, including:
Business Contracts
Real Estate Legal Documents
Other

General Business Contract

Quitclaim Deed

Intent To Purchase Real Estate

Estoppel Certificate

General Affidavit

Promissory Note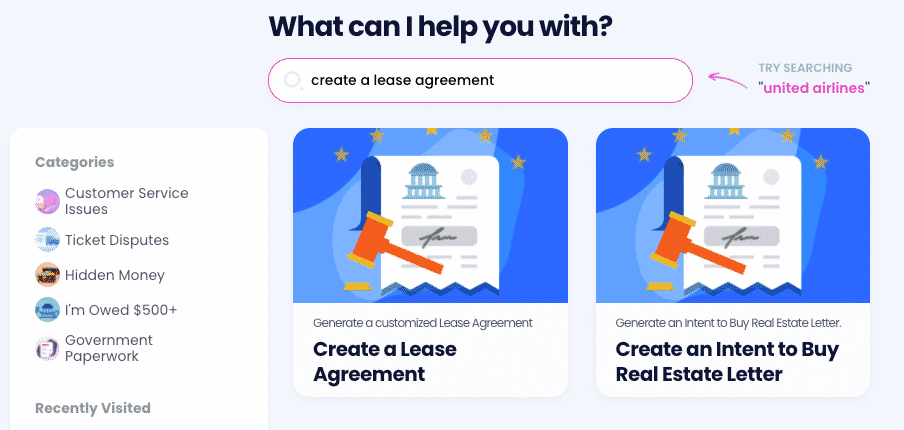 Our app uses the information you provide to generate a personalized contract that meets all legal requirements.
All you need to do to get your tailor-made contract is and take these steps:
Type in the name of the document in the

Search

field

Answer a few questions

Wait for your contract to arrive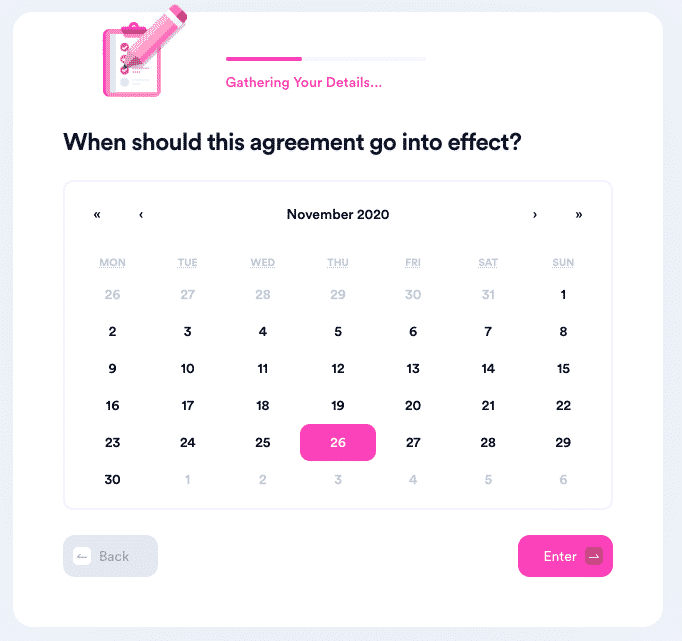 DoNotPay Leads the Way Against Spammers
Browsing the internet has never been more popular than today, but you must not forget to keep your private and financial information safe. You know you can cancel any streaming service or magazine subscription easily, but that won't stop them from using your personal details for marketing purposes.
DoNotPay has a solution for that!
Is a company pestering you with incessant robocalls, spam emails and text messages? Use our Virtual Credit Card to catch them in the act and claim compensation for your troubles.
To prevent that from happening ever again, use our card to sign up for free trials—not only will you not pay a dime for the service, but you will be automatically unsubscribed as soon as the trials are up!
If you want to avoid revealing your personal phone number, we'll generate a temporary burner phone for you so the company won't have any way to reach you.
Already Been Scammed? DoNotPay Knows the Way!
If you've already made the mistake and divulged your personal info to the wrong party or experienced any other kind of crime or injustice, you don't have to sit tight and suffer the consequences. DoNotPay can assist you in taking anyone to small claims court!
We'll help you gather evidence—correspondence proving stalking or harassment took place, customer service call recordings, denied chargeback and refund claims, online fax transcripts, or proof of copyright violation. Then, we'll fill out the relevant legal documents for you and draft a court script that you can use in your hearing.