A Guide to Preparing Mutual Divorce Papers
Getting divorced is challenging because of complex filing procedures and the documentation that you must prepare. If you don't know which way to turn and where to find the required mutual divorce papers, DoNotPay will show you.
We also provide a great product that can generate the most important divorce document in a snap!
What Is a Mutual Consent Divorce?
A mutual consent—also called uncontested or friendly—divorce is a type of divorce where you and your spouse can agree on all matters and reach an out-of-court settlement.
Before you fill out and file the necessary papers, you need to negotiate different aspects of your post-divorce life with your spouse, including:
You and your spouse can discuss the terms on your own or through mediation.
An uncontested divorce is the least time-consuming, demanding, and expensive divorce procedure you can opt for. Once you agree on all matters, you don't need a lawyer to:
Draw up the mutual divorce papers for you—You can do it yourself using the available court forms and DoNotPay's assistance
Represent you at court—In most states in the U.S., you don't even have to go to court for an uncontested divorce
Where To Get Mutual Divorce Papers
Most states offer mutual divorce papers on their court's websites and offices.
That's why you don't need to pay an attorney to provide the documentation for you. Instead—depending on what free divorce assistance your state and county provide—you could:
Download the necessary forms from the court's website
Collect the court forms at your county clerk's office
Use an online divorce interactive tool to fill out the required documents
What Documents Do You Need for a Mutual Consent Divorce?
The forms you need to file when starting the divorce process may differ from state to state and even county to county. In the following table, you can find the most commonly used court forms:
Mutual Divorce Papers
Specifics
Petition for Divorce/Dissolution of Marriage
You must:

Fill out the petition
Have its copy served to your spouse
File the petition with the court along with other divorce paperwork

Summons
This document:

Announces the case has started
Includes the date of the court hearing
Must also be served to the other spouse

Proof of Service
States might have different requirements when it comes to serving mutual divorce papers to the spouse, but most allow you to:

Ask a friend or relative to deliver the papers to your spouse—This person must be over 18 and cannot be involved in your divorce case
Hire a professional server or local sheriff—You need to pay a fee for this service

Keep in mind that the server needs to get the signed and dated Proof of Service and:

File it with the court directly
Give it to you to submit this document together with the rest of the paperwork

Financial Affidavit/Property Declaration
This form includes your and your spouse's financial information, including:

Debts
Incomes
Property
Expenses
Create a Divorce Settlement Agreement for Your Mutual Divorce Papers Packet
Once you and your spouse reach an agreement, you need to outline all the terms in a divorce settlement agreement.
The judge will review this document to check whether all the agreed-upon aspects are fair and in compliance with state laws. If everything is valid, the judge will approve the agreement and finalize your divorce.
To prepare a divorce settlement agreement, you should consider the following options:
Consulting an attorney—You could always head to a law office and let a lawyer prepare all divorce papers for you, but make sure you can afford their fee
Drafting the document by yourself—To do this, you must get familiar with state and county legal requirements to ensure the document is valid
Registering for DoNotPay—We know all state laws but are not nearly as expensive as lawyers! Our app generates customized divorce settlement agreements in a flash
Use DoNotPay To Draw Up a Divorce Settlement Agreement in a Breeze!
Do you want to get a quickie and low-cost divorce? Then don't waste time trying to figure out legal requirements—let us help you!
DoNotPay is the most efficient way for you to prepare the required divorce settlement agreement. What else is our advantage? We can help you get the document notarized 24/7!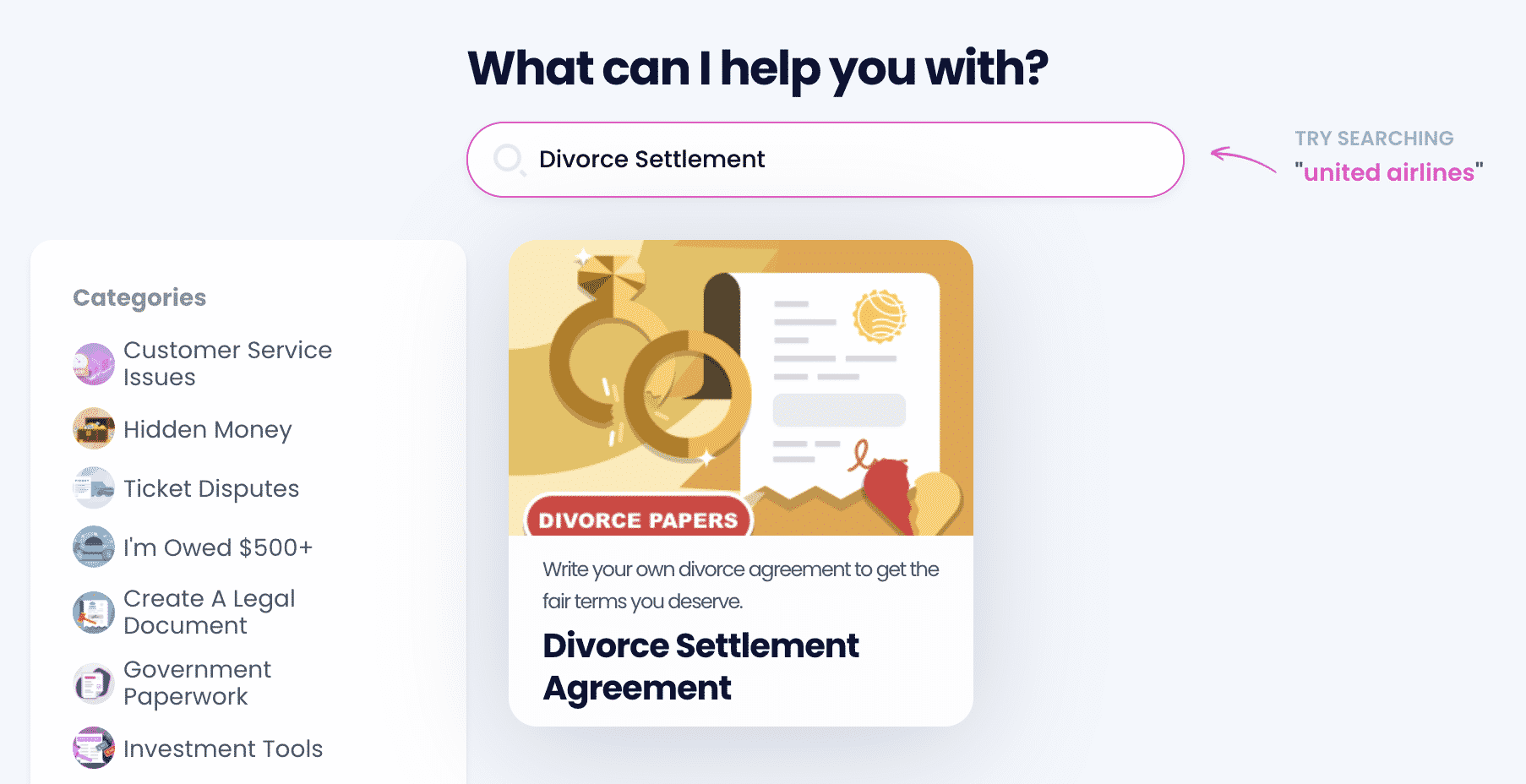 Want to hop on our high-speed train? Open DoNotPay and follow these steps:
Pick the Divorce Settlement Agreement tool
Answer the chatbot's questions
Let us know if you need to get the document notarized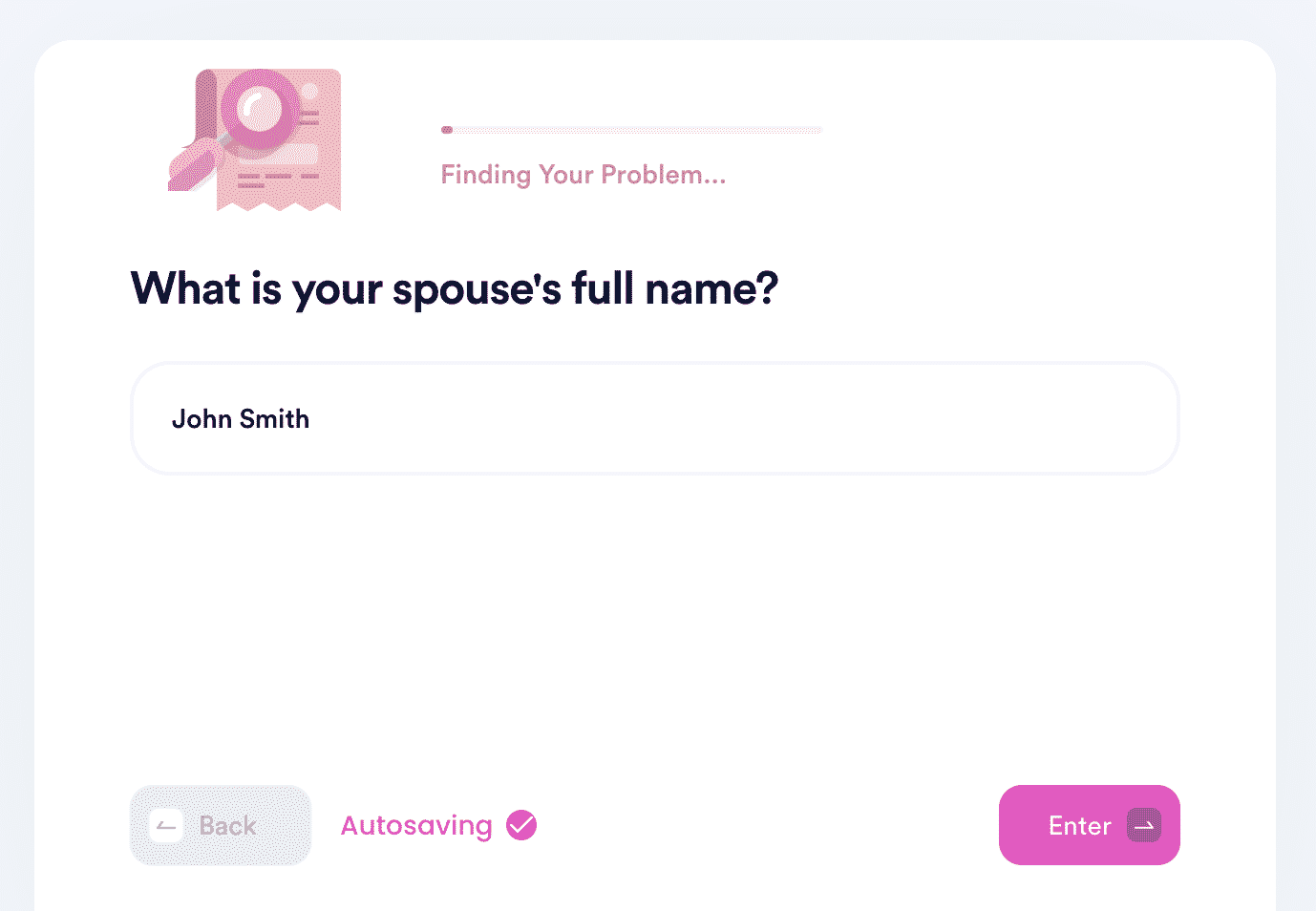 Once you finish the above-listed steps, our app will generate the agreement tailored to your particular circumstances!
Learn About Divorce Papers in Different States
Check out the following table to learn what mutual divorce papers are used in your state:
There Is No Shortage of Tasks DoNotPay Helps You With
If you find finishing administrative tasks tedious, you can rely on our app to assist you through the entire process and make it a smooth-sailing experience. Check out the table below to find out what DoNotPay can help you do:
| Deal With Companies By | Get Rid of Pesky Spammers By | Get Help With Your Studies By |
| --- | --- | --- |
| | | |
Buried in Paperwork? Not for Long!
Is creating legal documents giving you a migraine? Not everyone is acquainted with the law and legal jargon, which is necessary when writing documents, such as:
Luckily, DoNotPay can draft your legal documents in minutes! Why waste hours doing it yourself or hire a lawyer when you can have our app do it in no time?
Creating anonymous HR complaints and demand letters for your inconsiderate neighbors is also something our app does best!