Get the Lowdown on Mutual Consent Divorce in Maryland
You want to get a divorce, but you don't know where to start because of the various rules and regulations? The technicalities and the procedure can easily turn into a living hell.
Did you know that you can get a relatively cheap mutual consent divorce in Maryland and end your marriage on friendly terms with your spouse? DoNotPay will show you how and help you create a marital settlement agreement the easy way!
What Is a Mutual Consent Divorce in Maryland?
Before 2015, couples in Maryland had to have grounds (reason) for getting divorced or be separated for at least 12 months before the official marriage termination. A mutual consent divorce—also known as uncontested divorce—allows couples to end their marriage without waiting.
To qualify for this divorce type, you must agree on some specific aspects with your spouse, but it allows you almost complete control over the process. The key points the spouses must see eye to eye about are:
If you and your spouse reach an agreement, you won't have to hire a divorce lawyer or even go to court. Instead, you will state the terms of the divorce in a marital settlement agreement. In case you can't reach a compromise on these issues, try divorce mediation. The mediator will help you find a middle ground with your spouse and get divorced more quickly. It is also more affordable than hiring an attorney.
Benefits of an Uncontested Divorce in Maryland
Getting an uncontested divorce in Maryland comes with many benefits, including:
Maryland Mutual Consent Divorce—Filing Process
To file for a mutual consent divorce in Maryland, you will have to:
File the divorce papers
Attend a hearing
Filing the Papers for an Uncontested Divorce in Maryland
You will first have to complete and sign the marital settlement agreement. Once you're done, visit your local county house or the government website to find:
Civil-Domestic Case Information Report
Complaint for Absolute Divorce
Child Support Guidelines Worksheet
Joint Request to Schedule an Uncontested Hearing on the Grounds of Mutual Consent
File these forms with the local courthouse. If you submit the papers yourself, you will have to serve Summons to your spouse. Maryland state laws require you to hire a professional server to deliver the papers to the other party.
Attending an Uncontested Divorce Hearing in Maryland
Once you file the divorce papers, the court will schedule a hearing before a family court judge or magistrate within the following 45 days. Before 2015, the law required both spouses to attend the hearing. Since 2018, only the spouse who filed the Complaint for Absolute divorce must be present.
The Importance of a Mutual Divorce Agreement
A mutual divorce agreement determines the crucial details of the process and post-marital arrangements. The judge must review it to make sure that it's fair to both parties. It's vital to draft this contract with great care. Consult the table below for additional info:
| | |
| --- | --- |
| Ways To Obtain a Settlement Agreement | Explanation |
| Hiring a lawyer | If you want to hire a lawyer to draw up an agreement for you, keep in mind that you'll have to pay a hefty sum for their services |
| Writing one yourself | Drafting the divorce settlement agreement yourself is the cheapest option, but you shouldn't do it if you're not familiar with legal jargon and local laws. A single mistake can have unfavorable long-term effects |
| Using DoNotPay | In case you need an affordable and easy way to get a professional marital settlement agreement, |
Getting a Maryland Uncontested Divorce? DoNotPay Can Help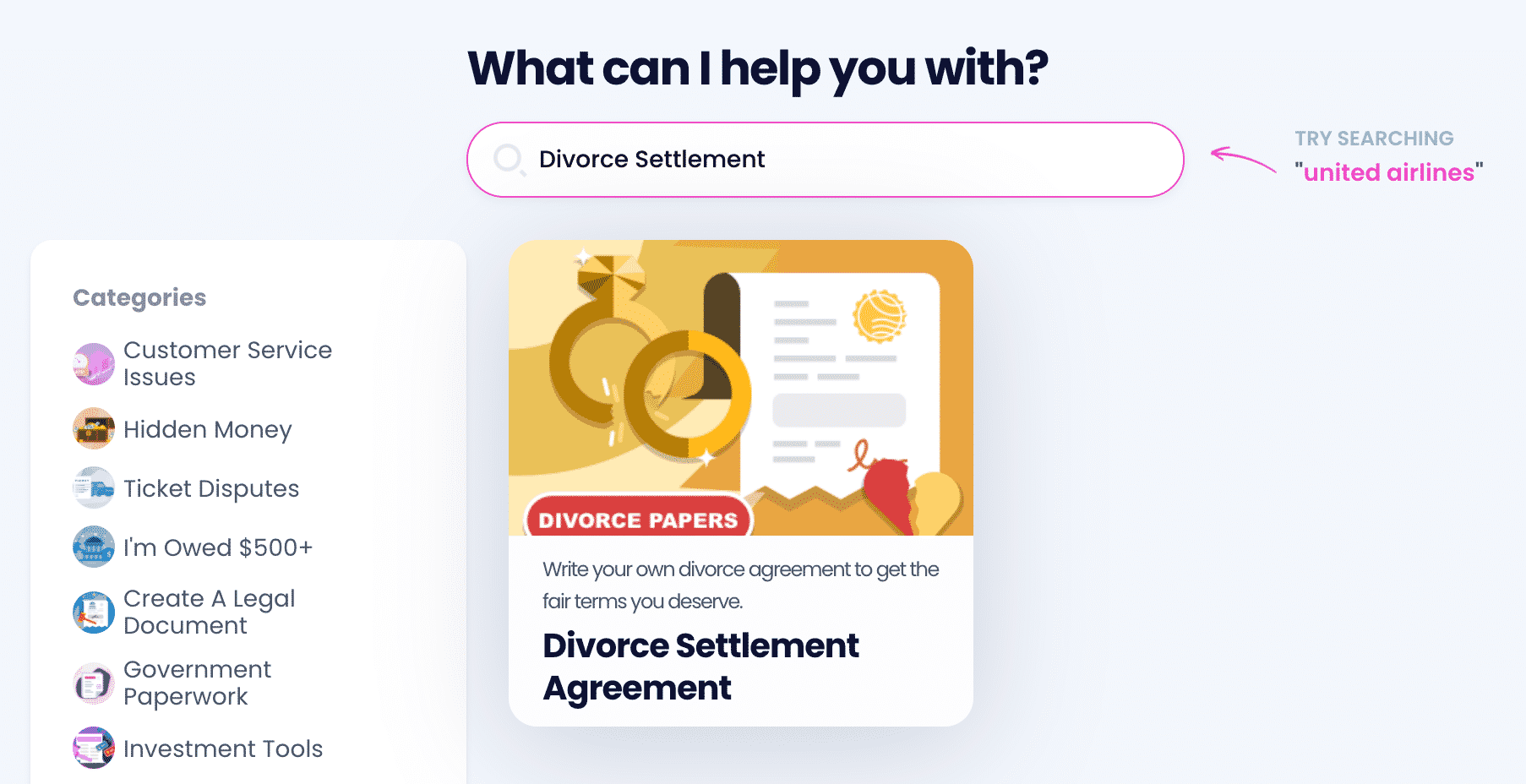 Why spend big bucks on lawyer fees or try to create a settlement agreement yourself when you can delegate this task to DoNotPay? We'll generate this important document according to your specific situation and send it in a snap! All you have to do is:
Select our Divorce Settlement Agreement tool
Give us details about your:

Spouse
Children
Assets
Property

Opt for online notarization
Once you submit your request, we'll send a personalized divorce settlement agreement with a link you can follow to schedule an appointment with an online notary.
DoNotPay Has Answers to Your Divorce-Related Questions
Need more help with divorce-related issues? Don't worry—DoNotPay has got you covered! Check out our handy articles:
To Sue or Not To Sue?
Hiring a lawyer to help you sue a company can be helpful, but it can also cost you an arm and a leg. Luckily, you can avoid wasting hundreds of dollars and use our robot lawyer to sue any company in small claims court instead!
DoNotPay offers you a variety of other features you will find quite useful when dealing with bureaucratic issues. Check out the list below to see what else our app can help you with:
Shopping Without Dropping
Whoever said you should shop until you drop didn't have access to DoNotPay's various features. With our app, you can make your shopping experience smooth sailing and stress-free!
Here's a fragment of what you can accomplish by using our neat features: