Different Types of a Mutual Agreement
Dealing with legal documents is never easy, especially if you're not in the legal profession.
A mutual agreement can be difficult to understand since it encompasses a number of items. We'll go over mutual agreements and assist you in drawing up numerous documents! With our help, writing a contract won't require a lawyer or a contract template.
The Meaning of a Mutual Agreement Explained
A mutual agreement is a somewhat redundant phrase. Any agreement should be mutual in itself as it entails two or more parties who agree on something. Going by this definition, a mutual agreement can refer to all legally binding contracts where parties signed and mutually agreed to all the terms and clauses.
Mutual agreements can be used for any legal contingency—divorce, termination, child support, business partnerships, etc.
Another definition of a mutual agreement is more specific and portrays the difference between a mutual and a non-mutual agreement. A mutual agreement requires both parties to agree to the same condition. For example, a non-disclosure agreement can be:
Mutual—Both parties agree not to disclose certain info about the other party

Non-mutual—One party (e.g., an employee) signs the agreement
What Are the Elements of Mutual Agreements?
Every mutual agreement needs to consist of the following five elements:
Consideration

—There must be an exchange of value and benefits (for example, a service and payment)

Capable parties

—All signing parties must be of legal age (at least 18 years old) and of sound mind. The parties should also not be under the influence of drugs or alcohol

Legal purpose

—The contract obligations must abide by the U.S. laws to make them legal and enforceable

Offer and acceptance

—One party accepts what the other party is offering and vice versa

Genuine and mutual assent

—All parties truly and mutually agree to the terms of the contract
Different Mutual Agreement Types
Most mutual agreements also include different sub-agreements or clauses, such as the non-disclosure agreement or a confidentiality agreement, and a release or a hold harmless agreement, which can also be standalone mutual contracts.
Here's what the most common types of mutual agreements should cover:
Mutual Agreement Type
What It Usually Covers

Mutual Business Agreement (Joint Venture Agreement)

Number of parties

Full names of all parties

Structure and duration of the joint venture

Responsibilities of each party

Management members and their contributions

Dispute resolution details

Ownership split

Profit and cost division among all parties

Termination terms and conditions

Signatures of all parties

Mutual Non-Disclosure Agreement

Names of both parties

Non-disclosure obligations

Confidential information

Exclusions

Jurisdiction

Signatures

Mutual or Reciprocal Release (Hold Harmless) Agreement

Name of the parties

Signatures of both parties

Agreement duration

Indemnification

Applicable law
What Happens if a Party Breaches a Mutual Agreement?
If one or more parties fail to follow the rules and obligations set forth in the mutual agreement, they have breached it. In case you are the injured party, you can sue the other party and take one of the following courses of action:
Demand financial compensation

Request the other party to perform their duties as per the agreement
Use DoNotPay To Draft Different Legal Documents
If you're thinking of choosing between hiring a lawyer and downloading a contract template and taking matters into your own hands, know that there is a better way! You can use DoNotPay—the world's first robot lawyer—to generate numerous legal documents in a few minutes. All it takes is several clicks once you open our app in any web browser:
Enter the name of the legal document you wish to create

Answer a few questions to tailor the document to your needs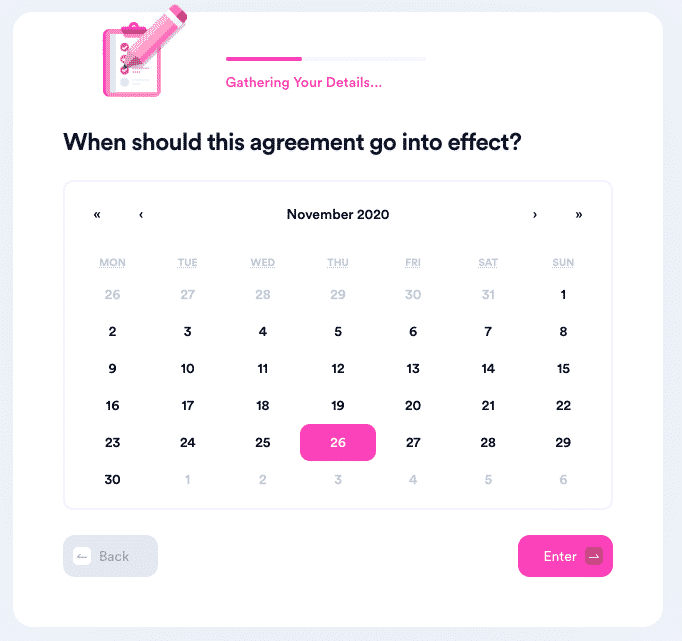 That's it on your end! Our AI-driven app can take it from here. Your agreement or contract will be ready for signing in no time. Feel free to generate the same type of document as many times as you want.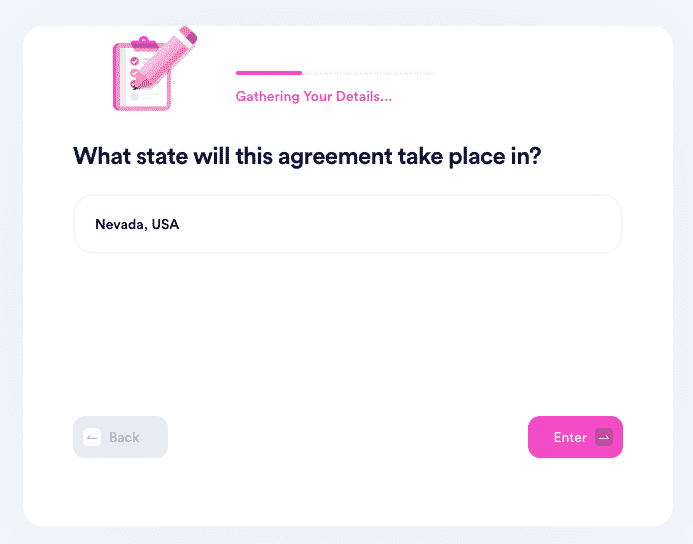 Check the table below for the types of legal documents we can currently make for you:
Business
Real Estate
Miscellaneous

Non-disclosure agreement

Non-compete agreement

General business contract

Estoppel certificate

Quitclaim deed

Intent to purchase real estate

Residential

lease agreement

Promissory note

General affidavit
The Advantages of Creating Documents With the Help of DoNotPay
You can rely on DoNotPay to whip up various legal documents in a flash, which comes with additional perks, including:
E-signing your contracts

Faxing

your documents to other parties with ease

Not searching for or using contract samples or templates

Not hiring lawyers
Learn About Numerous Agreements and Contracts With DoNotPay
Feel free to browse our learning center and get familiar with different legal documents that you may need to sign or create, such as:
Fighting Administration Is Easier With DoNotPay 
Bureaucracy is a disease of the modern world, and we finally have a cure. Thanks to artificial intelligence, DoNotPay knows how to handle numerous rules and regulations and make your life so much easier. 
Our bots ask you a few questions, gather the necessary info, and off they go! Filing warranty and insurance claims, requesting property tax reductions, getting access to public records, or claiming unclaimed funds under your name—you can deal with these bothersome tasks from the comfort of your home and within minutes!
If you need to get in touch with customer service representatives to ask for refunds or contact airline companies regarding compensation, our platform will make the process painless and care-free.
Don't hesitate to put our app into service if you need to contest parking tickets or avoid long lines at your local DMV!
How Else Can We Help?
Not only does DoNotPay handle bureaucracy, but it also saves you money in the process. Whether you're looking for the best learning materials for government tests or planning to comb through and cancel streaming subscriptions you don't use, DoNotPay can give a helping hand.
Our platform grows every day and comes with user-friendly features that will help you manage unpaid bills, stop copyright violation, or solve problems with credit cards faster than ever!