How To Find a Top-Level
Musicians Contract Template
A musician contract is probably the most important legal document a music-industry creative has to sign in their career. They need to consider all aspects of the contract before signing it.
If you want to know every crucial element of a musician contract, you are in the right place. DoNotPay will explain the basics and help you find a reliable musicians contract template in a jiffy!
What Is a Musician Contract?
A musician contract is an agreement between a musician or a band and a professional manager. It outlines the crucial terms of the collaboration, including long-term expectations, booking arrangements, and management fees.
Here is what you need to have in mind when creating a musician contract:
Keep it simple

—You don't have to overcomplicate the agreement. Make sure to cover the essential factors, such as payment, labor division, and the duration of the contract

Make sure it's mutually beneficial

—The agreement must be fair to both sides equally. For example, a musician shouldn't renounce their fair share in exchange for an experienced manager's expertise

Sign it in good faith

—An artist must be on good terms with a manager when entering the agreement. If both sides start looking for loopholes in the contract, it's a sign of mistrust between the parties
What Types of Musician Contracts Are There?
Before deciding on a musician contract template, you should know which type suits your needs. The choice depends on the manager and their policy. You can opt for the following agreements:
Short-term

Long-term
A Short-Term Musician Contract 
A musician can use this contract if they don't want to make any long-term commitment to their manager. The terms of this agreement are straightforward and should include the following info:
Duration 

Commission or reimbursement for the manager

Details about breaching the contract

Division of labor

Dates and signatures
After the contract expires, both parties can either take their separate ways or enter a long-term agreement.
A Long-Term Musician Contract
If a musician and manager decide to continue their collaboration, they have to make a more comprehensive agreement. The issues they need to address are:
Artist and manager definitions

—This can refer to a corporation, partnership, or individual. Artists may include their stage name in the agreement

Territory

—If the artist has other managers on other territories, the agreement has to clarify their names and roles

Duration

—The duration of the agreement can range from six months to seven years. It is advisable to go for 12 months minimum

Commission rate

—The standard commission rate is 15-20% of the artists' earnings. Both parties can negotiate the terms depending on the time and effort the manager puts in 

Commission term

—The manager can sometimes receive commission after the agreement expires for the achievements throughout the term 

Division of labor

—The agreement needs to address both parties' responsibilities

Bank account information of the artist

—Both parties can charge interest if one party owes money to the other after the deal expires

Breach of contract

—The agreement needs to outline the consequences of breaking the contract
Additional Clauses of a Reliable
Musician Contract 
A carefully drafted contract can save you from potential disputes. You should consider adding specific clauses to your agreement to ensure its effectiveness. Take a look at the table below for a more detailed description:
| | |
| --- | --- |
| Musician Contract Clauses | Description |
| Exclusivity | The agreement should include a minimum-time commitment clause if the manager is working with other artists as well |
| Management services | The musician has to be on the same page with the manager regarding his or her responsibilities. The agreement should also specify the authority the manager has over the musician's career |
| Decision-making | The contract should determine if the manager can make any decisions without consulting the musician or sign any documents on his or her behalf |
| Commission | Participants must agree on the manager's commission to avoid disagreements. The musician can pay the manager the agreed-upon value or a percentage of the funds earned from various sources |
| Expenses | The agreement should define who covers particular expenses. It should also specify if the manager can make purchases for the artist that they will cover from revenues |
Learn About and Create Legal Documents With DoNotPay
DoNotPay is an invaluable source of information about legal documents, but we can do more than provide tips on how to write a contract or pick a contract template! DoNotPay generates legal documents that require a bit more finesse. We use the details you provide to customize the contract according to your needs and particular legal requirements. 
Use DoNotPay to get the following documents:
General affidavit

Promissory note

Intent to purchase real estate

Estoppel certificate

Quitclaim deed

General business agreement

Residential

lease agreement
How Can DoNotPay Create a Contract for Me?
Here are the steps for creating a contract with DoNotPay:
Access our app

from a web browser

Find our

Standardized Legal Documents

product

Search for the document you wish to create

Answer our chatbot's questions 
Feel free to use our integrated features to notarize and fax the document if necessary!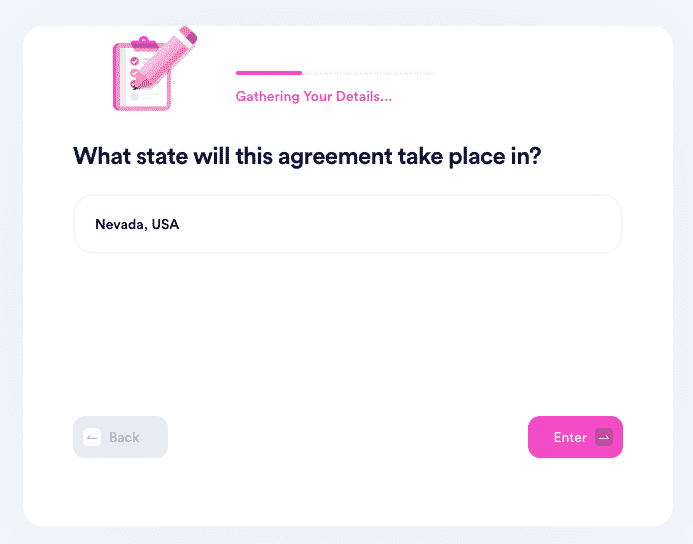 DoNotPay Keeps Your Privacy Intact
DoNotPay can help you surf the web safely and securely. No need to provide your personal information to every company whose service you'd like to take for a test drive. Our Virtual Credit Card and Burner Phone products shield your data from prying eyes and dishonest merchants.
Feel like subscribing for a free trial? Make it truly free and avoid automatic membership renewals with our card. It can also help identify spammers and potential scammers who send bothersome robocalls and robo texts your way. As soon as they act on the virtual card number, DoNotPay will unmask them and demand compensation!
DoNotPay Can Help You Bring Any Business to Justice
Should a company refuse to grant you a refund or compensation, our app will help you take them to small claims court! 
We'll help you cancel the service in question to avoid any future charges, and we'll call their customer service so you can get info on your denied request. We'll draft the relevant court documents for your jurisdiction and give you instructions on filing them.
More Nifty Features That'll Make Your Day
You may not have breach of privacy issues or reasons to bring someone to court, but you surely have ample motivation to save or earn a few dollars here and there—especially if we catch you unawares!
DoNotPay can show you how to reclaim funds that you didn't know were under your name or make a denied warranty appeal to any company. We streamlined the processes of requesting refunds, college fee waivers, airline flight compensation, parking infraction dismissals, as well as applying to clinical trials that pay!