How to Find the Best Music Scholarships For You
It takes years of hard work and dedication to master an instrument or perfect your vocal pitching, but a skill once learned stays with you for life. Music scholarships can be the light at the end of the tunnel if you are struggling to stay afloat financially, whether you are a music major or not.
The problem here is that unlike scholarships and grants for academic or athletic fields, music-related aids are hard to come by. This article will help you learn the ropes of finding and applying for the most lucrative music scholarships in a jiffy!
Who Can Apply for Scholarships for Music?
Many don't pursue music as a full-fledged career because it can be a gamble in terms of success or due to preference of other career options. Luckily, you can find music scholarships that are open to:
Music majors
Non-music majors
Other adult learners
Scholarship for Music Majors
If you have buckled up to have a music-centric career, start applying for suitable scholarships at the college or graduate school level. To promote musical talents across multiple demographics, certain scholarships are solely meant for communities like Hispanics, Filipinos, Indians, Africans, Asians, Muslims, Catholics, Christians. For example, the Against the Grain music scholarship is specifically awarded to students who have at least 25% Pacific Islander or Asian ethnicity.
You can also look for other minority-based music major scholarships that cater to groups such as women, black women, international students, transgender people, legal immigrants, or foster youth.
Scholarships for Musicians Not Majoring in Music
Did you know that learning music from an early age triggers the Mozart Effect and makes you smarter? No wonder you will find several musical prodigies majoring in Math, Science, Computer Science, Engineering, or Medicine!
You can find a host of music scholarships that focus on the talent of young learners, irrespective of their educational direction! You can apply for such scholarships as:
You need to check your eligibility requirements for these scholarships as they usually define an age range for competitors.
Scholarships for Other Adult Musicians or Learners
Most music scholarships are open to young students, but you can still find relevant financial aid options if you are an independent adult learner. At present, you may find several tax-free music scholarships that aim to help older women, mothers, veterans, teachers of music, disabled or autistic learners, and musicians with hearing loss or anxiety.
Need a Scholarship for Music? Here's How To Find One
Music scholarships are hard to pin down because they are only issued by a few sources, like:
Federal and state government organizations
Prominent music schools
Churches
Corporates
Personal donors
To say that it's tedious to look for music scholarships would be an understatement. If you are serious about getting one, be prepared to spend hours every week checking the recent announcements and criteria for scholarships.
If you wish to save time, use DoNotPay's scholarship finder to effectively handle your scholarship search. Our AI-enabled app gives you a list of all grants or scholarships you qualify for. From small prize money competitions to info about full-ride scholarships—we will compile every relevant opportunity for you once you sign up!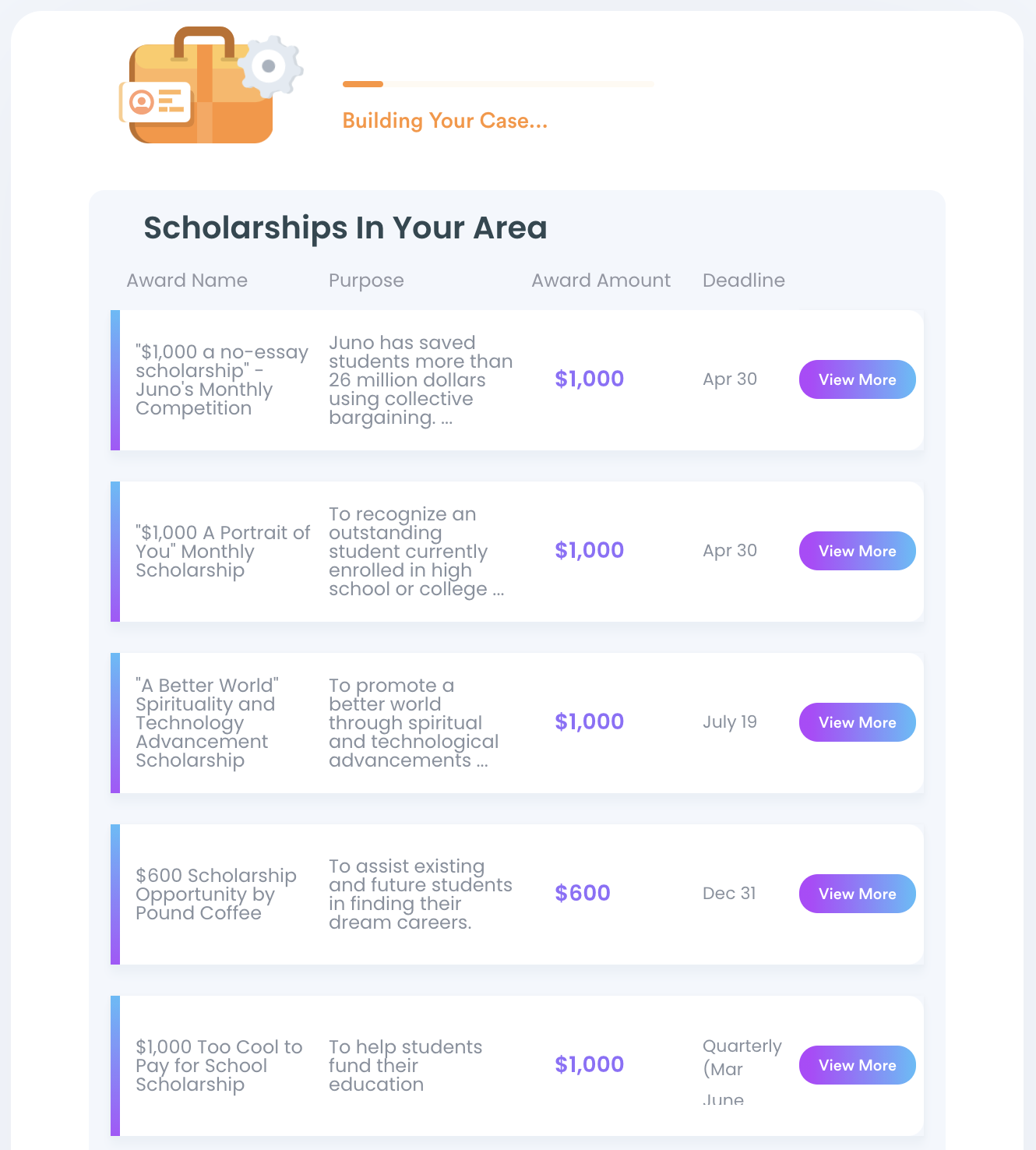 Curious About Full-Ride Music Scholarships? Learn the Types
Full-ride scholarships in music can help you pay for post-secondary education, but they are not need-based. You need to be exceptionally talented and deliver through live auditions or other competitive tests to win such scholarships.
You can find full-ride music scholarships on the following subcategories:
Performance
Production
Songwriting
Entrepreneurship
Music Performance Scholarships
Music performance scholarships are open to students learning vocal or instrumental performance. These scholarships often cover the tuition fees and on-campus expenses for:
Students of classical music
Aspiring orchestra performers
Dedicated band artists
Music Production Scholarships
If you are studying to be a composer, a conductor, or an audio engineer, you should look for music production scholarships. Many of these scholarships ask you to complete internships or specific projects.
Scholarships for Songwriters
Whether you spit lyrical fire like Eminem or write your heart out like Taylor Swift, there's no denying that good songwriting is the backbone of new-age poetry.
Songwriting scholarships are relatively few when compared to performance and production scholarships, but you can still find some good ones—like the annual John Lennon scholarships that offer $20,000 to original student lyricists!
Music Business Scholarships
Music industry bigwigs need new talents to manage streaming platform operations, artists, and record deals. If you have creative entrepreneurial ideas about the music business, you should apply to the various scholarship programs that cover your tuition fees in return for a service agreement.
Music Ed Scholarships—Raise Your Chances With a Top-Notch Application
As music scholarships are focused on merit, you need to be a perfectionist in your application strategy. Here are some tips to raise your chances of winning:
Play It by Ear With DoNotPay and Apply for a Music Scholarship ASAP
Most musicians are instinctive creators who struggle with the procedural formalities of applying for scholarships. DoNotPay ensures you don't have to beat yourself up over every scholarship application.
Our app uses the personal criteria you entered during your search to apply for all the no-essay scholarships that you qualify for. This is how it works:
Log in to DoNotPay and select our Apply for Scholarships product
Enter search criteria like your grade, location, hobbies, and special qualifications
Select between the View and Apply Directly options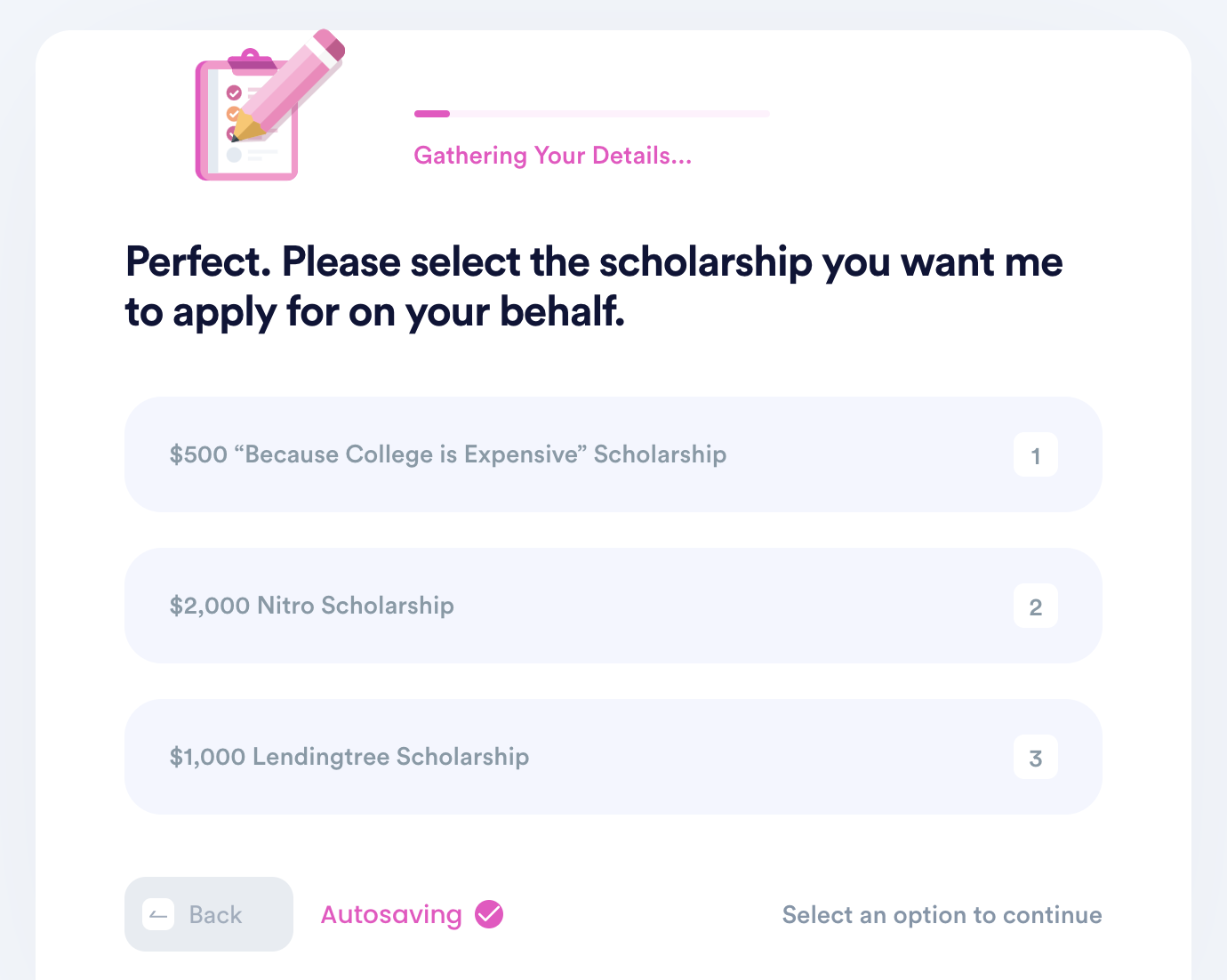 Here's what happens for each option:
View
Apply Directly

DoNotPay will let you view a comprehensive list of all scholarships you can apply for, music or non-music
You can browse through the options to check the eligibility, deadline, application procedure, and competitive tasks for each scholarship

DoNotPay will curate a list of no-essay scholarships and ask you to select the ones you like
We will automatically use your student details to apply for the scholarships
You'll get an email confirmation about the scholarships where your application has been sent
Since new music scholarships are launched every month, make it a habit to use our app frequently to stay updated on the latest ones!
Save Time With DoNotPay
DoNotPay is not done helping you! We offer you assistance in completing a variety of tasks quickly and efficiently, such as:
Canceling Subscriptions Has Never Been Easier!
If you keep getting charged a monthly subscription fee even though you no longer want to use a certain service, don't let your money go to waste! Some companies tend to renew your subscription automatically, but that doesn't mean you have to put up with it—use our app to terminate your membership or subscription in a few clicks!
Do you want to sign up for free trials and create a virtual credit card or a burner phone number to protect your sensitive info? Once you subscribe to DoNotPay, we will walk you through the process of doing all of the above in no time!
You can also count on our assistance if you need to get rid of spam or robocalls.