Get Your Georgia Divorce Started With the Muscogee County Divorce Forms You Need
The biggest step in a divorce is filing your papers—once the process is started, it should become easier.
Once you have decided that divorce is the right course for you, you want the process to be fast, cheap, and as free from pain as possible.
Georgia provides all the forms you need to start your divorce, and the process in Muscogee County can be relatively straightforward if you follow the procedure.
DoNotPay has all the info on what Muscogee County divorce forms you need, how you should fill them out, and where you should file them to start your divorce on the right foot.
How Does Divorce in Muscogee County Work?
If you or your spouse have been living in Muscogee County for the last six months or longer, you are eligible to file for divorce there.
Georgia recognizes two types of divorce, namely:
Contested
Contested Divorce
All divorce cases filed in Muscogee County are considered contested by default, meaning that your case will be scheduled to be settled in court from the outset.
A contested divorce in Georgia can last between 100 and 200 hours of billable attorney time and can involve anything between a full day and a week in court.
This can get expensive, so it is worthwhile aiming for an uncontested divorce, if possible.
Uncontested Divorce
If you and your spouse file a signed out-of-court settlement agreement or provide one before your first hearing, your divorce will be reclassified as uncontested.
In an uncontested or friendly divorce, you can:
An uncontested divorce can be finalized in 45–60 days on average.
What Forms Do You Need To File for Divorce?
The forms you need to file are available as one of two divorce packs available online from the clerk of the court in Muscogee County. The available packages are:
Divorce packet with minor children
Divorce packet without minor children
The forms contained in each pack are essentially the same and include:
Complaint for divorce—with or without minor children
Summons—that needs to be served on your spouse
Case filing information form—a cover sheet that outlines what kind of case is being filed and who is filing it
Financial affidavits—listing the joint and separate assets and liabilities in the marriage
Verification form—to assert that the plaintiff filed for divorce in person
Acknowledgment of service—to be signed by your spouse upon receipt of the summons
Consent to trial—to be signed by both parties acknowledging that the case can be heard 31 days after servitude
In cases without minor children, you can file your divorce papers electronically by completing an online interview.
When you file your forms, you will have to pay the filing fee of $400.
How Do You Secure an Uncontested Divorce?
The key to reducing the cost and time involved in a Muscogee County divorce is to make sure it is classified as uncontested.
This requires you to file a divorce settlement agreement before your first hearing.
A settlement agreement is a legal document that sets out how your married life should be divided after your divorce. It should cover all the elements you and your spouse declared in your financial affidavits, including:
After you have lodged your agreement with the court, a judge will scrutinize it to make sure it:
Is fair and does not discriminate against either spouse
Provides adequate support for your children
Covers all the elements of your marriage
If everything is in order, the judge will grant your divorce by signing the final divorce decree.
Where Can You Get Your Settlement Agreement Drawn Up?
Your options for negotiating and drafting a settlement agreement are:
| Settlement Agreement Resources | Explanation |
| --- | --- |
| Lawyer | Lawyers can negotiate and create a settlement agreement on your behalf, but this process can take a lot of time—every hour of which is billable. Georgia attorneys charge an average of $266 per hour, and the negotiation and drafting process can take 20 hours or more. Your costs could easily exceed $6,000 per spouse |
| Mediation | Mediation is a lower-cost alternative to using lawyers and is suitable if you and your spouse are prepared to work together. A trained mediator can help the two of you reach an acceptable settlement at a fraction of the cost of an attorney |
| Online service | If you and your spouse agree on everything, you can try drawing up your agreement using a downloadable template. While these can be cheap, you should be careful—many of these templates are too generic to cover your exact requirements and may be rejected by the judge in your case |
DoNotPay can solve all these problems! We can custom-build a settlement agreement for you in a few clicks and without you paying a cent in lawyers' fees!
DoNotPay Has You Covered in Muscogee County!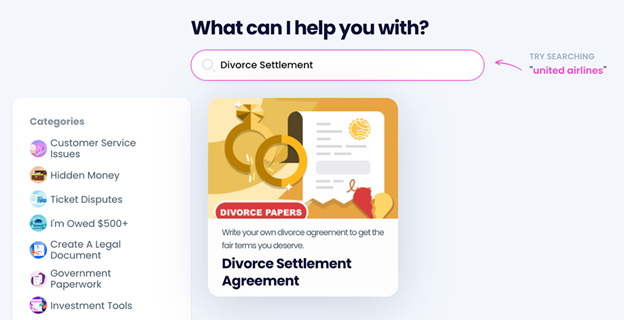 DoNotPay is your go-to resource for getting your Muscogee County divorce done and dusted!
Our Divorce Settlement Agreement product can save you the cost of a lawyer's help and the frustration that comes with using online templates by giving you a custom document that is:
Legally watertight
Comprehensive
Matched to the terms you and your spouse have agreed
Here's how to set your agreement up:
Click on our Divorce Settlement Agreement feature
Give us the details of your settlement
Once you are done, your document will be created in an instant, and you and your spouse can sign it in the presence of a notary.
Not sure where to find a notary in your area? No need to panic—you can use our online notarization service to get your agreement verified!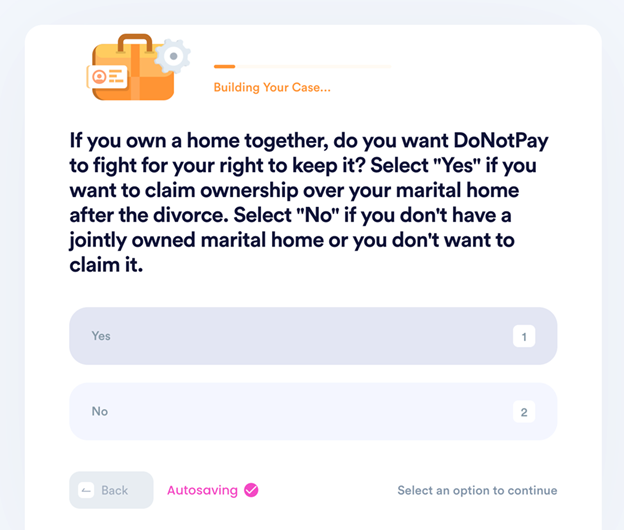 Other Georgia Counties DoNotPay Has Info On
If you or your spouse live in another GA county, here are some examples of what else DoNotPay can offer:
Use DoNotPay To Complete a Variety of Tasks at Any Time
Why waste time and money completing mundane tasks on your own when you can let DoNotPay assist you? Take a look at the table below to find out what our AI-powered app can do for you:
| DoNotPay Can | Services |
| --- | --- |
| Protect your safety and privacy | |
| Draft legal documents | |
| Help you get your money back | |
DoNotPay Has More in Store for You!
Since communication is key, you'll appreciate our feature that helps you get in touch with customer service reps quickly! We'll also show you how to send faxes online and have your documents notarized by an online notary with ease!
Going on vacation? Use DoNotPay to take a valid passport photo at home or get a tourist visa!