Multnomah County Property Tax Appeal Explained
If you believe a county assessor made an error while conducting an assessment on your property, your only solution is to file a property tax appeal.
In Multnomah County, a property tax appeal may seem like a daunting process. Don't worry, though! DoNotPay will guide you through the whole ordeal and help you lower your tax bills.
What Is a Property Tax Appeal?
A property tax appeal is a legal dispute between a homeowner who pays taxes on their property and the county assessor who estimated the market value of that property.
If you own real estate, you have to pay property taxes to the government. If you find that your property was estimated to be worth more than the similar ones in your area, you may wish to appeal it.
Note that you cannot appeal your tax bills but only the assessment of your property. For example, if you paid bills for half a year and only then noticed an error in the value of your property, you still need to pay the tax bills that you'll receive until your appeal is resolved. If your appeal is successful, the property tax you pay will be decreased.
Some common mistakes county assessors make when determining the value of a property are:
Excluding the up-to-date land comparables from the calculation when reassessing a property, resulting in tax bills being higher than they should

Marking the living area incorrectly, which is especially common if a home has several levels

Mismatching the sales price
If you bought your property recently and the assessment turned out way higher than what you paid for it, the county assessor probably made an error. 
Can You Appeal Your Tax Assessment in Multnomah County?
You can appeal the tax assessment of your property in any county, including Multnomah County, OR.
Since appealing your property's value isn't a trivial business, the Board of Property Tax Appeals (BoPTA) of Multnomah County advises citizens to contact them personally before making any solid decisions.
After talking with the Board's officials, you will know whether your appeal can be successful.
You can contact the Board in three ways, which you can see in the table below:
BoPTA Contact Information

Live chat

Monday–Friday

8.30 a.m.–4.30 p.m. PST

Email
BOPTA@multco.us
Phone
503-988-3326
How To Determine Whether Your Assessment Is Wrong
You should contact the BoPTA customer service to reach your local tax consultant. They can tell you without a doubt whether the errors you noticed in your assessment statement look like genuine mistakes.
Further action you should take when deciding whether to appeal your property is:
Contacting local real estate agents to perform a market research

Digging up information on your home's history

Researching the neighboring homes for comparison
Remember that you are responsible for providing evidence of any errors on your tax assessment statement.
How To Appeal Your Property Assessment in Multnomah County
If you wish to submit a property tax appeal in Multnomah County, you have to fill out the BoPTA form and submit the appeal either in person or by mailing it. Here are the addresses:
BoPTA Addresses for Submitting Your Appeal

In person

501 SE Hawthorne Blvd, Suite 175

Portland, OR 97214

Through mail

Board of Property Tax Appeals

PO Box 5007

Portland, OR 97208-5007
You can submit your appeal by December 31. The fee is $20 for each filing. If the BoPTA receives your appeal without the evidence that you paid the fee, you can pay it within 20 days, or the Board will dismiss your appeal. The Board will also reject any appeals sent by email or as a fax.
Note that you can only appeal the assessment made for the current fiscal year. This means that you cannot file an appeal for last year's assessment.
You are allowed to mail your evidence with the appeal, but you can also bring it to court on the day of your hearing.
The BoPTA can schedule your hearing between mid-February and April 15. You'll be notified of the date and time five to ten days earlier. Since the hearing cannot be rescheduled, you are allowed to choose a qualified representative to appear on your behalf. If it comes to that, you will have to fill out a separate form and submit it to the Board.
Hearings are also held every week—from Monday to Thursday between 9 a.m. and 2 p.m. They last about ten minutes.
Bonus Info on Multnomah County Tax Appeals
If you choose to go through your appeal, keep in mind that:
The Board will not deem regular lack of property maintenance as strong evidence for your appeal

Your appeal will probably be rejected if the value of your property has increased drastically in a single year

You cannot argue against the fairness of the tax system during your hearing
Multnomah County Tax Appeals—Let DoNotPay Do the Work!
Appealing your tax assessment takes a lot of work, and the process involves much more than the raw information you see in this article.
You shouldn't worry, though—DoNotPay can help you sail through the process! In our app, you get:
Detailed info related to your case

Tips for preparing for your hearing

A guide on how to fill out the forms correctly
DoNotPay can also help you gather solid evidence so that you have an easier time paying your tax bills after the whole ordeal is over. 
To get our comprehensive guide, take these short steps:
Access DoNotPay

from any web browser

Go to the

Property Tax

feature

Answer several questions about your property
But Wait—DoNotPay Also Helps You Get a Tax Exemption
Appealing your tax assessment isn't the only way you can make your property taxes more bearable.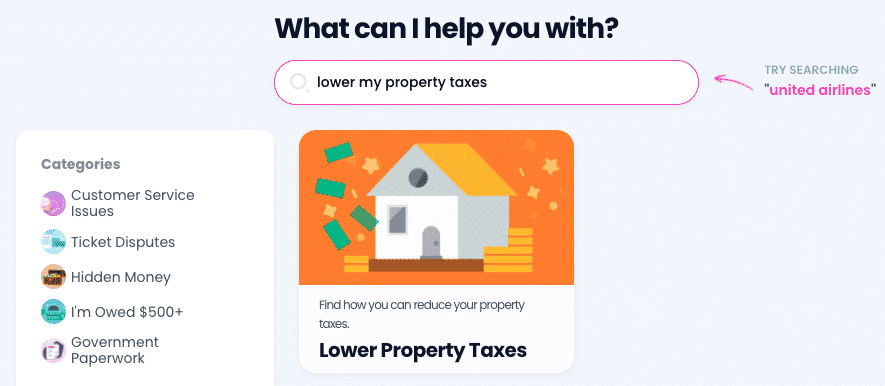 Few states have low property tax rates, and applying for tax exemptions is how you can decrease the number on your bill.
You may be eligible for any of the following tax relief programs:
To find out whether you can get any of these tax exemptions, you only need to use our app! Complete the same three-step process from the previous section, and you'll learn:
What exemptions you're eligible for

How to fill out the application forms error-free

What documents you need to submit

What the application deadline is
Outsmart Scammers With DoNotPay
Are you troubled every time you think about subscribing to a service because you fear your personal information will leak and your privacy will become invaded?
There's no need to fret anymore as DoNotPay has come up with a way to shield you from hackers, scammers, and identity thieves alike. 
Check out how you can use DoNotPay and browse the internet care-free:
Open DoNotPay in your web browser

Locate our

Virtual Credit Card

generator

Use the made-up card number to sign up for any

free trial

Move forward to our

Burner Phone

product

Use the temporary phone number to verify any online account

Enjoy the trial without worrying about

canceling it

—the service will do it on its own
Signing up for services with DoNotPay's hacks frees you from ever falling victim to a serious crime, such as identity theft, and liberates you from the bothersome and never-ending spam calls, texts, and emails that you never explicitly agreed to receive.
What Else Is Hot About DoNotPay?
DoNotPay does wonders in protecting your online privacy, but it can do so much more for you! 
With our assistance, you can claim compensation for canceled or delayed flights, request refunds and chargebacks for unsatisfactory purchases, file warranty claims for defective products, and even overturn unjust parking tickets!
Our app can locate unclaimed funds that exist under your name, the best clinical trials for your needs, and public records that you couldn't identify on your own.