Multiple-Tenant Lease Agreement
—Everything You Should Know
Leasing a property requires the owner to create an airtight legal document that will protect their interests in case any issues with the tenant occur. A multiple-tenant lease agreement is even more important, and the landlord needs to know how to properly state the rules and requirements.
DoNotPay can help you sort out the priorities and adjust the document to your needs!
What Is a Multiple-Tenant Lease Agreement? 
A multiple-tenant lease agreement is exactly what you can assume it is based on its name—a lease agreement created for several tenants living under one roof. This kind of lease agreement is becoming more and more popular due to high rent rates in many cities in the U.S. People opt for finding flatmates they don't know because it means they can lower their expenses.
For landlords, this living arrangement can often be a cause of problems because of the potential disagreements between the tenants. To prevent any serious issues, creating a rock-solid multiple-tenant lease agreement is necessary.
Pros and Cons of Multiple-Tenant Lease Agreements
In case you are a landlord still unsure whether you should go forward with creating a multiple-tenant agreement, take a look at the advantages and disadvantages of renting to multiple tenants:
Renting to Multiple Tenants
Pros
Cons

You can:

Generate higher returns by renting to multiple individuals rather than a single tenant

Keep the property fully leased year after year with more people easily

Count on certain rent payment even if one of the tenants leaves the property unexpectedly

You will have to:

Deal with multiple tenants, which is harder than handling just one person

Expect potential disputes among the tenants who do not know each other

Count on a higher risk of property damage if there is a larger number of young people living under one roof (frequent need for repairs and emergency calls)
If you decide there are more benefits than downsides to this agreement, you should know about other elements you must include in the contract.
What To Consider Before Signing a Multiple-Tenant Lease Agreement
When dealing with multiple individuals who have no relationship at all, it is necessary to establish clear house rules to help them live in harmony. The tenants should agree on the following before signing the lease agreement and run the decisions by the landlord:
Is borrowing personal items allowed?

Will the food be shared? (no one wants a Ross Geller sandwich situation)

Is having guests stay over allowed, and how many people can be in the property at once?

How will chores and cleaning responsibilities work?

What are the rules about noise issues?

What happens when a person decides to leave the rental unit?
What Every Multiple-Tenant Agreement Should Contain
When creating a multiple-tenant lease agreement, make sure to add the following sections in the document:
Contact information of all the tenants and the landlord

The address of the property in question

Details of the property—size, furniture, number of rooms, etc.

Duration of the agreement

Rent details—amounts and due dates

Other expenses—utilities, repairs, and general maintenance and upkeep

Deposit amount

Termination terms—explanation of the process when a tenant wishes to exit the agreement

House rules

Signatures of all the parties involved in the agreement
If you wish someone else could deal with this bureaucratic task on your behalf, you are in luck! DoNotPay can handle making legal documents in a flash.
DoNotPay Can Help You Create a Lease Agreement in a Heartbeat
You don't have to trouble yourself with creating a legal document if legal matters are not your strong suit. There is no need to hire lawyers who will charge sky-high fees for their services—DoNotPay can handle everything! To make a lease agreement that will protect your interests, you should follow these steps:
Sign up for DoNotPay

in a web browser of your choice

Type in

Lease Agreement

as the name of the document you want to make

Give us some info about the details specific to your case
Using DoNotPay to create a legal document will ensure you have an agreement tailored to your needs. This is not the case with online contract templates that are too generic.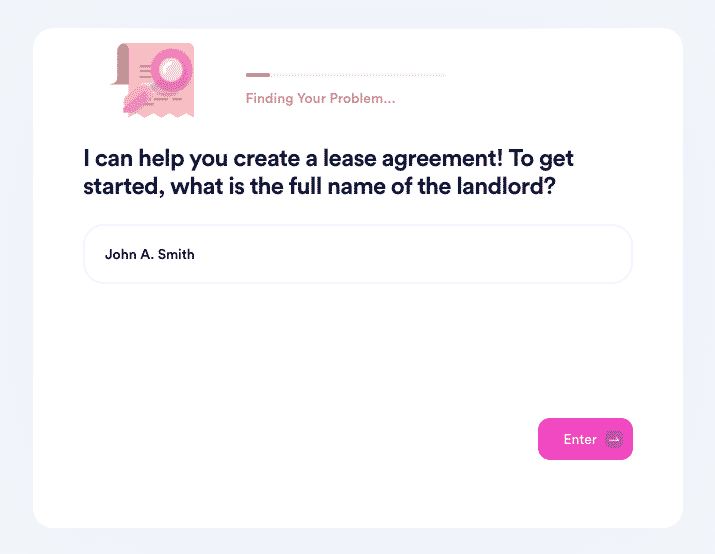 DoNotPay Knows Everything About Legal Documents
You can use DoNotPay to make a legal document you need the fastest way possible. In addition to this, our Learning Center is full of the information you'll need when dealing with other kinds of contracts and agreements. Take a look at the table below for more information:
Documents You Can Create With DoNotPay
Documents You Can Learn About in the Learning Center

General Business Contract

Promissory Note

Quitclaim Deed

Intent To Purchase Real Estate

Residential Lease Agreement

General Affidavit
Say Goodbye to Administrative Issues—Rely on DoNotPay
Are annoying procedures—such as canceling memberships, disputing parking tickets, filing warranty and insurance claims, requesting refunds for purchased products or services—giving you headaches? Do you dread calling an airline's customer support to request a refund and compensation for a canceled flight? You're not alone! The good news is—DoNotPay can help you solve these issues stress-free!
You can use our app to prepare for your driving test or other government exams and schedule an appointment with the DMV in minutes. 
Are you wondering whether you're paying too much for your property taxes? Make sure to try out our Property Tax feature and learn about the best way to reduce your property tax bill. 
Annoyed by Spammers? DoNotPay Can Help!
With DoNotPay, you can get rid of spam emails and text messages and report robocalls in one fell swoop. Our Burner Phone feature will generate a fake phone number that you can provide upon registration for any service! 
Besides helping you enjoy free trials without the risk of being charged, DoNotPay's virtual credit card has another advantage. It will provide a random email address you should use when signing up for a free trial. That way, you'll avoid pesky marketing emails and email notifications.