Multiple-Entry Tourist Visa for Thailand—Get Yours With Our App's Assistance
Thailand offers a satisfying blend of sparkling beaches, magnificent temples, and intoxicating nightlife. Despite being a budget-friendly travel destination, the country's super complicated visa policy confuses tourists to no end.
Currently, Thailand follows different visa policies based on travel intent, country of origin, period of stay, and the number of entries desired. The multiple-entry tourist visa for Thailand has especially been a real source of distress for travelers ever since the pandemic started.
DoNotPay's Tourist Visa Guide service supports you when complex rules let you down. Our app can tell you:
Whether you need a tourist visa
How to apply for one as per a country's rules
Ditch your doubts—sign up for our app to set your Thailand travel plans in motion!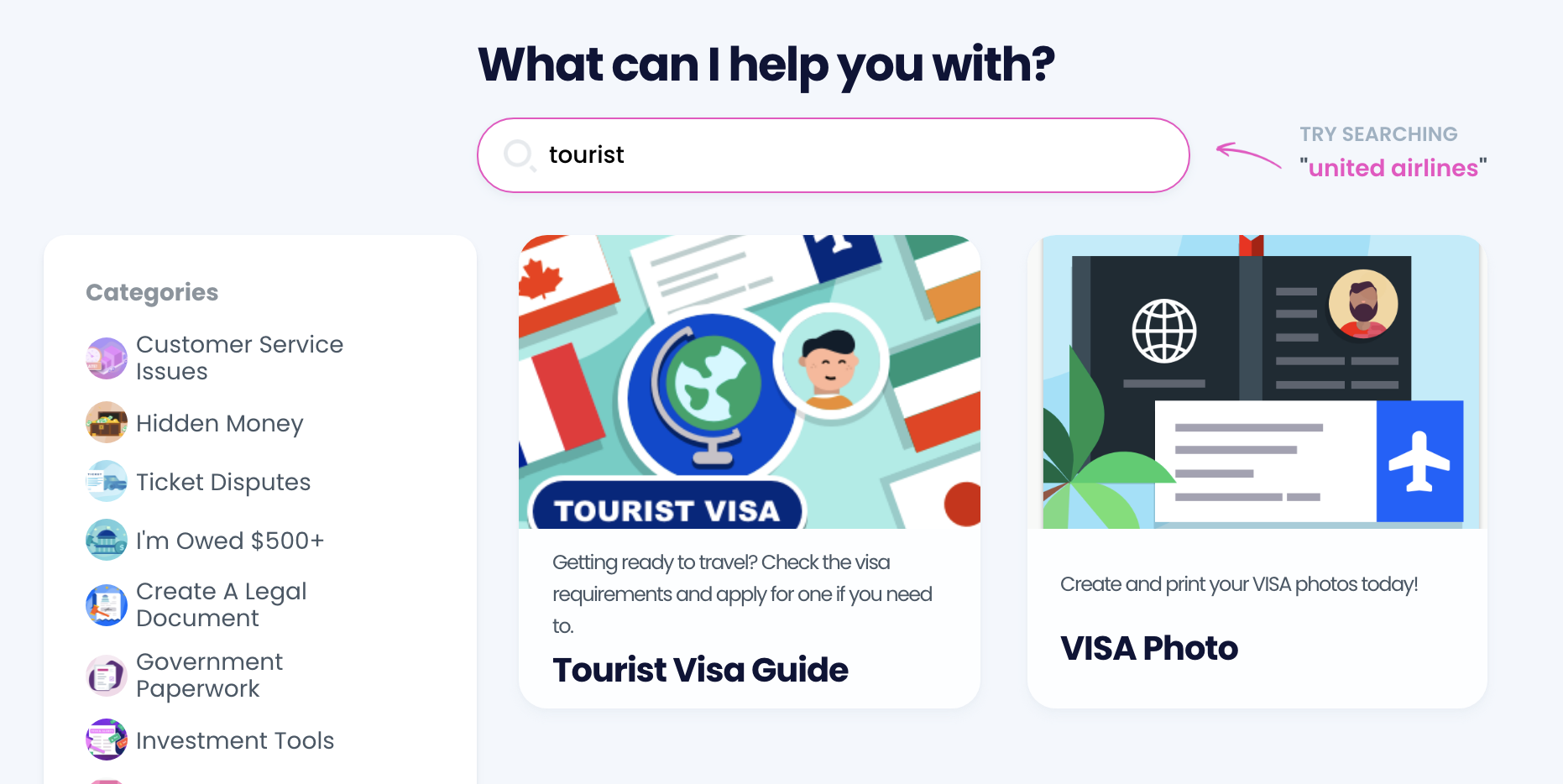 Who Needs a Tourist Visa for Thailand?
U.S. citizens with a passport valid for six months don't need a Thailand tourist visa to visit the country—but this restricts the duration of the visit to merely 30 days.
If you wish to stay in Thailand for over 30 days, you need to apply for a tourist visa.
At the moment, the Thai government issues three different types of tourist visas across the world:
Single-entry visa
Multiple-entry visa
Single-Entry Tourist Visa for Thailand Explained
As the name suggests, a single-entry tourist visa is a one-time use visa that allows its holder to stay in Thailand for 60 days. This visa is only valid for three months from the issue date. The approved period of stay will be stamped on your passport at your entry point in Thailand.
Authorities will consider your single-entry tourist visa exhausted the moment you leave Thailand, even when your total stay is less than 60 days.
You can apply to the Thai Immigration Bureau if you seek to prolong your travel for more than 60 days. The immigration officer may allow you to stay in the country for another 30 days with an additional fee of 1,900 Baht (about $60). Currently, U.S. citizens can only ask for one extension per single-entry tourist visa.
Visa on Arrival Is Not for U.S. Citizens
The only purpose of Thailand's Visa on Arrival scheme is to allow a 15-day entry to tourists from countries that don't come under the visa-free rule. As U.S. citizens already enjoy a visa waiver for 30 days, this scheme is of no use to them.
Multiple-Entry Tourist Visa Is a Great Option for Frequent Visitors
The Thai government launched the Multiple-Entry Tourist Visa (METV) scheme in July 2015 to replace their existing double and triple visit policy. The METV is a feasible option for recreational visitors who often travel to the country.
Thailand used to issue double- and triple-entry visas, which confused many tourists. They were discontinued after the METV scheme became active. A multiple-entry visa is now the only relevant tourist visa that allows more than one entry into the country.
A Bird's-Eye View of the Thailand Multiple-Entry Tourist Visa
Multiple-entry tourist visas have boosted the country's tourism significantly. This table summarizes the various features of Thailand's METV:
Feature
Details
Validity of visa
Number of entries

No upper limit mentioned in the METV scheme

Validity of stay

Maximum 60 days for each visit

Application fee

Anything between $150 and $200, depending on currency fluctuations

Extension

Each 60-day stay can be extended for 30 days if approved by a Thai immigration officer
The extension is available only until your visa expires
The extension application should be submitted along with:

A copy of your passport's front page and the page containing the entry stamp
Your passport photo that should be 4 x 6 cm in size
Tourist Visa Thailand Multiple-Entry—Overstay Penalties
If you overstay your visa, you will face heavy fines, jail time, and even a ban from entering Thailand. The current overstay fine ranges 500–20,000 Baht ($16–$610) per day, depending on your overall period of illegal stay in the country.
In case you accidentally overstay your visa, it is always better to surrender to the authorities than wait to get busted.
The penalty for overstaying is a one-to-ten-year ban from reentering Thailand if you surrender.
The consequences are way more severe when you get busted. If you're arrested for overstaying, you may also have to serve time in the local Immigration Detention Center before being deported.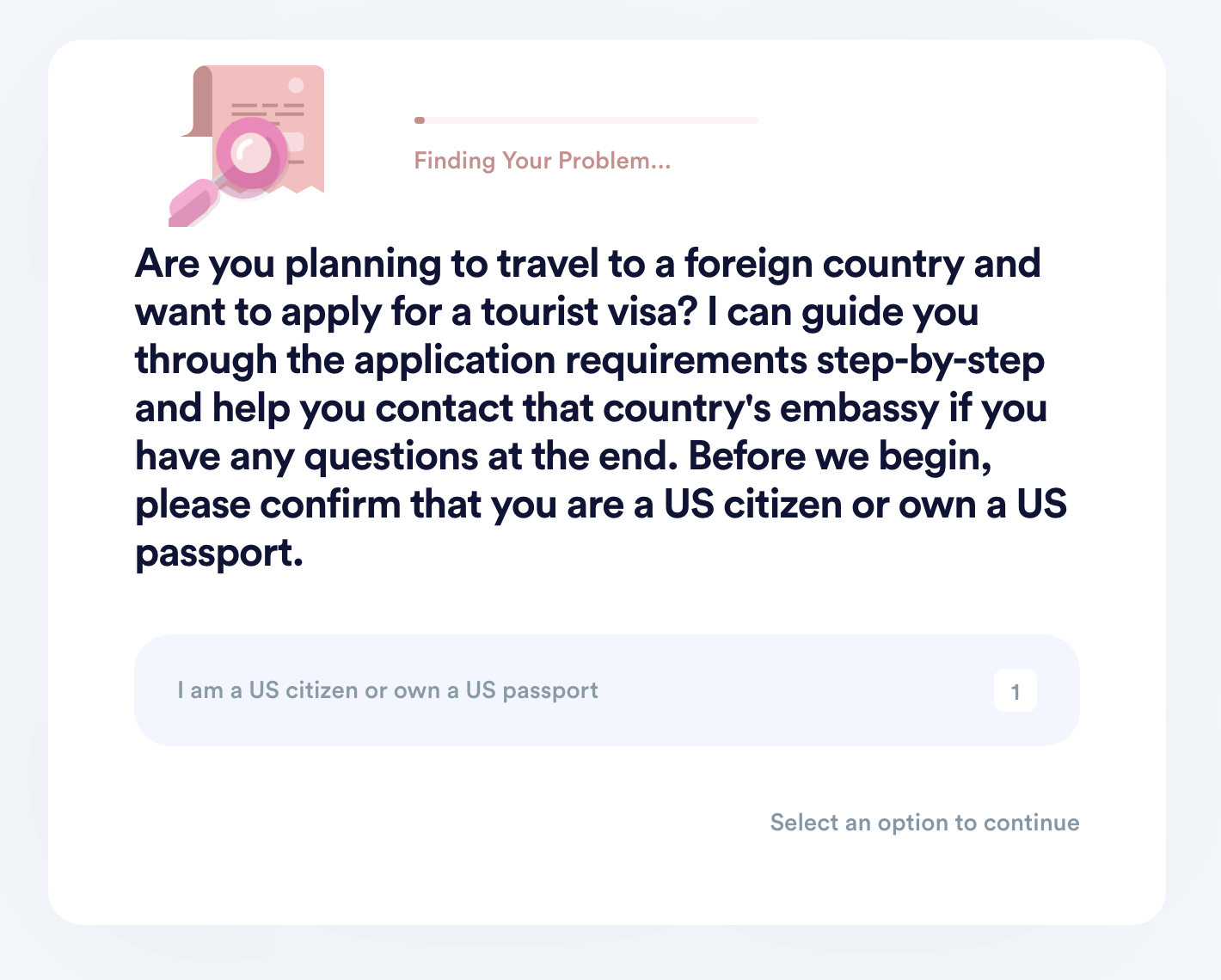 Don't Freak Out Over Tourist Visa Rules—DoNotPay Can Be a Lifesaver
It's hardly feasible for a traveler to memorize Thailand's intricate visa policy overnight. You can neither risk overstaying in the country nor is it possible to stay up to date with everyday changes in visa guidelines.
DoNotPay offers a solution—a practical feature that helps you handle any tourist visa issue without breaking a sweat!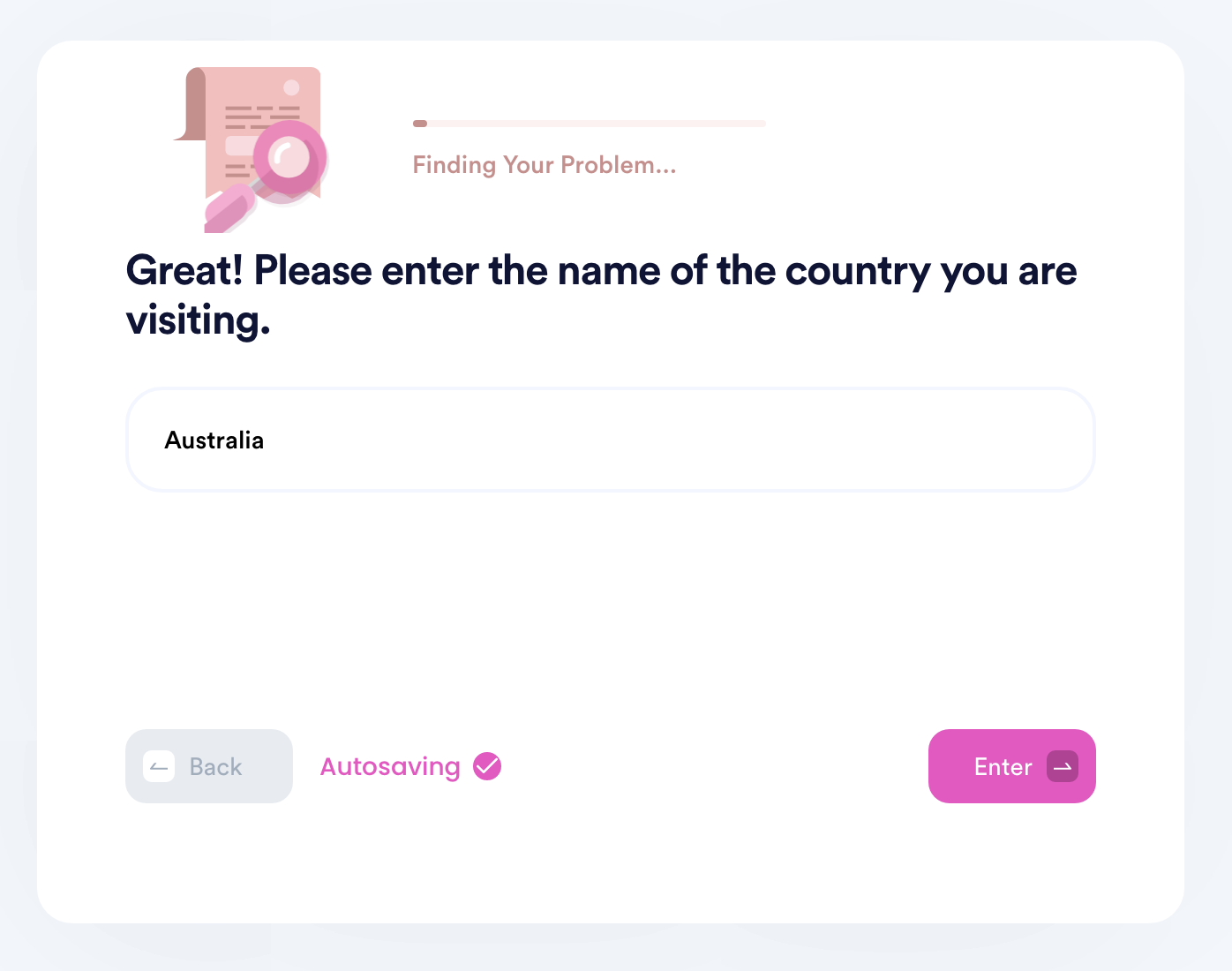 All you need to do is:
Log in to your DoNotPay account and click on Tourist Visa Guide
Confirm that you have a valid U.S. passport
Enter the name of the country you wish to travel to
Our app will immediately assess whether the country allows you a visa-free entry for a certain period!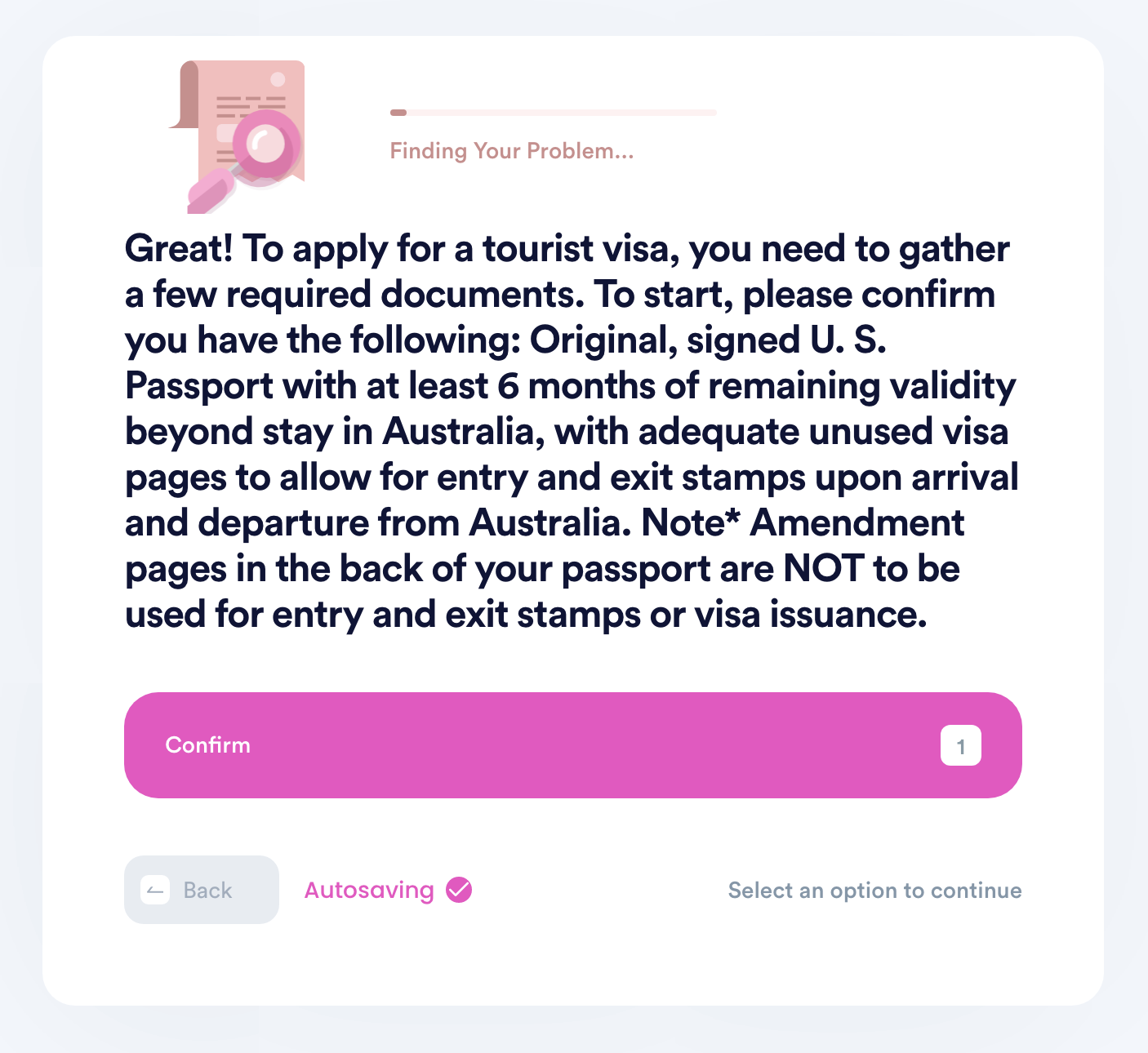 I Need To Apply for a Tourist Visa—How Can DoNotPay Help?
In case your destination country requires a tourist visa, keep interacting with our chatbot to get seamless guidance on making a tourist visa application.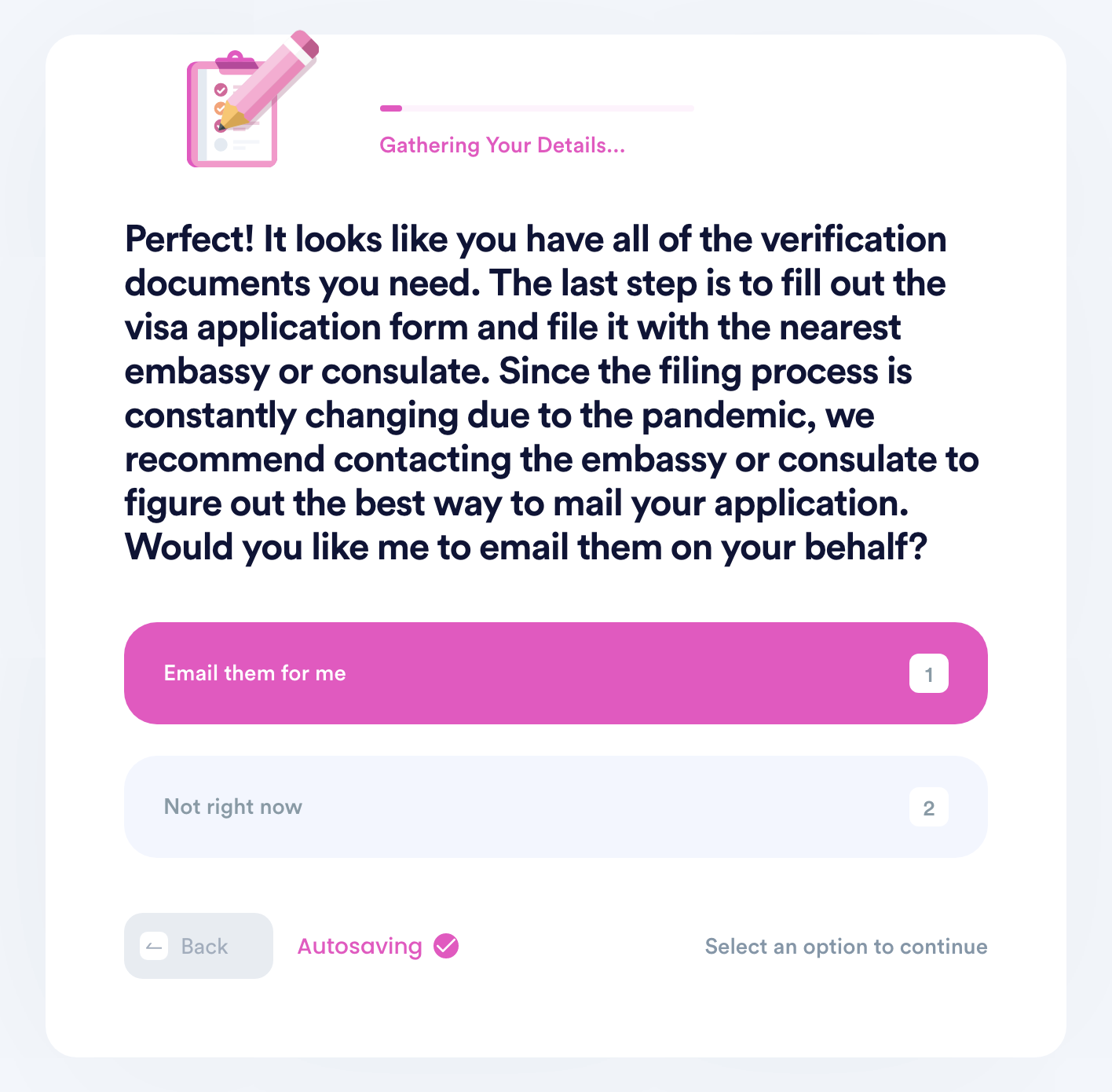 DoNotPay will analyze your case and provide a list of documents that you need to submit along with your application. We can assist you in more ways than one—here's everything we can do to streamline your visa application procedure:
Create and print passport photos to match a country's guidelines
Generate a simplified instruction manual to help you fill the application form correctly
Provide you with a downloadable PDF application form (if you want to apply via an embassy or consulate)
Contact an embassy in your stead for mailing instructions
Lead you to the official government portal for online applications, if available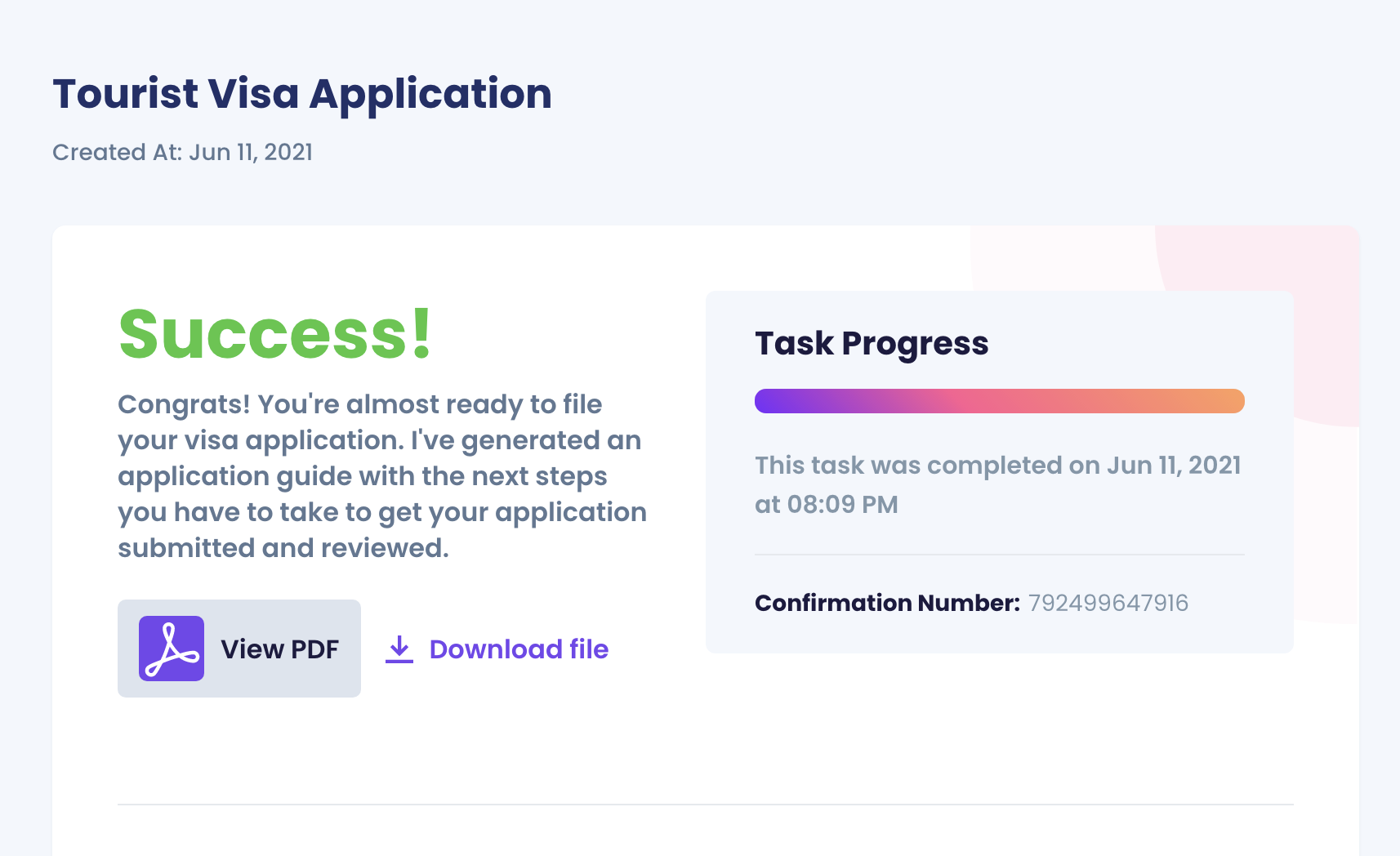 With our structured assistance, you will get your tourist visa processed in no time!
Embrace Asian Diversity With DoNotPay's Tourist Visa Guides
It's inspiring to witness the diverse elements of nature and culture uniting and thriving in Asia! DoNotPay has concise tourist visa guides for many countries beyond Thailand—you can check them out here:
Have Your Documents Created and Notarized in Less Than Five Minutes!
Why spend hundreds or even thousands of dollars on lawyers when the ideal solution is only a few clicks away?
DoNotPay saves the day by enabling you to generate numerous legal documents. Creating proper child travel consent forms, divorce settlement agreements, and powers of attorney has never been easier!
Our perks don't stop here—you can also have your documents notarized electronically from any location. Once you obtain a notary stamp and signature, your paperwork can be faxed online without outdated machines.
Explore Everything DoNotPay Has To Offer
Day-to-day tasks you must deal with don't have to be a burden or rocket science. Signing up for DoNotPay is your ticket to performing them the easy way! We offer a wide selection of products that don't cost an arm and a leg but do excellent work when it comes to solving your administrative issues!
Our services will help you: