How To Find the Best
Master Service Agreement
Template 
One of the most common legal documents used for regulating business relations is the Master Service Agreement (MSA).
The problem arises when you need to write such a contract without any legal knowledge, so our article will focus on explaining the essentials of the MSA and its features. If you are struggling to find the best contract template and create a valid document, we will show you the easy way to do it!
What Is a Master Service Agreement?
A Master Service Agreement is a perfect contract for parties planning to cooperate on multiple projects or occasions in the future. By signing it, both entities agree to the conditions and shared expectations for all upcoming projects or transactions. You need a new agreement only if there are contract modifications.
The most common fields that call for an MSA are:
Finance

Marketing

Government issues

Commercial issues

Union negotiations

Human resources

Information technology

Gas and oil industry

Long-term relationships between buyers and vendors
How Can a Master Service Agreement Help the Parties?
The purpose of implementing an MSA in your business venture is to make all the terms and conditions you and the other party propose understandable. While it's the most important feature of this document, you get much more than that by signing it.
Below is the table containing three major reasons for solidifying your collaboration with this agreement:
| | |
| --- | --- |
| Reason | Details |
| Saves time | Not having to deal with separate agreements for each project or venture you start with the other party means speeding up the negotiation. You won't need to waste time entering the same terms into the contract each time you renew your collaboration |
| Protects with indemnification | The MSA stipulates specific rules which apply in case one of the parties makes an error. Thanks to this term, you don't need to bear consequences for the other entity's mistakes and vice versa. The party which is responsible for a particular failure deals with all the losses |
| Explains risk allocation and resolves disputes | Risk allocation highlights the responsibilities within the union created by the parties who sign the contract. Both entities need to understand what the MSA brings and how this contract may affect other agreements. Having such a clause in your agreement will help you avoid disputes and ambiguities |
What Should a Master Service Agreement Cover?
If you want to make a valid MSA that will ensure an unhindered collaboration with the other entity, you must ensure the document contains all the crucial parts. The more aspects you cover in the clauses, the less likely any misinterpretation may occur.
Here are the sections you should include in your agreement:
Names, addresses, and contact details of the participating entities

General objectives and expectations related to the future collaboration

Business ethics

The scope of work

Work model and schedules

Project management details

List of the employees who will work on the upcoming projects

Responsibilities of the members who are in charge of the project(s)

Payment terms and expected charges

Dispute resolution

Agreement termination

Signatures of both parties
What Can DoNotPay Do To Make Agreement Creation Simpler?
Writing a contract isn't simple, especially if you have never done it before or if you don't have someone to do it for you.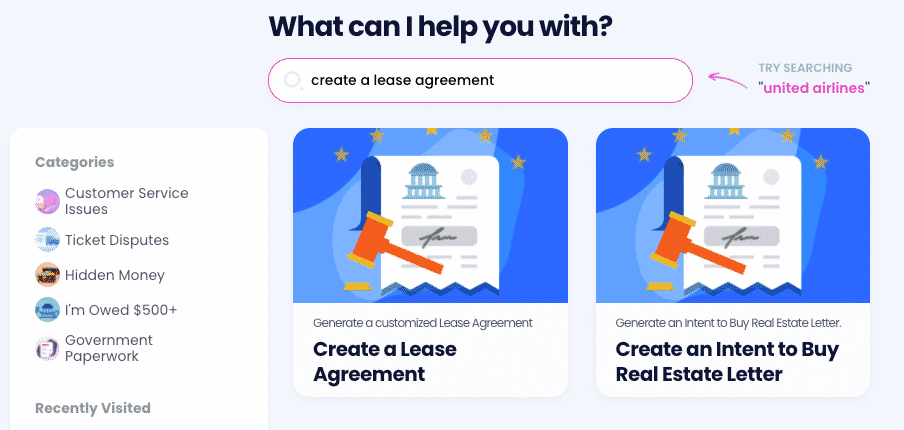 People tend to use unverified agreement templates from the internet, but that can cause various complications along the way. That is why DoNotPay designed an ideal service for everyone who wants to get valid legal documents in a snap!
The secret is in our AI-powered system offering a variety of standardized document templates you can personalize. Here's how to do it:
Sign in to DoNotPay in your preferred

web browser

Pinpoint the desired document by using a search field

Specify the necessary details you want to include in your contract
Using the info you provided, our app will compose a ready-made document and save you money and nerves! All that remains is to take the document to a notary to make it legally binding.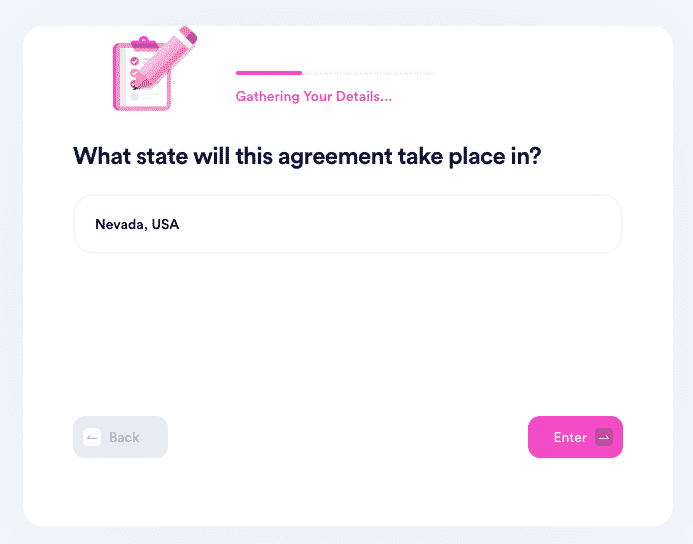 Check Out the Full List of All Legal Documents You Can Make With DoNotPay
DoNotPay has created a substantial database of various legal documents you can customize and adapt to the needs of your business or any other venture. You can count on us if you need high-quality templates for the most popular agreements, such as:
General Affidavit

Quitclaim Deed

Intent to Purchase Real Estate

General Business Contract

Estoppel Certificate
DoNotPay's knowledge base offers numerous guides to payment, partnership, settlement, postnuptial, commission, or business associate agreements.
Our Robot Lawyer Gets Rid of All Admin Tasks
What makes DoNotPay so unique is that it helps you get back what is rightfully yours in many different ways. You can appeal parking tickets, find unclaimed money, demand a refund for canceled or delayed flights, get help with bills you cannot pay, or get your college application fees waived with the help of our platform.
If you're sick and tired of annoying robocalls, spam emails, copyright violations, text message spam, or stalkers and harassers, DoNotPay can assist you in getting rid of them once and for all.
DoNotPay Can Help You Save Money
Have you ever subscribed to a service's free trial you forgot about after a few days? Many Americans have, which is why DoNotPay has a free trial feature that will help you avoid getting charged once the trial is over.
If you want us to scan all your active memberships and help you not pay for the ones you don't use, connect your email address or credit card to DoNotPay. Our cancel feature will ensure that you don't waste your money on subscriptions you don't even remember exist.
If a merchant charges you once the free trial is over, though, you can use our robot lawyer to request a refund and skip the phone queue when doing so.
In case a company refuses to grant you a refund, you can also use our app to sue them in small claims court.