Learn How To Use an MP4 to MP3 Converter Like a Pro!
An MP4 to MP3 converter is a tool that converts your video files to an audio format.
The conversion process can be done using different online video and audio converters, but you have to be careful with what you choose.
We're here to provide you with a step-by-step guide on how to use an online MP4 to MP3 converter, but that's not all! If you don't want to convert your files that way, we offer an alternative—DoNotPay. With our app's File Converter product, you can convert any number of files safely and with ease once you sign up.
How To Convert MP4 to MP3 Online
Converting your MP4 files to MP3 can be done online using different converters. Although these converters aren't the exact same, they mostly work in a similar manner. This is what the online conversion process looks like:
Go to the website you want to use
Upload the files you want to convert
Choose the file format you want your files to be converted to
Start the conversion process
Download your converted files
If you don't know what online converter to use, consult the list below to see some of the commonly used ones:
CloudConvert
FreeConvert
Convertio
Zamzar
Freemake
Despite the process seeming simple and straightforward, there are certain issues that can occur. That is why we suggest you do thorough research before you use a free online MP4 to MP3 converter and get as much info about it as possible.
The Major Issues You Can Encounter When Using Free Online MP4 to MP3 Converters
When making the decision to use free online file converters, you need to be aware of the dangers, particularly when it comes to online security.
Online file converters are not always secure, and they often don't ensure your data is safe. Plus, there can be a number of smaller issues that can lead to problems with your computer or other electronic devices. You can also expect to get low-quality files and experience a slow conversion process.
If you use a free online file converter, do not transfer files that contain personal or sensitive information. The processing of data can be ill-protected, potentially leading to a breach of privacy. You should look for a secure connection and a file converter that encrypts all your data as it is being transferred. It is also safer to use converters from companies with dedicated teams who are invested in keeping their systems secure.
How To Convert MP4 to MP3 Safely With DoNotPay
DoNotPay is the best way to avoid the potential security risks and other above-mentioned issues. Our File Converter product is designed to convert your file safely in a matter of seconds! To help you have peace of mind knowing your data is protected, we delete your files after 24 hours. We also make sure there are no annoying ads popping up and delaying the process. Another advantage of our app is that you can convert your files on both Mac and Windows.
The process is also streamlined to a tee! Here's what you need to do once you subscribe to DoNotPay:
Open the File Converter product
Upload your MP4 file
Select MP3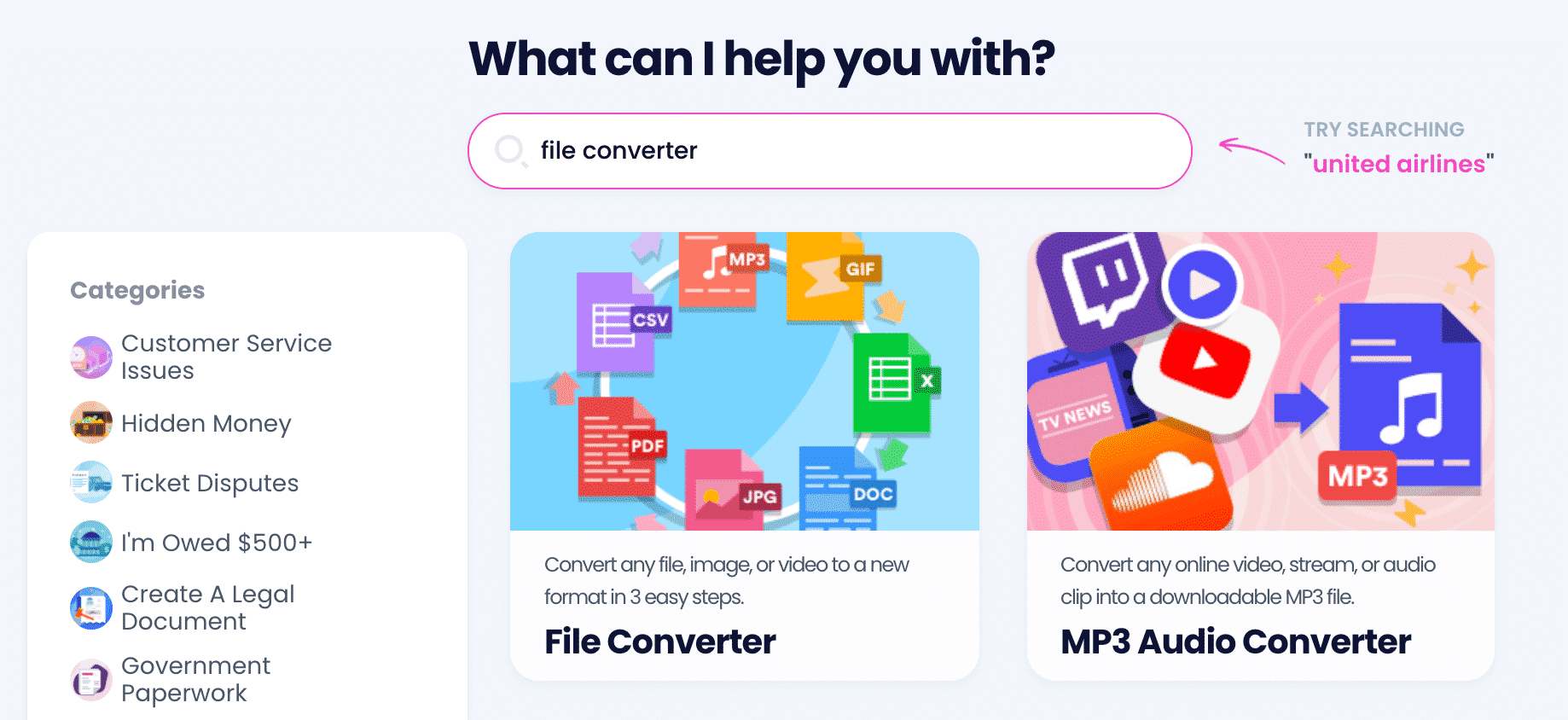 Once you complete the above-listed steps, our app will convert your file. You can download it from the My Disputes page right away.
What Other File Types Can DoNotPay Convert?
Looking for a way to convert more than MP4 files? We got you covered! There is no shortage of files you can convert easily using our app! Check out the table below for the specifics:
Much More Than a Simple File Converter
When you're converting files, keep in mind you'll need hard disk space for both the original and the converted file. While the HDD space individual files take up is barely noticeable, if you're planning on converting multiple files, it can quickly add up.
Luckily, DoNotPay also lets you compress files to make them easier to store. You can also use our award-winning app to convert online videos to mp3s, as well as download videos from social media and the web and save them on your device.
DoNotPay Offers Unmatched Functionality
DoNotPay offers a lot more functionality than a regular file converter. What's more, on top of these file management features, you'll find hundreds of different products within the app that can facilitate, streamline, or automate a wide variety of tasks, saving you time, money, and nerves!
Here are just some of the areas in which you'll find DoNotPay's assistance invaluable:
| Legal | Time-Saving Hacks | Money-Saving |
| --- | --- | --- |
| | | |
The possibilities truly are endless with DoNotPay!