Get the Gist of Using an MP4 to MKV Converter
MP4 file format is the most commonly used one for storing video and audio data. It can also be used to store other data, such as subtitles and still images.
MKV is a free open container format used to store an unlimited number of video, audio, picture, or subtitle tracks in one file.
You can convert your MP4 files to MKV using different online converters, but you should first get acquainted with how this process works and what you can expect from it.
We're here to walk you through using a free online MP4 to MKV converter and also show you how to convert your files in a different and more secure way—by using DoNotPay. Our app can convert a wide range of files for you in only a few clicks!
How To Convert MP4 to MKV Online
Using a free MP4 to MKV converter online is one of the least demanding ways to convert files. Here's how the conversion process works with the majority of these web-based converters:
Upload the document you want to convert
Pick the format you want the document to be converted to
Start the conversion process
Download your converted file when ready
If you're not sure what converter to choose in a sea of the ones available online, here are some of the commonly used ones:
CloudConvert
Convertio
FreeConvert
You should note that using these free web-based converters is indeed easy and doesn't take too much time, but that's where the benefits stop. There are various issues that you can run into with this type of converter, and we're here to explain what they are.
The Common Issues You Can Run Into With Free MP4 to MKV Converters
Free file converters are incredibly useful for downloading files from sites without the need to install third-party software. However, because these sites are free, they don't provide the same level of security or protection for your computer. You can be certain that if you download a file from a website with malicious code in it, you'll get malware on your computer and inadvertently give hackers access to your network too. You can also download a file from such a site and not even know it has viruses or malware because, without background checks, you simply might not spot it.
Another issue with these converters is that they reduce the quality of the file you convert. They sometimes also corrupt or remove your files, so using these free online converters can cause more trouble than they're worth.
DoNotPay Converts MP4 to MKV Safely in Seconds!
You don't have to use an online converter if you don't want to! You can make sure your privacy and data are safe by using DoNotPay instead.
Our app's File Converter product helps you convert any number of files you want in only a few clicks! The process is completely secure, and you can get it done on any operating system you want. All you need to do to get started is register for DoNotPay and follow the next steps:
Open the File Converter product
Upload your MP4 file
Choose MKV as the output format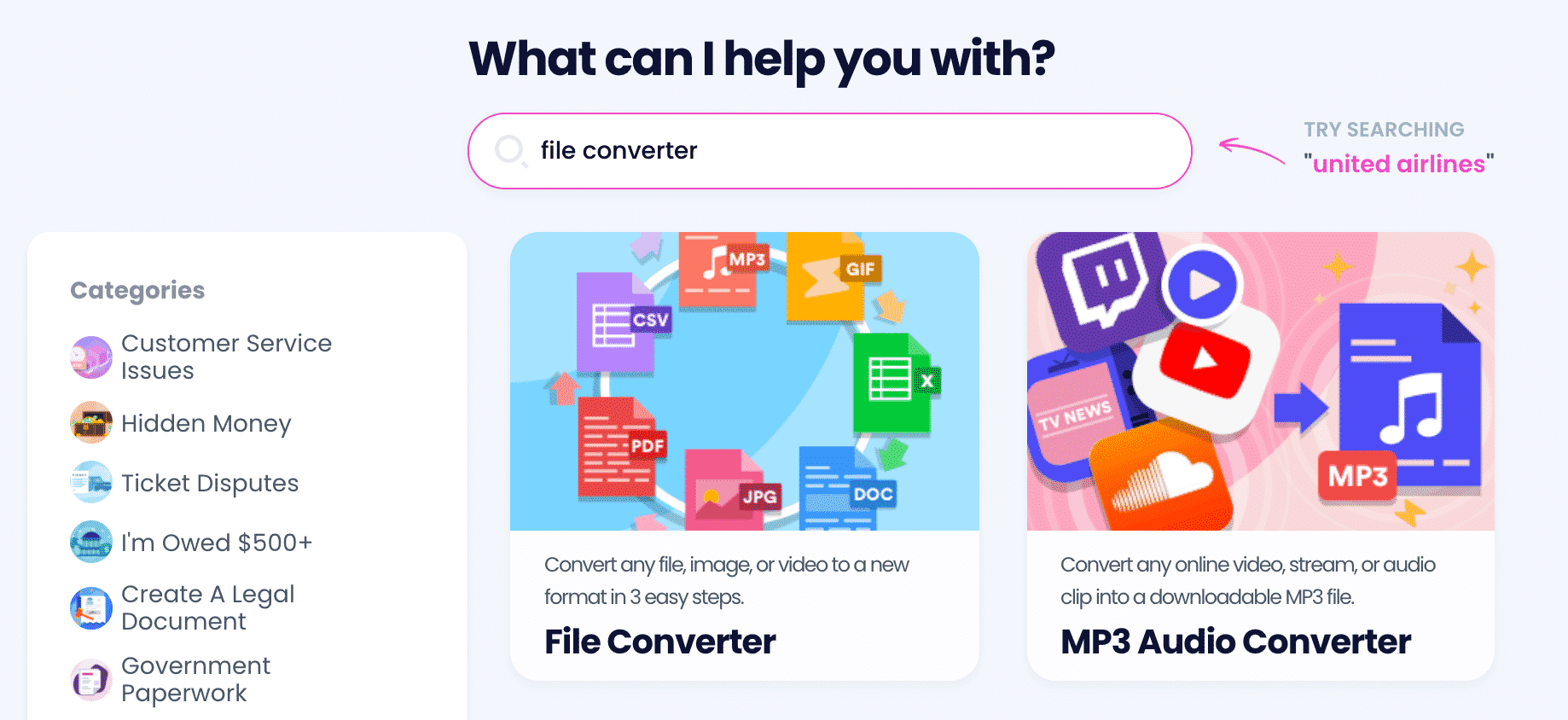 Once we convert your file, you'll be able to download it from the My Disputes page right away!
What Other File Types Can DoNotPay Convert?
There's a ton of other formats besides MP4 and MKV that our app converts for you in a snap! Check out the table below for more details:
Convert, Compress, and Download Anything With DoNotPay
Technology is advancing at a rapid pace, and it can be rather difficult to keep up. But there's no need to worry if you're not particularly tech-savvy—DoNotPay got you covered!
With our easy-to-use app, you can compress any file, download videos from the web, and convert online videos to MP3 files, all with a few clicks. There's absolutely no experience needed. Your files are 100% safe, and your privacy is ensured because we delete the converted and compressed files after 24 hours.
Save Time and Money With DoNotPay
On top of file conversion, DoNotPay has hundreds of different products that automate boring tasks and streamline complex processes. And the best part is—you get access to all of them, so you can use our award-winning app to save a ton of time and money.
Here are just a few examples of what DoNotPay can help you with: