Learn How To Convert Your MP3 Files Using an MP3 to WAV Converter
There are a lot of free and paid MP3 converters out there, but the process of conversion isn't as simple as you might think. That's why we've compiled a list of the common disadvantages that you should be aware of.
If you want to convert your MP3 files quickly and without worrying about the safety of your data, DoNotPay is the perfect solution! We convert your files securely on both Mac and Windows in a snap, so sign up now!
How To Convert MP3 to WAV
It's not always easy deciding what video or audio converter to use since the internet is full of them. We can narrow your search down by providing you with a few commonly used MP3 to WAV online converter options:
CloudConvert
Convertio
FreeConvert
Zamzar
Adobe
All of the above-listed converters are web-based, which means they work in the same manner. Here's how:
Upload the file you want to convert
Choose the output format you need
Wait for the file to be converted
Download it once it's done
Converting your files online is one of the most practical ways to do it, but that doesn't mean this process doesn't have certain disadvantages. There are some risks involved in converting your files this way, and we're here to break them down for you.
The Common Disadvantages of Free Online MP3 to WAV Converters
Converters are sometimes seen as a quick fix to transition files from one type to another, but they can pose their own set of problems. Most free file converters are unreliable with unsupported extensions. The process is often slow, and the output quality is lacking. Some file converter programs are even adware-laden.
One major disadvantage is that it's difficult to find a reliable converter that will convert your file correctly. When looking for a free converter, you're going to find yourself stuck with marketplaces or third-party sellers who can't be trusted to give you what you pay for. More often than not, you'll end up with a broken or lower-quality version of your original file.
The biggest disadvantage of these free converters lies in the lack of security. Your sensitive info and data usually aren't properly protected, which means they can be shared with third parties without your knowledge.
DoNotPay Helps You Convert MP3 to WAV Securely
Forget about struggling to convert your files online and opt for an easier and safer option—DoNotPay. With our app's File Converter product, you can convert any number of files you want and have your high-quality converted file ready in seconds! There are no pesky ads popping up, and your privacy is completely protected. To that end, we even remove your data from our app's database 24 hours after the conversion. The best part is that the process takes almost no effort at all, and it can be done no matter what operating system you're using! All you have to do is sign up for DoNotPay and follow the next steps:
Open the File Converter product
Upload your MP3 file
Select WAV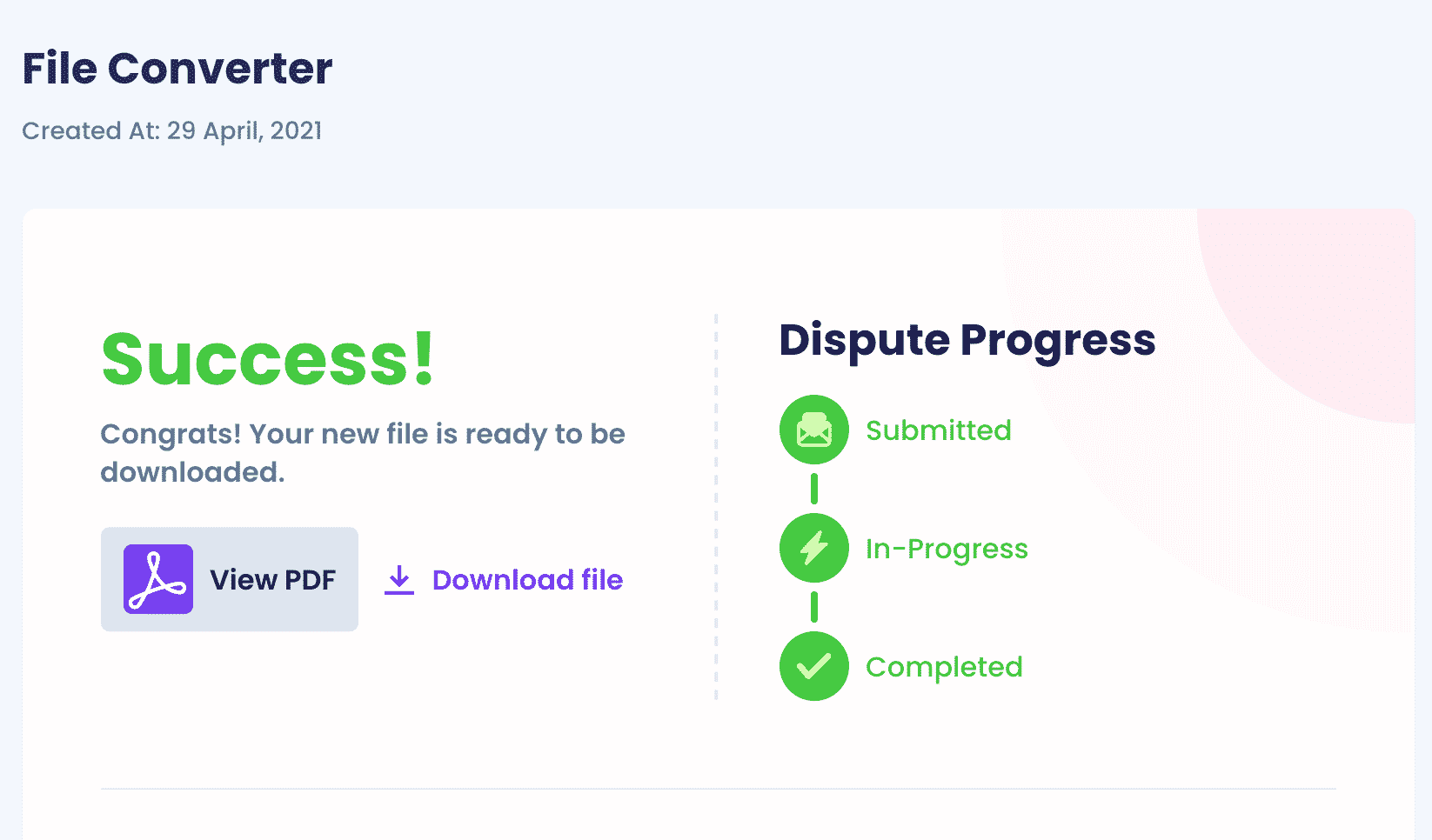 That's all it takes! DoNotPay converts your file, and you can download it from the My Disputes page promptly.
What Other File Types Can DoNotPay Convert?
Although DoNotPay is the best at converting your MP3 files to WAV, we don't stop there! There is a variety of other file formats our app can convert for you as well. From MP4 to OGG, we got you covered. Look at the table below to see some of the formats we'll help you convert in a jiffy:
Convert, Compress, and Download Anything With DoNotPay
Technology is advancing at a rapid pace, and it can be rather difficult to keep up. But there's no need to worry if you're not particularly tech savvy—DoNotPay got you covered!
With our easy-to-use app, you can compress any file, download videos from the web, and convert online videos to mp3 files, all with a few clicks. There's absolutely no experience needed. Your files are 100% safe and your privacy is ensured because we delete the converted and compressed files after 24 hours.
Save Time and Money With DoNotPay
On top of file conversion, DoNotPay has hundreds of different products that automate boring tasks and streamline complex processes. And the best part is—you get access to all of them, so you can use our award-winning app to save a ton of time and money.
Here are just a few examples of what DoNotPay can help you with: