How To Convert Files Using an MP3 to Text Converter
MP3 is one of the most common audio file formats in use today. MP3 files are created by compressing original audio tracks to about a tenth their size with little or no loss of quality.
Using an MP3 to text converter, it is easy to get transcriptions of your recorded lectures, conferences, telephone calls, or even songs. If you want to avoid the time-consuming task of transcribing your audio files on your own, you can opt for different file conversion tools.
You don't have to waste your time looking for a reliable online converter all over the internet because one is at your fingertips. DoNotPay can convert your MP3 files to text quickly and safely! All you need to do is sign up for our service.
How To Convert MP3 to Text
One of the easiest and most common methods of converting an MP3 to a text file is by using an online file converter. Online file converters are very easy to use—simply upload the file, find the format you need, and hit Convert. You'll be then given a download link to save your converted files in any location you choose. Some of the commonly used online MP3 to text converters are listed in the table below:
| Converters | Description |
| --- | --- |
| Amberscript | Amberscript is an online MP3 to text converter. It allows you to set the language in the audio. It's a paid service, but it does offer a free trial |
| Vocalmatic | With Vocalmatic, you can convert your audio to text in English, Spanish, French, and 100+ other languages. It offers a free trial |
| Go Transcribe | Go Transcribe is a paid online software that helps you convert MP3 files to text |
Another option you have is to use specialized software that can be downloaded from the internet (for example, Happyscribe). Using it, you will be able to convert your MP3 files with little or no loss of quality. Other possibilities you'll have are batch conversions and plenty of editing options. However, keep in mind that downloadable file converters are not as easy to use and require some technical knowledge and skill.
The Major Drawbacks of Using an MP3 to Text Converter Online
Even though online converters are convenient, especially since they don't require the installation of additional software, there are some major drawbacks you should be aware of:
No control of the conversion process—Once you have uploaded your MP3 files to the converter, you cannot change or modify any of the settings
Possible quality loss—Sometimes audio files are not converted correctly, therefore damaging the original audio file
The conversion speed is slow unless your computer is extremely fast and equipped with a lot of memory and processing power
The risk of downloading malware—You can download malware together with the converted files without knowing. Also, be careful not to click on any pop-ups or ads that may appear on the page
DoNotPay—The Ultimate File Converter
By choosing to Use our File Converter, you won't have to worry about the safety of your files. All conversions are 100% safe and result in high-quality files. To protect your privacy, we will delete your files from our servers 24 hours after the conversion.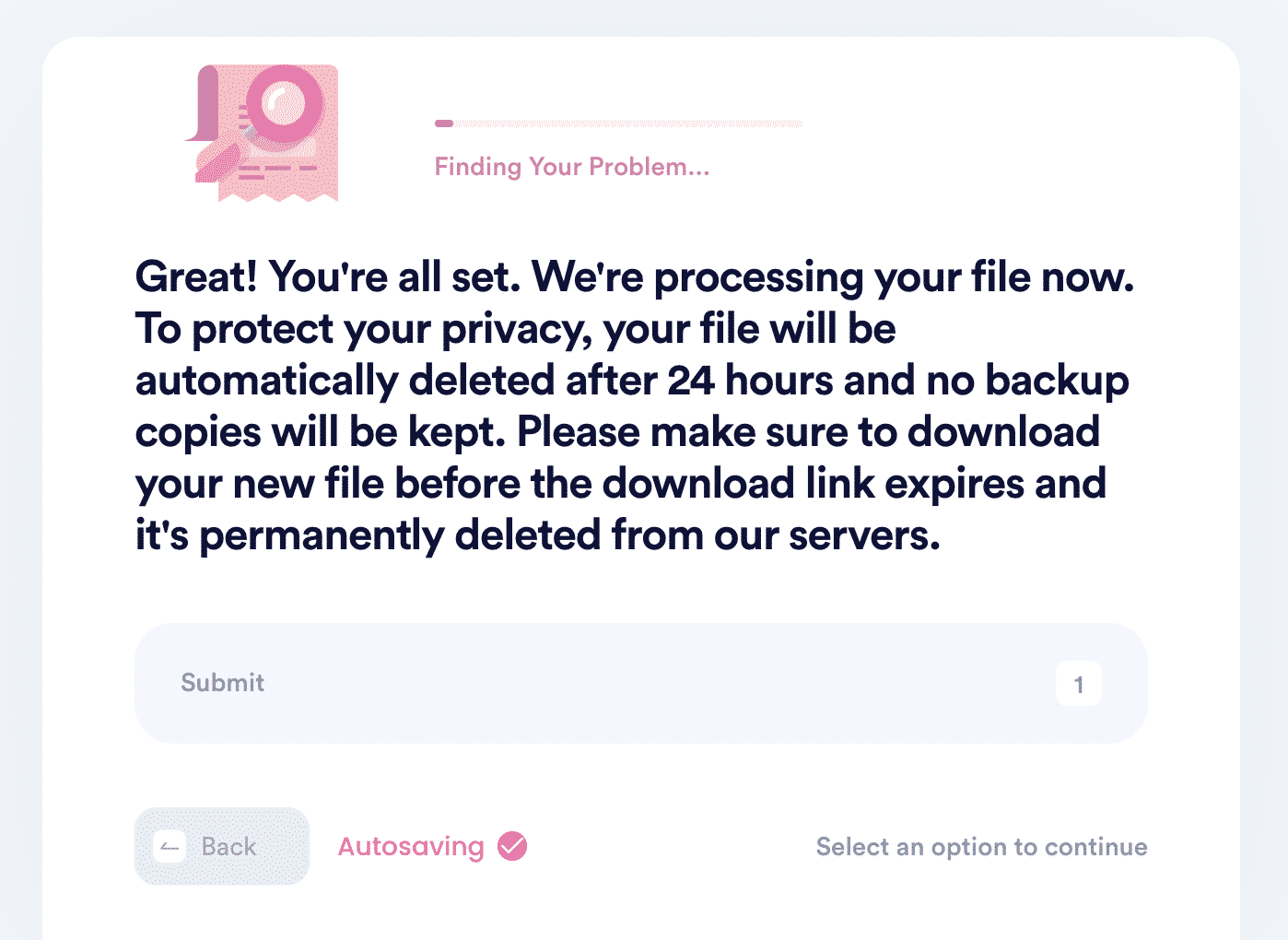 With DoNotPay, the conversion process takes only a few seconds. To initiate it, you must log in to your DoNotPay account and take the following steps:
Open the File Converter product
Upload your MP3 file
Pick Text as the format you want to convert it to
Go to the My Disputes page and download your new file
It can't get any simpler! Keep in mind that you can convert an unlimited number of files using our award-winning app, and you can rest certain that no annoying ads will pop up during the conversion process.
What Other Files Can DoNotPay Convert?
Our File Converter can convert 100+ different files. It is browser-based, so you can use it to convert any file regardless of which system you're using (Windows, Mac, or Linux). Some of the files you can convert with DoNotPay include the following:
Much More Than a Simple File Converter
When you're converting files, keep in mind you'll need hard disk space for both the original and the converted file. While the HDD space individual files take up is barely noticeable, if you're planning on converting multiple files, it can quickly add up.
Luckily, DoNotPay also lets you compress files to make them easier to store. You can also use our award-winning app to convert online videos to MP3s, as well as download videos from social media and the web and save them on your device.
DoNotPay Offers Unmatched Functionality
DoNotPay offers a lot more functionality than a regular file converter. On top of these file management features, you'll find hundreds of different products within the app that can facilitate, streamline, or automate a wide variety of tasks, saving you time, money, and nerves!
Here are just some of the areas in which you'll find DoNotPay's assistance invaluable:
| Legal | Time-Saving | Money-Saving |
| --- | --- | --- |
| | | |
The possibilities truly are endless with DoNotPay!