All You Need To Know About Using an MP3 to M4A Converter
The MP3 file format is one of the most widely used audio formats because it's compatible with many different types of devices.
The M4A file extension is associated with the MPEG-4 Audio, which is a standard for storing audio data in a digital container, along with various metadata.
You can convert your MP3 files to M4As by using various online audio converters, but before you do, you should learn all about what the process entails. A free MP3 to M4A converter is not always the most reliable, so learning about its drawbacks is essential prior to using it.
If you want to avoid dealing with said drawbacks altogether, you can use DoNotPay instead—an app that offers a 100% secure and simple conversion service for various file types.
How To Convert MP3 to M4A Online
If you want to give converting your MP3 files online a try, here's what you'll need to do:
Visit the website you want to use
Upload the file you want to convert
Decide what format you want your file to be
Wait for the conversion process to take place
Download the converted file once ready
If you aren't sure what converter to use and don't want to spend an eternity looking for one, here are a few of the popular choices:
Adobe
FreeConvert
AnyConv
Even though using these converters is the most common way to convert any file type, you should know that they come with certain disadvantages that can make the process a lot more difficult than anticipated. We'll explain these disadvantages so that you know what to expect and what to do should you come across them.
Free MP3 to M4A Converters—The Common Disadvantages Explained
To get acquainted with the common disadvantages of free online MP3 to M4A converters, check out the list below:
The converters may not be accurate with the conversion process, which leads to an improper conversion
Conversion can cause errors or lag. Thus, it takes extra time for your files to be converted
The quality of the file that was converted can be altered and cause it to appear as a different file
Free online converters may infect your computer with viruses due to the possibility of you accessing malicious content on a website
The quality of the converted files is also not constant, so you shouldn't expect to get high-quality ones
File conversion can take up a lot of bandwidth and pose a potential threat to the speed of your internet connection
Online file converters often do not detect and download updates automatically
DoNotPay Can Convert MP3 to M4A for You in Seconds!
Forget about using an unreliable online converter, and keep your data protected by opting for DoNotPay! Our app ensures your personal info is completely secure during the conversion process and provides you with high-quality converted files in only a few seconds!
You can use DoNotPay on any operating system (including Windows and Mac), and there are no limits to the number of files you can convert with us. All you need to do to start converting your files using our app is:
Register for DoNotPay and open the File Converter product
Upload your MP3 file
Select M4A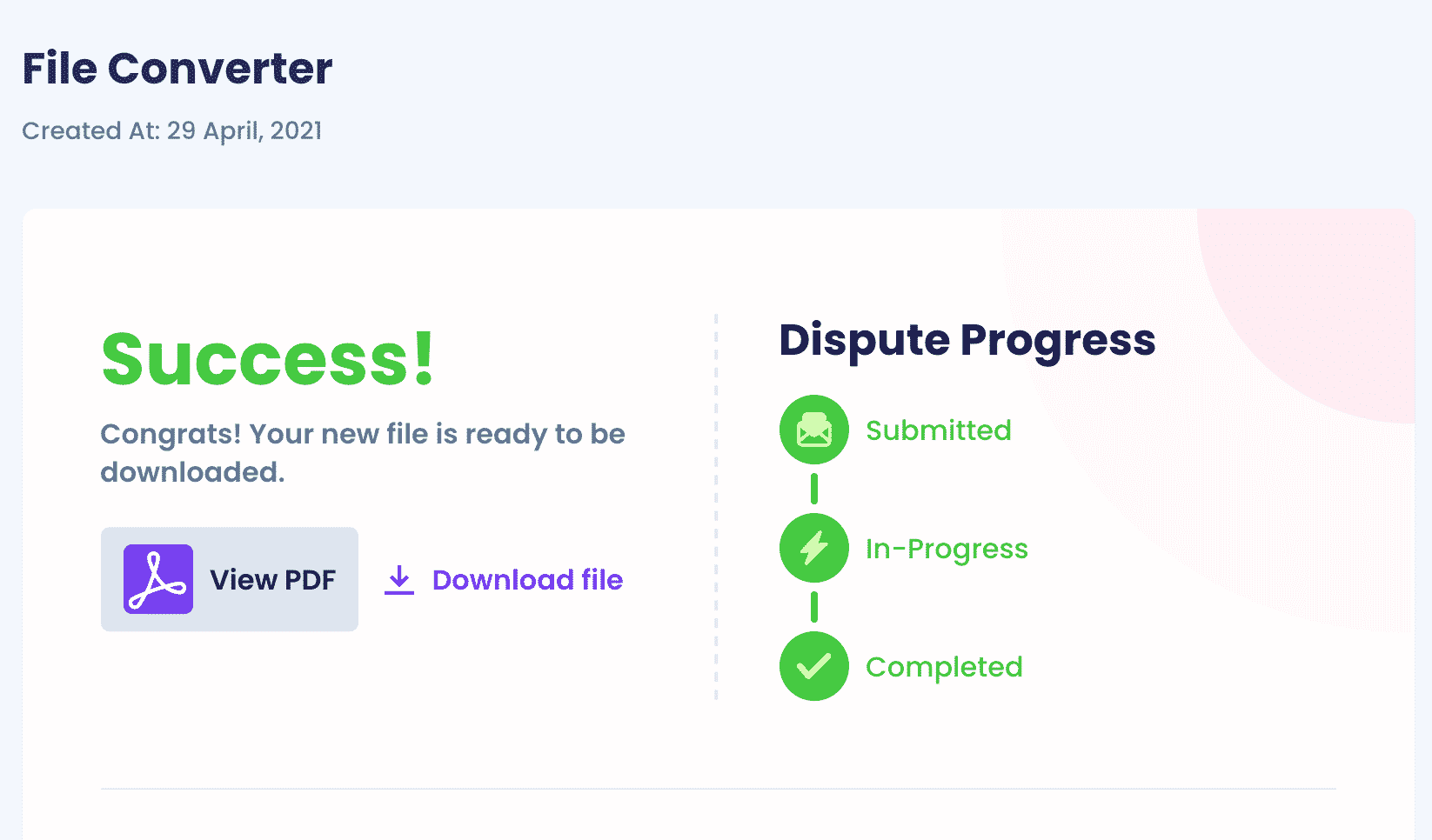 DoNotPay will convert your file instantly, and you can go to the My Disputes page to download it!
What Other File Types Can DoNotPay Convert?
Converting your MP3 files to M4As is only one in a sea of tasks DoNotPay will help you with! If you want to convert other file types with us, you can! Look at the table below to see what formats you can convert with our app in a snap:
Hundreds of Useful Features at Your Fingertips
What makes DoNotPay stand out from regular file conversion tools is the array of other features you get access to once you start using our app.
On top of converting hundreds of file types, you can also use DoNotPay to:
DoNotPay isn't just a converter—it's an app designed to make your life easier by automating tedious and complicated tasks. You'll find hundreds of different products inside our award-winning app that will help you save time and money!
Create Legal Documents, Cancel Subscriptions, Appeal Parking Tickets—All With One App!
There's no shortage of tasks DoNotPay can assist you with. For example, the world's first robot lawyer can help you with all manner of legal processes, including:
You can also have DoNotPay handle tedious, time-consuming tasks, like filing complaints, requesting refunds and chargebacks, canceling subscriptions, contesting parking and seatbelt tickets, and fighting email spam for you.
DoNotPay can also save you hundreds of dollars each month by helping you reduce property taxes, lower your bills, and find unclaimed money in your name.