All You Need To Know About an MP3 Converter
Not all music can be played on any device without losing quality, and that's where MP3 converters come in—they convert your audio files into various formats so that they are compatible with any audio-playing device, like a smartphone, TV, computer, etc.
You can choose which files you want to convert and then use the converter to save them as MP3s for playback on any device.
You can use different online audio converters and apps for the conversion process or opt for DoNotPay and use our completely secure and straightforward File Converter product instead. Work smarter, not harder!
How To Use a Video to MP3 Converter
To convert a video to MP3, you can either download a video converter or use a free online conversion tool.
If you decide to go with a free online video to MP3 converter, you won't need to download and install additional programs. You can do a quick search to find the available converters and visit a website to finish the conversion process. It usually requires copy-pasting the URL for the video in the appropriate field and clicking the Convert button.
Look at the list below to see some commonly used online converters you can try:
MP3Skull
YouTube to MP3
FreeConvert
CloudConvert
You can also use different downloadable programs to convert your files. Most of them work in a similar way—you find the one that you want to use, download it, and run it on your Windows or Mac. The issue with them is that, generally, they require you to pay a certain fee to use them and take more time and effort than online conversions would.
The Common Issues of Using Free Video to MP3 Converters
There's an incredible amount of video converters out there, and most of them are free. Not all free video converters are created equal, though. They can come with a number of common problems that you should be aware of before deciding to use one over another. So what are the most common issues you should be aware of? Check out the list below to find out:
Incompatibility—Free converters might not work on every computer. If you choose an online converter that doesn't support the operating system you're using, the converter will either crash or not be able to convert the videos to the format you need
Viruses—The adware and spyware that comes bundled with some free video converters can be a real pain and infect your computer with viruses and malware easily
Protection of your personal data—Most of these online converters aren't secure and don't protect your data, which means your sensitive info might be shared with unauthorized parties without your knowledge
How To Convert a Video to MP3 With DoNotPay in Seconds
If you want to avoid the hassle of searching for an appropriate free video converter online, you can! DoNotPay provides you with the most streamlined and secure video conversion service on the market!
Our app works on all operating systems, including Windows and Mac, and we provide you with high-quality files. You don't have to worry about the safety of your data at all since we delete all of your files from our database 24 hours after the conversion to ensure you're completely protected.
To start converting your files with DoNotPay, sign up for our app and follow the next steps:
Open the File Converter product
Upload the file you want to convert
Choose the file format you want to convert it to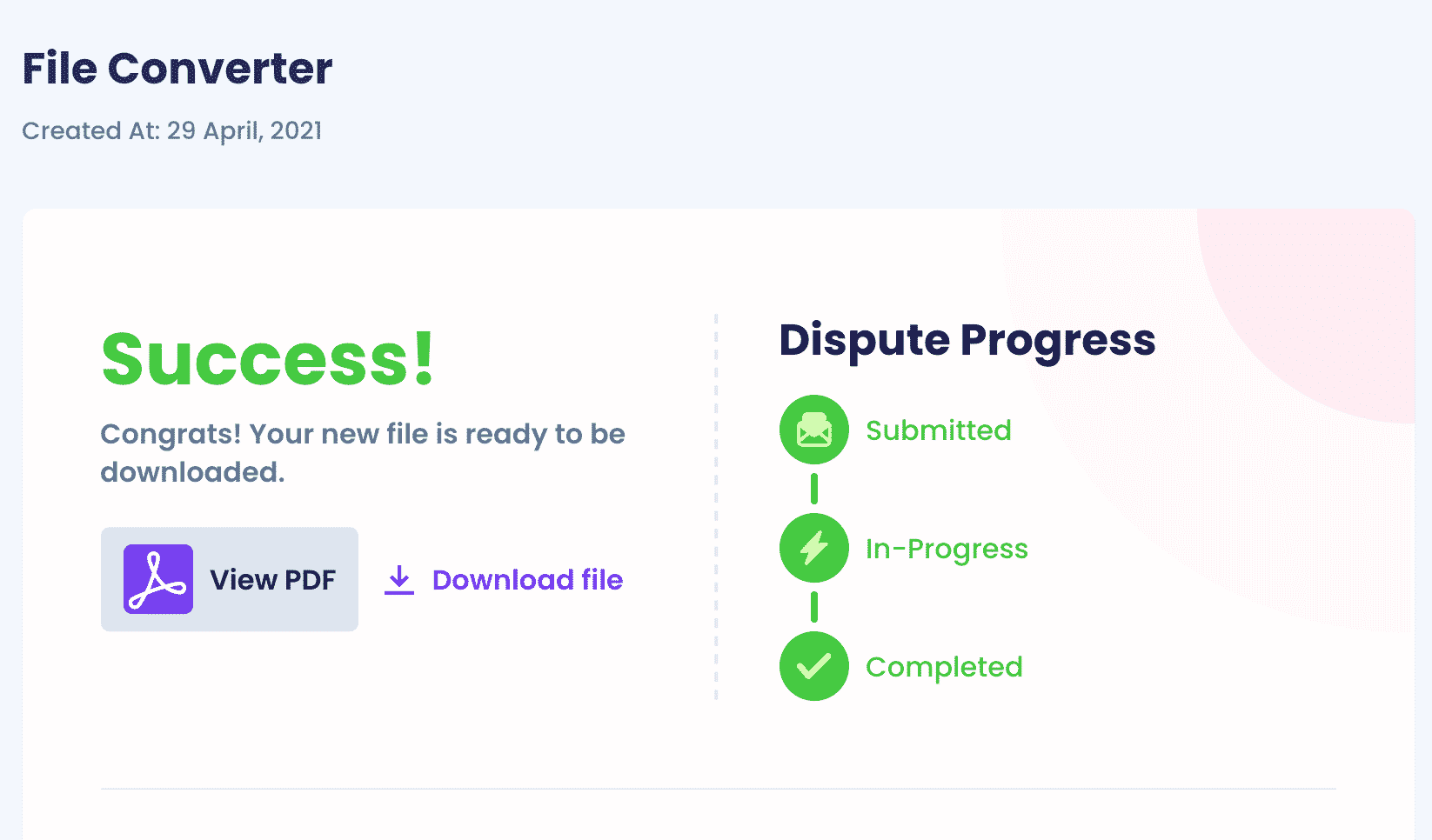 Once we convert your file, you'll be able to download it from the My Disputes page.
What Other File Types Can DoNotPay Convert?
Converting your videos to MP3 isn't everything we got in store for you! There are numerous other file types our app supports! Check out the table below to see some of the files you'll be able to convert using our nifty app:
Convert, Compress, and Download Anything With DoNotPay
Technology is advancing at a rapid pace, and it can be rather difficult to keep up. But there's no need to worry if you're not particularly tech savvy—DoNotPay got you covered!
With our easy-to-use app, you can compress any file, download videos from the web, and convert online videos to mp3 files, all with a few clicks. There's absolutely no experience needed. Your files are 100% safe and your privacy is ensured because we delete the converted and compressed files after 24 hours.
Save Time and Money With DoNotPay
On top of file conversion, DoNotPay has hundreds of different products that automate boring tasks and streamline complex processes. And the best part is—you get access to all of them, so you can use our award-winning app to save a ton of time and money.
Here are just a few examples of what DoNotPay can help you with: