Learn How To Use an MP3 Converter for Mac
MP3s are a super convenient way to store music. MP3 files can be downloaded on the internet or streaming services like Spotify. What if you want to convert them yourself, though? Converting files to and from MP3 can sometimes present a challenge. That's why we offer you a step-by-step guide on how to use an MP3 converter on Mac without breaking a sweat! We also provide you with a convenient way to avoid sketchy websites by using DoNotPay instead—a secure and simple method of converting various different file types. Once you sign up, we'll show you how to use video and audio converters to convert your files like a pro!
How To Use an MP3 Converter for Mac Online
Using online converters is one of the least demanding and most common ways to convert files. Although the process shouldn't be too difficult, finding a converter that's perfect for your needs can prove difficult. To make it easier, we provide you with a list of the commonly used MP3 converters for Mac:
All2MP3 for Mac
HandBrake
Switch
MediaHuman Audio Converter
The above-listed converters are free, and they all work in the same manner. You upload the file you want to convert, choose the output format, and download your file once converted.
Although using free online converters seems like a fairly simple procedure, that's not always the case. There is a number of potential dangers you can run into when using an unreliable online converter, and we're here to break them down for you in an attempt to keep you safe.
The Potential Dangers of Using a Free Online MP3 Converter for Mac
A lot can happen when you download a file using a free online MP3 converter. One of the risks is that you can unknowingly download malware as well. It's not only one or two free converters that can infect your computer—we're talking about the majority of them. The converters could do anything—from stealing your data to taking over your computer.
Another inconvenience is that these converters use two main types of advertising—pop-ups and email spam. This can be incredibly frustrating and, even worse, cause your computer to malfunction due to all the viruses it may catch.
How To Convert Files to MP3 on Mac Securely With DoNotPay
DoNotPay is here to help you convert any number of files you need in only a few clicks! Why waste time and effort on unreliable websites when you can convert your files safely and in no time with our app?
DoNotPay's services work no matter what operating system you're using, and that includes both Mac and Windows. The quality of your converted files is high, and there is no limit on the number of files you can convert.
The best part is that the safety of your data is guaranteed, and we remove your files from our app's database 24 hours after the conversion to ensure that.
To start converting your files with our AI-powered app, sign up and complete our quick, three-step guide:
Open the File Converter product
Upload your file
Choose the output file format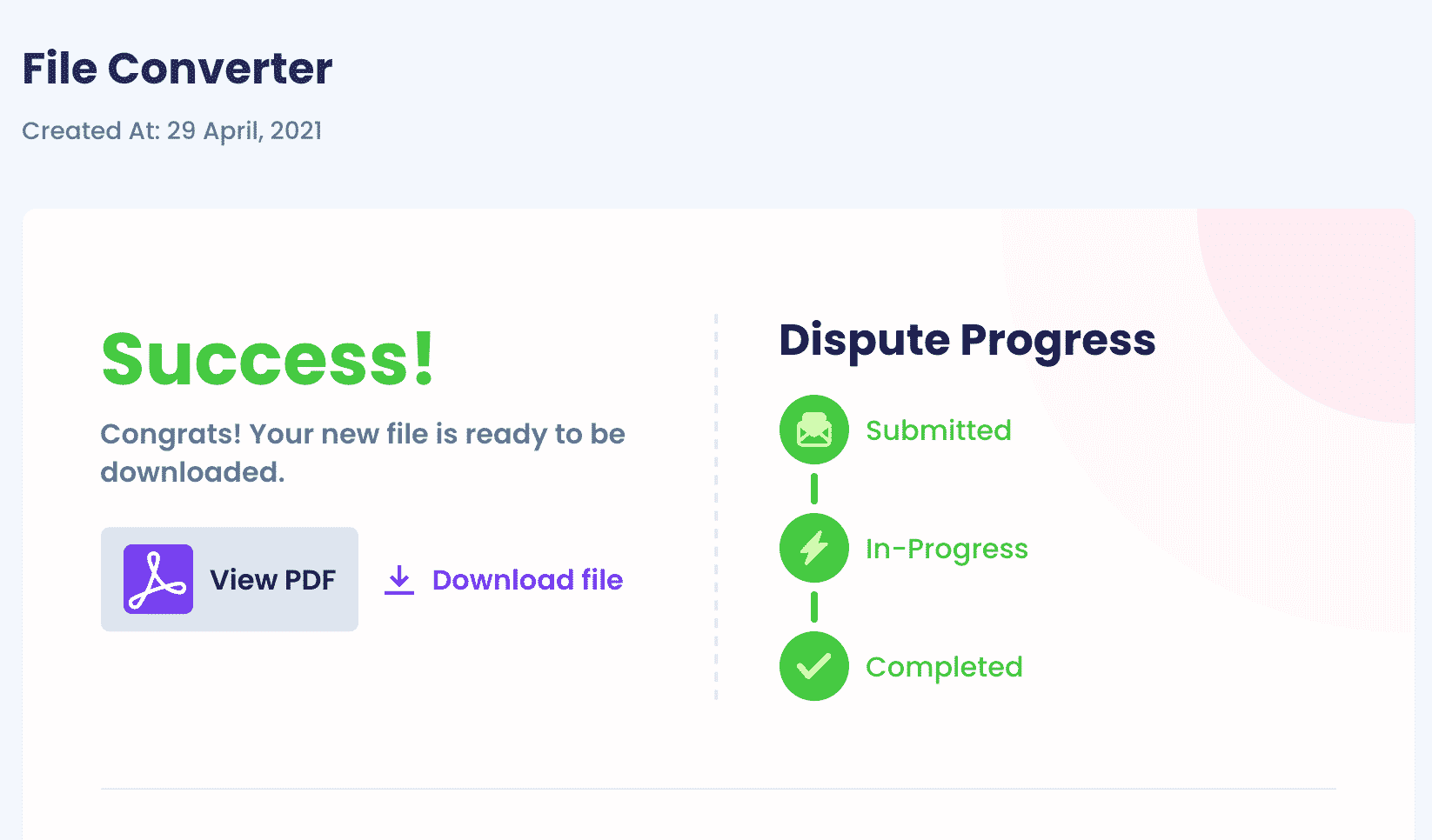 That's all it takes! Once we convert your file, you can download it from the My Disputes tab right away!
What Other File Types Can DoNotPay Convert?
Learning how to convert your MP3 files on Mac is only one in a sea of tasks DoNotPay can help you with! Should you need to convert other file types, check out the table below and see the variety of different ones DoNotPay converts for you:
Have All Your Files In One Place
DoNotPay is designed to help you do more with less work. Apart from converting hundreds of different file types, you can also leverage DoNotPay to compress your files to take up less space on your device.
Found a video online that you'd like to save as an mp3 to play it on the go? Whether it's a music video, a guide, a lecture, or a podcast, DoNotPay can convert all manner of online videos to mp3 files with ease! You can also use our award-winning app to download videos from social media and the web so you can enjoy them even when you don't have access to the internet.
DoNotPay Helps You Tackle All Manner of Different Tasks With Ease
Streamlining complex processes and saving you a ton of time and money in the process is what DoNotPay does best!
For instance, we can help you skip the phone queue of any company by waiting on hold in your stead. We can also help you cancel any unwanted subscription or service with a single click, as well as request a chargeback, return an unwanted item, and get a late delivery refund.
You can also use DoNotPay to find unclaimed funds in your name, lower your bills and reduce property taxes, as well as appeal parking tickets and dispute seatbelt tickets. Apart from saving you a ton of money each month, DoNotPay can also give you that much-needed peace of mind by helping you get rid of annoying robocalls and email spam for good!