Apply for a Mozambique Tourist Visa the Easy Way
Are you planning a trip to Mozambique? Don't let a tourist visa application hinder you from visiting local markets with the freshest food you're ever going to try, tasting the original Peri-Peri sauce, or enjoying local jazz.
DoNotPay explains the details and requirements of the Mozambique tourist visa application so that you can submit it in a flash!
Mozambique Tourist Visa—Do You Need It?
Yes, U.S. citizens need a tourist visa to enter Mozambique. Depending on your planned stay, you can opt between the following types of Mozambique tourist visas:
| Validity | Entrances Allowed | Regular Price | Price Including Fees for Expedited Processing |
| --- | --- | --- | --- |
| 30 days | Single | $160 | $220 |
| 90 days | Multiple | $180 | $250 |
The processing time for a Mozambique tourist visa is ten business days unless expedited. In that case, it takes three business days for the Embassy of Mozambique to process your request.
Mozambique Tourist Visa Requirements
If you're a U.S. citizen or passport holder applying for a Mozambique tourist visa, you need to prepare the following paperwork:
Type of Visa
Requirements
All types

A passport that's valid for a minimum of six months after your estimated time of entry and has two blank pages
Permanent residence status if you're a citizen of another country residing in the United States
A completed tourist visa application form
Two photographs of yourself that are meeting passport requirements and standards
A vaccination certificate if you traveled to a Yellow Fever endemic country before arriving in Mozambique

Visit visa

A copy of the flight itinerary
Information about your host:

The invitation letter they sent you
Their Mozambican passport, ID, or Foreign Residence Document (DIRE)

Tourist visa
A copy of your:

Flight itinerary
Accommodation reservation

Any visa for minors

The minor's birth certificate
How To Get a Tourist Visa for Mozambique
You can request a Mozambique tourist visa in two ways:
On arrival
At the Embassy of Mozambique
Apply for a Mozambique Tourist Visa on Arrival
You can submit your tourist visa application at any Mozambican border post if you prove that you're visiting the country for leisure purposes, and you can do so by providing:
Your return ticket
An invitation letter you received from friends or family
Information about your accommodation
The on-arrival tourist visa is valid for 30 days after you enter Mozambique.
Request a Tourist Visa at the Embassy of Mozambique
The Embassy of Mozambique allows U.S. citizens to apply for a Mozambique tourist visa by mail. All you need to do is:
Complete the Mozambique tourist visa application form
Place it in a self-addressed return envelope along with your passport and any supporting documents you have
Pay the visa fee using a money order
Drop off or send the envelope to the following address: 1525 New Hampshire Ave NW, Washington, D.C. 20036
COVID-19 Restrictions in Mozambique
At the time of writing this article, the Mozambican government requires tourists to provide a negative COVID-19 viral test taken no later than 72 hours before arrival or proof of recovery to enter the country.
Travelers should keep in mind that:
The Mozambican government requires a negative PCR test even if you show proof of vaccination
Most provincial capitals in Mozambique have a curfew in place that does not allow any outdoor activity from 9 p.m. to 4 a.m.
Since these circumstances can change over time, check the COVID-19 regulations page regularly on the Mozambican Embassy's website for up-to-date information.
Who To Contact if You Have Concerns Regarding Your Mozambique Tourist Visa
If you have any issues or questions about your Mozambique tourist visa, you can contact the Mozambican diplomatic missions in the United States using the information from the following table:
Diplomatic Mission
Email
Phone Number
Embassy of Mozambique in Washington DC
washington.dc@embamoc.gov.mz
Permanent Mission to the UN of Mozambique in New York
mozambique@un.int

212-644-6800
212-644-5965
DoNotPay Helps You Submit a Flawless Mozambique Tourist Visa Application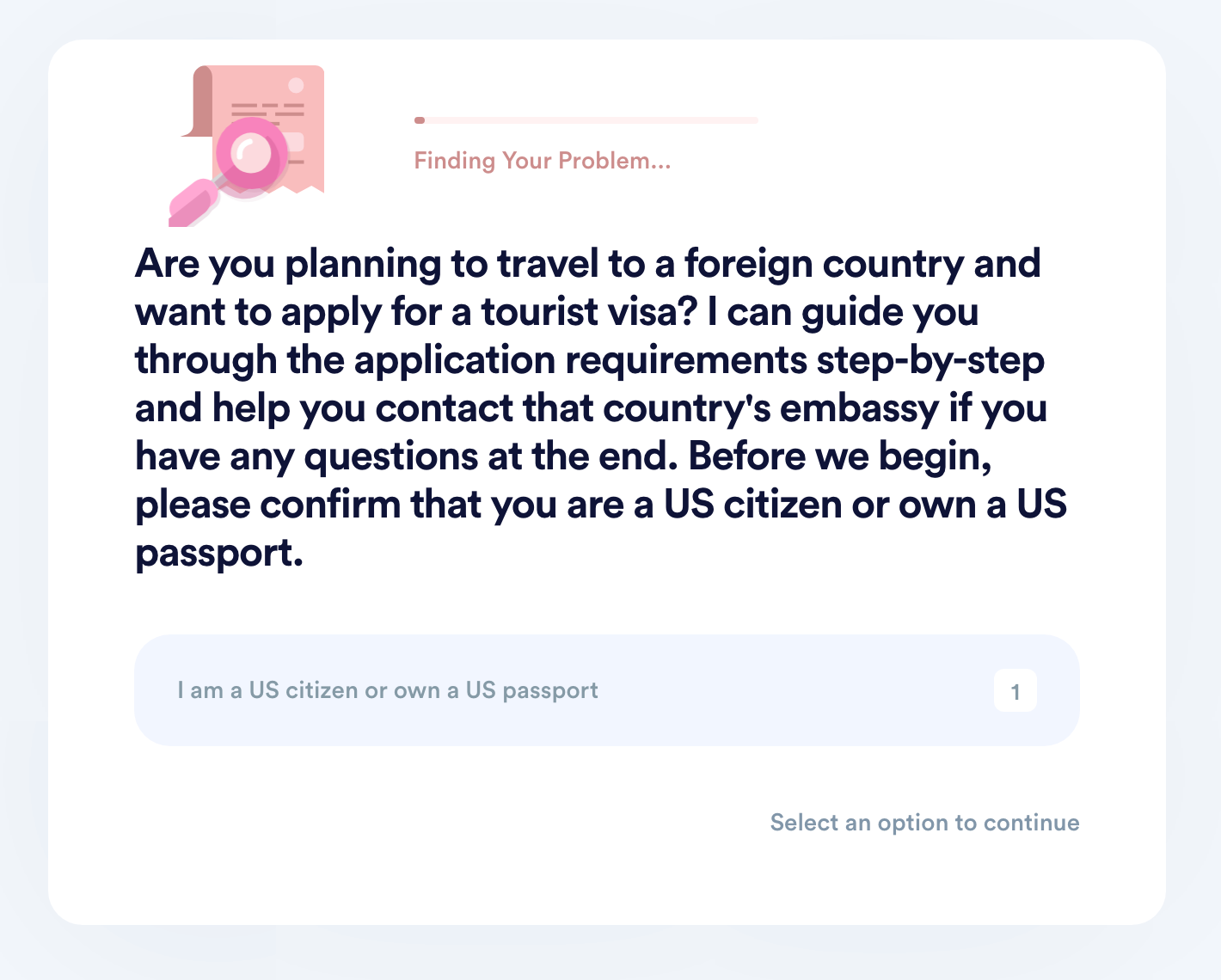 You don't have to worry about a faulty tourist visa application delaying your trip to Mozambique because our app will:
Help you check whether you have all of the required paperwork to apply for a Mozambique tourist visa
Contact the Embassy of Mozambique to inquire about available remote application methods
Create a step-by-step PDF guide that explains the traditional application process
If you could use a helping hand with your tourist visa application and you want to speed up the process, follow these steps:
Search for Tourist Visa Guide
Answer our chatbot's prompts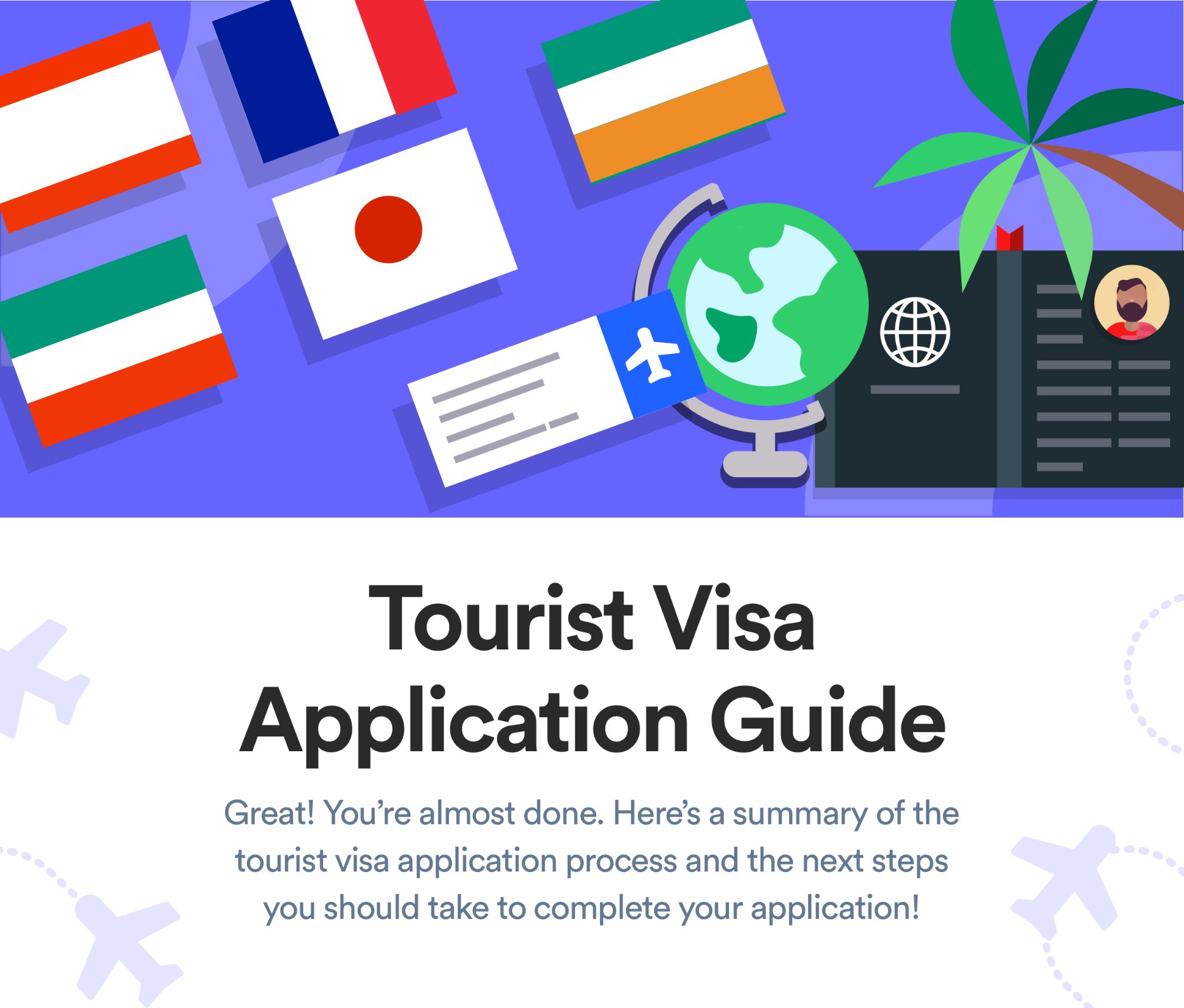 Learn About the Entry Requirements of Other African Countries With DoNotPay
Is Mozambique only one stop on your African tour? Access DoNotPay to get the most recent information about tourist visa and entry requirements for any African country, including: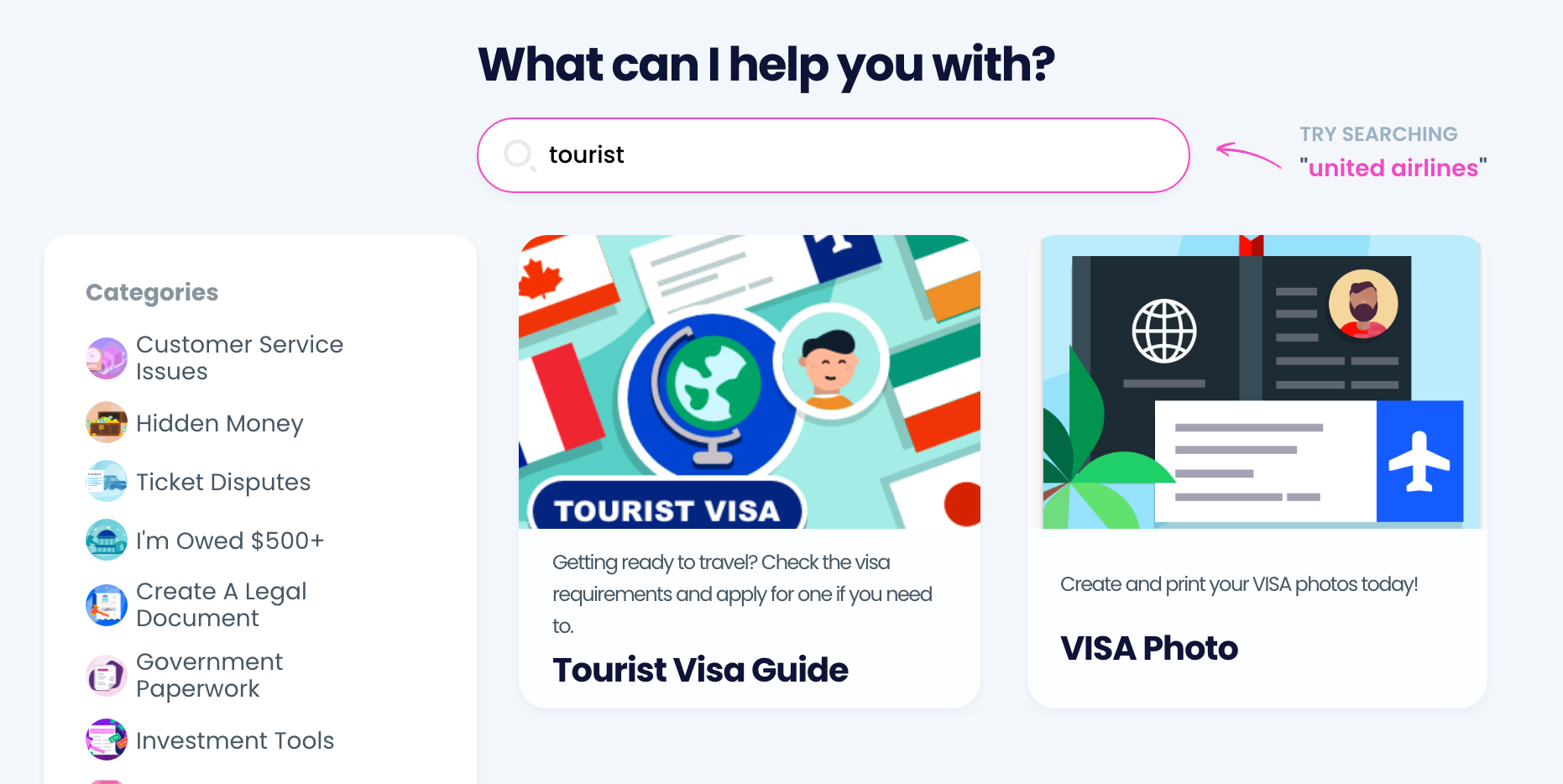 DoNotPay Goes the Extra Mile for You
We are dedicated to providing solutions to difficult and time-consuming tasks you may have on your to-do list. If you are struggling to reduce your monthly bills, contest parking tickets, or set DMV appointments, DoNotPay will help you do it in no time!
We have also created numerous easy-to-use features that can make the following procedures run smoothly:
Get Justice From Companies That Wronged You
Do you feel like you have been played by a company? Instead of wasting your time writing requests, demand a chargeback or refund or claim a warranty via DoNotPay! If the company doesn't seem too cooperative and keeps refusing to return your money, our app can assist you in suing it in small claims court.
To help you save some coins or regain what's yours, DoNotPay will also help you locate unclaimed funds, submit insurance claims, lower your property taxes, and cash out gift cards.