The Ins and Outs of Using a MOV to MP4 Converter
A MOV file is a QuickTime media container format designed for storing digital video and audio data, which is what Apple's QuickTime Player program uses to play back video files. The MOV format is almost exclusively used on Apple's macOS and iOS operating systems, but there are also third-party players that allow users on different platforms to play MOV files. They sometimes can't be opened on certain devices, so converting them to another format may be necessary. In such instances, using a MOV to MP4 converter can prove quite handy. We're here to show you how to convert your MOV files online, but that's not all. We'll also show you how to use DoNotPay to convert your file safely and in record time!
How To Convert MOV to MP4 Online
If you'd like to convert your MOV file to MP4 using an online converter, you can. There are various free MOV to MP4 converters you can use, including:
Convertio
FreeConvert
Zamzar
CloudConvert
Adobe
In case you're wondering how the conversion process with these websites works, check out the list below—it shows you the procedure step by step:
Attach the file you want to convert
Pick what format you want the file to be converted to
Wait for the converter to finish the process
Download the converted file
Converting your files using online converters can be tempting since the process usually doesn't require much time and effort, but you should think twice before deciding to use one. There are many unreliable and sketchy websites out there that can cause a number of different issues.
The Common Issues You Can Run Into When Using a Free MOV to MP4 Converter
Free online converters may claim that they can convert files from one type to another, but these conversions might not always be successful. The converter might crash halfway through the conversion and leave you with a corrupt document, or it might just produce an error message. There are also some free file converters that charge for converting files, but those charges make them no longer qualify as "free."
Additional problems with free file converters, including MOV, MP3, MP4, audio, and other converters, lie in their poor quality and slow conversions. They are usually slow and take an eternity to convert a file.
The most concerning issue when it comes to online converters is the privacy and safety of your data. Most of them don't guarantee that your personal info is protected, so it's possible for third parties to steal it and use it for malicious purposes.
Use DoNotPay To Convert MOV to MP4 With Zero Effort!
If finding a reliable MOV to MP4 converter online is too time-consuming and demanding, you don't have to do it. There is an alternative that lets you convert various files with almost no effort at all—DoNotPay. Our service is 100% secure and straightforward, and you can use it on both Mac and Windows. You won't have to worry about the safety of your data at all since we delete it from our app's database 24 hours after the conversion. To initiate the process, register for DoNotPay and follow the next steps:
Open the File Converter product
Upload your MOV file
Choose MP4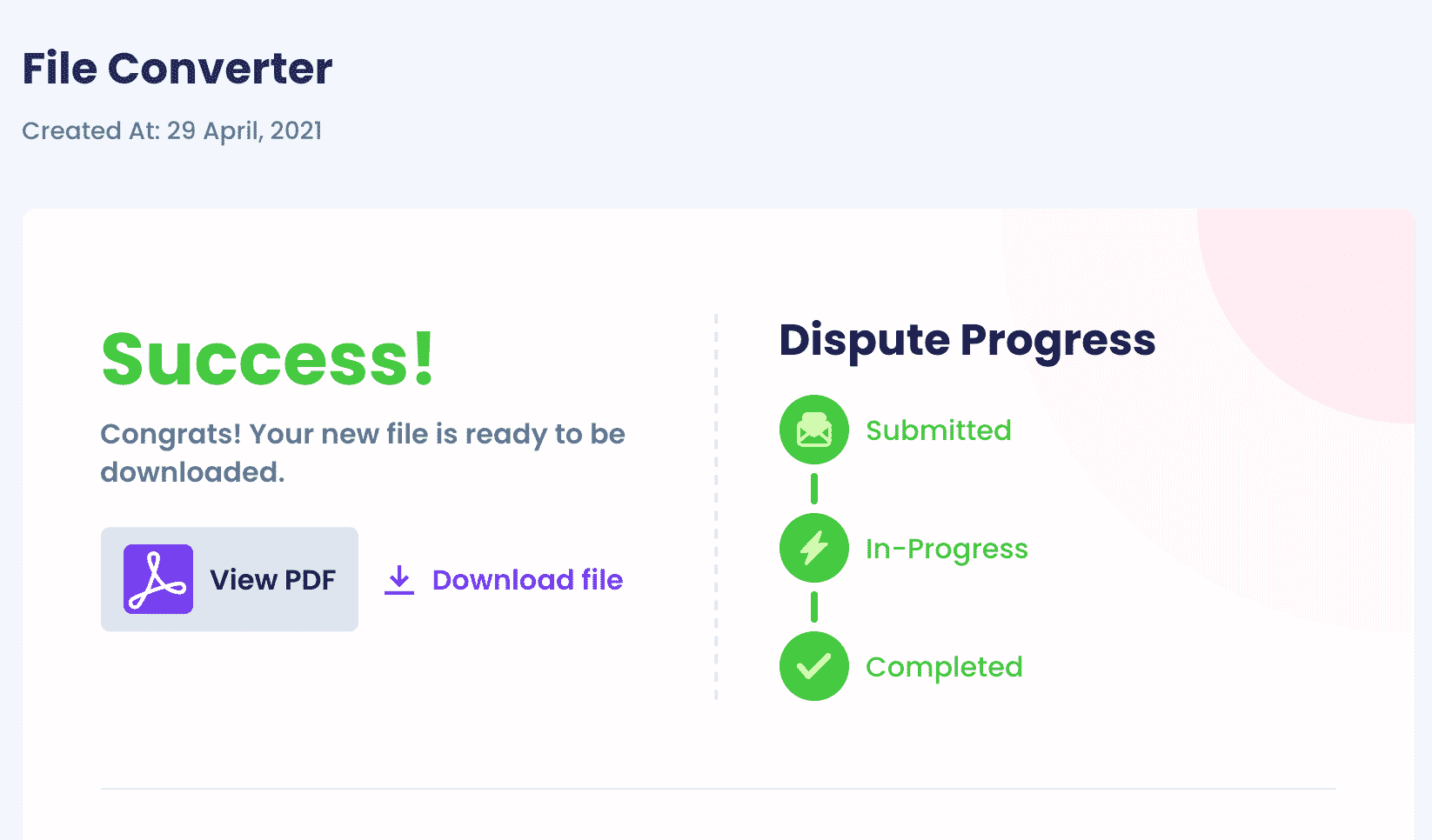 We'll convert your file right away, and you'll be able to download it from the My Disputes page in a few seconds.
What Other File Types Can DoNotPay Convert?
Helping you convert your MOV files to MP4s is what we do best, but that's not all we got in store for you! Aside from that, you can use our app to convert a wide range of different file formats with ease! Check out the table below to see a fragment of the available options:
Much More Than a Simple File Converter
When you're converting files, keep in mind you'll need hard disk space for both the original and the converted file. While the HDD space individual files take up is barely noticeable, if you're planning on converting multiple files, it can quickly add up.
Luckily, DoNotPay also lets you compress files to make them easier to store. You can also use our award-winning app to convert online videos to mp3s, as well as download videos from social media and the web and save them on your device.
DoNotPay Offers Unmatched Functionality
DoNotPay offers a lot more functionality than a regular file converter. What's more, on top of these file management features, you'll find hundreds of different products within the app that can facilitate, streamline, or automate a wide variety of tasks, saving you time, money, and nerves!
Here are just some of the areas in which you'll find DoNotPay's assistance invaluable:
| Legal | Time-Saving Hacks | Money-Saving |
| --- | --- | --- |
| | | |
The possibilities truly are endless with DoNotPay!