Tips on Creating an MOU Agreement Trouble-Free
If you are searching for information and instructions on how to draw up an MOU agreement, you're at the right place! You don't need to burden yourself with a ton of unreliable info found online—we will walk you through the process of creating your contracts and legal documents step by step.
If you need assistance with other legal docs, we'll provide you with a list of all the ones DoNotPay has in store!
The Memorandum of Understanding Agreement—Explained
The Memorandum of Understanding Agreement (MOU) is a formal document that serves as a contract between two or more parties. The difference between a legal contract and an MOU agreement is that an MOU doesn't have to be legally binding.
An MOU doesn't legally oblige a person to honor the terms of the agreement, but it is still a serious declaration that should be respected. The agreement is legally quite similar to the Letter of Intent. It should outline the obligations and responsibilities of the parties involved and be used as a basis for making a legal contract afterward.
The Benefits of an MOU Agreement
The MOU agreement comes with a few benefits that may suit your needs. We will list some of them below, so check them out!
The MOU agreement is beneficial because it:
Lowers the risk of uncertainty

Contains prior agreements

Makes terminating engagements easy
If you aren't certain what to include when making a legally binding agreement, the MOU can be useful. You can check the terms previously set out in your MOU agreement and use them as a guide for your legal contract.
Terminating the engagements is much easier with the MOU because it is not legally binding. If you sign a legally binding contract, the chances are you will have a harder time exiting it than you would with the MOU.
Drawing Up the MOU Agreement
To successfully make your MOU agreement, you have to know what crucial elements you should encompass and make sure not to leave them out. No need to stress over the templates you have on the internet because we will provide you with a list of all the necessary items you should incorporate. Check it out below:
Names of the Parties

Purpose

Duration

Meeting and reporting

Financial considerations

Management

Signatures
Names of the Parties
The first thing you should incorporate in your MOU agreement is which parties are going to be involved. State the names of all parties and specify between whom the agreement is being signed.
Purpose
Make sure to specify the exact goal and purpose of your MOU agreement. Avoid any confusion and misunderstanding by elaborating on the details and specifics.
Duration
Your agreement should include the exact start and end date of an MOU. Making the duration of an MOU clear will be beneficial to each party, as well as explaining the conditions and grounds for termination of it.
Meeting and Reporting
The well-established plan for meetings and reportings will be of immense help when it comes to planning and efficiency. Stating the exact protocol in your agreement will help the productivity and functionality of the program as well.
Financial Considerations
Everyone involved in the program will want to know the details about the amount of capital contribution they will be making. You should specify the details regarding that, as well as who is going to be in charge of making the major financial decisions.
Management
The management section of your MOU agreement is super important. To get the job done, you should appoint one or more persons to take the lead in the everyday operations of the program. Assign the roles and responsibilities to everyone involved and specify them in your agreement.
Signatures
When you finish drawing up your MOU agreement and go over it with all parties involved to make sure everything is agreed upon, make sure to have everyone sign it.
DoNotPay Makes Your Legal Documents for You!
Making legal documents is no joke, and it often requires education in law or paying legal advisors to help out. DoNotPay provides you with a feature that will create legal documents for you super easy and save you a pretty penny!
All you have to do is go to DoNotPay in your web browser and follow these two steps:
Enter the name of the document you want us to make

Supply us with all additional information we ask
That is all the work required on your part! We will create your document, and you can:
Note that the document has to be signed by all parties involved.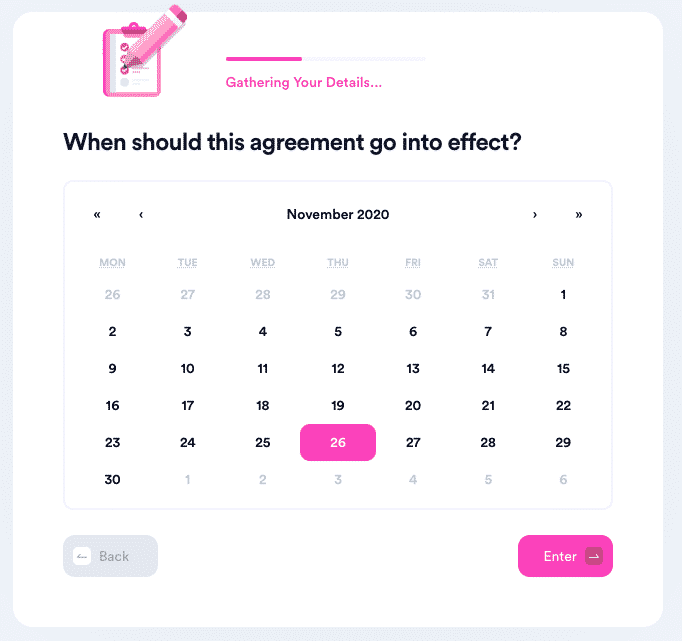 If you are interested in creating other contracts and legal documents aside from an MOU agreement, here are the ones we can assist you with:
Business Agreements
Other

General Business Contract

Intent to Purchase Real Estate

Estoppel Certificate

Quitclaim Deed

General Affidavit

Promissory Note
Bypass the Administration With DoNotPay
There's no more need for extensive research, abundant paperwork, or endless phone calls with customer service reps.
DoNotPay brings the administrative nonsense to a minimum. 
Book DMV appointments fast and easy, appeal your parking citations, sign up for free trials without disclosing your credit card info or phone number, or reach your loved ones in jail—all in less than five minutes.
We also generate any legal document, provide full access to public records, offer DMCA protection, and reduce your property taxes with a few clicks.
Enjoy Services Worry-Free With DoNotPay
Do you want to try out a new service but are worried about being charged if you forget to cancel it before it ends?
With DoNotPay, you can sign up for free trials without worrying about auto-charges. Our virtual credit card makes sure you enjoy your trial run of the service and prevents any company from taking money out of your real account.
This free-trial card also protects you from email spam because it generates an alternate email address for the free trial sign up.
If you want to keep your phone number private and deter robocallers and text spammers, use DoNotPay's Burner Phone feature when subscribing to services.
In case the company does charge you, initiate a chargeback on your credit card transactions instantly with our app.