A Guide to the Motorcycle Practice Test
Obtaining a motorcycle driving license comes with its challenges—you need to pass a written test and a road exam, which can be difficult. Taking a few motorcycle practice tests can help a lot and increase your chances of passing the real exam.
If you'd like to find out more about the DMV practice tests, DoNotPay is here to help you. We can assist you in preparing for any government exam, including commercial and non-commercial driving tests.
What Is the DMV Motorcycle Driving Test?
Driver's license regulations vary depending on the state where you're taking the exam. One of the universal rules is that you can't take a road exam before passing a written test.
Written and road tests for the motorcycle are different than those for the car. Riding a motorcycle is riskier than driving a car, hence the difference in rules.
Reasons To Prepare for the Motorcycle Driving Test
Since the motorcycle test rules are much more strict, good preparation is crucial if you want to pass. Motorcycle driving tests can be pricey, and you'll save a lot of money if you ace the exam on the first try.
Road safety is another super important aspect to keep in mind. Drivers who respect the rules are less likely to get into an accident. The better you prepare for the exam, the more knowledge of the traffic rules you'll have.
Preparing for your motorcycle exam will also help you feel more confident and less nervous on the day of the real test.
How To Prepare for the DMV Motorcycle Test
Motorcycle test preparation consists of three different steps:
Studying

Taking practice tests

Attending open-road classes
Read Your State's Manual
When preparing for a written exam, the first thing you should do is get your state's official handbook and study the rules. The questions for both practice and real tests are always related to the manual.
Take Practice Tests
The best way to pass a written driving test for motorcycles is to do a few practice tests. You should take as many practice tests as needed before you feel ready to take the real exam.
When you pass the written exam, you'll get a learner's permit and start taking actual road classes.
Practice on the Road
In most states, you can't get a real-life experience of riding a motorcycle until you pass the written exam. When practicing for a road test for cars, the beginner needs to be supervised by a licensed friend or family member from the passenger seat. Motorcycles don't allow that. A licensed driver can supervise you from a certain distance on another motorcycle.
You can take a motorcycle instruction course if you don't know anyone who can help you practice. The classes usually cost around $200 to $300. The Motorcycle Safety Foundation (MSF) teaches a week-long course that you can use. Once you feel confident enough, you can schedule a real driving test appointment.
What Is a DMV Motorcycle Practice Test?
Motorcycle practice tests simulate the real written exam you'll have to pass to get your learner's permit. The questions on both practice and real test cover the following topics:
Traffic rules

Motorcycle techniques

Safety practices

Motorcycle terminology

State laws
The practice tests are the same as the real exam—you might even be lucky enough to have a few of the same questions on the real test. Besides helping you get a feel of the exam, the motorcycle practice tests can help you remember all the rules easily.
How To Take Motorcycle License Practice Tests
If you want to take a motorcycle written practice test, you have a few online platforms to choose from:
You should select the state where you plan to take the test to get the right set of questions.
Even though the above-mentioned platforms will help you prepare for your test, they have a few drawbacks. Most of them aren't completely free, and some of the crucial features are available to premium users only. Another issue is that these websites aren't always user-friendly.
Save Time and Take a Motorcycle Permit Practice Test With DoNotPay
DoNotPay should be your choice if you're looking for a quick and simple way to practice for your driving exam. Thanks to our comprehensive database, we can offer an array of different questions. We will ensure you're well-prepared for the exam in any state, including:
If you're interested in trying out our awesome service, open your DoNotPay account in a , and follow these steps:
Enter the name of the test

Pick the test you want to practice

Choose the number of questions—10, 20, or 30

Take the test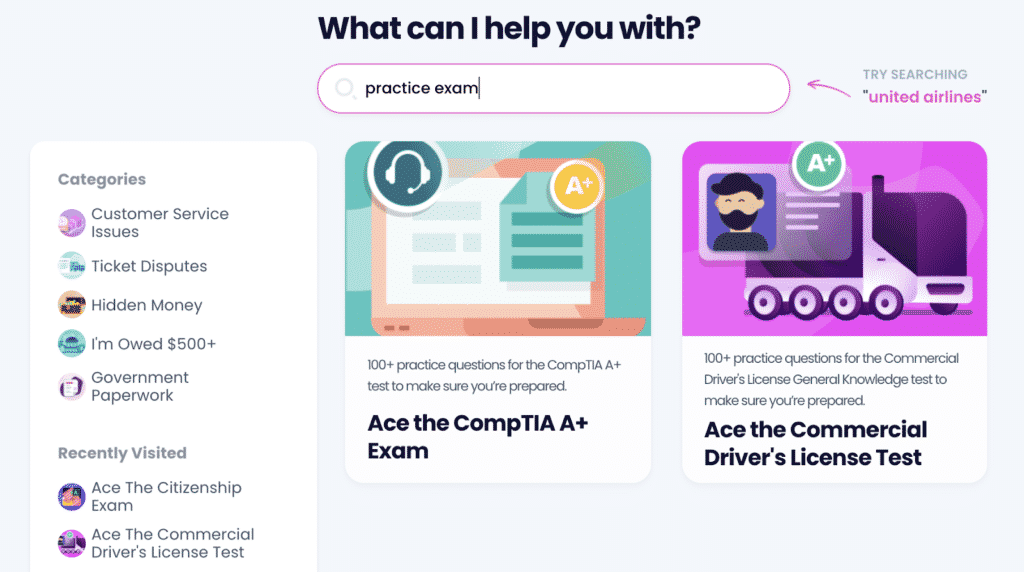 You'll get immediate feedback on your response. If your answer is incorrect, you can choose to:
Repeat the question

Retake the entire test once you get the score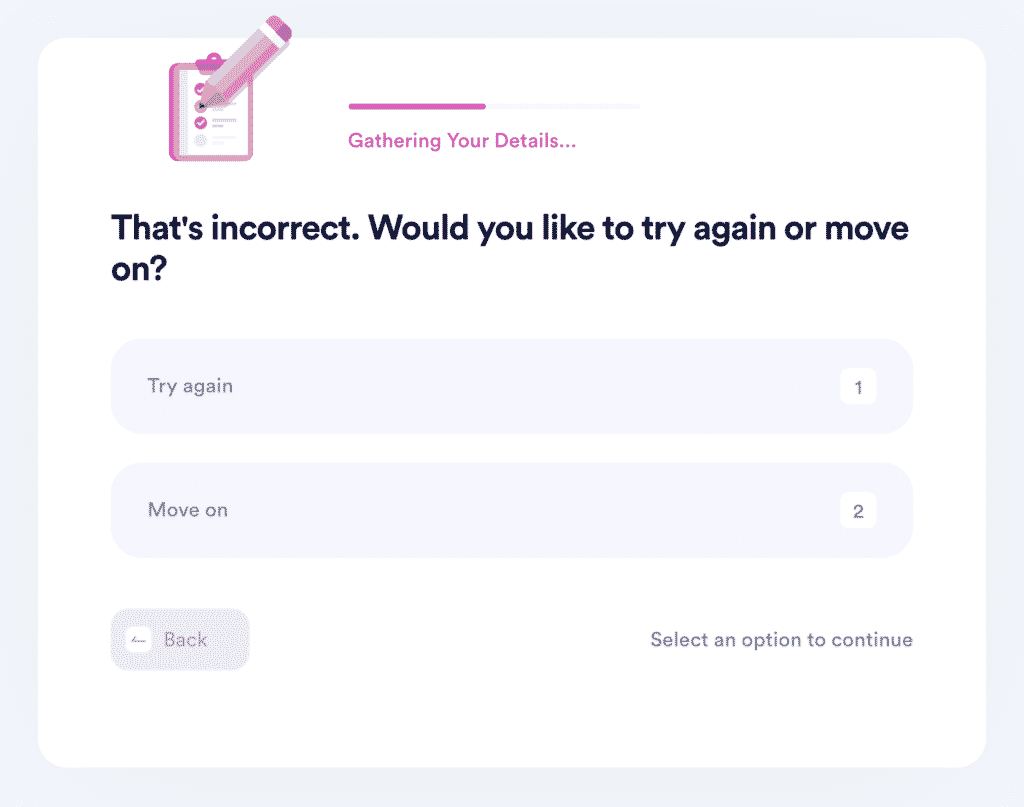 What Practice Tests Can I Take With DoNotPay?
Besides helping you ace your driving test, DoNotPay can help you prepare for a variety of other exams:
We can even help you prepare for the Armed Services Vocational Aptitude Battery (ASVAB) test to ensure you get a good score.
Learn How To Schedule the Real Motorcycle Driving Test
You can set up your appointment with the local DMV in a few ways:
| | |
| --- | --- |
| Ways To Schedule Your Driving Test | How To Do It |
| In Person | Visit a local DMV office and ask them about the available date and time |
| Online | Complete the appointment form on the local DMV's official website |
| Over the Phone | Find the number of the local DMV office on their website and give them a call to schedule your driving test |
If you're not tech-savvy but don't feel like going to the DMV office or wasting hours on the phone, you should try DoNotPay.
DoNotPay Helps You Make an Appointment With the DMV in a Jiffy
DoNotPay has another great feature that can help you set up an appointment with the DMV in no time. You can schedule your driving test or make an appointment for any other service, including:
Address change

License renewal and application

Vehicle titles

Vehicle registration renewal

Driver's records request
You can use our service to schedule the DMV appointment in Florida, California, New York, or any other state, and here's how:
Open the DoNotPay platform in your

Choose the service you want to schedule

Select the time and date
Explore Other Perks That DoNotPay Offers
We can also assist you in handling other issues. With DoNotPay, you can deal with parking tickets in any American city, including Portland, Buffalo, and Santa Monica. We can even help you report car warranty robocalls and get compensation.
Regardless of the issue you're facing, DoNotPay has a service that will help you solve it. Access your account from a , and count on us to assist you with: