Use a
Mortgage Forbearance Agreement Sample
and Make Up Your Missed Payments
Job loss, severe illness, and global economic crisis are some of the main reasons why so many people experience financial hardship. As the COVID-19 pandemic keeps taking its toll on the economy, more and more homeowners are considering forbearance plans.
If you are worried about making your monthly mortgage payment, you should consider drawing up a forbearance agreement. Considering that money is probably tight, hiring a lawyer to draw up a contract would not be the best option. Luckily, we have a better idea!
Find out how to write a contract on your own by using a mortgage forbearance agreement sample!
Mortgage Forbearance Agreement in a Nutshell
A mortgage forbearance agreement is a legally binding contract between a:
Mortgage lender

—A bank or a financial institution that offers and administers home loans

Delinquent borrower

—A person or organization late or overdue on a loan payment
By signing this legal document, the lender agrees not to initiate the foreclosure procedure, provided that the borrower has valid proof of financial hardship that led to late payments.
The agreement does not absolve the borrower from obligations in the original loan agreement—it is a temporary financial relief. The contract should state how and when the borrower is going to make up the deficit in payments, including taxes, principal, interest, and insurance.
Besides making a forbearance agreement, you should consider some of the following options to deal with overdue mortgage payments:
Debt settlement

Loan refinancing plan

Debt management programs

Loan modification

Coronavirus mortgage relief
Are There Any Requirements for a Mortgage Forbearance?
To sign a mortgage forbearance agreement with the lender, you have to follow their set of rules. While some financial institutions may have some more specific requirements, usually you have to:
Show proof of financial difficulties

Provide evidence that the hardship is temporary

Give an assurance that you'll be able to continue payments on time

Guarantee that you'll repay all the missed payments—including interests—at the end of the forbearance term
What Should a Mortgage Forbearance Agreement Sample Include?
Writing a mortgage forbearance agreement can be a tricky task. You can use a ready-made contract template, but keep in mind that the terms and provisions can vary significantly from one case to another.
A standard mortgage forbearance agreement sample should contain the following:
Names of the parties

Cause of the agreement

Description of defaults

Acknowledgment of debt

Drop-dead date or termination term

Date of agreement

Signatures of both parties
Aside from these general provisions, the contract should identify:
Existing loan documents

Security agreements and guarantees

Past due taxes

Amount due on the obligations

Events of default (failure to pay and perform)

Remedies upon default
Mortgage Forbearance Agreement Ended—What Now?
Forbearance does not last longer than 12 months. After that period, you should be able to get back on track with making regular monthly mortgage payments. You are also expected to make up the delinquent payments, but the lender should never require you to pay them all at once.
Some time before the forbearance ends—usually a month before—you get to discuss the situation with your mortgage servicer and define the next steps according to the circumstances.
Is a Mortgage Forbearance Agreement the Only Way To Avoid Foreclosure?
Fortunately, it's not. When you find out you're unable to make the next mortgage payment, you should inspect the problem from different angles. You can check out your options in the following table:
Mortgage Forbearance Alternative
How Does It Work?

Reinstatement

This option is considered only if the borrower is financially stable and willing to do it. Reinstatement refers to paying the complete forbearance amount at once

Repayment plan

A repayment plan allows you to make additional monthly payments on top of your regular ones to repay the forbearance amount

Loan modification

With a loan modification, the terms of the original loan are permanently changed in your favor. This means that the terms are more manageable and the monthly payments are lower. This option includes a trial period—making trial on-time payments for a few months to make sure you can afford the modified plan

Loan refinancing plan

You can lower your mortgage by making bigger payments each month. This way, you'll shorten the payment term and save a lot of money on interest

COVID-19 payment deferral

If your financial hardship is caused—directly or indirectly—by COVID-19, you are eligible for a forbearance up to a year. Under the

Coronavirus Aid, Relief, and Economic Security (CARES) Act

, you can get a federally backed mortgage loan made by the

Federal Housing Administration (FHA)

,

Department of Veterans Affairs (VA)

, or

Fannie Mae and Freddie Mac
DoNotPay Can Draw Up Legal Documents for You
No, hiring lawyers is not the only way to create legal documents. You don't have to spend that much money on legal assistance or time on finding online contract templates— and follow these steps to draft legal documents in a jiffy:
Type in the name of the document

Answer our chatbot's questions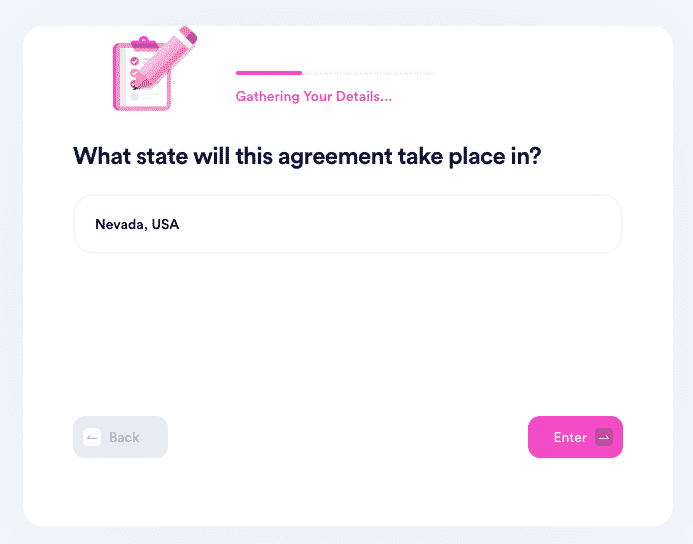 We will generate a contract, which you can later fax to other parties with our Online Fax service or get notarized using the Notarize Any Document tool.
Which Documents Can DoNotPay Create?
Once you , you can create a variety of contracts and other legal documents, such as:
General business contract

Quitclaim deed

Promissory note

General affidavit

Estoppel certificate

Intent to purchase real estate

Child care authorization form
Your Online Safety Is Our Priority
The benefits of the internet are numerous, but so are the opportunities for scams of all kinds. DoNotPay can help you fight scammers left and right with easy-to-use features, highly customizable to match your needs. 
Our app can provide invaluable resources for fighting:
If you're an avid online shopper, we have your back. In case something goes wrong, we will help you contact customer service without holding, request a refund, or even sue the company in small claims court.
Diversity Is Our Middle Name
DoNotPay doesn't stop at online safety. Do you need to set up an appointment at the local DMV, but keep procrastinating because you know how awful the lines are? Are you a prospective college student trying to save on application fees? Have you lost track of all unnecessary subscriptions and memberships that keep draining your bank account?
If the answer is yes, DoNotPay is the right platform for you. Whether you're preparing for government-issued tests or looking for ways to lower your bills, our app will be of assistance.