Morocco Tourist Visa—Updated Info on Visas and Other Rules for Visitors
Visiting Morocco can be fun thanks to its architecture, history, food, and the Sahara Desert, but exploring visa requirements isn't as exciting. DoNotPay is here to answer your Morocco tourist visa questions, so you don't have to waste your time looking for all the relevant info online.
Sign up for our service, and find out whether you need a visa to travel to Morocco or any other country in the world—in a matter of minutes.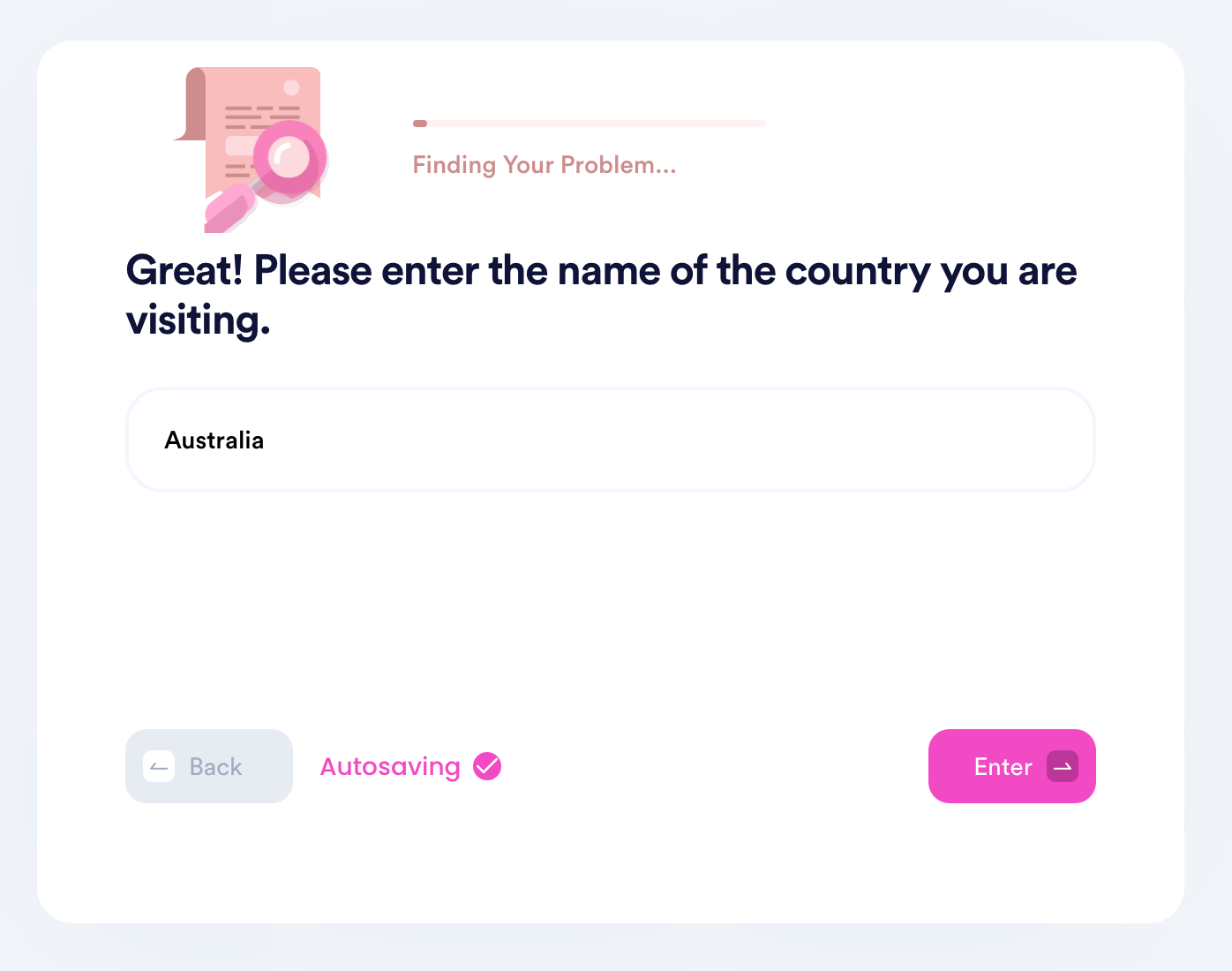 Do U.S. Passport Holders Need Tourist Visas in Morocco?
Currently, U.S. passport holders do not need Moroccan tourist visas to stay in the country for up to 90 days. There are still certain requirements that all American tourists have to fulfill to enter Morocco.
If you wish to visit this beautiful country, you must:
Have a U.S. passport that remains valid for at least six months at the time of entering the country and has at least two empty pages
Declare large amounts of money upon entry, if applicable
Not export any Moroccan currency out of the country
What if You Want To Stay in Morocco Longer Than 90 Days?
Morocco is gorgeous, and some tourists don't think that three months are enough to take in all of its glory. It's possible to stay in Morocco longer than that if you obtain a residence permit (Certificat d'Immatriculation). To get one, you will need to submit your application to one of the following establishments, depending on where you're residing:
Bureau des Étrangers of the Prefecture de Police
Commissariat Central
Gendarmerie
The first two operate in major cities, while the third one is open for applications in villages and other remote areas of Morocco.
The Most Recent COVID-19 Restrictions for Tourists in Morocco
Americans are allowed to enter Morocco through commercial airline travel if they abide by the following COVID-19 rules:
Everyone needs to present a negative PCR test administered up to 72 hours before entering Morocco or proof of vaccination against COVID-19
Health screening procedures are mandatory at all airports
Quarantine is not necessary if you're traveling from the U.S.
Nationwide curfew is in place between 11 p.m. and 4:30 a.m. for people who are not vaccinated
Face masks have to be worn in closed public spaces and transportation
The fines for not respecting any of the mentioned rules are approximately $100, and they require a court appearance.
The Top Five Must-See Destinations for First-Time Visitors of Morocco
The following table contains some of the hottest destinations every tourist in Morocco should visit:
| Place | Brief Description |
| --- | --- |
| Marrakesh | The cultural, historic, and lively city of Marrakesh offers something for everyone—artisan jewelry, fantastic street food, and fascinating tourist attractions |
| Dades Valley | If you're looking for the best scenery in Morocco, this valley is the place to visit. It's located between the High Atlas mountains and the Jebel Saghro, and it's the home of many traditional forts and villages |
| Rabat | You can't say you've visited Morocco without seeing its breathtaking capital split into the new and the old sections. The first one is for shopping and relaxing, while the second one is for those looking to explore and experience the culture |
| Asilah | If your primary goal for visiting Morocco is vacation, this Mediterranean-looking tourist hub might be a perfect choice because you can enjoy both the beaches and the rich history of the town |
| Fez | This medieval city used to be the capital of Morocco, and its old town is protected by the United Nations Educational, Scientific, and Cultural Organization (UNESCO) for its architectural importance. Explorers and history enthusiasts will rejoice while unraveling its mysteries |
DoNotPay's Visa Tourist Guide Feature Is a Lifesaver for All Travel Enthusiasts
Thinking about which country to visit next is exhilarating, but worrying about visas ruins all the fun. Some countries in Africa allow Americans to stay up to three months without a visa, while others aren't so lenient.
Knowing the rules and regulations can be difficult even for travel guides. DoNotPay is an electronic guide you need—we can tell you whether you need a visa or not and help with many other visa-related concerns. Our app is easy to use if you follow the prompts:
Click on the Tourist Visa Guide product
Choose a destination
Your job is done—now it's our turn to put in the effort, and we do that by:
Telling you whether a visa is necessary or not
Contacting the embassy and getting the latest info regarding visas
Providing a direct link to an online visa application form (if there is one)
Sending you a PDF visa form if a physical copy needs to be completed and submitted to the dedicated embassy or consulate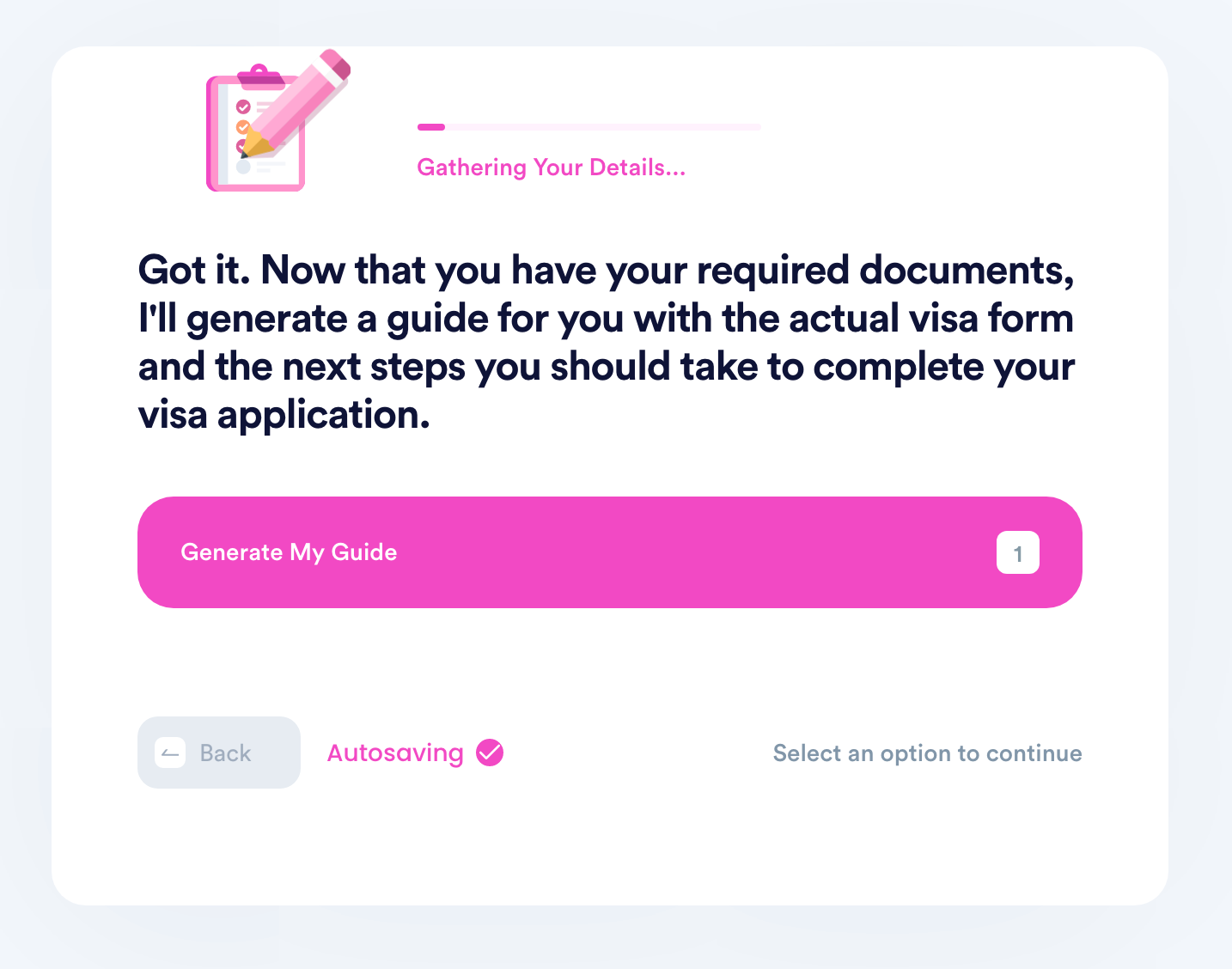 Bless the Rains Down in Africa and Let DoNotPay Help You With the Visas
Everyone on a tour of Northern Africa needs to visit Morocco, but it certainly shouldn't be the only stop when going on this magnificent journey. Africa has plenty of gems, but each country has different visa policies for U.S. citizens.
DoNotPay offers visa guides for all the hottest places in Africa, so take a look at the table below and find out all the visa info you need for your destination:
Explore DoNotPay's Vast Database To Handle Administrative Issues Head-On
Dealing with administrative issues is never a fun experience, but you can save yourself from unnecessary hassle with our app! Once you sign up for DoNotPay, there is little you can't do. Aside from helping you deal with everyday tasks, such as reaching customer services, you can also use our app to:
Make Your Legal Troubles Disappear
Is a company giving you a hard time? Don't fret! DoNotPay can walk you through the process of suing it in small claims court and help you get the justice you deserve!
The best part is that assisting you take companies to court isn't all our app can do! We can also help you with: