How To Make a Month-To-Month Rental Agreement the Easy Way
A month-to-month rental agreement is often used to automatically extend a lease for 30 days unless tenants or landlords give notice of nonrenewal. If you are looking for simple ways to create a month-to-month rental agreement, DoNotPay will jump in to help you make one with no hassle!
Understanding the Month-To-Month Lease Agreement
You can choose to sign a month-to-month lease from the beginning or do it later—it all depends on the agreement between a landlord and a tenant. Once you sign it, the lease will continue until one party decides to give a 30 days notice.
This type of lease agreement is a great option if you are an owner and you are not certain how long you would like your property to be rented for. The flexibility and having an option to end the lease at any time can prove quite handy for both tenants and landlords.
The Pros and Cons of a Monthly Rental Agreement
If you are considering renting your apartment, using the month-to-month rental agreement is one of the options. If you are not certain if it would be the best fit for you, let us list some pros and cons to make it easier for you to decide.
Pros
Cons

Break the lease without a penalty

End the lease at an optimal time

Update your rent price

Uncertain end date

A short notice to find new tenants

Less stable
Let DoNotPay Make Your Basic Month-To-Month Rental Agreement
Creating legal documents and writing contracts is quite tricky and often requires education in law. To avoid making any errors on your month-to-month agreement, let DoNotPay generate your contract in a few steps! Here is how it works:
Load DoNotPay in your

web browser

Type in the name of the document you want

Give us all the required information
After you finish the steps listed above, DoNotPay will provide you with your month-to-month rental agreement document. Note that this document will have to be signed and/or notarized by both the landlord and the tenant.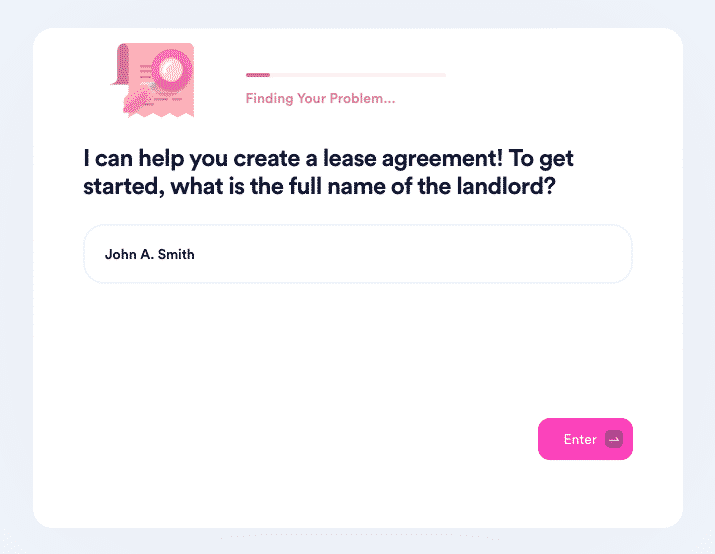 Are you interested in creating other legal documents besides the month-to-month rental agreement? DoNotPay can assist you in creating the following contracts:
General Business Contract

Intent to Purchase Real Estate

Estoppel Certificate

Quitclaim Deed

General Affidavit

Promissory Note
How To Make a Simple Month-To-Month Rental Agreement by Yourself
Considering how overwhelming and burdensome making legal documents by yourself can be, using DoNotPay would be the easiest option. If you want to deal with creating your monthly rental agreement on your own, there are ways you can do it.
We will list some of the most important items that you should include in your agreement:
Names and addresses of the landlord and the tenant

—Include the full address of the property, along with the city, ZIP code, state, and county

The date the lease begins

—State that it is a month-to-month lease and include the length of notice required to end the lease as well 

The monthly payment

—Make sure to state the amount of money the tenant has to pay for rent every month

Information about the security deposit paid

—The tenant will have to pay a security deposit, and you should include a clause about it in this section

The consequences of refusing to honor the agreement

—What happens if the tenant does not adhere to any of the requirements on the month-to-month lease agreement

The number of tenants

—Say how many tenants are allowed on your property

Subleasing

—The section stating whether the tenant is allowed to sublease the premises to another person

Bills and utilities

—All the utilities and services that the tenant is required to pay

A clause about the allowance of pets

—If pets are allowed, you should state how many and what types of pets

The rules for when a tenant abandons the property

—In this section, you should state if the tenant is required to give you a notice when leaving the property, how much in advance should they do that, and similar clauses

The laws

—Say what laws govern the month-to-month lease and all disputes related to it

The display of signs at the rental

—The landlord will be allowed to display "For Sale," "For Rent," or a "Vacancy" sign on the property for some time prior to the tenant moving out

Rules on the property

—The section explaining the rules related to noise and behavior on the property, as well as the rules relating to where the tenant is allowed to park

All the

Terms and Conditions
A signature from both the landlord and the tenant

—Landlords and tenants are required to sign and date the month-to-month lease, so make sure you include that in your agreement as well
Get Back at Greedy Corporations With DoNotPay
How many times have you tried reaching out to an airline regarding your canceled flight? Did you ever spend hours trying to contact customer service reps only to be refused your refund request?
Big companies tend to make certain processes complicated for their customer in hopes they would give up on pursuing their goals.
This is why your warranty claims often get denied the first time or why canceling a gym membership can be an administrative hell.
Our AI-powered app is here to help you sort these problems out. 
Whether you're trying to file an insurance claim, schedule your driving test, start a free trial without disclosing your payment info or a phone number, or get access to public records, we've got you covered. 
DoNotPay Is the Virtual Assistant You Need
DoNotPay is the first robot lawyer in the world created to simplify complex tasks. We can help you with anything from appealing your parking citations to filing lawsuits in small claims court.
In case you need to save up some money, our app will show you how to get an extension on your bill payments, sign up for paid clinical trials, or avoid paying your college application fees.
DoNotPay can also report robocallers, text spammers, and email phishing attempts, and real-life stalkers with a few clicks.