Montgomery County, Texas—Jury Duty Explained
Have you been summoned for jury duty in Montgomery County, Texas? People react differently to a jury summons. Some are elated to be part of an important legal process—others are worried about how the summons may affect their other responsibilities.
Either way, you first have to understand what Montgomery County, Texas, jury duty is all about:
Can prospective jurors seek an exemption?
DoNotPay will present all the information you need about jury duty in Montgomery County, TX, and show you how to get your employers ready for your time away from work using .
You Have Received a Jury Summons—What Next?
Your summons will require you to report to either a county court or a district court. You can respond to your summons on Montgomery County's website:
Fill in your Juror ID
Provide your date of birth
Check the provided box
Click Log in
After the selection process, impaneled jurors will serve on a trial until they reach a verdict. Honoring the summons is a must, and skipping jury duty comes with legal consequences.
Montgomery County Jury Duty, Texas—Eligibility
You do not need any special skills or knowledge of legal processes to be eligible for jury duty. To qualify as a juror, you must:
Be an American citizen older than 18
Reside in Montgomery County
Be eligible to vote in Montgomery County
Have the ability to read and write in English
Have no felony conviction or indictment on your record
Be of good character and sound mind
Not have been a juror for six days during the past three months in a county court or the past six months in a district court
You may be ineligible for trial if you are:
70 years or older
Currently a legal custodian of a 12-year-old child or younger
Currently enrolled in a secondary school or tertiary institution
An officeholder in the legislative arm of government
A former juror from less than three years ago—you should not be summoned sooner
An active-duty U.S. Military Force personnel serving outside the county
Compensation, Service Length, and Other Common Juror Dilemmas
This table answers some of the questions prospective jurors may have concerning jury service:
| Questions | Answers |
| --- | --- |
| How much is the pay? | Different states have different pay brackets. Montgomery County courts pay jurors $10 on the first day and $40 daily to impaneled jurors—federal juror payments are handled separately |
| How long does payment take? | Processing takes up to a week—issued checks are only valid for 90 days. Electronic payments are unavailable |
| How long does jury service last? | It typically lasts about a week for impaneled jurors |
| What is the court's dress code? | Clothing items considered inappropriate include t-shirts, shorts, tank tops, etc. |
| What items are prohibited in court? | Knuckles, knives, guns, chemicals, tasers, etc. |
You Can Create a Professional Jury Duty Leave Request Using DoNotPay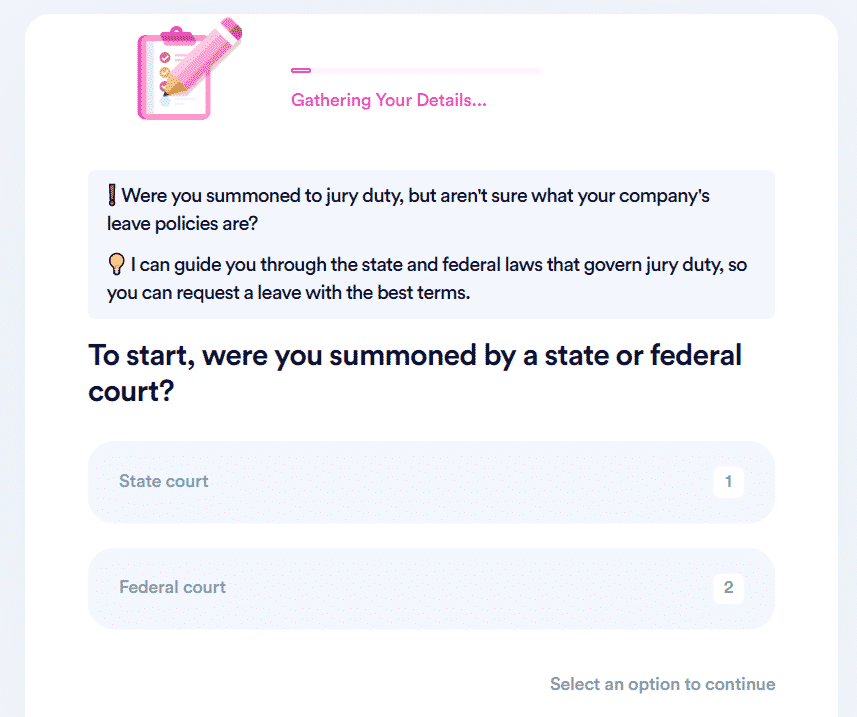 Getting ready for jury duty involves telling your employer about your summons as soon as possible. Your employer cannot fire you by law, but some states give employers certain other freedoms that may worry you.
If you are unsure how to approach your employer for time off, DoNotPay can assist you. We'll create the perfect jury leave request letter that will adhere to state laws while giving your employer the necessary documentation to verify your summons.
and take the following steps to get your leave request letter:
Choose the Request Jury Duty Leave product
Select the state or federal court and indicate the summoning state
Specify the days of jury service and upload a photo of your jury summons
Indicate whether we should email your employer the letter on your behalf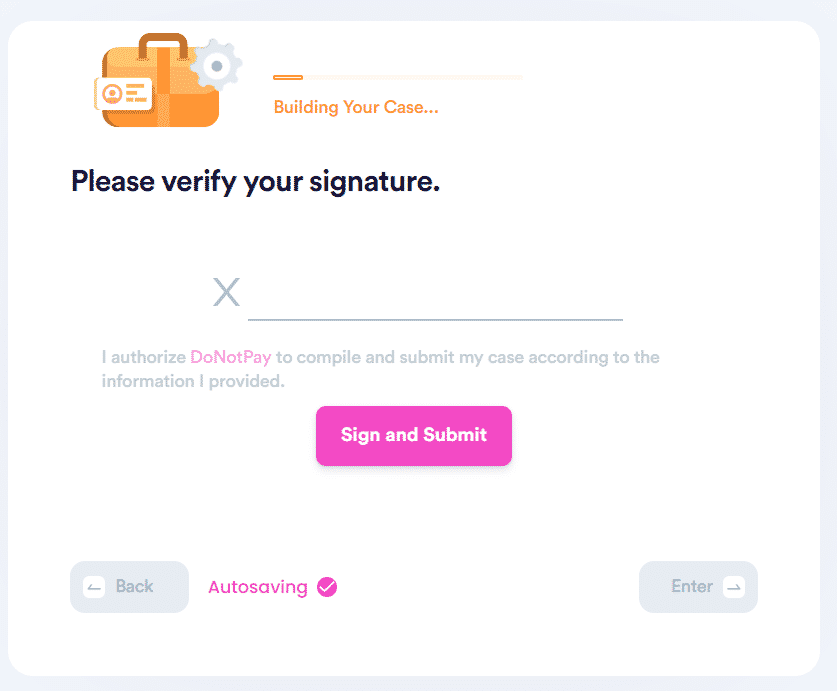 If you want to give it to your employer yourself, you can hit the Download button to get a copy of the letter.
Our learning center has more Texas-related jury duty information you might be interested in:
Our Platform Makes Your Life Simpler
DoNotPay offers a vast spectrum of life-changing services, including the ones listed below:
| Services | With Our App, You Can: |
| --- | --- |
| Eliminating spam and harassment | |
| Saving and getting more money | |
| Providing other useful services | Convert various files to other formats |
DoNotPay Helps You Get the Necessary Paperwork in a Heartbeat
Do you need to compose a power of attorney, revocable living trust, or a health care directive but don't know how? No worries—DoNotPay can do it for you! If you need comprehensive and valid legal documents tailored to your wishes and needs, there's no better way to get them than subscribing to our app!
We can also draft personalized FOIA requests, divorce agreements, homeschool notices of intent, and various complaints.