Montgomery County, Texas, Divorce Forms Made Simple With DoNotPay
You want filing for divorce in Montgomery County to be quick, cheap, and free from hassle.
Starting your divorce process is a matter of getting your paperwork right from the outset, and Montgomery County requires everything to be in place before your divorce can proceed.
DoNotPay has all the info you need on Montgomery County, Texas, divorce forms—we are here to help you get your Texas divorce decree as quickly and easily as possible!
How To File for Divorce in Montgomery County
Filing for divorce in Montgomery County is a three-step process, as follows:
Negotiate a settlement agreement
File Your Divorce Papers
Your first step is to file the correct forms with the clerk of the Montgomery County court.
Once you have lodged the papers and paid your filing fee of around $300, you will receive a stamped copy of all the forms together with a summons to be delivered to your spouse.
Serve Them on Your Spouse
You need to have the divorce papers delivered to your spouse by a deputy sheriff or a private process server.
Your spouse will sign a form confirming receipt, and the receipt will be filed with the court.
If you and your spouse have agreed on a friendly divorce with an out-of-court settlement, your spouse can sign a waiver that means the papers do not have to be served.
Negotiate a Settlement Agreement
Texas is a no-fault divorce state, meaning that you do not have to prove your spouse has done anything wrong to file for divorce.
The best-case scenario is for you and your spouse to aim for an uncontested divorce, which would mean that you can:
An uncontested divorce in Texas can only proceed if you file a signed divorce settlement agreement before your case comes to trial.
Your spouse has around 30 days to respond to your divorce filing, and this is the perfect time to negotiate your settlement.
What Divorce Forms Do You Need in Montgomery County?
The forms you need to file for divorce in Montgomery County are as follows:
| Montgomery County Divorce Forms | Explanation |
| --- | --- |
| Petition for divorce | Your original petition for divorce formally requests the court to dissolve your marriage and includes complete disclosures about your children and joint finances |
| Return of citation, waiver, or answer | The return of citation confirms that your spouse has received your petition. It can be replaced by a waiver if you have agreed to pursue an uncontested divorce. Your spouse can also file an answer if the case is contested |
| Vital statistics form | This form contains all the relevant information about you, your spouse, and your children |
| Final decree of divorce | Your final decree will be signed by the judge once your divorce has been finalized |
All the forms are available from the Montgomery County court, and the county provides a checklist for you to make sure your paperwork is in order before you file.
Where Can You Get a Settlement Agreement?
The most crucial document in your divorce is the settlement agreement you and your spouse put together.
Your settlement agreement is a legal document that regulates how your married life will be split up after your divorce. It has to cover:
To get your settlement agreement drawn up, you can use any of the following resources:
Lawyers
Online services
DoNotPay
Lawyer
You and your spouse can hire attorneys to negotiate and draw up your settlement agreement on your behalf, but this can quickly become prohibitively expensive.
An uncontested divorce that involves Texas lawyers can cost up to $4,500 per spouse—you should ask yourself whether this is a necessary expense.
A lower-cost option is to use a mediation service, in which a trained mediator helps you work out your settlement through facilitated negotiations. If you and your spouse agree on most of the terms of your settlement, this may be a more cost-effective route.
Online Service
Various online providers offer settlement agreement templates for you to download and fill out. You should exercise caution with these services, though—many of the templates on offer are too generic to cover your specific needs. Some may not even be accepted in Montgomery County.
DoNotPay
DoNotPay can solve both these problems!
We can generate a divorce settlement agreement for you that:
Covers the terms you and your spouse have agreed on
Doesn't cost you a cent in lawyers' fees
DoNotPay Gets You Settled in Montgomery County!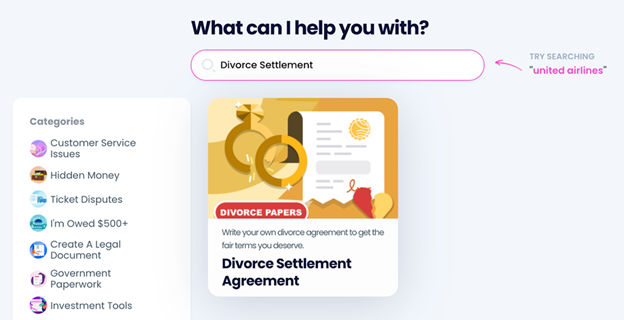 DoNotPay wants your Montgomery County divorce to be as easy as possible!
Our Divorce Settlement Agreement feature hits the nail on the head—you will get an agreement that covers everything you have settled on with your spouse without you needing to involve expensive lawyers.
Here's what you need to do to get your settlement agreement:
Go to your web browser and sign in to your DoNotPay account
Click on our Divorce Settlement Agreement feature
Follow the on-screen prompts and fill out the terms you have agreed on
As soon as you are done, we will generate your document for you to print out.
You and your spouse can sign and have it notarized. If you don't know where to find a notary in Texas, we can even organize online notarization for you!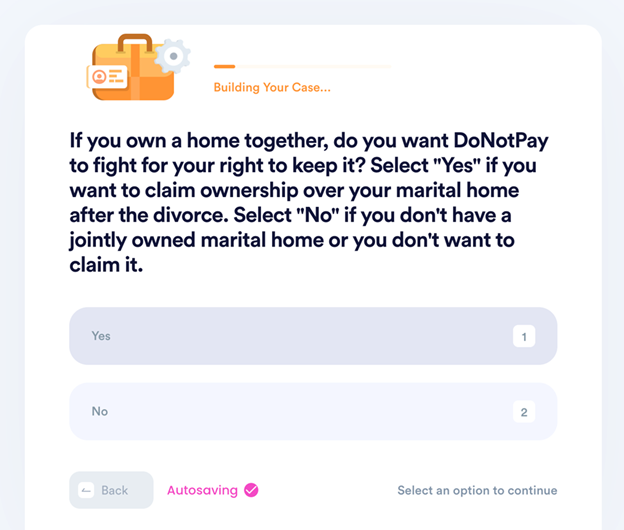 What About Other Texas Counties?
If you need info on getting a divorce in other Texas counties or cities, here are some examples of DoNotPay's expertise:
If you are in the military stationed in Texas or expecting a child, DoNotPay is also here to help with the divorce process!
Learn How To Solve Legal Issues in Minutes!
Do you need to draft a legal document? Spending hundreds of dollars on lawyers is not the answer. We came up with a faster and more affordable solution. Not only can our app draft child consent forms, divorce settlement agreements, and powers of attorney for you, it can also provide legal assistance by helping you take anyone to small claims court!
Drafting numerous documents is not all DoNotPay does for you! Aside from drawing up contracts and agreements, we can also assist you in getting them notarized online from the comfort of your home or office!
Explore DoNotPay's Other Nifty Features
There is more assistance on the way! You can use DoNotPay's features to handle various tasks with ease, including:
We can also help you protect your safety. If you don't know how to deal with copyright infringement, stalking and harassment, work discrimination, sex offenses, and disputes with annoying neighbors, DoNotPay has got you covered.