Get the Scoop on Montgomery County, PA, Divorce With DoNotPay
Getting divorced is not an easy task. It can be stressful for both parties, and in most cases, it can be costly. If you don't know where to start with a Montgomery County, PA, divorce, don't worry—DoNotPay has your back!
We'll show you how to end your marriage swiftly and on a friendly note. You also won't need to spend a fortune as DoNotPay can help you draw a divorce settlement agreement affordably and quickly!
Montgomery County, PA, Divorce—The Basics
Before going into the procedure, you should familiarize yourself with the divorce basics in Montgomery County. The State of Pennsylvania recognizes two types of divorces:
Fault-based divorce
No-fault divorce
Fault-Based Divorce in Montgomery County
A fault-based divorce requires you to have grounds (reasons) for the breakdown of your marriage. To get a fault-based divorce, you will need to prove that your spouse has:
Committed adultery or bigamy
Abandoned you without any cause for at least a year
Been cruel to you and endangered your life
Been convicted and imprisoned for two or more years
Humiliated you and made your marriage intolerable
No-Fault Divorce in Montgomery County
A no-fault divorce allows couples to get divorced without putting any blame on each other. In such cases, the spouses can get divorced on the following grounds:
Mutual consent—Both spouses need to confirm that their marriage is irretrievably broken by signing an affidavit
Separation—If the couple has been living apart for at least one year, one party can file for a no-fault divorce
Institutionalization—In case one spouse has been institutionalized for at least 18 months and won't be released in the following 18 months, the court may grant an out-of-court settlement
This type of divorce is more popular among couples in Pennsylvania as it allows them to file for a mutual consent divorce—also known as an uncontested divorce. They can go through the whole process quickly, and it will cost them less as they won't need to hire a lawyer.
How To File for an Uncontested Divorce in Montgomery County
To file for an uncontested divorce in Montgomery County, you must first agree on the following issues with your spouse:
You or your spouse must also have been a resident of the State for at least six months before filing the papers. Once you meet the residential requirements and agree on the key factors of your divorce, you will need to:
File a complaint
Serve your spouse
File the final documents
Filing a Complaint in Montgomery County
The first step of getting an uncontested divorce is to collect the divorce complaint at your local courthouse or the official government website. Once you gather the necessary forms, you will need to fill them out and file them at your county's clerk's office. Keep in mind that you will have to pay a fee of $284.75.
Serving Your Spouse in Montgomery County
Serving the papers for an uncontested divorce in Montgomery County is only a formality as you can deliver them yourself. Once your spouse receives the paperwork, they will need to sign the Acceptance of Service form within 30 days of filing.
When the form has been signed, you will need to file it along with Verification with the clerk. Curious if there are any differences in the paper-serving process in other counties? Check out our guides to find out:
Filing the Final Documents in Montgomery County
Pennsylvania state laws stipulate that there's a mandatory waiting period between filing your divorce papers and finalizing the whole ordeal, which lasts for 90 days. Once the three months pass, you'll have to:
Sign the Affidavit of Consent with your spouse
File Praecipe to Transmit Record and Final Decree of Divorce
You will also need to complete and hand over a marital settlement agreement. This is one of the most important documents, and the judge will have to review it before finalizing the divorce. It outlines the terms on which you're getting divorced, and it has to be drafted with care.
To get one, you can either hire a lawyer and spend a fortune or and get a tailor-made agreement in a snap.
Getting a Divorce Settlement Agreement Is Easy With DoNotPay
if you want a settlement agreement that's:
Affordable
Compliant with PA state laws
Fair to both parties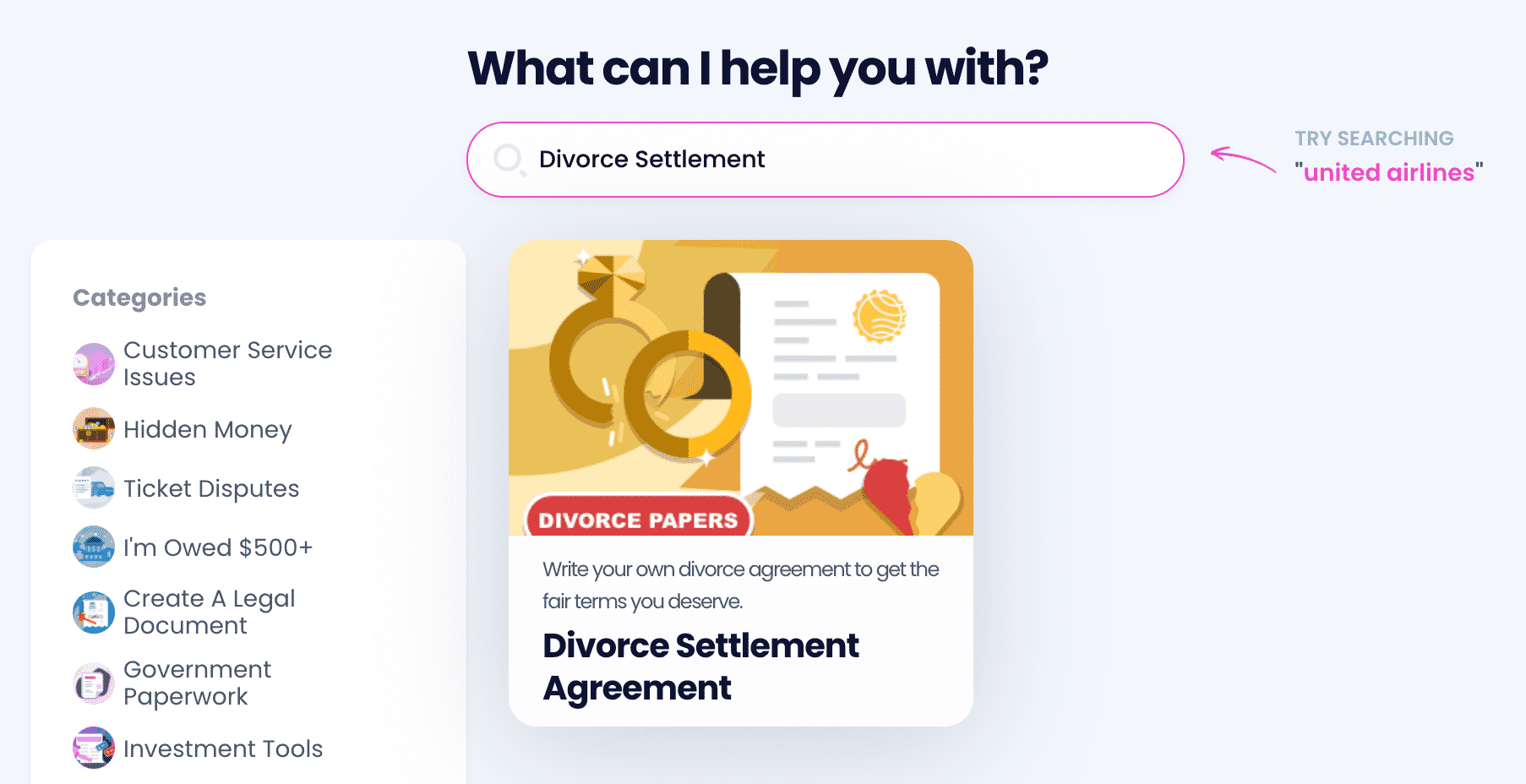 With our Divorce Settlement Agreement product, you can get this crucial document in a few clicks. Here's how it works:
Select the Divorce Settlement Agreement product
Answer our simple questions
Opt for online notarization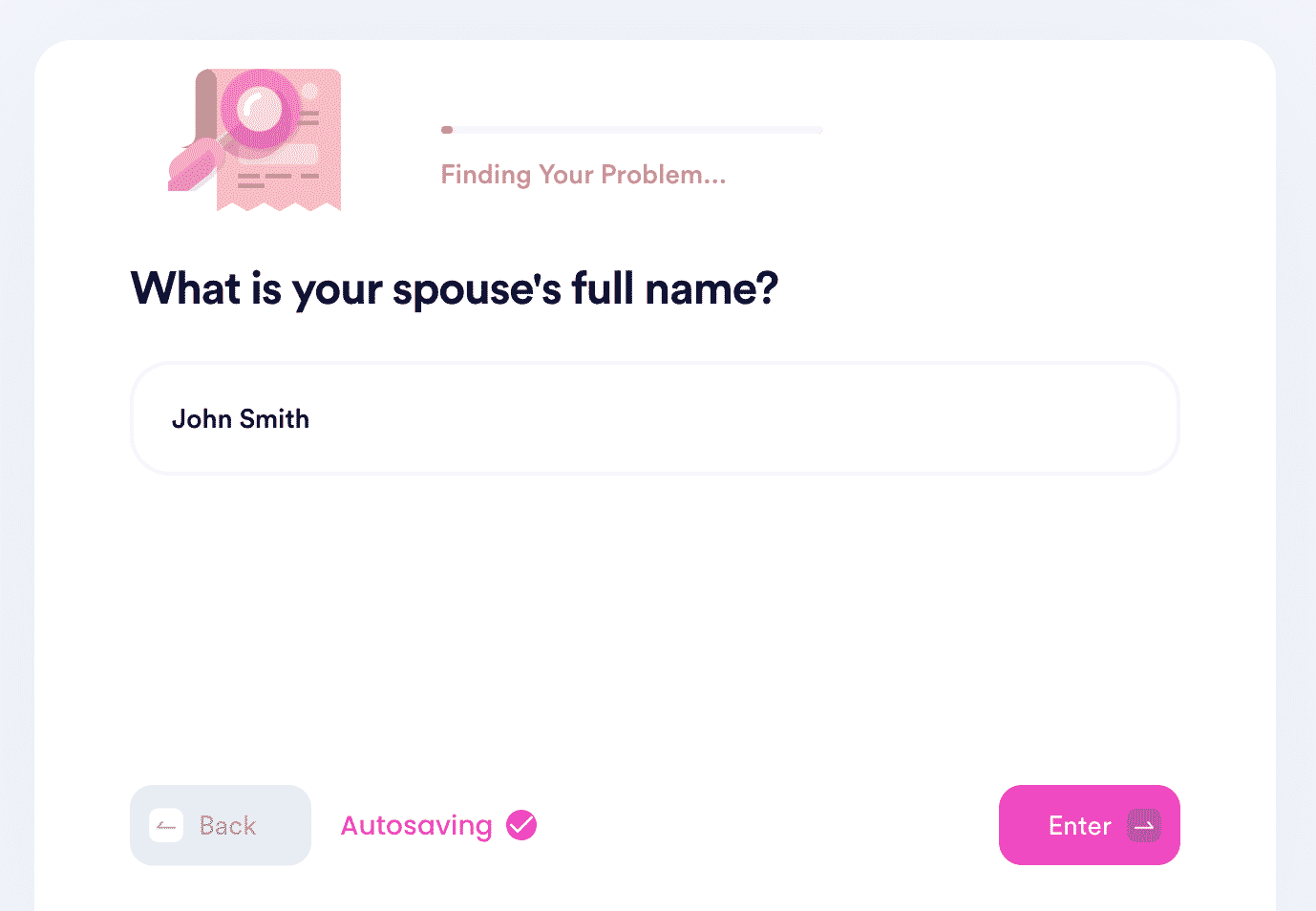 Once you submit your request, we'll send a personalized settlement agreement your way in no time. You can then have it notarized from the comfort of your home by clicking on the link we send you via email.
Want to learn how to get divorced online in Pennsylvania or find out more about divorces? Check out the table below:
| | |
| --- | --- |
| How-To Guides | Frequently Asked Questions |
| How to: | |
Divorce Mediation in Montgomery County, PA
If you aren't eligible for an uncontested divorce in Montgomery County due to a disagreement on crucial divorce matters with your spouse, you should try mediation. Expect to go to multiple sessions, in which the mediator will try to come up with solutions regarding your agreement.
Need Legal Assistance? DoNotPay Got You Covered!
Forget about getting a migraine every time there is an administrative task to handle. DoNotPay makes it easy and stress-free to deal with any bureaucratic issue that comes your way.
Not only can we assist you in drafting a legal document and getting it notarized, but we also help you:
Finishing Your Daily Errands Has Never Been Easier!
Looking for help with running errands? You don't have to spend hours trying to make a DMV appointment or contacting a customer service rep! Completing your day-to-day tasks stops being a burden once DoNotPay gets involved.
There is no shortage of errands we'll help you run for a small subscription fee, including:
Sign up for DoNotPay and avoid spending hours on simple daily tasks that can be done in a jiffy!