Montgomery County, Ohio—Jury Duty
A fair and unbiased trial is every U.S. citizen's right—that's why jury duty is important. Apart from being an essential aspect of the legal system, it is a mandatory civic duty, and you could be severely penalized for not responding to the summons.
If you were summoned for Montgomery County, Ohio, jury duty, you might want to know what that means for you. This article will tell you all you need to know about how jury duty works in Montgomery County.
If you still haven't informed your employer about your jury duty summons, you can do so by and creating a leave request letter.
How Does Montgomery County, Ohio, Jury Duty Work?
When your name is selected for jury duty, you will receive the summons and questionnaire three weeks prior to your service. You should mail back the completed questionnaire or complete it online. The questionnaire will help the court determine whether you qualify for jury duty.
You will be deemed eligible if you are:
At least 18 years old
A citizen of the U.S. and a Montgomery County resident
Able to communicate in English
Jury Duty in Montgomery County, Ohio—Frequently Asked Questions
You'll find answers to frequently asked questions about Montgomery County jury duty in the table below:
Question
Answer
How was I selected?
The Montgomery County Court selects prospective jurors at random from the lists of:

BMV licensed drivers
Registered voters
State ID holders

What happens when I appear for jury service?
On your first day as a prospective juror, you will go through another selection process. There will be a brief orientation, and you will be asked questions so the court can decide whether you can be objective about the case
How much will you be paid?
Each state has different rules about payment, but Montgomery County, Ohio, pays its jurors $10 per day. If you are on a petit jury, you will be paid $20
What happens if I don't show up?
If you fail to appear for your jury duty, the court might find you in contempt. If this happens, you will be fined or imprisoned
How long is jury duty?
Petit jurors will be on call for five days. An average trial lasts around two to three consecutive days
Can I be exempt from jury duty in Ohio?
You won't be punished for not showing up as long as you request to be exempt from jury service. You can ask to be excused if you're a citizen over 75, or you can request a deferral if you have:

A doctor's appointment
Vacation
Business trip
Job interview
Commitment as a student
Can I Get Fired Because of Jury Duty?
According to Ohio jury duty law, your employer doesn't have the right to fire, threaten to fire, or coerce you in any way for serving jury duty. They must provide you with unpaid time off for your service. Keep in mind that, during your preparations for jury duty, you should inform your employer in advance about it and even prove it by showing them the summons.
If you keep being called for jury duty frequently, you may request excusal if serving on a jury would cause you or your employer undue hardship.
Use DoNotPay To Inform Your Employer About Your Absence
If you want to avoid an awkward conversation with your boss, you can create a leave request letter with DoNotPay's help. Our app will use the information you provide, a photo proof of jury summons, and applicable jury duty laws to create a professional leave request letter in a few minutes.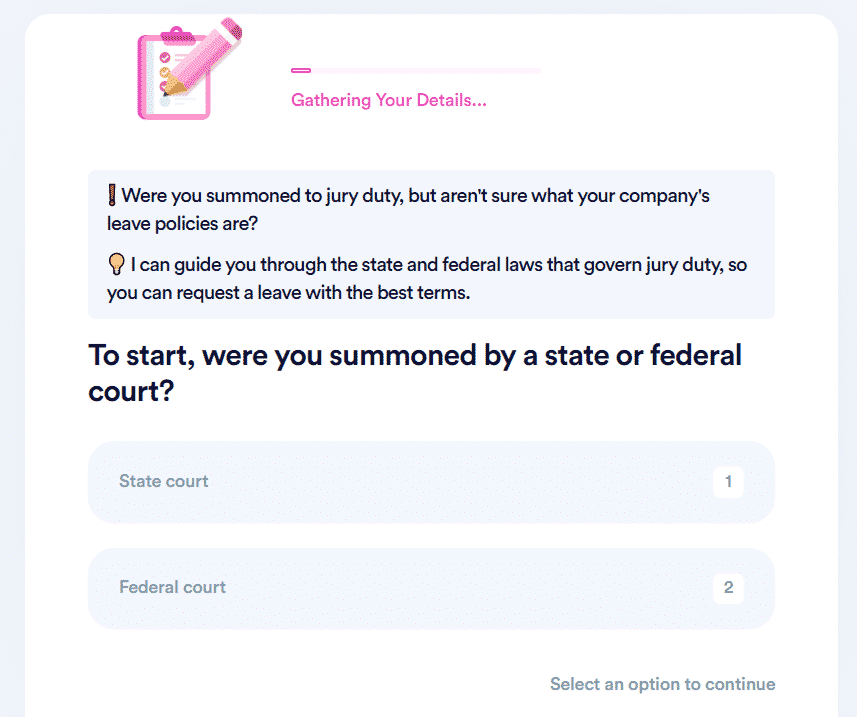 All you need to do is and follow the steps below:
Open the Request Jury Duty Leave tool
Answer a few questions
Upload a picture of your summons
If you've been summoned for a federal jury, you can consult DoNotPay's helpful learning center to find out how it works and how much it pays. You can also find more information about jury duty in Cleveland, Columbus, or other counties in Ohio, such as: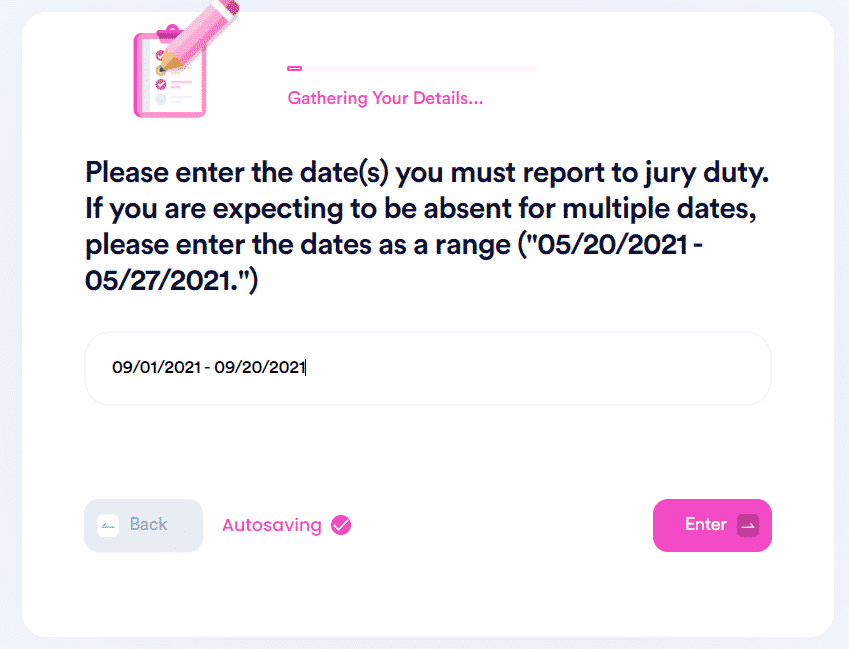 Our Platform Makes Your Life Simpler
DoNotPay offers a vast spectrum of life-changing services, including the ones listed below:
| Services | With Our App, You Can: |
| --- | --- |
| Eliminating spam and harassment | |
| Saving and getting more money | |
| Providing other useful services | Convert various files to other formats |
DoNotPay Helps You Get the Necessary Paperwork in a Heartbeat
Do you need to compose a power of attorney, revocable living trust, or a health care directive but don't know how? No worries—DoNotPay can do it for you! If you need comprehensive and valid legal documents tailored to your wishes and needs, there's no better way to get them than subscribing to our app!
We can also draft personalized FOIA requests, divorce agreements, homeschool notices of intent, and various complaints.